Four very different teams converge in Pool D.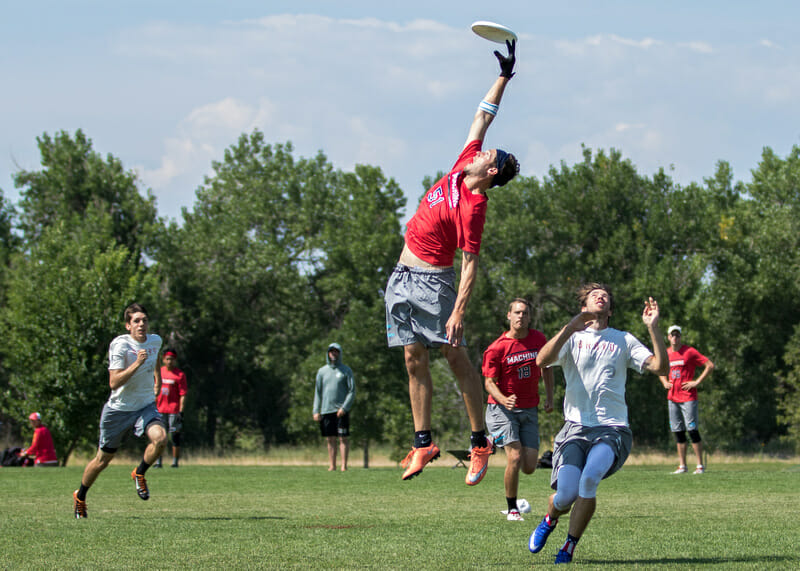 Ultiworld's coverage of the 2016 Club Championships is presented by Spin Ultimate; all opinions are those of the authors. Please support the brands that make Ultiworld possible and shop at Spin Ultimate!
Pool D covers the whole spectrum. A recent National champion out to prove a point, a team that broke through into the elite and wants to prove it has staying power, a fading power out to reclaim lost glory, and a first time qualifier hungry to add some heads to their mantle.
With the new format, only three of these teams will survive Thursday, but those that do have a good chance of making a deep run in the bracket. With some of the most exciting throwers in the game, and some of the best young talent taking the National stage, Pool D will be a spectacle no matter how it shakes out.
Denver Johnny Bravo [Pool #1, Overall #4]
No Lance, no Keegan, no Farrell, no problem so far for Johnny Bravo, as the perennial powerhouse's stability and the depth of the talent pool in Colorado have the 2014 champs right back in the hunt for a national title. Reminiscent of Ironside's revitalization project last season, the big story going into the year was how Johnny Bravo would cope with their personnel loses. After their success this year and a South Central Regional title, the question now is how other teams will cope with all the talent Bravo still has left.
Over the past two seasons, Johnny Bravo shed much of the skin of their 2014 championship team. In fact, only nine players from that title winning team are still operational for Denver. For most teams, that kind of turnover would signal a period of serious decline, but Bravo's new faces have used the roster vacancies as an opportunity to prove their bonafides on the elite stage.
The Mamabird pipeline is still strong, with a host of players coming down Route 36 from Boulder to ply their trade in Denver for Bravo. Led by dynamic handler Mark Rauls, the youth infusion has kept Bravo hungry all season. That hunger and energy has translated into results: a 21-5 record so far in 2016 and big wins over Revolver, Sockeye, Truck Stop, and Machine, also known as the other four teams in the top five at Nationals.
It isn't just new faces that are propelling this team, as returners have found the opportunity to elevate their game. New captain and AUDL champion Ben Lohre has proven that he can be a go-to guy on a top team, while Bravo vet Henry Konker has definitively made "the leap" in 2016. After a somewhat surprising inclusion on Team USA, Konker has spent all summer enlightening his skeptics both with Team USA and Bravo. A gifted defender that is as tenacious as he is crafty, Konker has an uncanny ability to be in the right place at the right time, and the physical tools to finish the job and get the block.
And of course, it's impossible to talk about Johnny Bravo without talking about Jimmy Mickle. It's reductive to place all of the team's results at his feet – Bravo made the finals of the Elite-Select Challenge without Mickle – but at Nationals the buck stops with the team's best players and there is no doubt that the former Callahan winner is Bravo's talisman. A 1st Team All-Club selection for three years running, Mickle's combination of power, skill, and discipline is unmatched.
With virtually every accolade and trophy a player can win already under his belt, Nationals this year offers a new challenge for Mickle: winning a title with a team that is undisputedly his own. In 2014, Johnny Bravo won a trophy on the back of a dominant Mickle performance, but that team also had Nick Lance and Kurt Gibson, two of the other players in the conversation for Best Player Alive. If Mickle can lead this team to a title, while potentially knocking off Beau, Kurt, and other challengers to that throne along the way, then that conversation is over.
Likely Ceiling: National Championship
Likely Floor: Quarterfinals
Chicago Machine [Pool #2, Overall #5]
In recent years, Machine has zigged whenever people think they will zag. A dominant 2014 regular season led to a flat performance at Nationals, while in 2015 the team only started to percolate once they reached Nationals. So what do we make of a Machine team that has already been exhibiting series ups and downs this season?
It's tough to get a read on Chicago, perhaps because of their hot start. Their victory at the US Open, which included wins over Ironside and Sockeye, immediately vaulted them to championship contender status, and their good-not-great play at Colorado Cup kept them in line for a top seed. But a dismal1 showing at Chesapeake and a less than convincing win over High Five at Regionals has planted seeds of doubt and puts Machine a rung below teams like Ironside and Revolver.
Perhaps some of the team's decline over the course of the season can be attributed to the general variation inherent in the way the team plays. Unafraid to take the big shot and let their athletes make plays, Machine has the gear to play with and beat any team. But of course, sometimes you stop rolling 7s and start rolling snake-eyes, and days like that explain the team's losses to non-Nationals qualifiers at Chesapeake.
The totem for this play style is the team's conductor, Brett Matzuka. An ethereal presence on the field, Matzuka has a range of throws that making holding a force on him almost impossible, like trying to stop the wind with a net. His heroics at Nationals last season earned him 1st Team All-Club honors and he was the best, most exciting player at the US Open this July. But his greatness comes at a cost. Giving Matzuka the green light to throw anything he can dream up means putting a lot of eggs in his basket, and it's a long fall for those eggs from the heights Matzuka likes to operate at. When he has a bad game, he has a REALLY bad game because of all the touches he receives, and as he goes, so does Machine.
While Matzuka may be the most important play for Chicago, he might not be the best. You don't need to look any further than Goose Helton to see what makes this Machine team so terrifying. Big, fast, and with the ability to huck from anywhere, Machine can run over a team before they even knows what hit them.
While most of the key pieces from Machine's run to semis last year are back, a youth infusion has helped give them some new toys to play with. Ex-Bravo player Pawel Janas turned heads at the US Open, acting as exactly the kind of cool headed counter-point to Matzuka's wild wizardry that the team needed. On the defensive side of the disc, Von Alanguilan is having a breakout year, routinely surprising even his own teammates with insane acts of athleticism.
Last year Machine finally broke through and made semis after years of competing just below the surface of the top tier. If they can get back to such heights in 2016, it will go a long way towards proving that last season wasn't a fluke and Chicago ultimate is here to stay.
Likely Ceiling: National Championship
Likely Floor: Prequarters
Houston H.I.P. [Pool #3, Overall #9]
There is a lot working against H.I.P. in their maiden Nationals voyage.
They find themselves in a Pool with two recent semifinalists -one of which just cleaned their clock at Regionals -and one of the most storied teams in ultimate history. They are making their first Nationals appearance, and teams in that position have a track record that can be neatly summed up in GIF form.
For several of the players, not only is this their first time at Club Nationals, but at a Nationals of any kind.
But you know what they do have? A complete and total lack of fear or concern for their wellbeing.
There is an easy comparison case for H.I.P., as they seem to be following a similar trajectory to High Five last season. A first time Nationals team made up of college all-stars that has a good regular season, overthrow their rival at Regionals, and, in the case of High Five last season, completely fall on their face at Nationals. It makes sense: it's tough for a team to make Nationals for the first time and know how to prepare and perform.
So what's the case for H.I.P. avoiding this fate? While High Five was a team that had largely come together in 2015 through a massive merger, H.I.P. has been building towards this season for years, adding pieces to the core of a team that has played together and gotten tons of reps. Kai Marshall, Chris Larberg, and Carson Wilder have been positives on the field and gelled with the team culture from the get-go. The team's biggest acquisition, Dalton Smith, played for years with much of the team's core at Texas A&M and has fit in as smoothly as expected.
Additionally, while inexperience on the National scene may be a weakness for this team, it comes with a sneaky advantage: no one will know how to play them. The have only played seven games against Nationals qualifiers this year (posting a not-too-shabby 5-2 record in the process) and with little film of the team available, scouting them could be a challenge.
This is compounded by the team's style, which isn't exactly traditional. With the Texas A&M virtuosos Matt Bennet and Dalton Smith leading the way, there is virtually no area of the field that is ever safe from their creative throws, whether it takes a lefty scoober, laser blade, or something really creative to get there.
This 360 degree style attack can be disorienting for teams that are not used to facing throwers who are willing to try whatever throw is necessary to find a window. An opposing player this year remarked that part of the challenge with playing H.I.P. is less about stopping them, and more about figuring out what exactly it is you need to stop.
Advancing deep into the bracket is a tall task for such an inexperienced team, and they will have to get better wins that anything they managed in the regular season to do so. But with lowered expectations comes opportunity, and if anyone underestimates them, this is exactly the kind of team that can catch a favorite napping.
Likely Ceiling: Quarterfinals
Likely Floor: Done on Day One
Vancouver Furious George [Pool #4, Overall #16]
The great rebuilding project in Vancouver has accelerated, and the Monkey is back to natties after looking like they might be facing a few years of irrelevance.
After a mediocre regular season left them outside of the bid window, Furious were written off by most prognosticators who had penciled in Sockeye and Rhino for the Northwest region's two bids. When the games were actually played, however, Furious flipped the script by handily beating Rhino in the game-to-go, 15-10. The veteran know-how from Morgan Hibbert and Kevin Underhill combined perfectly with the young springs of Gagan Chatha, Darren Wu, and Malcolm Bryson to give Furious the big upset and send Rhino packing.
Vancouver dominated that game on both sides of the disc, breaking the mark, maintaining a defensive structure, and generally playing with a polish the team hasn't demonstrated over the last few years.
So the question is: Did Furious just have one good game or are they actually still on the rise, ready to peak at the perfect time?
We'll have to wait for this weekend to find out. Going off of regular season results, Furious doesn't have much of a chance. They're 0-2 against H.I.P. and 0-6 against all Nationals qualifiers with a smattering of sizable losses to non-Nationals teams. But Furious is playing with house money at this point, as getting Nationals experience and re-entering the Elite flight for next season are boons for the burgeoning generation of Vancouver players that are still a couple years away from returning the Monkey to its former glory.
They've got nothing to lose and have enough steely veterans around that have been there before and know how to prepare for Nationals. That's the recipe for a focused team that can play loose and unafraid, which can be a recipe for an upset. On paper, Furious shouldn't make it to prequarters, but on paper they shouldn't even have made it to Rockford.
Likely Ceiling: Prequarters
Likely Floor: Done on Day One
---
Maybe it seems harsh to say that multiple close losses to PoNY, GOAT, and Chain constitutes a "dismal" weekend, but that is the bar Machine has set for themselves. ↩