Rarely seen as the "pool of death", Pool A matches up four very strong, very familiar opponents.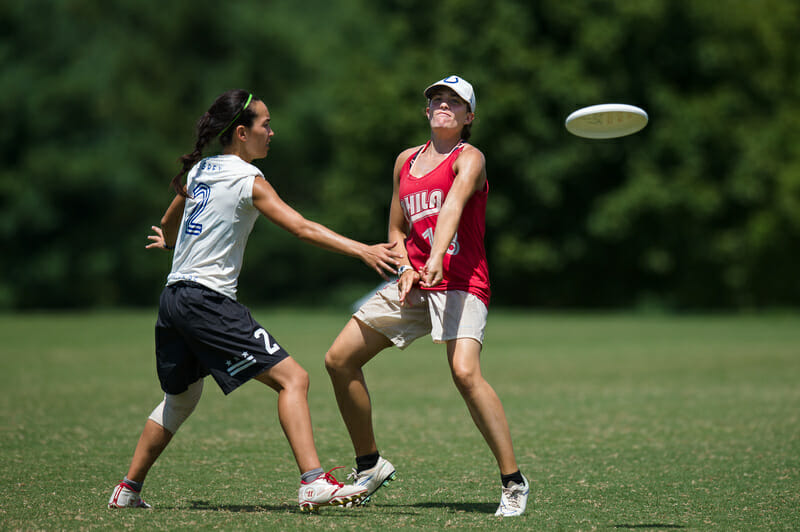 Ultiworld's coverage of the 2016 Club Championships is presented by Spin Ultimate; all opinions are those of the authors. Please support the brands that make Ultiworld possible and shop at Spin Ultimate!
Rarely seen as the "pool of death," Pool A in the Mixed division brings new meaning to the moniker. Three Pro Flight teams plus the Pro Flight Finale champion come together Thursday in an epic showdown.
Unfamiliarity will not be an issue; the four teams in this pool have all played each other this season. Across a total of eight matchups, four were decided by two or fewer points. Even beyond just this season, this pool sees three rematches from last year's Club Championships.1
After splitting the season series 1-1, AMP vs Metro North could prove to be the pivotal matchup in the pool. In addition to missing out on the prequarter bye, whoever finishes second in this pool could be in line to meet Slow White in quarters.
On the other end of the pool, Blackbird will be looking to repeat their success against Ambiguous Grey, who they knocked off in the first game of the Pro-Elite Challenge.
All 4 teams have played each other, a total of 8 games with 4 being decided by 1 or 2 points. AMP 1-1 vs MN, 1-0 vs AG, BB. MN 2-0 vs BB, 1-0 vs AG. BB 1-0 vs AG.
Philadelphia AMP [Pool #1, Overall #1]
Philly are a smart, well-drilled squad with a deep roster who have all bought into a similar vision and play style. Their depth and versatility allowed them to bowl through the regular season and land in Rockford as a title favorite.
AMP's defense focuses on taking away opponents' primary looks. They use flat marks and poaches in throwing lanes to discourage hucks, and receivers frequently have defenders right on their heels to keep throwers guessing. In this clip from their US Open game against Drag'n Thrust, Matt Carter puts a mark on right after the pull while Andrea Desabato poaches first the break and then the open lane, dissolving any semblance of a pull play. Once a reset is thrown and the initial offense is disrupted, Carter locks down on the reset.
Philly's offensive philosophy encourages attacks that are disciplined but creative. This clip from AMP vs Seattle Mixtape at the Pro Flight Finale provides a good example of what kinds of creativity to expect. With the disc trapped on the open side and a defender poaching the lane, Nico Lake catches a reset and fires a scoober across the field to a wide open Calvin Trisolini (whose defender had been poaching the lane). Trisolini then pops up a cheeky backhand over his mark for the easy score to Kelsey Devlin.
These throws are slightly unconventional but also relatively low risk. The scoober travels a little slower than a low throw would, but doesn't require a fake or pivot, so Lake can throw it immediately without guessing what his mark will bite on. Similarly, Trisolini could potentially throw around his mark to either side, but if he guesses wrong, his window of opportunity disappears.
When their D line earns a turnover, AMP is looking to score immediately. They won't shoot blindly, and they will grind out breaks when forced, but if you open the door, they will close it. After a Drag'n turnover, Ben Pelleg sees a window to hit Nick Purifico with an immediate break to the end zone:
From the Mixtape game, Linda Morse catches a block and hits David Koch, who fires to Pelleg.
Notice where Pelleg is when Morse catches the block. He starts moving downfield, realizes he has a step and goes right into a full sprint.
The game winner against Mixtape came off a Bobby Roos block followed by a Koch cross field dime.
(Friendly reminder to always thank your observers.)
Likely Ceiling: National Championhip
Likely Floor: Quarterfinals
Connecticut Metro North [Pool #2, Overall #8]
In one of the scariest Nationals pools in division history, Metro North might actually like their draw. They have wins over every other team in the pool, including two against Blackbird. They also started four out of their five tournaments this year very strong, posting 4-5 game win streaks to open weekends, and those games weren't all cakewalks — those stretches included all three of their Pool A opponents plus #2 Slow White, #3 Drag'n Thrust, and #5 Mischief. All of this while not ever having played with their full roster, which they expect to have in Rockford for the first time all season. In a tournament where day one games mean more than ever, expect Metro North to bring the thunder on Thursday.
Offensively, Metro North mostly runs a vertical stack and looks to utilize the break lane early and often in possessions. If that primary look isn't available, main handling pair Chris Mazur and Andy Bosco are more than capable of bouncing the disc back and forth to change angles and try to create a lane. At the same time, when they have an opportunity to attack up the field, the team's handler corps look to rip deep shots at a moment's notice and won't hesitate to put up skyballs to big targets like John Palmer and Sean Murray.
Metro North's defense has a few consistent themes. They will start most stall counts with a flat mark, but then close in and even circle around to deny the dump, whose defender is likely clogging a throwing lane early in the count but will clamp down later on. Downfield defenders mostly play on the back hip while facing the disc, content to give up a few unders here and there if it means being ready to make a smart poach or provide help deep at a moment's notice. Here's a typical example of their defense at work, forcing Love Tractor into a high stall huck in the Pro Elite Challenge finals:
With a roster full of National veterans, Metro North will look to utilize all of their depth. The Connecticut squad used their fresh legs to win three straight games on Friday and Saturday last season to qualify for the 2016 Pro Flight. Being one of the oldest teams in the division — who also managed to play the most regular season games this year — they'll want to keep their top players fresh for the critical moments in each game.
While most teams outside the top four will be content just to stay alive into Friday, you can bet Metro North will be gunning to win the pool and earn the bye to quarters. Their third round match with AMP (to be livestreamed on Ultiworld) could have huge implications for the bracket, as it is unlikely either team will have already have the pool locked up. One interesting leg up for Connecticut is that their roster touts seven former Philly players, from as recently as 2014. The two teams are 1-1 on the season, with AMP having the more recent (and bigger) win, but with Metro North now at full strength, this game is shaping up to be quite a battle.
Likely Ceiling: Semifinals
Likely Floor: Quarterfinals
Washington DC Ambiguous Grey [Pool #3, Overall #12]
Washington DC Ambiguous Grey enters Nationals a dismal 1-10 against the field, with their only victory being a revenge win against #10 seeded Madison NOISE. They had losing records at two Triple Crown Tour events before getting smoked in the semifinals of Chesapeake by AMP. Thanks to West Chester Bang earning a third bid for the Mid-Atlantic region, a universe semifinal win over them at Regionals is all it took for AG to secure their spot in Rockford.
But just like 2015, where they broke seed in pool play, gave Mixtape a battle in the quarterfinals, and stunned Wild Card to earn Pro Flight status, Grey is right where they want to be. Nationals will be their first tournament with their full roster, and only the second tournaments for captain Peter MacArthur and Linc Verlander, who has played with them in years past. They've also added coach Ben Feng to help the team focus on playing. And perhaps most importantly, there's video on their three pool opponents on the Ultiworld store to use for scouting – something that can't be said about Grey.
The lack of available scouting material bodes particularly well for Grey, whose offensive sets are free flowing and anything but textbook. Jarnail Bajwa gets most of their O line's touches and is their primary shooter, with Zach Norrbom and Ellen Greytak playing more reset roles. Anthony McLean and rookie Francoise Delisle are versatile cutters that will keep defenders chasing them through long points. Similar to AMP, Grey's offense will not give up the disc easily, so defenses better be prepared to earn their turnovers.
Their D line standouts are Alanna Tievsky and Antoine Davis, both of whom match up against opponents' best cutters game and work relentlessly downfield after turnovers. If AG can make a run into the championship bracket, Davis will likely be in the conversation for Defensive Player of the Year. He either shuts down his mark or gets blocks, depending on whether the other team is foolish enough to target him. And he is a monster in the end zone, gobbling up skyballs over crowds of people for goals.
Likely Ceiling: Quarterfinals
Likely Floor: Done on Day One
San Francisco Blackbird [Pool #4, Overall #13]
By far the most dangerous pool 4 seed, San Francisco Blackbird enters Nationals with a win over Ambiguous Grey and two close losses to AMP and Metro North. Their regular season performance had a clear downward slope, going 5-1 at Revolution, 4-3 at Colorado Cup, and 1-5 at Pro Flight Finale. Before the game-to-go at Southwest Regionals, Blackbird had lost 3 straight games to Bay area rival Polar Bears (who earned the region's second bid) over just two weekends, and looked like they were down for the count. But this team has a history peaking when it matters most, and this year was no different, as they clobbered Polar Bears 15-9 to earn their spot at Nationals.
The top end of Blackbird's roster is scary impressive. Lauren Casey (Ultiworld first team all club) serves as primary distributor for their O line, with Sheeva Slovan, Corey Lee, Barrs Lang, and Adam Scow playing handler roles as well. Their receiving corps has enough talent for two teams, with Deanna Bjorkquist, Castle Sinicrope, Remy Schor, Nick Slovan and Jeremy Norden all running circles around defenders. Tim Gilligan provides a reliable deep target for any time their offense stalls. And former Revolver and Team USA member Mac Taylor plays whatever role is needed in any given game.
Blackbird relies heavily on chemistry and skill. Their offense creates big spaces to give throwers room to take the most threatening attack to isolated cutters. But when their throwers are missing on those attacks, their offense struggles to score. Taylor alone had more than 5 turnovers in the 13-5 thumping Mixtape gave them at Pro Flight Finale, most of them on hucks too far or goal line break attempts. If one of their shooters gets hot in Rockford, opposing defenses would do well to lock down on them and force others to take their turn.
Their offense seems to have two basic variations. One set is a standard side stack with an isolated cutter. They give that cutter time to get open and then free flow from there. Here's an example from their Pro Flight Finale match against Seattle Mixtape:
The other set is a standard weave. This clip shows Casey, Taylor, and Lee using the huge space created by their cutters to play some 3v3:
Blackbird's defensive style is similar to those of AMP and Metro North: lots of flat marks and lane poaching. It sounds simple but when done right, simple is all you need. Here we see the combination of a reset defender threatening the lane and a flat mark create a miscommunication between the Mixtape thrower and receiver, despite the big cushion his defender is giving him underneath:
Likely Ceiling: Quarterfinals
Likely Floor: Done on Day One
---
AMP and Blackbird as well as Ambiguous Grey and Metro North met in pool play in 2015; AMP and Metro North also met in the Pro Flight bracket. ↩