Riot sealed up Pool A. Brute Squad and Molly Brown easily earned their wins. Heist, Showdown, and Phoenix all scored upsets.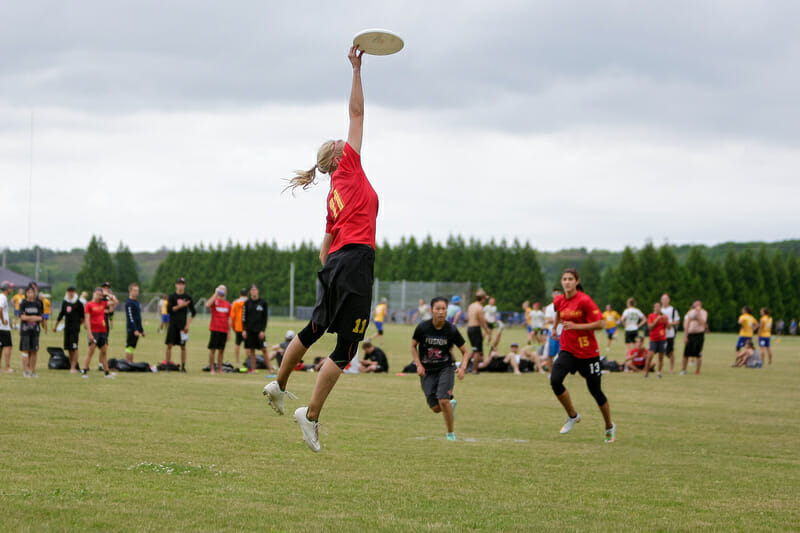 Ultiworld's coverage of the 2016 Club Championships is presented by Spin Ultimate; all opinions are those of the authors. Please support the brands that make Ultiworld possible and shop at Spin Ultimate!
Pool A:
Seattle Riot 13-10 San Francisco Nightlock
Riot (overall #1, seeded A1) sealed up Pool A with their second less-than-convincing win in as many rounds. Just as the round before against Heist, Riot got off to a hot start, jumping out to a 6-1 lead over Nightlock (overall #8, seeded A2) and looking like they would walk away with the game.
But again just like the round before, Riot's turnovers caught up with them as the half wore on. Riot has had issues with the wind all day and it allowed their opponents to stick around in their second and third round games.
It was not even really a case of Nightlock playing significantly better during their run that got them back in the game. It has simply proven decidedly difficult to sustain dominant runs in these conditions. After starting down 6-1, Nightlock fought their way back to an 8-5 deficit.
In the second half the pool two seed continued their steady climb back into the game and got within one at 11-10. Riot came up with a hugely important upwind hold, though, and then broke downwind after another frenzy of turns for the 13-10 final score.
The win meant that Riot held their place as the number one overall seed, but it would be hard to argue that they played at a level to match that billing. If they are to accomplish the goals they set ahead of this tournament, they will have to tighten up their play in spite of the windy conditions.
For Nightlock, the loss caps an impressive first day of the tournament. The team had already assured itself of a top two finish in the pool with nice wins over Madison Heist and Quebec Iris. Even in the loss Nightlock should be buoyed as they head to pre-quarters by their ability to come back and compete with one of the favorites to win the tournament.
Madison Heist 10-6 Quebec Iris
Heist (overall #13, seeded A4) kept their tournament alive and Iris (overall #12, seeded A3) became one of the first women's teams eliminated from the bracket. Heist must have felt unfortunate to have been 0-2 coming into the game, after putting together a couple of dominant runs and competing well in their two previous games. But they were able to put two tough losses behind them and advance to pre-quarters.
The game between the pool three and four seeds started as many games have today – with a lot of downwind holds. It wasn't until 4-4 that either team registered a break. Heist recorded two in a row to go up 6-4 and never relinquished that lead.
In a game of long points, Iris was simply never able to make the key plays to get any of the breaks back. A very late halftime at 8-6 was followed by a Heist hold and another break to finish it. Heist's resolve after two tough losses was impressive and their performances have at times looked much better than their record would indicate.
Liza Minor had an especially impressive game for Madison and she logged three more assists in the team's lone win on the day. For Heist, there is plenty to build on as they look ahead to pre-quarters, while Iris will now look for their first win of the tournament in placement play.
Pool B:
Boston Brute Squad 15-5 Columbus Rival
Brute Squad (overall #2, seeded B1) beat down Rival (overall #14, seeded B4) in their second game of the day to continue the defense of their championship. Brute again rode their dominating D-line to a blow-out victory. The team has done an excellent job of coming out aggressive regardless of situation and opponent.
Brute also has done a nice job of playing in accordance with the conditions. With the team's superior defense and the wind, Brute knows it can take a lot of shots at the end and rely on the volume of scoring chances to win games. Rival, coming off a thrilling win in their first ever Nationals game, was no match for the Boston counterparts.
Shira Klane again had an impressive game for Brute, racking up two goals and two assists. Sophia Herscu added four points as well, with a goal and three assists. With the win, Brute Squad has already locked up first place in the pool. Rival will play Texas Showdown for second place.
Texas Showdown 13-12 San Diego Wildfire
Wildfire (overall #7, seeded B2) lost their second heartbreaker of the day after a nice rebound performance from Showdown (overall #11, seeded B3). Showdown jumped out to a commanding 8-3 lead as they looked to better handle the wind than their opponents.
But Wildfire rallied furiously out of the break. The first-time Nationals attendees scored the first five points out of the break to tie things up at 8. The difference was Wildfire's zone, which proved a tough riddle for Showdown in the second half. San Diego also cut down on their turnovers and their defensive offense carried them back into the game.
From 8-8, though, the wind became too much for either team to overcome. The teams traded downwind holds until double game point at 12-12. A highlight reel, diving grab from Sarah Levinn on the trailing end of a slicing blade huck ended the game. The win very much keeps Showdown in play for second place in the pool behind Brute Squad. Their game with Rival in the final round will determine how those two teams finish.
Wildfire, meanwhile, have been eliminated from bracket contention, which feels an unjust result considering how close their two games have been. They will complete their day with a game against Brute Squad that will have no impact on final pool placement.
Pool C:
Denver Molly Brown 15-7 Philadelphia Green Means Go
Molly Brown (overall #3, seeded C1) once more looked steady in the gusty wind, beating Green Means Go (overall #15, seeded C4) with a score of 15-7. Rather than resting their starters, Molly chose to cycle deep through their roster. 12 players scored their 15 goals, and 11 different players threw assists.
Green Means Go played clean fundamentals offense, and Amel Awadelkarim had a great game, but tight handler pressure from Molly often forced tricky break throws or floating punts.
Philly set a zone on Molly several times, but the Denver handlers kept their throws low and fast, and they were able to reach the upwind endzone all game.
Raleigh Phoenix 11-9 Vancouver Traffic
Phoenix (overall #10, seeded C3) upset Traffic (overall #6, seeded C2) 11-9 in a long, windy battle.
Point after point, each team set zones, punted downfield, and then struggled upwind. Neither team looked polished in the wind, but Traffic seemed particularly shaky in the gusts. They had easy fumbles, turfed resets, and blady upwind passes on nearly every point.
Phoenix and Traffic traded long downwind points through the half and into soft cap. In the final moments, they managed to snag a Traffic reset close to the upwind endzone, and they punched in the game's first break.
Traffic put out a line of veteran handlers to work upwind, but it was too little too late, and Phoenix sealed their break on a quick pass from Katelyn Travaglini to Rachel Rushing.