The day's biggest stories.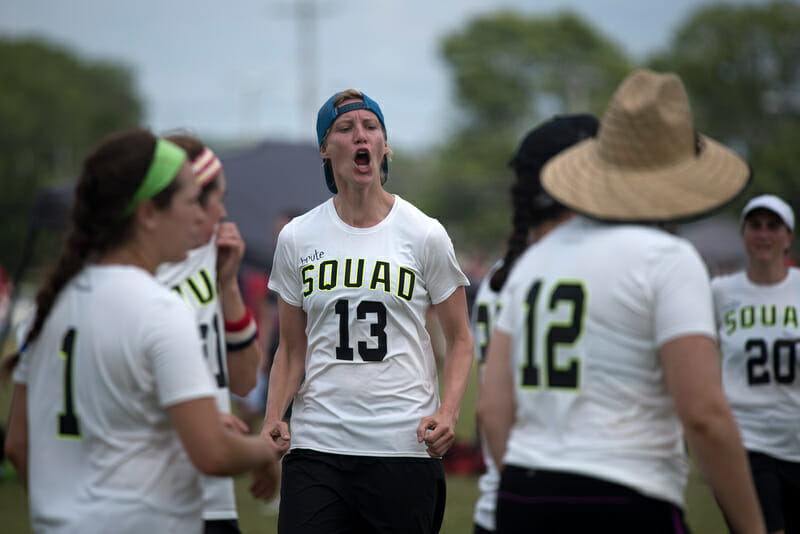 Ultiworld's coverage of the 2016 Club Championships is presented by Spin Ultimate; all opinions are those of the authors. Please support the brands that make Ultiworld possible and shop at Spin Ultimate!
Here's a bite-size look at the action from Thursday at the 2016 USA Ultimate National Championships in the Women's Division.
Riot & Brute Squad Have Very Different Thursdays
The top two seeds and heavy favorites to reach the tournament final both went 3-0 in pool play, as expected. But the similarities between Riot's and Brute Squad's Thursdays end there.
Riot had one decisive win to begin their tournament — a 15-3 thrashing of Quebec Iris — but struggled for significant periods in narrow wins over Madison Heist and San Francisco Nightlock. In both games Riot started well, but their play in Thursday's windy conditions let both teams back into the game.
Heist, in particular, gave Riot a scare. Heist had an opportunity in the second half to hold from about 15 yards out and maintain their lead and downwind offensive possessions through the rest of the game. A wind-induced overthrow led to a missed opportunity to score and Riot slowly shifted field position in their favor before registering the upwind break.
Riot won the game without too much trouble from that point, but had Heist capitalized on that excellent opportunity, Riot could have been pushed to the brink.
Brute Squad, on the other hand, absolutely blitzed through Pool B. Their closest game was their 14-7 win over Showdown in their first game of the day. Brute dictated play to their strengths and expertly played to the conditions. Doing so led to a dismantling of their entire pool.
It should be noted that Brute's pool wound up being weaker than expected and Riot's two challengers both looked good all day; Brute's strength in the wind provided a stark contrast to Riot's struggles with it.
Ultimately, both teams accomplished the only thing that matters: winning all their games. But Brute Squad sent a message with their performance and Riot looked far from dominant. On Thursday, Boston had a great game plan for the Rockford conditions upon which they can build a title run, while Riot has some work to do to get to a championship level.
Fury Is Elite For A Reason
Years from now, people will watch footage of Fury playing at this year's Nationals, and they will have no clue there was even a breeze. From their crushing force middle to their highlight reel grabs, Fury recreated the definition of elite with every point they played.
Fury allowed just 18 points in pool play, only three more than Brute Squad and with a much tougher pool. When they faced the 5-seed Scandal in the final round, they took control early and dictated the pace.
Lakshmi Narayan, Ness Fajardo, and Claire Desmond stood out today for their excellent shutdown defense on the pool's tough handlers. Anna Nazarov submitted a polished, professional day of ultimate like she was punching in for work.
If they keep playing like they did today (they're Fury, so they will), Fury is destined for a reunion with Riot in the semifinals on Saturday. And this time, my money's on San Francisco.
Midwestern Rival Thrived In The Wind
It's no coincidence that the Great Lakes team broke seed on a day plagued by the region's defining trait: wind. While coastal and southern teams watched their hucks sail pitifully out of bounds or their resets dive into the grass, one team kept their releases low and patiently churned: Rival.
The team, composed of Ohio and Michigan women who are no strangers to this wind, ended the day second in their pool. Teams set zones that Tracey Lo, Sadie Jezierski, and Sara Scott destroyed with small ball. Tomorrow's forecast predicts lighter winds and Rival will face Vancouver Traffic. Their chances of advancing past prequarters are slim, but everyone could learn a few lessons from Rival's pool play: stay low. Appreciate the small ball. Respect the wind.
Surprises, Shockers, & Spoilers
It was a remarkable day for upsets in Rockford, IL, and the women's division was no exception. After the first round passed without a single game going the underdog's way, Columbus Rival landed the opening blow for the little guy over San Diego Wildfire. From there, five other games were won by lower seeds. Once the dust settled, a 2nd seed was eliminated and three 4th seeds advanced to prequarters. It marks the most upsets in the first day of pool play in the women's division since 2005 and exceeded the average of 2.1 upsets per year over the last 10 seasons.
The wind was likely a big contributor to the day's surprises. Teams found new conditions waiting for them and found new strengths could be the key to victory. Phoenix was comfortable taking shots and fighting for field position while Rival felt comfortable using their zone and pouncing on mistakes and making big plays as receivers.
The prospects for these plucky spoilers are not great, however. There has been a culling of the teams that struggled most with the conditions, meaning that a lot of the division's elite powers – who mostly spent Thursday decimating opposing scoresheets – are waiting for them. But for many of them, they have more hope than ever before that they have already defied the odds.