Tough battles in the wind, but Traffic, Showdown, Scandal, and Nightlock move on to quarterfinals.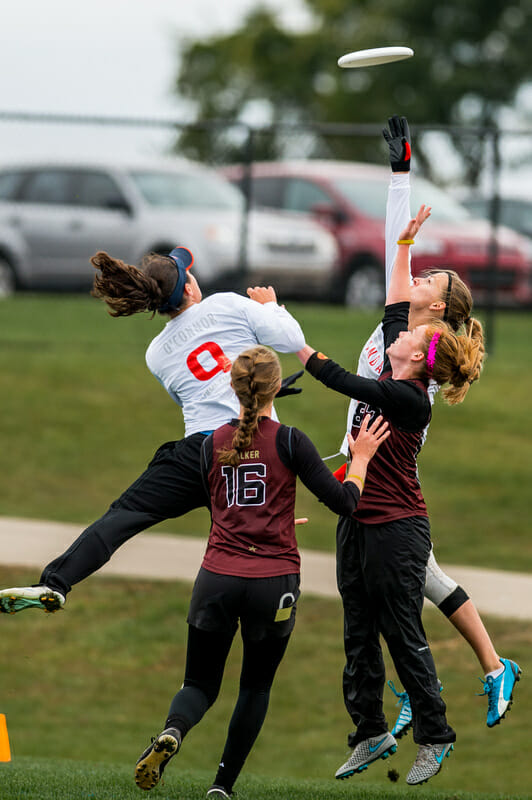 Ultiworld's coverage of the 2016 Club Championships is presented by Spin Ultimate; all opinions are those of the authors. Please support the brands that make Ultiworld possible and shop at Spin Ultimate!
Vancouver Traffic 15-11 Columbus Rival
For a few shining moments, it looked like Rival's mastery of the wind would carry them into quarterfinals before Traffic (overall #6, finished C3) rallied back to win 15-11.
Rival (overall #14, finished B2) capitalized early on Traffic fumbles, and the handlers worked the disc with confidence up and down the chilly field. At the 4-1, the small hometown sideline allowed a sliver of hope to grow. Could Rival, the tournament 14-seed, make it to the quarterfinals?
Traffic struggled to calibrate with the wind in pool play, and their first few points looked like more of the same. But their D-line would become their redemption.
Traffic shifted to a backhand force for the rest of the game to force Rival's handlers to throw into wind that would push their throws higher. When Rival brought the disc in from out of bounds, Traffic called and set several different junk zones to hamper the first few passes.
It seemed like Rival blinked, just once, on the field, and Traffic stole the show. They earned one of their breaks back through excellent defense and an assist from Rachel Moens who hit Jessica Rockliff quickly in the endzone, and a turn from Rival's Hannah Henkin gave them the chance to regain their second break back. Traffic had refocused, and they took control of the game's pace and fate to break again for half.
Rival played more composed and tactical ultimate in the second half than you may expect from just looking at their regular season record or their resume. But Traffic's elite core had taken hold, and Danielle Fortin, Rockliff, and Laura Mason marched the disc to the endzone for a run of 4 breaks that would cement the game's outcome.
Sara Scott helped Rival earn one final break before Moens connected with Terri Whitehead to send Traffic to the quarterfinals.
Upcoming Quarterfinal Matchup: Seattle Riot v. Vancouver Traffic
Texas Showdown 14-10 Raleigh Phoenix
The persistence and defense of Showdown (overall #11, finished B3) earned them enough breaks to outlast Phoenix (overall #10, finished C2).
The game's first half was a slog: the teams traded long downwind points ad nauseum.
Phoenix loves to send deep shots into the endzone at every opportunity, and sometimes Jenny Wei is waiting to score. If not, they can set a zone and try to force another mistake. The strategy helped them break seed, but it also means their points can drag if neither team values possession.
Texas tried to work up the field through crafty throws from Rebecca Forth and Sydney Overman, but one mistake would give Jessi Jones the chance to launch another huck.
Finally, Showdown managed to work the disc into the redzone, and Katey Forth hit Sarah Levinn for half and the game's first break.
Showdown held out of half and then kept marching. They broke twice more to give themselves a 4-point margin by defending their endzone from Jones hucks and then playing small ball for 70 yards, again and again.
Phoenix' Kate Travaglini played her heart out to help Phoenix hold for the rest of the game, but Showdown's margin never closed.
Upcoming Quarterfinal Matchup: San Francisco Fury v. Texas Showdown
Washington DC Scandal 14-11 Madison Heist
Scandal (overall #5, finished D2) advances to quarterfinals, but it was far from easy for them. Heist (overall #13, finished A3) pushed them until the very end and were actually in great position to win the game in the latter stages of the second half. But when it mattered most, Scandal cleaned it up to keep their tournament alive.
Both teams traded holds in the early going, but Heist looked slightly more impressive. Heist's defense was able to generate far more turns with their upwind defense, but Scandal's O-Line defense – thanks in large part to Sandy Jorgensen's defense in Scandal's zone – was resolute and kept them in the game.
Heist made a conceited effort to attack deep with their D-Line offense. Georgia Bosscher was the primary thrower, but Jorgensen and the win neutralized any downfield threat in the game's first several points.
The game finally took a turn at 5-5. On another long point, Heist was finally able to force some turnovers in the Scandal half of the field. On their fifth or sixth chance to break on the point, a floating prayer into the endzone ended up in Jorgensen's blind spot and Amelia Cuarenta come down with the medicine pass for the break.
After the long defensive point, Heist rotated some players off of their D-line and the intensity suffered a bit. Heist was unable to get the back-breaking double break and take advantage of the wind, as Scandal took the easy upwind hold.
Scandal was more ruthless with the wind in their favor and took advantage of a short-field opportunity to break right back and get the game back on serve. It was a moment that felt all too familiar for Heist this weekend. Heist has played really well in patches but lost too many key situations in their bigger games and it felt like that was happening again.
But Heist responded incredibly well. An easy hold was followed by another couple of upwind break chances, Cuarenta scoring on the second for her second break goal of the half.
With Heist receiving downwind out of half it was their game to lose. Scandal broke upwind.
Heist was again losing at situational ultimate. But again, they responded very well. Another hold and a break put Heist back in control and Scandal looked in real danger.
And from there the game completely turned on its head. Heist seemed overwhelmed by the moment and maybe a little tired. Simple throws were turfed and the defensive intensity was not as high as it had been. Scandal rattled off four breaks in a row for a 13-10 lead and the game was all but over.
Jorgensen again was dominant as Heist became over reliant on deep looks on both sides of the field. And Scandal's offense was significantly cleaner in the game's final points than it had been the early stages.
The teams traded holds to end the game. The score belied how close the game was for its majority and well Heist pushed Scandal from the beginning of the game.
"They're a really good team…it's a credit to Heist how hard this game was," said Scandal coach Alex "Dutchy" Ghesquiere.
"[In the second half] we tried to get back to our original game. our game that we're really good at, which is big space cutting," said Ghesquiere. "We didn't wanna get constrained in five yards. 'no…we're gonna play big; We're gonna try to make our full cutting depth work' and opening up the field that was important for us."
While Scandal's improved second half was a major factor, Jorgensen's ability to take away a big part of Heist's offense was the biggest difference between the two teams. "It's fantastic to have a super weapon like Sandy on the team," said Ghesquiere. "It makes coaching fun."
In this game at least, it made coaching a little bit easier for Ghesquiere and Scandal as well. After a win in which they were pushed nearly all the way, Scandal looks ahead to an enticing semifinal matchup with Denver Molly Brown.
Heist will again feel hard done by the loss. The team has played so well in parts of the three games that they lost this weekend, but they just did not win enough situations. Scandal was better when it was most important for them to be and their season is still alive as a result.
Upcoming Quarterfinal Matchup: Denver Molly Brown v. Washington DC Scandal
San Francisco Nightlock 15-6 Portland Schwa
Nightlock (overall #8, finished A2) breezed their way to a berth in quarterfinals with a dominating performance over Schwa (overall #16, finished D3).
Schwa just did not match up well with Nightlock and the teams' performances reflected that on the field. Nightlock did an excellent job of jumping out early, and then maintaining intensity to not give Schwa any chance of getting back in the game.
Nightlock once again did an excellent job of dispersing the scoring responsibility throughout the whole roster. Briana Cahn and Alina Kagan each had a team-high three points, but Nightlock relied on its whole team in the impressive win, just as it has all tournament long.
Nightlock now looks ahead to a matchup with defending champion Boston Brute Squad in quarterfinals. Schwa to Brute will be a mighty jump in terms of a challenge, but Nightlock did compete well with number one seed Riot in pool play. Whether they are able to go toe to toe with Brute Squad or not, Nightlock started off well in bracket play with their blowout of Schwa.
Upcoming Quarterfinal Matchup: Boston Brute Squad v. San Francisco Nightlock