Top-seeded Ironside take on a strong Johnny Bravo team in the semis.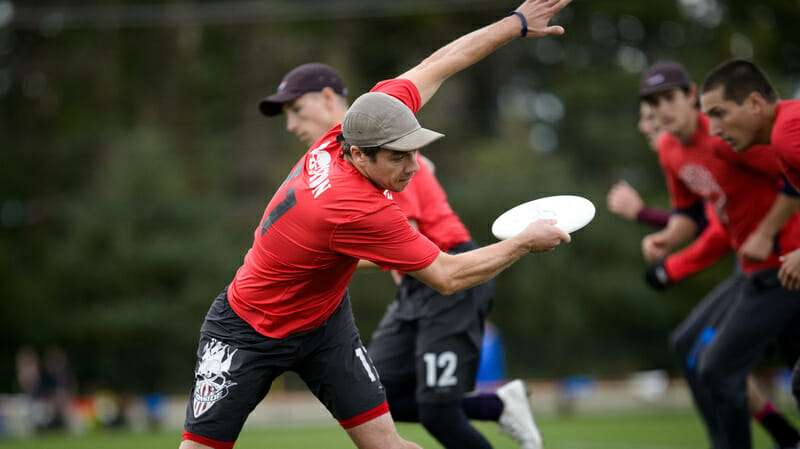 Ultiworld's coverage of the 2016 Club Championships is presented by Spin Ultimate; all opinions are those of the authors. Please support the brands that make Ultiworld possible and shop at Spin Ultimate!
A rematch of the 2014 national championship game, Saturday's first semifinal pits Pool A winner Boston Ironside against the top team from Pool D, Denver Johnny Bravo.
While their paths are converging Saturday evening, the two teams entered the season with completely different narratives. After making semifinals last season with a depleted roster, Ironside added big pieces and were doggedly in pursuit of their first ever title. "Is it Ironside's year?" became a common refrain, as the evidence against the team winning was less and less about their performance and ability on the field, and more about the ghosts of their past. The number one seed at Nationals, Ironside have been wire-to-wire title contenders, if not favorites.
On the other side of things, Johnny Bravo came into the year with tempered expectations. They lost a staggering amount of talent from 2015 and were coming off of a disappointing prequarters exit last season. 2016 was supposed to be a rebuilding year, but Jimmy Mickle has other ideas.
After leading the team to a semifinal appearance at the Pro Flight Finale, Mickle somehow has taken his game up another notch, even by his incredibly high standards. After hanging 10 assists on Machine to win Pool D, he slapped up a 3 goal, 5 assist performance against Doublewide and added a block for good measure. He's been the most singularly dominant player at the tournament, and the big stage of semis is an opportunity for him to continue his sparking run.
It hasn't been all Mickle though for Bravo, as Ben Lohre has been a revelation for Denver this season. This tournament has been his official coming out party, as he has tallied 17 goals and 9 assists in only four games this weekend. It isn't just the stats that have shown Lohre's starring role for Bravo, it's the clear trust that Mickle and the other veterans on the team show in him. Time and time again this tournament Bravo has called Lohre's number in tight spots, and the explosive cutter has answered the call.
Bravo has yet to run into an offense like Ironside's, a draconian vertical stake that breaks your spirit before your defense. The stable of wily handlers on Boston's roster is impressive, and coach Josh McCarthy isn't afraid to have four or even five players who are nominally "handlers" on the field all at once.
"This year our strength is around the disc" said Ironside coach Josh McCarthy. "Having Kurt [Gibson] back there is a difference maker."
Having players like Josh Markette, Gibson, Tom Annen, Mark Vandeburg, and Jared Innselmann all out on the field at the same time makes for nightmare matchup problems, as virtually no team can field a defense that has the quickness and acumen to stop that group from moving the disc around the backfield at will. Gibson is the piece that allows it all to work, as his ability to guard any position off of a turnover allows Ironside to avoid being abused by athletic mismatches.
The closest that Johnny Bravo's defense has come to playing an offense like Ironside this season may be their own teammates in practice. With former Colorado Mamabird coach Jim Schoettler installing his brand of vertical stack, Johnny Bravo have bedeviled teams all season with clever breakside reset systems that allow their throwers to aggressively attack downfield while having an isolated front of the stack aggressively attack space above the handler set.
Both teams run very efficient offenses predicated on the front of the stack, but the big difference is the spacing. While Bravo likes to keep their stack spread out with plenty of room for big breaks and downfield continuation, Ironside is totally comfortable operating in a 10×10 box. The team is so confident in their ability to break the mark and get open in tight places that they will put several players around the disc. It is very difficult for opposing teams to deny resets when there are players constantly cutting and clearing, changing the angle of emphasis for the mark and the downfield defenders. Many systems only give a thrower two dump looks before a punt becomes necessary. Ironside is so good at maximizing space in tight quarters that they can usually offer three or four reset looks per stall count, which can add up tremendously over the course of a game.
If Denver is going to stop Ironside, they may have to force them out of their stack with a zone. Of course, this gives many talented throwers the time to survey holes in the defense and act accordingly, but with the kind of talent on Ironside you need to pick your poison. In the quarterfinals Sockeye declined to change their tactics and accepted a slow, but inevitable, death. Faced with the same choice, Denver may have to roll the dice on a defensive scheme that gives Ironside's throwers room to create, but coaxes the disc out of the backfield.
Ironside will have their own defensive dilemma to deal with: how to stop Jimmy Mickle? No one has been able to figure it out this far, but it will surely be an integral part of their game plan.
"We're going to have to have all hands on deck in terms of knowing where he is on the field" said McCarthy. "We'll probably have to rotate three or four of our different matchups in particular to try to slow him down and wear him out a little bit, but he'll still probably get his. You're not going to shut him down the whole game.
If Mickle is as dominant as he has been the rest of the weekend, it might not matter what schemes McCarthy and the rest of Ironside come up with. It is obviously reductive to boil the contest down to Ironside vs. Jimmy Mickle, but it speaks to the strength of those two entities. Ironside has been so good this season, it's hard to see a team beating them without putting forth a transcendent performance, and as Mickle is really hitting his prime as a player, "transcendence" as we understand it becomes more and more routine.