A club classic.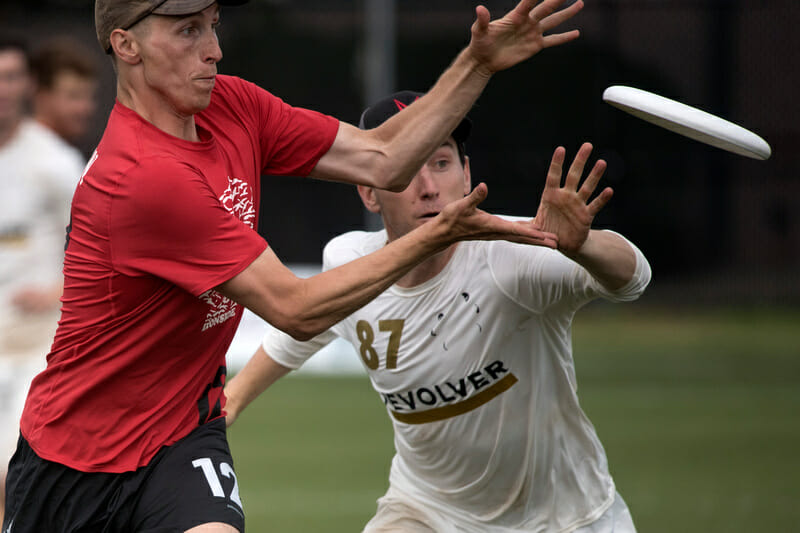 Ultiworld's coverage of the 2016 Club Championships is presented by Spin Ultimate; all opinions are those of the authors. Please support the brands that make Ultiworld possible and shop at Spin Ultimate!
ROCKFORD, Ill. — It had to be this way, didn't it? Who else would stand in the way of Boston Ironside, a team having perhaps their cleanest and most dominant Nationals performances in club history, than four-time champion San Francisco Revolver?
Two of Revolver's trophies have come at the expense of Ironside, a pair of 15-10 wins in 2010 and 2011. Then again, the only other teams to win a title in the last six years have been led by Kurt Gibson,1 who now, of course, leads the way for the Ironside offense.
In their ninth season, Boston will take the finals field for the fifth time. For San Francisco, this is appearance number six since 2010.2.
And no matter what this weekend's statistics and observations say, regardless of strength of record, Ironside have the bigger challenge tomorrow. The agony of loss has swept over the deck of the Boat for each one of their finals appearances. Boston has repeatedly fielded staggeringly talented teams, and each season coach Josh McCarthy has helped steer them to the semifinals or better. As Patrick Stegemoeller wrote after their semis loss to Seattle Sockeye last year, "It is the curse of consistency. Every year Ironside is just good enough to get their hearts broken."
For many of those seasons, George Stubbs was a Boston focal point, and this will be his first finals appearance since the loss to Bravo in 2014. This year, however, the longtime Boston stalwart will take the field on one of San Francisco's two impressive defensive lines. The hands of fate have their fingerprints all over this game: no matter what, a Stubbs will win a title tomorrow. And if it's John, 2015 Callahan winner and George's younger brother, it'll be Boston's first and another near miss of glory for George – he'll always be the one who left.
History has done an excellent job setting the stage.
Gibson's presence on championship teams is notable for a reason. For the duration of the weekend, regardless of conditions or opponent, he has been instrumental in Ironside's success. His versatility as a thrower from any position, as well as his remarkable speed at his size and length, has opened up new windows for Boston. Ironically, the aspect of Ironside that he's most gone towards supporting is their patented workmanlike approach to vertical stack offense. Along with Josh "Cricket" Markette and club division legend Jared Inselmann, Gibson is an excellent distributor who loves to be around the disc. He has brought deep firepower to a backfield that has historically featured Markette's scampering quick releases and creative breakmark throws.
But excitement and anticipation be damned. Other than Gibson's monstrous flick huck to finish off Sockeye and the booming backhand of Christian Foster against Johnny Bravo in finals, watching Ironside's offense has had the appeal of reading a dictionary this weekend. Endless, clinical resets have ground down opponents, while cutters fire out of the vertical stack and clear quickly to keep the lanes open. Boston's commitment to discipline has brought them a batch of sizable wins, including two over the teams that have pushed San Francisco to double game point this weekend.
And that creates uncertainty about a surefire fifth title for Revolver. 2015 may have been the peak of the team's offensive dominance – Cassidy Rasmussen won Player of the Year, Beau Kittredge added another historic catch to send Washington D.C. Truck Stop packing in quarterfinals, and Ashlin Joye continued his play as perhaps the best pure thrower in the division. While the defense was one to be feared, the offense was unstoppable.
This weekend has been the D-line's turn to shine. Led by captains Lucas Dallmann and Nathan White, they battled the team back into a late lead and win against Sockeye in pool play. White's hand block on Raleigh's Jonathan Nethercutt was signature – stuffing the Southeast throwing prodigy ramped up the already feverish pace of the D-line. As a team, they continue to improve their conversion rate on breaks. The one concern is the health of defensive ace Russell Wynne, who spent the entire semifinal in streetclothes. Revolver leadership declined comment on Wynne's status for the final.
The score line from Ironside's semifinal against Bravo reads like a clean blowout, but Denver stormed out to a 4-1 lead by forcing Boston's cutters downfield and away from the disc. The Revolver defending core is much stronger and experienced. Expect Markette, Inselmann, Tom Annen, and other Ironside handlers will have a harder time trying to get Revolver's defenders to bite on inside fakes to open up around throws, while downfield San Francisco will hold the advantage.
Questions about both teams' weaknesses should focus on Revolver's offense and Ironside's ability to have both their lines perform at their peak in a single game. Saturday evening, the Boat defense was deadly against the younger Denver team, one that couldn't go to the bench on offense to stay competitive. Christian Foster was a standout for his pulls and excellent play after the turn, while Russell Wallack and Rusty Ingold-Smith were excellent in coverage. On Friday, the O-line was untouchable against Sockeye, but faltered early against in the semifinal match before gathering themselves.
Against Ring of Fire, Revolver's offense only showed flashes of their 2016 excellence. Grant Lindsley continued to chew up yards all over the field, and Chris Kosednar was brilliant as a reset option. But Eli Kerns, the talented first look in the backfield, gave up too many turnovers, including the pair that gave Raleigh their two early breaks. After the game, Dallmann admitted that his team had strayed from their strengths in trying to go toe to toe with Ring on deep shots.
Kerns needs improved efficiency and huck selection (or perhaps limiting his deep looks even more) to realize his full ability. If he can help to involve Simon Higgins and Christian Johnson, key role players who combine excellent height and speed together, more on under cuts, success should arrive quickly.
Still, history speaks volumes when it comes to team cultures built on winning titles versus those that have been defined by just missing out. San Francisco lives for this game and in four out of the last six years, they have achieved what every club team says they are trying to do: play the best ultimate in their last appearance of the season. Measuring in performances so far this weekend, Ironside's lack of close calls and conspicuous offensive mistakes may make them the favorite. But looking at the record books, expecting anything less than greatness from Revolver in this game feels wrong.
Watch the game at 12:30 Central on WatchESPN.
---
Austin Doublewide 2012, Denver Johnny Bravo 2014. ↩

The 2014 final was Bravo vs. Ironside ↩