Ironside finally has a title.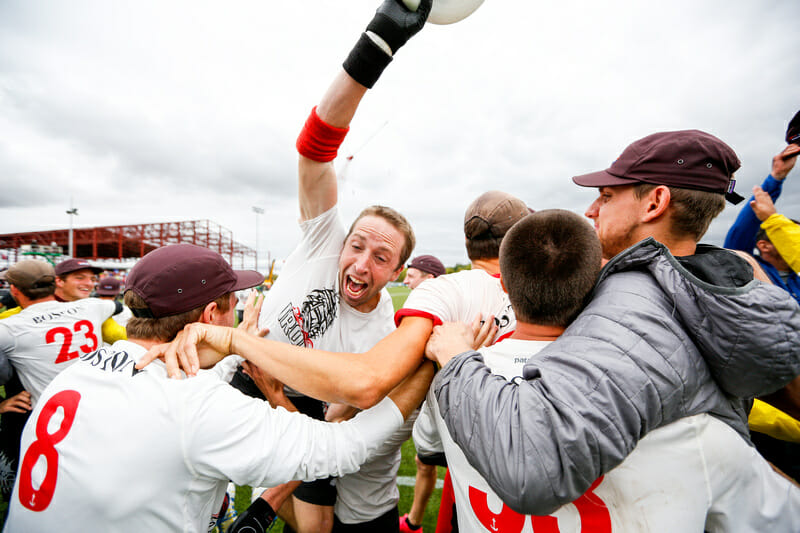 Ultiworld's coverage of the 2016 Club Championships is presented by Spin Ultimate; all opinions are those of the authors. Please support the brands that make Ultiworld possible and shop at Spin Ultimate!
ROCKFORD, Ill. —What better reminder that ultimate is a nerve wracking battle to stay perfect than the two small mishaps that flipped the balance finally to Boston Ironside's favor this past Sunday? A briefly tipped pass and a routine flick that hit the turf decided double game point and delivered a 14-13 Ironside win over San Francisco Revolver, as the men of the Boat sailed off into the sunset of their ninth straight appearance in semifinals or better as first-time champions.
Almost a decade's worth of tension piled into the final point, an imperfect offensive effort from Ironside that benefitted from a heartbreaking throwaway from Beau Kittredge – it was the only point all game when either team's defensive line did not convert the break on their first possession. And while disbelief washed over the top line from San Francisco as Boston rushed the field, the feeling may have been even stronger for the many longtime Ironside members.
"It's hard to believe. It seems like we've been always the bridesmaid, never the bride. And here we are," Boston coach Josh McCarthy said, overcome with emotion after the game.
The finish capped a weekend-long show of improved mental fortitude for Ironside, a top team that has struggled repeatedly to claw back from deficits and hold onto leads in big bracket play games at the National Championships. Down 8-6 at half to a Revolver team that was turnover free after 14 points, conditions seemed ripe for another disappointment. But this game–this team–was determined to stay cool and defy history.
Joel Schlachet made the strong opening statement for San Francisco. He and fellow O-line speedster Grant Lindsley joined the first D-line. The pair began a steady rotation of up to three O-line players crossing to defense to take big matchups all game long. Schlachet took Gibson, an assignment he'd largely share with George Stubbs.
"The thought process there…pulling over probably about two guys, that can push their offensive players hard, not only on defense, but on the turn. We still have a ton of confidence in our depth, but we wanted to make this a war of attrition," said Revolver captain Lucas Dallmann.
Nathan White sent the pull up, and Revolver came down in a stiff force backhand that quickly yielded an Ironside turn. Greg Cohen got the disc not far from pay dirt and quickly called a timeout to draw up a play. He hit Schlachet for the first break and the 1-0 lead.
George Stubbs led the next San Francisco defensive effort against his old team, with 2015 Ultiworld Club Player of the Year Cassidy Rasmussen over from the offense for added firepower. Ironside recovered quickly, showing the stingy vertical stack offense with Josh "Cricket" Markette and Kurt Gibson at the helm. George's younger brother John, Ultiworld's 2016 College Player of the Year, sent the fourteenth pass of the point into the end zone for Jeff Graham, the first of his game-high five goals.
Graham was an essential addition to Boston's 2016 roster, returning to the team at age 35 after years away, playing in the Mixed Division with a different Beantown team, The Ghosts. Jared Inselmann was another notable 35 year-old pickup, himself a Southeast legend and recent Masters world champion. They joined Markette, 37, all as offensive focal points in an exhausting vertical stack offense that relied on a grinding, patient style that sought to wear out opponents.
"You've got Jared, who's out there at a fairly ripe age. You've got Cricket at a ripe age. You've got Jeff at a ripe age," San Francisco coach Mike Payne observed in admiration after the game. "And I think those guys did whatever it took in advance of this tournament and the season to get themselves in shape to run a pretty rigorous offense."
The next two points were all Revolver. Kittredge threw his first assist of the game to Eli Kerns, with the offense moving at a blistering paces down the field. Seth Reinhardt came up with bookends for the D-line on the next point, getting a tip block on a Kurt Gibson throw and catching the goal from Byron Liu for a 3-1 lead.
Both teams buckled down and played 10 practically flawless points of ultimate. Ironside switched between forces, poached on the Revolver handlers, and rode monstrous pulls from Christian Foster in search of a break. None of it was enough to stay with the defending champs, who seemed to have shored up any doubt about their ability to hold onto the disc after a sloppy performance in semifinals against Raleigh Ring of Fire. Simon Higgins caught fire with two of his team-high four goals, and snagging an assist to Kerns along the way. San Francisco had a two point lead at half, 8-6 – just enough of a deficit to call back stomach-knotting memories for Ironside.
"I have to be honest, like, the way Revolver was playing was so clean, a little bit of doubt crept in," said Markette, thinking back on the score at the break.
A critical tactical adjustment, a matchup change, and an emotional speech in the huddle from Ironside captain Will Neff, was immediately helpful heading into the second half. Neff reminded the team that they had already overcome a deficit, a larger 4-1 Denver Johnny Bravo lead, in the first half of the semifinal the day before. And Jack Hatchett spoke up and asked to take on the Lindsley matchup for the rest of the game.
"We've been harping on taking away the insides like all year and I think we probably overcommitted a little bit and those arounds into space were killing us in the first half," McCarthy explained. "The ones that hurt us are when you break around and you throw up field because that's really dangerous space. And we made a little bit of an adjustment on the mark to try and take that away and we went almost exclusively backhand, because the backhand was the one that was really hurting us."
The changes made the difference immediately. Foster pulled and Ironside's defenders sat on the around flick, forcing backhand. Kittredge caught the disc on the force sideline near midfield with a swatch of open space, with Lindsley slicing after three jukes into the open lane. Hatchett tailed him by just a step, but Kittredge floated a high release backhand on a tough angle for Lindsley, and Hatchett flew in for the block. Eleven passes later, Jay Clark found Alex Simmons for the first Boston break and closed the gap to one point, 8-7.
Off Foster's next pull, Ironside kept the pressure on, with Gibson taking a turn on Higgins. Schlachet missed his mark on the third throw off the pull and in a blink, Gibson tallied the third of his team-high five assists with a one-throw break score, again to Simmons. The game was nearly back on serve at 8-8.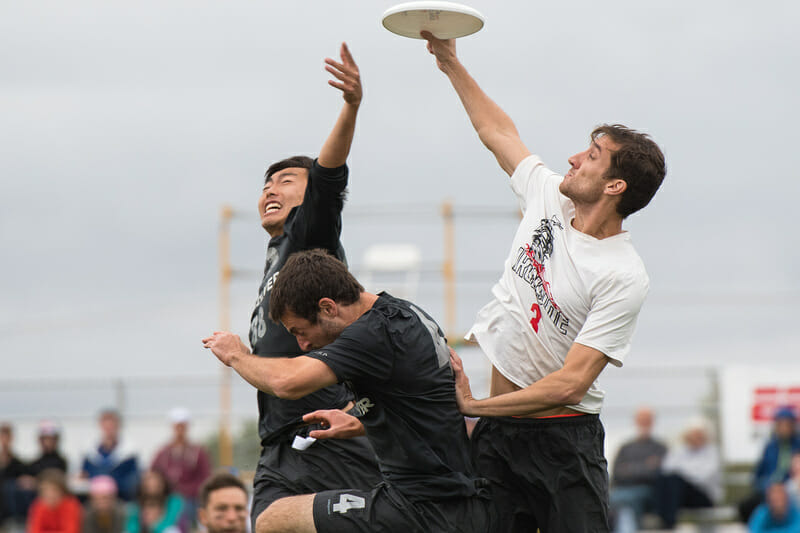 Gibson stayed in again, but this time Foster couldn't keep his pull in bounds. San Francisco took over at the brick mark. Staying in their backhand force and trusting their adjustment, Boston dug in their heels and pushed the offense almost back to the goal line. In a moment of desperation, Revolver broke away from their own grinding throws to isolated unders and sent a long bomb to Kittredge. Maybe it's because the throw didn't come from Ashlin Joye, who, perhaps more than anyone else in the world, knows how to put the disc out where only Kittredge can find it, or maybe it was a fired up Boston defense–but the world's best-known receiver couldn't make the play under duress from David Ferraro. That was Revolver's third turnover in as many possessions.
Boston stayed focused after the turn and churned out another 10-throw set that allowed Tyler Chan to set up a goal for Rusty Ingold-Smith and Boston's first lead of the game at 9-8. The defending champs had gone from a perfect first half into a second half that felt entirely different. But, true to their reputation, nothing in the team's on-field or sideline demeanor changed.
"I didn't see it as they gave up breaks. I just saw it as opportunity," Dallmann explained. "And honestly, it sounds super cliché, that's how our D-line looks at it. This is more of an opportunity for us to play. Offense will get us out there whenever they need us out there and we have to go to work."
But the seamless offense of the first half never quite returned for Revolver. The teams traded points to 11-11, with Rasmussen getting bailed out by Christian Johnson on a floaty shot for one of San Francisco next three holds.
The soft cap clock wound down during the next point, with George Stubbs and Nathan White leading the next defensive charge for Revolver. Stubbs again took on Gibson, while the 6'5" White marked the 6'2" Inselmann, who'd been using his length effectively for Ironside to help keep the disc moving. Fierce downfield defense, in another force backhand, had Inselmann pinned on the force sideline just past midfield and he called a risky timeout at stall eight. 90 seconds later, Inselmann checked in the disc, wound up a throw, and had it stuffed by White. Taking a page out of his teammate Reinhardt's playbook from the first half, White went diving for a Rasmussen throw to the back corner of the end zone for bookends and Revolver went back out in front, 12-11. The San Francisco sidelines erupted, with Schlachet speeding onto the field to lead the celebration.
That's the kind of focus-destroying play that has won Revolver a trophy-case full of titles. When leveled against Ironside in the past, they've faltered.
"We had to claw our way back," Gibson said. "And that's something that Ironside has not typically done in the past, you know, whether they've started strong or started slow, they'd always either let it…let the other team back in the game, or not be able to claw back."
Boston shook off history's grip with the following two points. The first was a pick-heavy, classic big game slog – like something out of their epic 2014 semifinal against Ring of Fire, but with a lot less booing. Even with the stoppages, every inch of the hold was classic Ironside. They swung and reset the disc without so much as a flinch towards a desperate downfield look for 19 passes, finishing with Markette getting his second assist as he dished it into Gibson to tie the game at 12-12, with the game now capped at 14. It was the longest string of completed passes by either team all game.
Minutes later, San Francisco's O-line was back in untouchable turbo mode. Kerns got wide open streaking towards the end zone for a pass from Johnson, but it missed the target just enough that Kerns couldn't stop rotation. The chance to take a momentous late game lead was staring Boston down. A break would all but convince the crowd that 2016 was the year.
It almost didn't happen. Higgins got his hand on an Ironside pass in the air, but Boston saved possession in a critical second effort. Gibson got his fourth assist and John Stubbs got his third goal, along with the coveted 13-12 advantage.
Schlachet took a turn on stage in the ensuing point. Breaking open on a cut across the field, Higgins snagged a pass from Lindsley and eyed up his downfield option. He rocketed out a throw that was too low, but Schlachet, alone in space, nailed a toe-in grab to keep the disc in play. He found Chris Kosednar zooming toward the force side cone and tied sent the men's final to its epic double game point conclusion.
In a perfect world, there would be advanced statistics to predict how likely a given line is to score a goal in a game of ultimate. For now, it's fair enough to assume that Revolver's double game point D-line would be the odds-on favorite to score against just about any other line the division could offer: George Stubbs, Rasmussen, Kittredge, White, Dallmann, Lindsley, and Jordan Marcy.
Ironside sent out Gibson for his twenty-first point of the game, hair matted against his sweaty brow and looking the least composed he'd been in a long time. He was joined by Markette, Neff, Inselmann, John Stubbs, Graham, and Chan, all of whom had performed beautifully so far, but none approaching the volume of points taken on by Gibson.
George Stubbs pulled and raced down to take on Gibson, the man he'd faced in his last finals appearance in 2014 (playing for Ironside), in which Gibson had taken home gold with Denver Johnny Bravo. Ironside's clinical offense went to work.
Chan got stuck near the sideline half a dozen passes in and locked onto Gibson, who went blazing by trying to get his hands on a reset. Rasmussen pawed at the pass and nicked it enough to deflect it away from Gibson. Any remaining hearts on the sidelines and in the stands that had yet to jump into throats leapt upwards.
"On a point like that, it's all about just sucking it up and playing hard man defense. And I think the turn that we got was testament to that," Payne said. "I mean, given our history and who was out there, in my mind, it's done, right? We have a good history of having those people out there, including…especially people like Beau, Cass, and now Grant, all of whom can kind of get open at will. And so I was relieved and felt quite confident."
Rasmussen picked up the disc and immediately found White, who swung it to Kittredge on the far sideline with Gibson in hot pursuit. And then the air went out of the stadium. Eyeing up the next routine cut, Kittredge set up an easy forehand, but sent it straight into the turf.
Air rushed back into the stands and a roar went up from the Ironside sidelines. The offense, with its first chance of the game at a second possession hold was not about to give up another shot at the championship.
"[Tyler Chan] threw it really hard and obviously I missed it and that point you're thinking, alright, we gotta buckle down here and pray for the best. And I marked Beau, and was marking him tight and he just threw it right in the ground and gave it right back to us and we were able to put it in," Gibson recalled. He got his final assist on the winning throw to Jeff Graham.
Pandemonium overtook the turf as the observing crew started to signal goal. Boston was already careening into the end zone to celebrate, while Dallmann pleaded his case with head observer Mitch Dengler, calling for pick that the crew waved off. Disbelief set in around the seven Revolver players on the field.
Minutes later, as Ironside celebrated and applauded the stands, Kittredge was on his knees with his head in the turf while his team huddled in the same end zone where the winning point was scored. He was replaying the turnover in his head.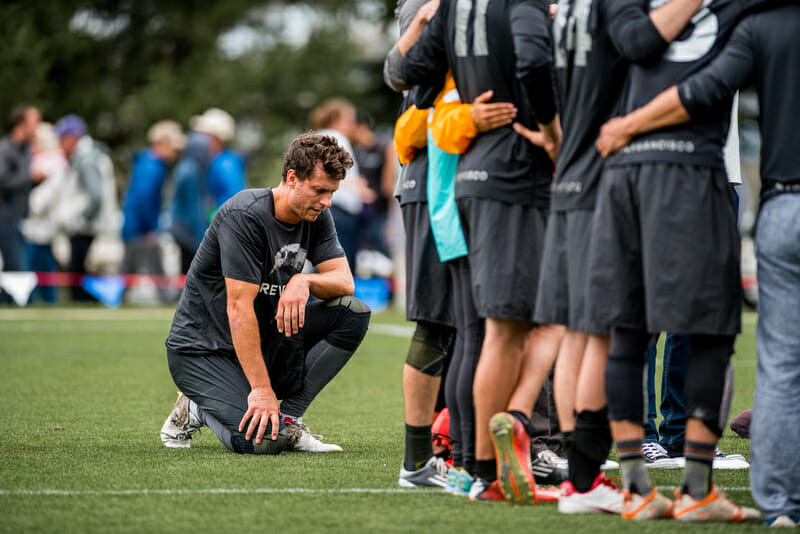 "I was just thinking, oh, I should go get the disc. I did that part," he recalled after the game. "Then I was thinking I should throw it. And then I stepped out, and Kurt called foul on me. I tried to not throw it, I decided to throw it anyway. And then I threw it about three feet into the ground. And then it was a turnover. And then they won the game."
Payne put the throwaway in perspective before the brief awards ceremony that took place before the women's final. "It's funny because I actually didn't see [the turnover]. I had to ask someone what happened. You know Beau's been making those plays, the mundane plays along with the extraordinary plays, for so many years and so many big games," he said calmly. "I'm a statistics guy by nature, maybe that was regression to the mean. We live and die by our 27 guys, all of them. Nobody begrudges that from Beau. He's come through so much for us, the same as everybody on this team."
A stoppage at that moment to acknowledge Gibson's call, a offensive foul on Kittredge, would have halted play, allowed both stars to find their footing, and could've signaled an entirely different ending. That wasn't lost on the longtime Revolver focal point.
"That's…you know…that one…that loss is on me. That's my turn. That's my fault. I don't expect anyone else to take responsibility for that loss," Kittredge said, staring towards the field. "If you wanna be the team leader, if you wanna be a superstar, if you wanna be that person, you gotta…you take the losses and the wins. So I'll take that loss, that's on me."
San Francisco donned silver medals and posed for the cameras with their prize money as runners up. The last time they'd been in that position was the last time Gibson had beat them in a final–his first club title with Austin Doublewide in 2012.
Boston took their turn, whooping and celebrating during their photo op as USA Ultimate staff brought over the golden hardware. George Stubbs watched from a few yards away. In almost any other year, he would have been the one leading the charge for the Boat.
"I have so much love for many of those guys that I've been teammates with before. It's my team in that it's an experience I've had, playing with Boston for seven years and being super close, and now they've done it, which is…I'm so happy for them," he said. "And of course, I have my own…of course I would have loved for that to be me. As in every final, as in every semifinal, like it doesn't really change."
Stubbs has been at the top of the sport for a long time now. Since winning the Callahan award with Harvard Red Line in 2011 (or perhaps even before), he has been a staple in elite men's competition. After the championship loss to Bravo in 2014, he took 2015 off and became a Revolver rookie this spring.
"I'm unbelievably grateful for the opportunity that I have to play this sport and for the community around it," he said. "I hope that everyone keeps thinking about that because I think that there's ways, whether it's AUDL or something else, that we're putting that in danger a little bit. And I dunno, that was an incredible game and personally, I'm saddened, but also feel so lucky for what I have and so lucky to be on the team that I'm on and be in the huddle that I'm in. I have no regrets and have loved every second of being on Revolver and being a big part of that."
The powerful moment, Boston shrugging off its reputation and the defending champs letting the winning possession slip away, cascaded down on both teams long after the game had ended.
"Everybody knows the struggle that this team has been through over the last…nine years," Markette admitted. "That feeling that I have for all these guys, McCarthy, and all these longtime vets that have been on this team is just unbelievable. It's just a happy, happy feeling. It feels like it was worth it. And obviously…" he trailed off. "I don't know. I don't know what to say."
From a quieter spot, where his team gathered themselves behind the stands, Dallmann stayed composed, his motivation and mindset a shining example of the program's credo: Intensity, Humility, Discipline.
"I played on Polar Bears before, I've had the silver medals for a while. And that's something that the guys'll have to evaluate on their own, personally. I know where all my silver medals are, they're in the gym," he said.
It was a reminder that Revolver, although always in search of a title, is motivated by their dynasty. Since 2010, the team has only missed the finals once, in 2014. The players take the long view and are guided by their leadership.
Dallmann shed more light on the team's final huddle of the season. "2016 Revolver, we really focused on enjoying each other and the love that we can share with one another," he said. "And so, win or lose, we leave our huddle with pride. There were some tears for sure in that huddle, but those weren't tears of regret, those weren't tears of sadness, those were tears of pride, just running down our cheeks. I just get goosebumps thinking about that and how proud I am of those guys that just gave everything they had today."
Who knows what 2017 holds? Gibson has built a reputation as a club division journeyman, bringing titles to three different cities so far in his career1. Especially considering that he does not live in Boston, it shouldn't be a surprise to see him elsewhere next season.
But now is not the time to question Boston's win. Now is the time to look back on the team's battle through adversity–nine years of seasons cut short after muscling their way back twice to take the final and rid the Division of doubt. For the first time in Club history, Boston Ironside is the national champion.
---
2012 Doublewide, 2014 Johnny Bravo, 2016 Ironside ↩