An updated version of a cult classic product.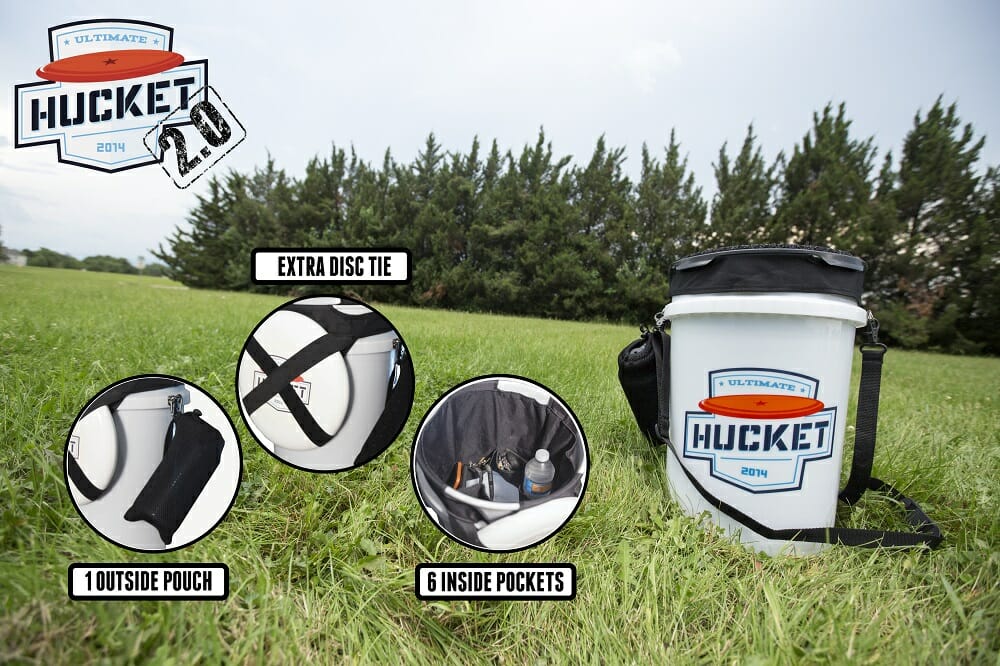 Disclosure: Ultiworld was compensated for writing this product review. All opinions are the reviewer's own and are not subject to approval from the Hucket.
We are in the golden age of ultimate gear. Apparel companies have taken off, ultimate-specific cleats are making a comeback, and I can name about a half dozen brands of throwing gloves off the top of my head. A market for ultimate players with this amount of variety and competition seemed fantastical in the not-so-distant past.
This rapid growth also has the ultimate bag business going through a boom, with more companies than ever fighting for the privilege to have your stuff in their vessel.
The Hucket started out as a do-it-yourself project for a handful of Southern go-getters before becoming the streamlined product it is today. And really, there's not much to it. It's a bucket with a couple other elements in the mix. Like all great DIY projects, this is something you could make on your own. But let's face it, unless it's some kind of gross dessert that's supposed to look like one of the kids from Rocket Power you saw on Instagram, you're just not going to make it.
As DMX (apparently) once said, "I just find myself happy with the simple things."
The Hucket's simplicity is where you find it's value and function.
Strengths
I'm not a chair person. A chair is just another thing to lose at the fields. With the Hucket, you instantly become a chair person. No longer will you have to flamingo your way into a pair of cleats before the first game while sore and/or sleepy to avoid sitting in wet grass. Now you can pop a squat and watch your teammates awkwardly hop around.
It should be noted that you now face the worst of all chair-person struggles: constantly shooing people out of your seat, which, depending on the chair-related karma you've accrued over the years, can be really annoying.
Like your butt and crotch, your stuff is also going to stay dry. Once your gear is under the lid, it's safe from rain. No more sprinting over to the sideline after a point to put a garbage bag around everything.
Storage
At fall league, I got 30 beers in this puppy — with room to spare.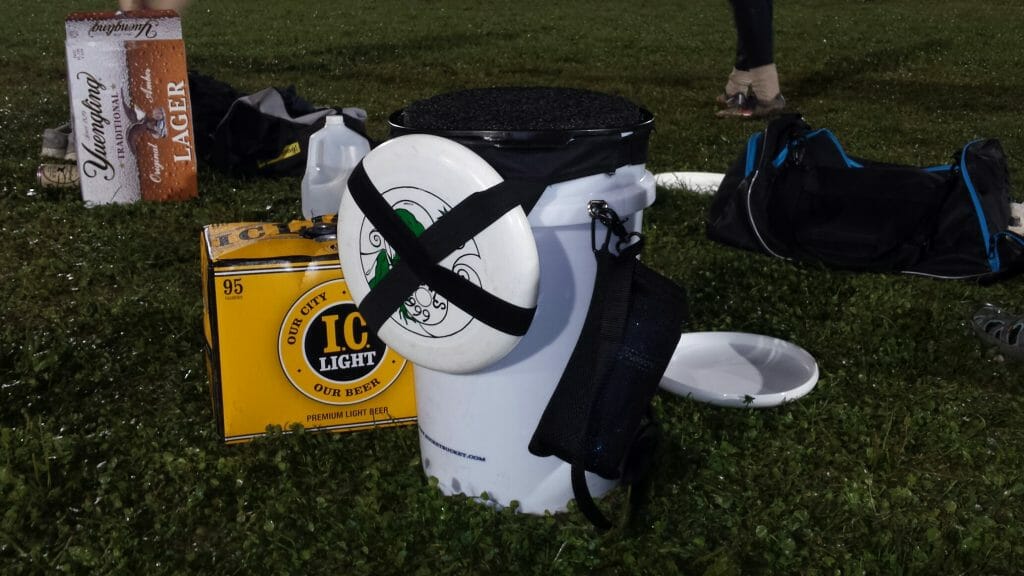 The stereotypical loner on the team (between drags of a cigarette) told me that it can handle 30 beers and two bags of wine. That's a legitimate haul.
Upgraded from the original model, the Hucket 2.0 has six storage pockets on the inside to separate your phone, wallet, ibuprofen, and other things you need to have on hand, away from the general accumulation of jerseys and clothes.
Using discs, you can also layer your stuff by making compartments to keep clean socks away from muddy cleats.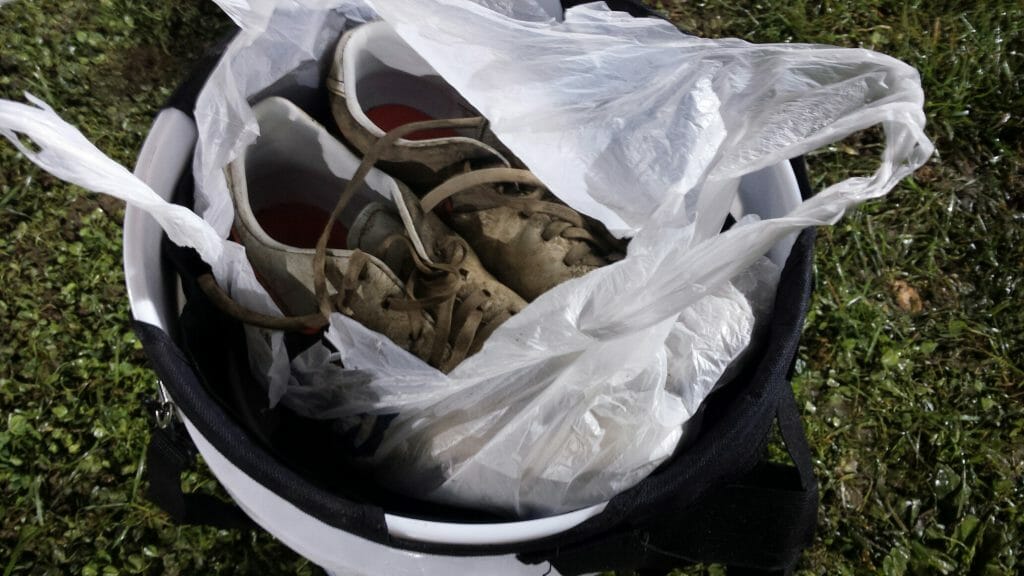 Easy to Clean
Maybe you made a fool of yourself Saturday night at the party or maybe your team got eliminated and you can't stand to be around people any more. Whatever the reason, there's something cathartic about jamming all your stuff into one container and just getting the hell out of dodge on a tournament Sunday. It really puts a bow on the weekend.
Having something washable for that process is huge. When you're ready to revisit the trespasses of the weekend (probably some time Thursday) you can take your rancid, wet jerseys out and wash the sins off of the bucket itself. Hell, you can use bleach if you have to.
Style
Aesthetically, there's not much going on with the logo and empty white space but you can easily decorate the Hucket to look like what a medical courier uses to transport human organs. Make it your own with a sticker from your favorite defunct AUDL franchise or spice it up with what is sure to be a timeless political gag.
Hucket 2.0 Additions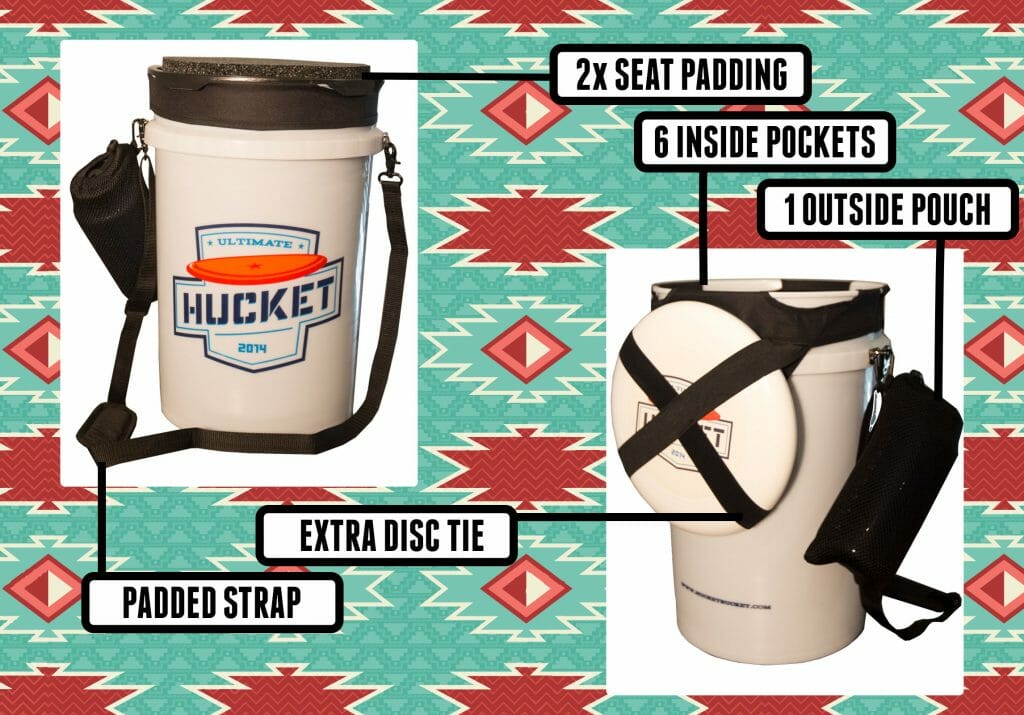 Aside from the six pockets inside the container, there's some flair that's been added to this newest incarnation. Extra foam padding on the lid and on the shoulder strap provides comfort for sitting and carrying. A clip and water bottle pouch to carry liquids outside the Hucket means more space inside.
There's an extra disc tie to carry a frisbee outside of everything else, which is sort of silly because you can already fit six or seven discs inside the Hucket.
Drawbacks
People are going to ask you about the Hucket and you're going to wind up explaining the rules of ultimate to them. This isn't the most progressive stance but at this point in my life I'd prefer to avoid having that conversation with a stranger if at all possible. Not embarrassed, just not trying to give someone a 90-second elevator pitch on ultimate followed by a nuanced explanation of self-officiating on a bus on the way to pickup.
A friend of mine who got in on the first wave of Huckets said one of his biggest problems is that you can't carry it on a plane. Airline carry-on restrictions bear that out and that's a bit of a pain given how often you use an ultimate bag. If you don't fly to tournaments very often, great. If so, be prepared to check it as baggage or put your gear in something else for the weekend.
The strap is not overly comfortable. I took the Hucket to a rainy tournament and fall league without much walking to do, but you probably wouldn't want to double this up as a camping pack. That said, even loaded with liquids and heavy, there was no sign of give in the strap.
Overall Grade
All things considered, I give the Hucket 2.0 an 8/10. To be honest, I didn't really want to like it — it's just a bucket with a strap. But this is the most complete product I have used in terms of all-in-one, outdoor utility. I will definitely be using this in the future, especially when a tournament looks like it might have inclement weather.
Factor in all the other nonsense you might need at a tournament — making gin basters, celebrating breaks, on-demand cooler, long road trips with a full bladder — the Hucket can be the solution to a long list of problems if you're in a pinch.
My vehicle is full of junk because, well, I'm in it a lot and I'm a bit of a slob. The first day I got my Hucket in the mail, I threw it in my truck and went on my way. A few hours later, I needed something to help set concrete around a 4×4 post. The Hucket came through in the clutch.