The best of the best in the Women's Division.
Ultiworld's 2016 Club Awards are presented by BE Ultimate; all opinions are those of the authors. Please support the brands that make Ultiworld possible and shop at BE Ultimate!
With Nationals over and the winners crowned, it is time to take a moment to recognize the top performers in the Women's Division this season. While the talent of the division reaches far beyond short lists, the All-Club teams are meant to honor those players who put together what we believe to be the best seasons in the Women's game this year.
While we consider both regular season and postseason performance, because of the nature of the club division, we weight success in the Series and at Nationals above all else. The All-Club teams are selected based on input from Ultiworld reporters, contributors, and editors.
Kami Groom (Boston Brute Squad)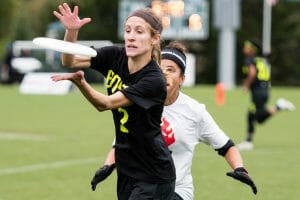 The Ultiworld Player of the Year, Kami Groom is an obvious selection for 1st Team All-Club. She was instrumental in Brute Squad's defense of their championship and proved to be a monster on both sides of the disc that no other team had any real answer for. Groom brings a special level and style of athleticism to the famed Brute Squad D-line. Her remarkable quickness and top-end speed allow her to lock down on marks and terrorize after the turn. Few players have a similar scope of athletic impact on the game, and no one does it quite the way that Groom does.
In other words, she's not called Zoom Zoom Kami Groom for nothing. Time and time again she uses that acceleration and unfair speed to chase down discs or get blocks that no other player in the division can get to. She changes the field and alters the outcome of points with her athleticism alone. She also excels at putting herself in a position to make a difference in games. Plenty of athletes fail to maximize their advantages on the field, but Groom reads the game at an elite level as well and knows just when to strike to make a big play.
She put up an impressive stat line at Nationals — 15 goals, five assists, and eight blocks — but even that doesn't fully capture the impact she has on the field. Groom makes her presence most felt in the biggest moments of the biggest games. She was easily the player of the game in the final, where she was on +2 plus/minus on her D points, led the team in goals, recorded two blocks, and scored some of the most important points of the game.
If she hadn't received Player of the Year honors, then she would have at least been a finalist for Defensive Player of the Year. She makes her presence felt no matter where her cutter tries to take her and she routinely wins matchups against the game's best players, offensively and defensively. Succinctly, Kami Groom was the best player in the women's division this year.
Claire Chastain (Denver Molly Brown)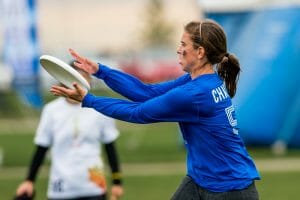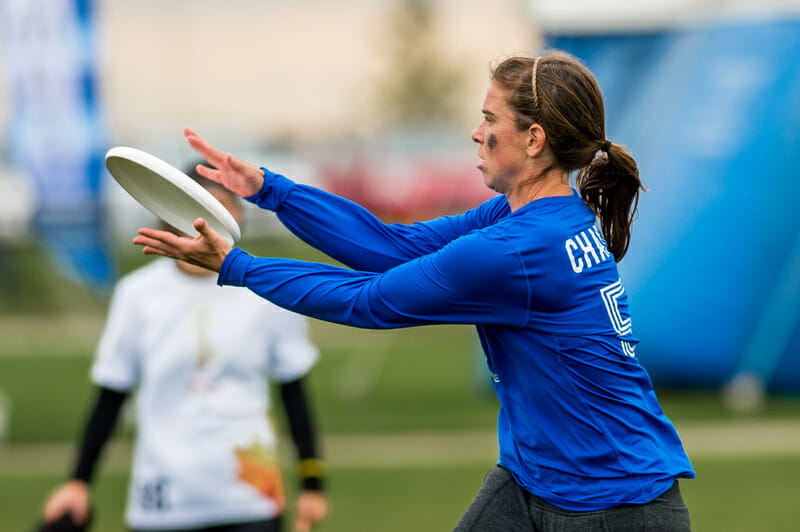 The 2016 Molly Brown offense was built around the skills of Claire Chastain. Her ability the threaten marks with her increasingly idolized around backhand break set up a dynamic handler-driven set that asked her to be the best thrower and best cutter on the field. Chastain obliged, bursting up the line and into reset spaces to keep her offense moving. Her 61 touches across 18 of 23 available points in the Molly Brown vs. Brute Squad semifinal show that her central role in Denver's offense passes more than just the eye test.
A growing list of accolades only further solidifies Chastain's place as one of the leaders of the women's division. She adds this year's 1st Team selection to recognition as this year's Offensive Player of the Year and a Player of the Year Runner-Up, along with 1st Team and 2nd Team selections in 2015 and 2014, respectively. She's a visible and vocal leader for one of the strongest teams in the division, contributing nearly as many intangibles as she does tangibles. Her 12 assists as Nationals place her a respectable 9th in the division, but only barely scratch the surface of what she brought to the game this season.
This is to say nothing of her considerable defensive prowess, as she's an honest plus defender capable of spectacular blocks against even top matchups. Chastain has it all and was an easy selection for this honor.
Sandy Jorgensen (Washington DC Scandal)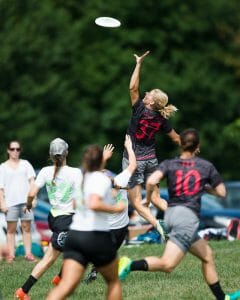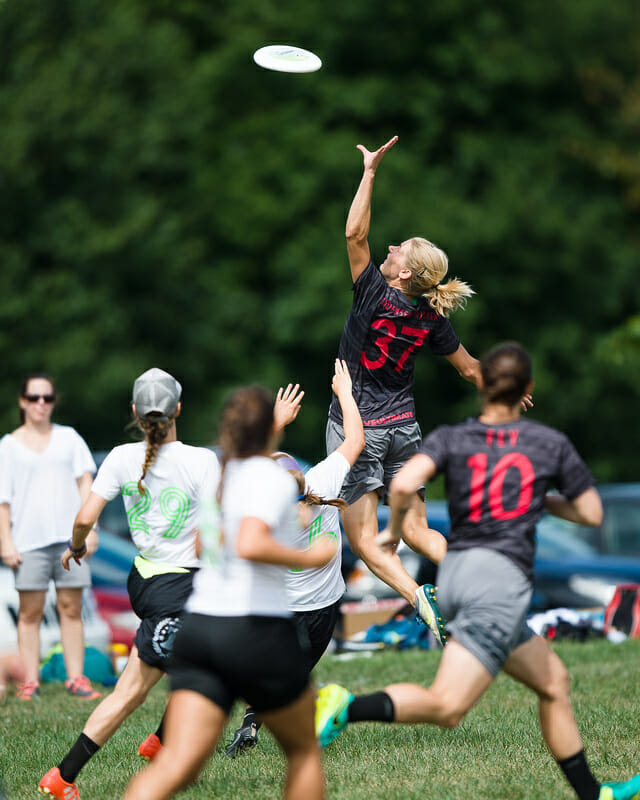 Sandy Jorgensen brings something to the ultimate field that maybe no other player in the division can bring right now. Her off the charts size and athleticism completely change the field for opposing offenses and she is virtually unguardable when her own team has the disc. Her 27 goal, two assist, and 16 D stat line at Nationals is almost beyond comprehension.
Her 27 goals were the highest total across all divisions in Rockford. The second highest total from a player to make quarterfinals in the women's division was Kami Groom's 15. Jorgensen is the clear focus of Scandal's offense, sure, and she has one of the game's best throwers getting her the disc in Jenny Fey. But her production is still other-worldly. And truthfully, for a player to still put up such high numbers despite the defensive attention she draws from the opposition makes it all the more impressive.
What makes Jorgensen such a special player though is her two way impact. She registered a combined 43 goals and D's at Nationals. Rival's Sophia Knowles finished a distant second with 33 and the only other player to record double digits in goals and D's was Phoenix's Jenny Wei (13 and 10.) No one quite has the same impact on defense that Jorgensen has and there is certainly no one as dominant in the downfield space on both sides of the disc.
Jorgensen was Ultiworld's Defensive Player of the Year, a runner up for Player of the Year, and probably could have been listed as an Offensive Player of the Year candidate without causing too much of a stir. She brings a rare influence to the field and is a no-doubt all club first teamer.
Alyssa Weatherford (Seattle Riot)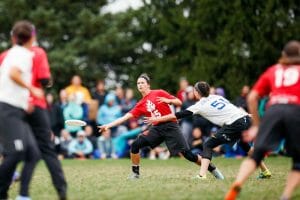 Seattle Riot did not have many players put up overly splashy stat lines at Nationals this year. Alyssa Weatherford was an obvious exception. Weatherford put up a staggering 18 assists in Rockford, good for joint-fourth best in the division. But what makes that number especially impressive is that no one else on her team recorded more than seven.
Riot relies on their entire roster to win games and their style of offense means that the scoring and assisting onus is generally spread throughout the line. But Weatherford's impact from point to point was obvious and the team's offense often funneled through her even when she didn't get credit for the assist on a point.
Riot uses a large pool of incredibly talented handlers and they all made their impacts felt this season, but none had quite the impact that Weatherford had in the game's biggest tournament. Her devastating break flicks opened up defenses time and time again and her efficiency in the redzone was lights out. That dynamism was instrumental in Riot getting to the final and getting within one point of a club championship.
In Riot's semifinal game with San Francisco Fury, she at times looked unplayable. Riot's lack of use of a traditional second handler demands a lot of their handlers — they have to attack all over the field and get off those break throws. Against Fury, Weatherford did both of those at will. She stood out in a game of insane athletic plays with her elite throws and showed that handling can be just as thrilling as layout grabs and blocks.
On a Riot team that shares the demands of winning across the roster, it is hard to argue that any one player is any more indispensable than any other. But without Weatherford this season, Riot would not have been nearly as dynamic or entertaining, and probably not as successful either.
Anna Nazarov (San Francisco Fury)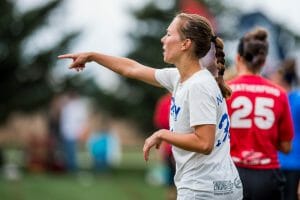 Compared to other players on this list, Anna Nazarov did not put up a Nationals stat line that wows. Her one goal, six assists, and six blocks are solid, but maybe not what you would expect from a 1st Team All Club member. But then you look at her production for the whole season and realize that she registered double digit goals, and led Fury in both assists and D's. And that much better reflects the type of player that Nazarov is. She is a force on both sides of the disc and absolutely instrumental for the Fury offense.
Even at Nationals she played far better than her already solid line. She and fellow handler Alex Snyder ripped teams apart all weekend long for San Francisco. Fury, like most of the top teams in the division, rely on an entire roster of rich talent, which limits individual player's statistical contributions at times, but when watching Fury play, there is no doubt how vital Nazarov is to her team.
What makes Navaroz truly special is her combined ability to lead the offense like a symphony conductor and then make plays of face-melting athleticism in a flash. Her layout block in the Fury comeback attempt against Riot in semis was an absolutely iconic play that will live in the memory of those who saw it for a long time.
Few players with her offensive composure and refined influence also possess the ability to perform game-changing feats of athleticism. Nazarov is one of those players and that is what deservedly lands her on this list.
Jenny Fey (Washington DC Scandal)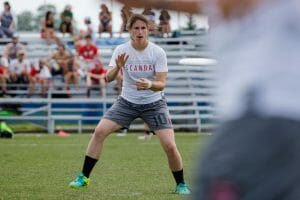 Without a doubt, Jenny Fey is the women's division most daring and creative thrower. Fey's vast array of throwing options more closely resembles a superpower than a skill, exploiting defenders in ways they probably just cannot practice against and sometimes just cannot defend. There's little more you can ask for from a handler asked to make more of your offense's big plays.
Fey's offensive potency extends beyond just blades and hammers. She's one of the women's game's most reliable resets. Her deep throwing abilities can go yard-for-yard with nearly anyone. It's no surprise to see her near the top of the Nationals assists lists, with her 17 leading Scandal. But one of the things that makes her so difficult to defend is her ability to go to work with her legs, offering challenging versatility and pushing defenders to remain flexible. Her eight goals in Rockford were good enough to tie Fey for second on her team. Yes, Scandal's primary thrower on their O-line led that unit in goals scored. No wonder she was an Offensive Player of the Year Runner-Up this year.
What's scary is that, to be honest, this was not Jenny Fey at her absolute best. Last year's performance set an unreal bar for her. But even when she performs below her absolutely bonkers ceiling, Fey is one of the most dynamic stars in the women's division and earned a second straight selection on Ultiworld's All-Club 1st team. Even if you can find a way to slow down one thing, she opens a new angle of attack. Zones fall before her, marks evaporate, and D-lines concede to her impressive abilities and heady mental game.
Sarah Griffith (Seattle Riot)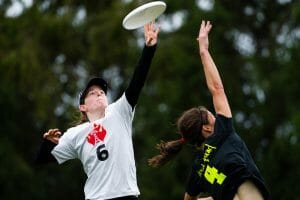 After a year of injury and recovery, Surge is back. She's back leading Riot to one of the top spots at Nationals, back dominating cutting lanes in the biggest games of the year, and back on our All-Club 1st Team. This time around, however, is a little different.
Injuries have necessitated changes from Griffith. It's hard to get an exact sense of what her physical capabilities are compared to where they were in 2014. It does seem that her top speed and explosive first steps — hallmarks of her style of play — are not at the level they once were. Yet Griffith was still able to create space for herself and her teammates, and was responsible for a sizable portion of Riot's yardage. Even with evolving attributes — now relying even more on timing, positioning, and intelligence, though still blessed with plus speed, explosiveness, and leaping ability — Surge played both ways effectively, often taking on some of the toughest cutter match-ups possible.
While it was different, it certainly was still elite. And she came to play in Riot's big games this year. She wasn't always all over the score sheet, as she has been in past efforts, but she came up with a huge endzone block in their final against Boston. Second on Riot in points and catches, Surge put on a turnover-free performance while recording 2G-1A-1D. Her efficient play helped her record the team's best +/- in that game. While she was only tied for third on Riot in goals with seven in Rockford — also chipping in four assists — nobody on her team would question her being one of the most impactful players over the course of the season.
As she continues to evolve and grow as a player, physically and mentally, Griffith further cements her position as one of the best in the game. This season proved a lot about who she is as a player and this award is just more evidence.