Another seven stellar mixed division performers round out our 2016 Club Awards.
Ultiworld's 2016 Club Awards are presented by BE Ultimate; all opinions are those of the authors. Please support the brands that make Ultiworld possible and shop at BE Ultimate!
With Nationals over and the winners crowned, it is time to take a moment to recognize the top performers in the Mixed Division this season. While the talent of the division reaches far beyond short lists, the All-Club teams are meant to honor those players who put together what we believe to be the best seasons in the Mixed game this year.
While we consider both regular season and postseason performance, because of the nature of the club division, we weight success in the Series and at Nationals above all else. The All-Club teams are selected based on input from Ultiworld reporters, contributors, and editors.
Nancy Haskell (Cincinnati Steamboat)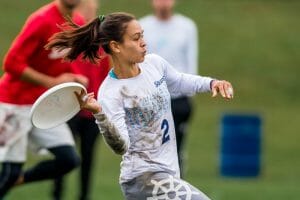 The Defensive Player of the Year put in a complete tournament in Rockford for Cincinnati Steamboat. Although her final stat line makes her look more like an O-line player (15 goals, three assists, four blocks), keep in mind that Steamboat is known for living and dying by their D-line's ability to generate breaks; their defense outscored their offense 47-42 at Nationals. And in the fierce winds that prevailed over the first two days of the tournament, the kind of shut down defense Haskell is capable of playing is often more than enough to generate unforced turnovers.
Despite being Masters eligible, Haskell still plays as hard and as long as the college-aged players on the field. Even in Steamboat's seventh game of the weekend, a placement game against Philadelphia AMP that got capped at 12-11, she finished with two goals, one assist, and two blocks. Haskell hasn't been in the national spotlight much before, but given the season she had in 2016, we don't expect her to be fading out of it anytime soon.
Carolyn Normile (Philadelphia AMP)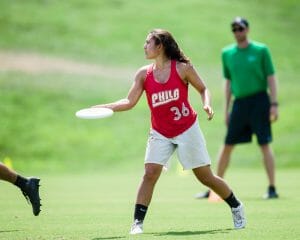 Few players in the Mixed division possess the rare combination of quickness and awareness that Normile exhibits on a regular basis. Playing primarily for Philly's D-line, her role was often to guard opposing handlers, disrupting throwing lanes when other throwers had the disc. Offenses struggled to play around her, and were often forced to throw reset after reset or put up low percentage hucks into swarms of AMP defenders.
But after turnovers is when Normile really shined brightest. She is just as likely to break the mark as she is to work a give-go with her fellow handlers. And if your O-line has a defender with the raw athleticism to guard someone like her, they better have stamina to go with it. Normile was a workhorse for AMP in 2016, leading the team in points played this season with over 300.
Normile's biggest plays at Nationals came at important moments in Philly's two closest wins. In their first game of pool play against Washington DC Ambiguous Grey, after AMP opened with a downwind hold, she earned a layout block on an under cut to set up a short red zone possession for the upwind break. This set the tone for the game and although DC later earned some breaks, they would never claim the lead.
After AMP took an 8-6 halftime lead in their pre-quarters match, Fort Collins shame twice threatened to tie the game with upwind breaks, and both times it was Normile who denied the downwind conversion, first with a breakmark assist into the wind, and later with a goal-saving poach block followed by the score.
At just 21 years old, Normile already has quite an impressive resume under her belt: four national championship appearances (two college and two club), a silver medal with U23 Women's team in London, and a spot on the 2015 All-Star Ultimate tour. Now she's got a 2nd Team All-Club nod and is poised to add plenty more if she keeps improving at the rate she has.
Gina Schumacher (San Francisco Mischief)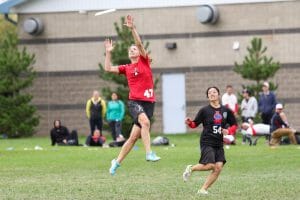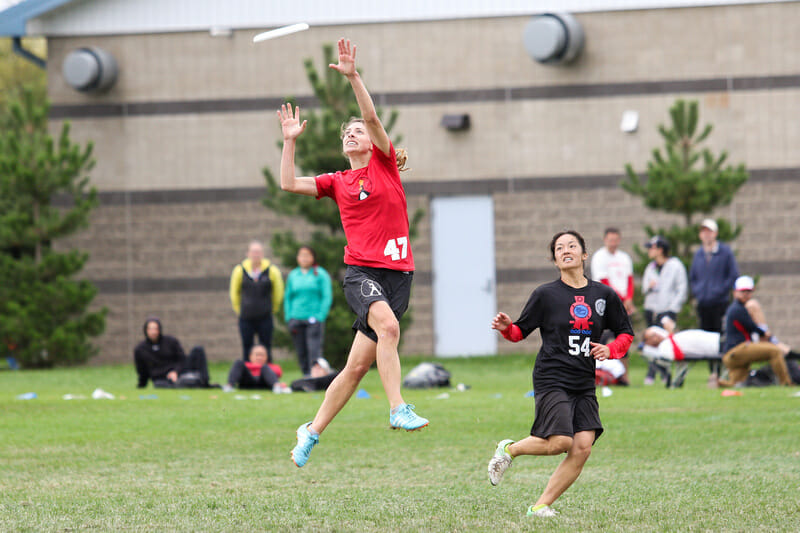 A lesser-known player in the division to start the year, Gina Schumacher came into Nationals on the radar of few of Mischief's opponents. But just a few points into any game and those teams surely felt her presence.
The Breakout Player of the Year was everywhere for San Francisco on offense, cutting relentlessly into whatever space existed on the field. Defenders failed time and time again to stop her from getting big yards on under cuts or catching swings to change the point of Mischief's attack. In the end zone, Schumacher scored at will in single coverage, often forcing teams to pay her more attention and open the door for other cutters to score easily.
Getting out of the Southwest region is never an easy task with perennial powerhouse programs like Blackbird and Polar Bears stacking the bracket, but Schumacher helped lead her squad not just to a Nationals bid, but a regional title. Schumacher then powered the San Francisco club to a surprising (to some) run in Rockford, coming up just short in the semifinals, a game in which she contributed two goals and a block. With performances like that on the game's biggest stage, Schumacher isn't going to be lesser-known any longer.
Tannor Johnson (Boston Slow White)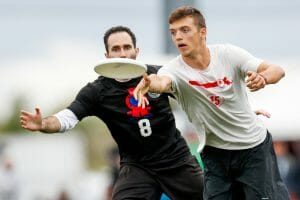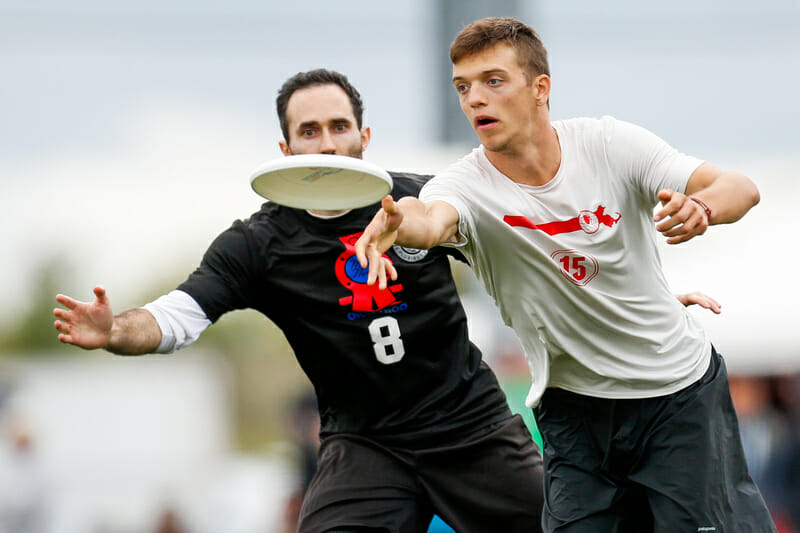 With a talented but aging core, Slow White entered the 2016 season in need of some fresh young talent to push them to the next level in order to capture that elusive first national title. They added it in spades this spring, but clearly the jewel in their crown was the Freshman of the Year from UMass, Tannor Johnson.
In many ways, Johnson appears to be the prototype for the next generation ultimate player. No doubt, Johnson has all the physical tools to dominate — he's tall, fast, strong, and has the fluid mechanics that come from having picked up a disc at an early age. He's also logged a staggering amount of game time for his age — spending club seasons with Garuda, Ironside, and Slow White on top of high school, college, and youth international competitions — gaining tons of high-level ultimate experience before even taking a 200 level college course. Yet it still feels surprising that what stands out most in Johnson's game is his maturity. Not simply a precociously talented teenager looking to make plays by athletically throwing his body around or wildly attempting Matzuka-level skill shots, Johnson's value to Slow White came in his ability to do all the little things right — he clears hard, he makes space for teammates with his cutting patterns, he holds the mark with smart positioning, and he simply hits the next open cutter or dump to keep the offense moving. Whatever Boston might have expected from their talented rookie this year, those are the contributions that pushed them to victory in Rockford.
For his impressive efforts throughout the summer, Johnson was smack in the middle of the conversation for Player of the Year and Offensive Player of the Year honors all season. He could easily have been named to the 1st team this season, but at only age 19, there's no doubt there will be many more accolades coming his way in the future.
Jay Drescher (Minneapolis Drag'n Thrust)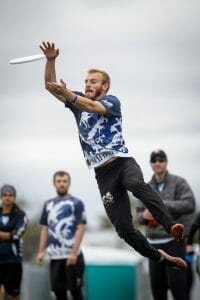 Contributing in any consistent way to a club as successful as Drag'n Thrust is difficult enough, and yet Jay Drescher manages to contribute in just about every way imaginable. His spectacular pulls provide the Minneapolis D-line with an unfair advantage. With defense that is both smart and physically aggressive, he is able to take teams out of their comfort zone regardless of what their offensive preferences are. And once Drag'n has the disc, Drescher is relentless in his willingness to attack deep, showing great confidence both in his receivers as well as his team's ability to earn another possession.
Drescher tallied eight blocks in Rockford, three of which came in their quarter-finals rout of Seattle Mixtape. He also scored three goals and contributed seven assists on the weekend. Two of those assists came in Minneapolis's semifinal loss against Boston Slow White, a game in which many Drag'n Thrust players struggled with execution errors while Drescher finished with zero turnovers.
Jake Juszak (Fort Collins shame.)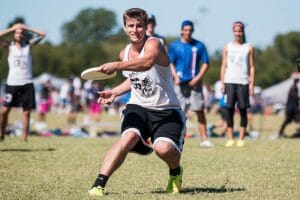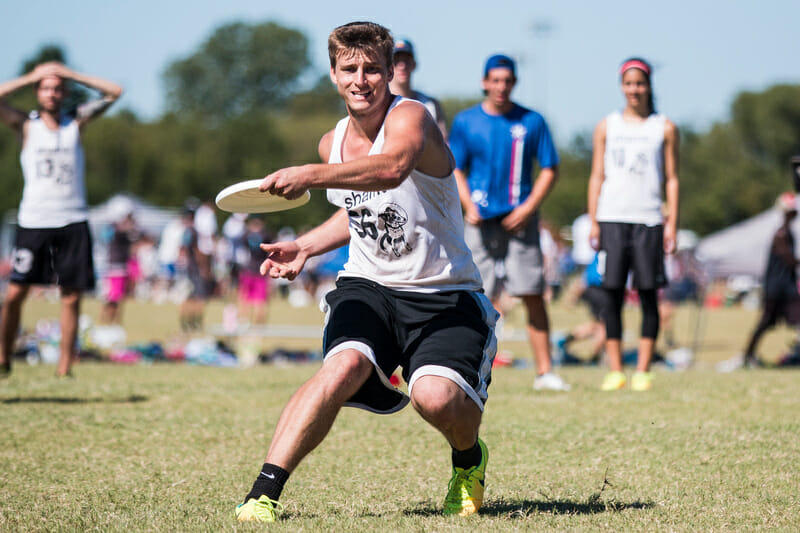 One of the biggest surprise performances this season came from Fort Collins shame. The team was an unknown but potentially scary dark horse coming into Nationals, having only played (and lost) to one Nationals-qualifying team prior to the Series. They were a second year team that was, legend has it, started by "a thousand shots." Despite finishing at #5 in the USAU rankings, not many people took shame seriously before Nationals. But every team that they faced definitely left the field knowing who Jake Juszak was.
Fort Collins was led, both in Rockford and all season, by the former Johnny Bravo product. From their very first game against Seattle Mixtape, in which he almost single-handedly earned the upset win by providing four goals and five assists on the Ultiworld livestream, Juszak was doing everything for shame, launching the disc effortlessly through the stiff winds as a handler and using his gargantuan 6'3" frame to win skyballs left and right.
Juszak finished Nationals with nine goals, 14 assists, and four blocks. Unofficially, he probably led the division in yards thrown, as it didn't matter whether his team was going upwind or downwind: Juszak would find a way to put something catchable out in front of his receivers. For his efforts, he also finds his way onto our All-Club 2nd Team.
Cam Bailey (Seattle Mixtape)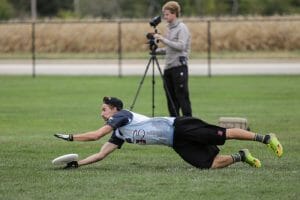 Forget what you might've heard, forget every word, all of it's just absurd, this former Ghetto Bird at Natties for the third time, we're gonna observe the greatness that he serves, the swagger and the swerve… ok I'll stop.
Make no mistake, the fire Cam Bailey spits on the field is as hot as anyone's in the division. With Drew Johnson drawing a lot of attention at Nationals, Bailey was the lifeblood of Seattle Mixtape in their biggest games. The bulk of his Nationals stat line (seven goals, eight assists, three blocks) came in their biggest games.
In their nailbiter win over Fort Collins shame., Bailey tallied one goal and three assists. He provided one goal, two assists, and a block as part of Mixtape's 11-7 comeback attempt against San Francisco Mischief. And his best game came in Mixtape's first elimination game, their pre-quarter match against Washington DC Ambiguous Grey, where he contributed to five of the team's 13 goals, including an off-hand scoober over his mark to the back corner of the end zone — the kind of throw that requires a rare degree of swagger, skill, and confidence, but that is what Bailey is well-known for.
Bailey solidified his return to the 2nd Team All-Club by putting on a more complete tournament than higher profile teammates like Claire Revere and Khalif El Salaam. In a disappointing Nationals performance, many Mixtape players saw their throws largely affected by the wind, forcing them to get away from their usual gunslinging style of play. But it was business as usual for Bailey, as he threw one overhead push pass after another or whatever the moment called for.