What's happening around the College Division.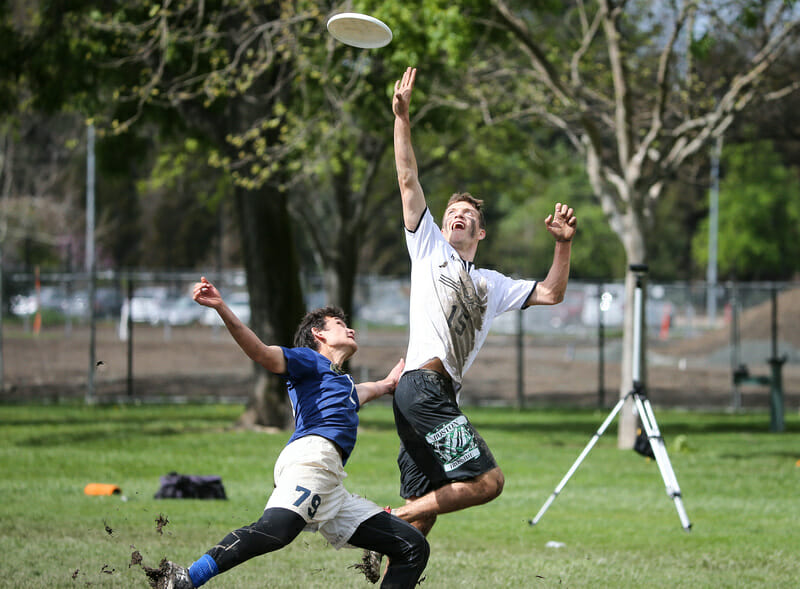 Each week during the spring season, we will publish a bite-sized weekly recap of the action across the College Division. This will serve as a supplement to our standard tournament reporting and will offer a high-level look at the latest happenings and the biggest stories of the week. Expect occasional updates throughout the fall.
Want your tournament listed here? Submit a recap of what happened right here.
Men's
UMass Dominates At Huck A Hunk
The biggest Northeast tournament of the fall, Huck A Hunk O' Burning Pumpkin featured an all-UMass final, as the two split squad teams barreled their way through the bracket, past Vermont (13-11) and UConn (9-5) in semis, and into the final.
Vermont had a strong weekend, going 3-0 to win their pool with wins over Tufts and Princeton and notching a big quarters upset over Brown. UConn looks to be again establishing themselves as the preseason favorite in the Metro East region, despite losing John Wodatch to graduation.
Harvard did not compete at this year's Huck A Hunk, as the university hosted a huge alumni weekend for the 40th anniversary of Harvard's ultimate program:
Harvard Ultimate Frisbee 40th Reunion
Auburn Wins Cowbell Classic Over Florida
Auburn made an early statement about their ability to stay near the top in the Southeast region with a win over Florida in the Cowbell Classic final with both teams combining their split squads for the game. Earlier tonight, Florida announced their roster for the spring, featuring 14 rookies!
Both teams are experiencing some substantial turnover this year, with long-established players like Auburn's Ryan Landry and Florida's Bobby Ley leaving their respective teams. Still, Auburn retains a good amount of talent and could be the #2 ranked team in the region (behind Georgia) entering the spring.
Bryant Looks Strong At Lobster Pot
Bryant quickly pulled away from Middlebury in the Lobster Pot final to win the DIII-heavy tournament 15-6. Despite playing infrequently during the spring season, Bryant has established themselves as a DIII powerhouse and should be a top team again in 2017. Stay tuned for more in-depth coverage from Lobster Pot tomorrow on Ultiworld.
Washington Looks Solid At Sundodger
Teams on the West Coast are still very early in their season, but Washington looked strong at their home tournament, reaching the final and losing to a club team named On Da Block.
Women's
Dartmouth Deadly At Huck A Hunk
The Dartmouth women's team, one of the no-doubt-about-it top three teams in the country, took home the Huck A Hunk title over UMass in the final on Sunday. Dartmouth, led by Jaclyn Verzuh and Angela Zhu, are poised for a tremendous season this spring. They will face tough competition from the west coast in Whitman and the defending champion, Stanford, but may have the best top end talent in the country.
UMass was very strong this weekend, blowing past their eight seed and losing only to Dartmouth (once in pool play and later in the final).
Bates Takes Lobster Pot Title
With Josie Gillett leading the way, Bates won the Lobster Pot with a 9-5 victory over Mount Holyoke in the final. Bates had to get past a tough New Hampshire team in the semis, 9-8, to get there. Stay tuned for more in-depth coverage from Lobster Pot tomorrow on Ultiworld.
Ole Miss Wins Cowbell
Ole Miss (the Landsharks!) went 3-1 to take the Cowbell Classic title in Tupelo.
Sundodger Gives Early Reps To Young Players
Washington, Western Washington, and BYU got in some very early reps for new players at Sundodger. With many players out for various commitments, it's hard to glean much from the results, but it's worth noting that WWU had lots of promising young talent on hand as they prepare for 2017.
Looking Ahead
Ultiworld's preseason Top 25 will be out this week for both Division I Men's and Women's.
The Classic City Classic and Missouri Loves Company are two weeks away! Those tournaments will give us some good look at many top east coast teams as they finalize rosters