The fall season comes to an exciting close.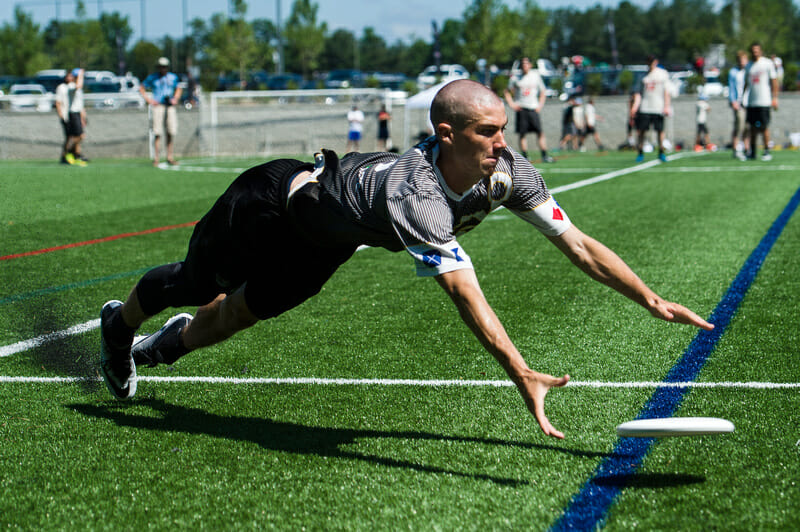 Each week during the spring season, we will publish a bite-sized weekly recap of the action across the College Division. This will serve as a supplement to our standard tournament reporting and will offer a high-level look at the latest happenings and the biggest stories of the week. Expect occasional updates throughout the fall.
Want your tournament listed here? Submit a recap of what happened right here.
Men's
UNC Wilmington Goes Undefeated To Win CCC
A sizzling offensive performance from #11 UNC Wilmington carried them to a tournament title at the 2016 Classic City Classic, one of the fall's marquee tournaments. Wilmington defeated a surprising Virginia Tech 16-14 in the final after notching bracket wins against #3 UMass and #12 Harvard.
Jack Williams was, as expected, a standout performer for the Seamen and UNC transfer JD Hastings was a huge contributor out of the backfield. Willie Stewart continued to show his growth as a handler as well. Wilmington will certainly move into the top 10 in the Power Rankings after a strong cap to their fall season.
Perhaps more notably, Virginia Tech will enter the top 25 after coming into CCC unranked (and with the 17th seed). Sophomore Joe Freund is rounding into the dominant college player we knew he would be and helped carry Tech to a huge weekend with wins over #14 Pittsburgh, Michigan, #17 Auburn, and #18 Florida.
UMass, UNC, and Michigan also had strong weekends. Stay tuned to Ultiworld for an in-depth recap of CCC later this week.
Carleton Flashes Depth To Take MLC Title
On a beautiful weekend in Columbia, #6 Carleton walked away from the 2016 Missouri Loves Company as champions with a hard-capped 10-9 victory over #5 Wisconsin in the all-North Central final.
Despite carrying a small roster, Carleton showcased their depth with generous playing time for their bench, only tightening lines on Sunday deeper in the bracket. Although Carleton took a loss to an impressive #19 Texas A&M on Saturday, they were sharp on Sunday, blowing by Air Force and Purdue before grinding out wins over #9 Colorado and Wisconsin. Pool play wins over #1 Minnesota and #8 Texas back up their strong weekend.
Sol Yanuck, Henry Fisher, and Eric Taylor were especially impressive, and early Rookie of the Year candidate Dillon Lanier was an impact player.
Colorado had perhaps the second best weekend, losing only to the eventual champion and BYU. They defeated Wisconsin in pool play and Iowa and Texas in the bracket.
Another big story: Minnesota's struggles. They lost to A&M and Carleton in pool play and then, shockingly, to Cincinnati in the prequarters. Stay tuned for more MLC coverage on Ultiworld.
Middlebury Tops Vermont At Northeast Classic
Middlebury could be rising back up the DIII ranks this season. The Pranksters notched a win over #25 Vermont, 11-10, in the final of the Northeast Classic and dropped only one game — 12-11 to SUNY Geneseo in pool play — on the weekend.
Women's
Colorado Finishes Undefeated Fall With MLC Win
#7 Colorado looked superb at Missouri Loves Company, taking the tournament crown with a 13-7 victory over #23 Notre Dame in the final.
Colorado was certainly expected to win, coming in as the clear #1 seed — the only other ranked teams at the tournament were #18 Colorado College, #21 Wisconsin, and Notre Dame.
With those three teams falling to the same side of the bracket, Colorado only played one ranked team on the weekend (ND) and beat them twice.
Beyond Notre Dame, Iowa State, Wisconsin, and Colorado College had good weekends.
Texas Comes In Guns Blazing To Win Shootout
#11 Texas rode roughshod over the competition at the 2016 edition of Shootout, claiming a 14-12 victory over #10 Virginia in the final. That game was the only competitive contest for Melee, and frankly it should never have been as close as the final score indicated: Texas was up 13-5 in the second half before allowing Virginia to score seven of the final eight points. Julia Schmaltz and Shiru Liu were excellent for Texas.
Virginia also looked quite strong, and they had wins over #6 Pitt (x2) and #16 Ohio State.
Ohio State defeated Pittsburgh twice on the weekend and lost only to the two finalists to finish third. Pittsburgh has to feel good about their weekend, as they were missing some key contributors including Linda Morse.
Stay tuned for more Shootout coverage on Ultiworld.
Georgia Tech Is Clear Southeast Favorite After CCC
#22 Georgia Tech blasted through their Southeast competition to win CCC with thumping 15-5 wins over Georgia and Kennesaw State in the semis and finals, respectively.
Their 7-0 performance affirms their position as the top (and only) ranked Southeast team.
Last year's Southeast juggernaut, Central Florida, didn't win a single game at the tournament after losing an incredible amount of talent in the offseason.
Kennesaw State had a strong weekend from the #7 seed with good wins over Auburn and Florida State.
Stay tuned for in-depth coverage of CCC on Ultiworld later this week.
Looking Ahead
– The competitive fall season is effectively finished. Many teams will practice between now and Thanksgiving, but will tail off for final exams and the holidays. Competition will ramp back up in mid-January.
– Watch for updated Power Rankings in the next 48 hours as we settle into the true ultimate offseason.
– Full game footage from CCC (Men's) and MLC (Men's and Women's) will be available in the coming weeks, along with announcements about the 2016-2017 college video package and updates to our subscription options!