Stanford and Cal Poly stake an early claim to the top of the Southwest.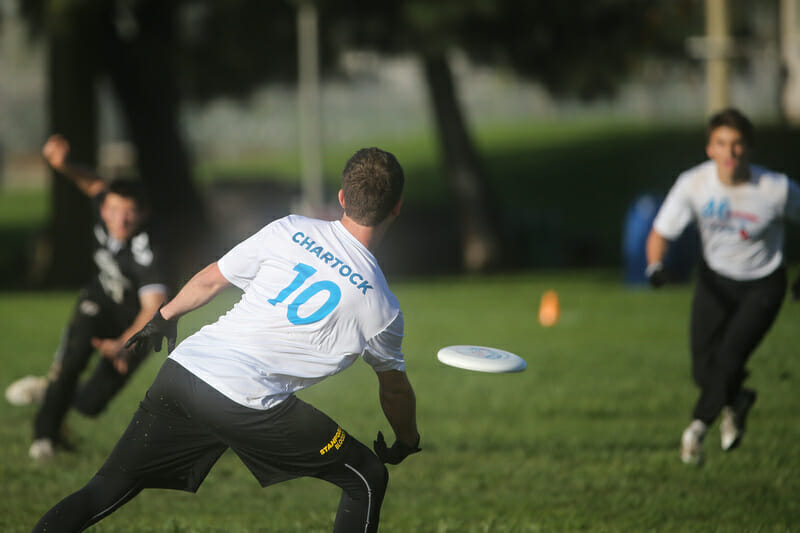 SANTA CRUZ — A week after top national powerhouses clashed at Classic City Classic in Athens, GA, and Missouri Loves Company in Columbia, MO, the Southwest region's best squared off to cap off their fall seasons at the Sean Ryan Memorial tournament.
Much like CCC and MLC, teams enter Sean Ryan with a spectrum of goals. Most top teams have just recently formed their final rosters and are primarily using the games for development, with their eyes on building depth that will help them extend their seasons come spring. Occasionally, teams on the rise might try to use the tournament to give their top lines more reps together or to make their case that this is an up-year for them (and that they subsequently should be considered for higher level spring tournaments).
Another dimension of Sean Ryan that can be easy to forget is the differential in practice time that many teams experience. Semester schools like California and San Diego State have generally logged a full month more of practice than their quarter-system counterparts, many of whom are only reaching two months worth of ultimate, total, this week.
Ultiworld was only present for bracket play at Sean Ryan, but those seven games provided a wealth of insight into how the Southwest region stacks up. The west coast seems religiously opposed to putting their tournament games on score reporter, so the scores below are not "official" but were gathered as accurately as possible.
Quarterfinal Round
– Cal Poly-SLO took down San Diego State by a count of 11-7. SLO, fresh off a 3-0 Saturday, took a two-break lead into halftime and extended it by another in the second half. SDSU looked more systematically developed than most teams at Sean Ryan, showing a side stack on offense in addition to a standard vert. While few teams play strict lines in the fall, SDSU seemed to slant toward playing their more experienced players on offensive points. They got big contributions from Mark Slader, who looked Dom Leggio-esque in his dump cuts and distribution. Cal Poly, for their part, seemed content to cycle their large roster through open lines to get everyone playing time.
– Nevada-Reno bested UCLA 10-8 in their quarterfinal match. A big story from this game is simply Reno's presence in it — the pool three-seed pulled an upset Saturday, going 3-0, including wins over UCSD and UCSB, to grab a spot in the quarterfinals. Reno looks like a program on the rise, with a fair number of YCC/youth ultimate shirts spotted on their lines (as well as a coach). They seemed to play a tighter rotation against UCLA than we've seen in years past, and rode their concentrated talent to a win. UCLA came to Sean Ryan as an A-team but looked pretty open in their lines.
– Stanford dominated UC Santa Barbara 11-5 in their matchup. Not many notes from this game due to its proximity to the others and the fact that it was 8-3 at half. Stanford entered the tournament with a small attending roster and played at least three rookies on every point (a trend they would hold the entire tournament) while keeping their seven returners in two loose pods. Bloodthirsty returned a large percentage of the roster that finished last season at #8 in the USAU rankings (but without a bid to Nationals) while Santa Barbara is surely reeling from the losses of key playmakers Grant Novins and Kyle Rubin, as well as the absence of injured captain Jack Hamner.
– UC Davis crushed California 11-6 to earn a spot in the semifinals. Davis was both athletic and trigger happy in their win. Though they looked systematically loose, the Dogs huck-first strategy worked well as their athletes made plays downfield. Their lack of methodical offense was aided by intense defense that exerted pressure on California cutters. On the other side, Cal looked like the most systematic team at the tournament. They play an extremely disciplined vertical stack driven heavily by handler movement, particularly from Andrew Lin. Davis had a fair bit of success stopping the handler motion by utilizing handler-guard switches, which stifled the Cal attack.
Semifinal Round
– Cal Poly-SLO topped Nevada-Reno by a comfortable margin of 12-6 to clear their path to the final. Both teams kept their line strategies from the previous round, with Cal Poly playing very open lines and Reno keeping things pretty tight amongst their best players. SLO even deployed some of their traditional handlers, like Ian Sweeney, downfield to give new players reps in featured roles. SLOCORE simply outclassed their opponent, applying more defensive pressure than Reno had seen all tournament and confidently winning downfield cutting matchups. They also benefitted from a generally high level of throwing talent across the board. Top recruit Jeremy Dolezal-Ng made his presence known for CORE, cutting well and making incisive throws up field. Though the defensive looks in the game were mostly vanilla, Cal Poly managed to fluster Reno a little bit by occasionally poaching the throwing lanes with a handler guard.
– Stanford cruised to a 12-7 victory over UC Davis on the strength of efficient offense. Davis continued to take their shots deep but were not connecting at nearly the same rate that they had against Cal in the previous round. The Dogs also had a fair amount of trouble finishing off points in endzone offense, coughing up the disc on the goal line numerous times. Stanford punished the Davis turnovers with strong play from their handlers. Nolan Walsh and Gabe Hernandez bounced the disc amongst themselves frequently, attacking up line for chunks yards and downfield with breaks off their motion. On the other Stanford line, Elliott Chartock was essentially unmarkable, hitting the breakside at will and hucking with consistency.
Final
The final was a rematch of last year's Southwest Regional final, where Cal Poly SLO upset heavily-favored Stanford 13-8 to take the region's sole bid to Nationals. While both teams were clearly using the tournament for developmental purposes, one had to think that Stanford wanted to win the game for a small slice of revenge. It was revenge they got as Stanford defeated Cal Poly 11-9 in the cap.1
The final started off sloppy for SLO. Stanford was clearly backing most cutters, all but conceding undercuts, but SLO was baited into forcing hucks deep into coverage numerous times. Worse, the hucks were not strong throws, often floating, sailing too far, or trailing out of bounds. Stanford, though turning the disc occasionally, was relatively deadly on the turnovers and used SLO's errors to run out a 5-2 lead. The Stanford offense, on both lines, was dominated by handler motion. Bloodthirsty may have played three rookies on every line, but 95% of the throws stayed between each line's respective handler core and a veteran upfield.
Hernandez and Walsh chewed up yards moving off each other, occasionally throwing a break up field to the top of the stack or an opportunistic huck. On the other line, the offense relied heavily on the throwing prowess of Elliott Chartock to generate any progress — he often ended up throwing his cutters open upfield with a break or a huge huck to beat the defense.
Facing the early deficit, Cal Poly rallied back on the strength of their defense and athleticism, as well as a little bit of regression to the mean in their deep game. The CORE offense began to generate holds off either completed pull-play hucks or by churning out the under cuts that Stanford continued to cede with little pressure. On defense, Cal Poly got their breaks off of big plays and short fields. Sweeney and Sean Liston got a layout D and a catch D, respectively, on in cuts near the Stanford goal line, and Cameron Wariner got a big sky over Chartock which he quickly hucked back the other way for a break. After the back and forth runs, the teams entered halftime on serve with SLO up 8-7.
At halftime the pulse of the game was pretty clear. Cal Poly had really turned up their intensity on defense, laying out frequently on in cuts and putting pressure on every Bloodthirsty throw. The defense was keeping them alive, in the face of sub par (but improved) offensive decision making and a handful of miscommunication turnovers. Stanford did well at limiting their offensive mistakes, and punishing SLO's, by keeping the disc almost exclusively in the hands of their playmakers.
Their top throwers, particularly Walsh and Chartock, continued to throw receivers open with virtuoso execution. However, the downfield cutters were struggling to get open underneath and their defensive pressure was essentially nonexistent. To take the game, Cal Poly needed to continue to crush on defense to compensate for their decision making and Stanford needed to continue to play clean offense to cover their lack of defensive force.
Stanford started off the second half strong, getting a hold on the pull play. Chartock fired a deep huck that was initially blocked by SLO but Alvin Kim laid out to snatch the disc to tie the game at eight. Bloodthirsty broke again on a quick point after a SLO dump miscommunication, with Walsh throwing a beautiful back-shoulder flick deep. SLO held on a strong point by Sweeney to tie it back up as the hard cap loomed.
Stanford stacked their line on the next point, but turned the disc over deep on a speculative Hernandez huck. However, they recovered after SLO misfired on a break throw and quickly punched in a hold to go up 10-9. With hard cap set to come on during the point, CORE received and worked the disc easily upfield to 30 yards out, but Dolezal-Ng carelessly floated a poor away look and, one Chartock huck later, Stanford had sealed the game and tournament win on cap, 11-9.
Overall, Stanford looked a little more systematically developed than Cal Poly. There were signs of a few set plays out of Bloodthirsty while SLOCORE mainly used strings on their pull plays. Stanford played their side stack on a few offensive points. There were no defensive wrinkles to speak of from either team.
Cal Poly likely benefitted more from this game, playing their roster in more diverse roles. They continued to play their traditional handlers downfield to give new players reps at the big positions. I recall the pull being centered to at least four different players. Their top-level talent probably cycled in every third point.
In contrast, Stanford (perhaps as a function of a small roster) used the same Walsh/Hernandez battery on one line with a Chartock-centric offense on the other. Every pull was centered to one of those three. Despite these slight differences, however, Cal Poly and Stanford are, developmentally, roughly similar and will likely continue to match up closely in the spring.
Taking Stock
Below, we rate the Southwest teams from Sean Ryan on how likely they are to maintain their relative performance come spring.
BUY
Cal Poly-SLO: SLOCORE may have lost the final, but Cal Poly has a deep roster this year and returned a large percentage of last year's Nationals roster. Their athleticism is high, their disc skills are surprisingly strong across the board, and Peter Raines will have another year to develop last year's young roster. They certainly miss the throws of Joel Anton and Tim Okita, but with two Junior Worlds freshmen and athletes like Nate Pettyjohn (absent this weekend) downfield, they should be fine. Throw in their intense, gritty defense and Cal Poly is a force.
UC Davis: The Dogs are an athletic bunch, with a decent amount of disc skill. The fact that they could get third at Sean Ryan without much of an implemented system suggests they have a high ceiling come spring. I don't expect them to make Nationals, but if their development stays on track they could be a regional semis team.
HOLD
Stanford: Bloodthirsty won the tournament, and they did so playing three rookies on every point of every game. That is quite impressive. However, despite their scoreboard results, I'm withholding judgement. Against the only other team on their level at the event, Stanford struggled to create any defensive pressure. Their turns against SLO came almost entirely on awful SLO decisions/throws or miscommunications (very few of which were forced by high stall counts).
On offense, Stanford played extremely clean ultimate for a fall team, but they did it by essentially only letting three people per line touch the disc. Many cutters hid in the stack, and there was very little matchup-winning downfield. Can an offense so reliant on handlers withstand elite handler defense? The single point Cal Poly's Cameron Wariner guarded Chartock, the offensive stagnation was evident. I'll reserve judgment until the Spring when more of their roster is present, but for now it's hard for me to get behind a team with weak defense and a heavy reliance on a few key players for offense.
California: Ugmo is a disciplined team with great technical skill. But the question looms: do they have the athleticism to keep up with the country's, or even region's, best? They will likely be a zone team again on defense and may not have an answer to teams who can beat those looks. On offense, their vertical stack is a machine, but can they answer when teams start to make smart switches? I think a quarters finish is about where they project to this spring.
SELL
Nevada-Reno: I don't mean to single out Nevada, because I think their story of a developing program is one of the coolest things in college ultimate. That said, it seemed to me that Reno was the only team playing to win this weekend. They appeared to run tight lines and saw a fair amount of success, but it's hard for me to see them matching their fourth place finish at Regionals this spring. Once the top teams really turn it on with tighter lines and more sophisticated defenses, I'm not sure this year's Reno can hang. However, it's exciting to see their program culture develop, and they seem to have a strong core of youth and raw athletic talent to build around. Maybe not this year, Reno, but hopefully in the near future.
---
The tweet stream of the game is available on the Ultiworld Live twitter for a point-by-point breakdown. ↩