Counting down the goings on through day two.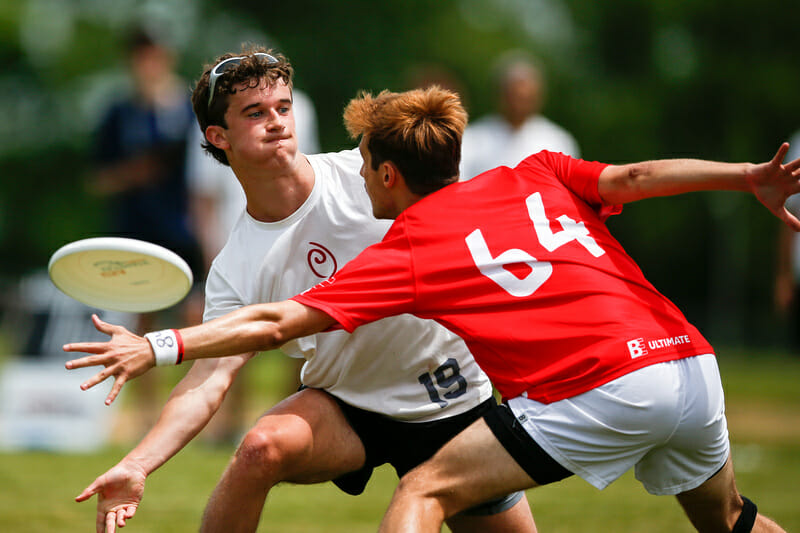 Ultiworld's coverage of the 2023 college ultimate season is presented by Spin Ultimate; all opinions are those of the author(s). Find out how Spin can get you, and your team, looking your best this season.
Taking stock of the first two days of Nationals can be a slog, or, with the right structure, it can be a simple melody. In fact, you can count a lot of the top stories on just one hand. Here, then, are some weekend-to-date highlights presented for your enjoyment and understanding. It's as easy as do-re-mi and A-B-C. Let's get counting!
1 Metro East win
The past 15 times a men's Metro East team attempted to win a pool play at the D-I college championships, they failed. Not since 2018 UConn's win over a William & Mary team missing their best player has the "Metro Least" earned a win at this stage..until the last round of Pool A's pool play in 2023. With three wins and their spot in the quarterfinal round already clinched, Pitt's top players took their cleats off and watched their teammates, who to that point had racked up fewer points played, take the spotlight against Cornell.
In their last meaningful game of the tournament, Cornell played their hearts out and took down their pre-redraw regional rivals.1 Tomer Poole-Dayan had an excellent game, putting up five assists. Ethan Lau caught three goals and Eric Freitag had four. Cornell scored four in a row midway through the second half to turn a 11-9 deficit into a 13-11 lead that they carried until the final score. Some may argue that Pitt's sitting starters like Tristan Yarter, Harry McNamara, Marcel Oliart, Scott Heyman, Henry Ing, Aidan Landis, and Dillon Garrett cheapens the win, but Cornell's stated goal before the tournament was to get a win for the region. One Metro East win equals one goal accomplished. Hats off to the Buds for a job well done.
1 Gavin May turnover
After being valued as the #34 player in the country according to our aggregated staff rankings, Gavin May has proven the naysayers wrong by putting up a dominant performance in Ursa Major's prequarters run. He put up 16 goals, eight assists, two blocks, and only one turnover (good for +25 on the weekend) as Cal's primary deep threat. He's so much more than just a sure thing going deep, too. He's the type of player that the coaches holler at from the sideline to take over because they trust that he will do good things with the rock. One turnover in a fairly windy environment while also being a top two usage player on the team is a ludicrous statistic and amazing achievement. One more year left in the division too as he's returning for a fifth to get his masters degree.
1 in-tact ACL on Matt Chambers
Matt Chambers must just be built different. A few months ago Chambers tore his Anterior Cruciate Ligament, an injury that usually renders an athlete unable to run easily much less able to cut and jump. Most people who suffer an ACL injury spend some time strengthening their legs, undergo a surgical repair, then take 9-12 months to get back up to full speed. Chambers may go that route once all is said and done, but today he played two great games of ultimate and looked pretty sharp. In the pool play finale against Colorado, Mamabird defenders were game planning around his strengths. As Texas struggled with Colorado's aggressive marking scheme, Chambers' throws found areas of the field that his teammates could not. His pressure-relieving hucks brought balance to a team that had trouble pushing upfield with pace. Against Georgia in the prequarter round, Chambers tossed three assists, tied with Zach Slayton for the team lead. With just one fully-functional leg, Chambers found ways to play effectively and put his team in position to win.
1 Pool that didn't need a tiebreaker
After forty games and two days of play, there was just a single pool in which no two teams finished with the same record: Pool C. Georgia's upsets over Oregon, Santa Cruz, and Tufts upset the Pool A standings; Utah State's win over Brown's bench (they had already clinched the pool seed through superior point differential to a Cal team that had finished all of it's games) brought B-Mo and Cal to a tie; and Pitt's aforementioned loss to Cornell brought them to a tiebreaker (again that they already clinched by virtue of a head-to-head win) with Colorado. Though SLO's on-paper upset over Vermont switched the order around, as did Michigan's win over NC State, Pool C was the only one where the five teams respectively earned 4, 3, 2, 1, and 0 wins. While that's merely an interesting observation, it speaks to the parity in the division that three out of the four pools needed tiebreakers to sort out seeding and the one that didn't had two significant upsets. The men's field seems the widest open it's been in a few years and during pool play, we saw the results of that parity.
2 double game point wins in a row for Vermont
After Vermont looked listless against Cal Poly SLO and nearly lost to pool bottom seed Michigan, it was fair to question their bona fides. Not anymore. Team Chill came back from a 6-2 deficit to take down Carleton in the pool play finale, securing themselves the two seed in their pool and an easier prequarter matchup2. In that prequarter game, Vermont again found themselves at a deficit. Cal broke early and maintained a 1-2 point cushion for most of the game. Vermont tied the game late and broke to win on the last point. Last season, Vermont played a similar schedule, winning a close game to close out pool play before facing off in a prequarter. In 2022 they lost handily to Minnesota in that prequarter, but this season they were able to pull out an unlikely victory.
In both games on Saturday, Vermont deviated from their season-long commitment to playing separate lines on offense and defense; Johnny Sickles, Carl Crawford, Zach Watson-Stevens, and Declan Kervick each had standout moments on defense despite being typical starters on the O-line. Crawford in particular had two big blocks that keyed the comeback against Carleton and the layout block that gave Vermont possession on double game point against Cal. With momentum and positive energy, Vermont heads into Saturday's quarterfinal matchup against Pittsburgh confident and hungry.
2 wins for Ego over Colorado
Ego has proven to be a major spoiler for Mamabird this year. Earlier this season, they beat them in the final of Presidents' Day Invite in a classic universe point death match. Fast forward to this weekend and it happens again, sending Mamabird home early even when they were a semis expectation team. With similar depth and coaching, it's the star players who show up in the big moments that matter the most. Although both tandems were excellent, it was Itay Chang and Mica Glass who were the superior duo to Danny Landesman and Calvin Stoughton in their epic prequarters showdown.
2 easy for Cal Poly SLO in pool play
SLO waltzed through pool play, going 4-0 and not being challenged by any of their opponents. They rolled NC State, Carleton, and Vermont while also beating Michigan without four or five of their best players who were resting for the bracket run. The reason for their dominance is twofold: the weakness of Pool C, and the return of Seamus Robinson.
Pool C was without a shadow of a doubt the weakest pool at Nationals this year. NC State was fraudulent (justice for UCLA), Michigan was mediocre, Carleton was without their best player, and Vermont had a poor showing against them. SLO certainly played well, but it's likely that other top teams could have put up a similar performance in Pool C.
The reintegration of Seamus Robinson makes the Cal Poly defense among the most dangerous in the country. Adding an elite cutter defender and offensive weapon on the turn is exactly what SLO needed to elevate their D-line from good to lethal.
2 points by which Grey Duck missed the bracket
Minnesota rosters some of the most talented players in the country. Paul Krenik, Ian McCosky, Anthony Jirele, and Max Dehlin have all played stellar seasons and would be starters on almost every team in the country. Though their knock is a defense that doesn't force as many turnovers as other elite teams, Sebastian Brauer and Levi Dohman are quality defenders who any team at this tournament would also find a place for in their starting lineups. A team with so much talent usually finds a way into the bracket, but this Grey Duck squad squandered two chances to book their place in the prequarter round.
On Friday, Minnesota staged an impressive comeback to go up 14-13 against Cal before dropping the last two points and losing on double game point. Then on Saturday, knowing that they needed a win to stay alive, Minnesota took Brown to the brink before succumbing to B-Mo's superior late game execution. Had either or both of those points gone differently, Minnesota may have taken Cal's place in prequarters (which would have set up a rematch of last season's Vermont-Minnesota tilt). Instead, they fly (swim? Do ducks fly?)3 back to the twin cities with just the questions of what could have been.
3 wins for pool five seed Georgia
What a great performance from Georgia this weekend. They come into Nationals ranked 17th and end up breaking seed by eight spots on their prequarters run. Even though they had an uninspiring regular season, they put the pieces together at the right time and earned some legitimately excellent wins against teams that were all ranked ahead of them in UC Santa Cruz, Tufts, and Oregon. Aidan Downey was exquisite and Adam Miller seemed like his motor was among the best at Nationals. Their depth pieces shined too, like Jack Kruger, who was flying around getting blocks and Ryan Flick who Georgia could count on to boost it deep to their athletes. Freshman Scott Whitley also showed out – check out this greatest which might be the play of the tournament.
3 major stat category leaders
Daniel Chen (Carleton) – 18 goals
Chen stepped up for a CUT team that needed a spark plug. His connection with Cullen Baker seemed to be telepathic at times as he reeled in everything from deep shots to tight-window dishes at the front cone.
Dexter Clyburn (California) – 22 assists
Clyburn is known for his breakneck speed and stamina but he's unjustifiably slept on for his distributing ability. He has the full trust of the coaching staff to assume the lion's share of tough break and deep shots to move the chains for the Cal offense.
Clyburn, Cooper Williams (NC State) – 9 blocks
For an NC State team that lacks a true superstar, Cooper Williams balled out during pool play and made his case as the team's go-to player. Playing mostly on offense, Williams' blocks helped Alpha retain possession and punch in valuable holds. While it wasn't enough to secure Alpha a win, it was enough to garner attention and remain on the national radar.
As the deep-deep in the best zone in the country, spider-like Clyburn has a knack for baiting opposing handlers into taking shots into his "web" that appear open but in reality he's baiting them into getting devoured. He's also a lockdown person defender that farms run through Ds on slower cutters.
3 titles potentially for UNC
There's no guarantee that they'll win it of course, but UNC is playing for their third consecutive championship. After taking home gold medals in Norco in 2021 and Milwaukee last spring, Darkside brings back their championship core on the heels of a perfect postseason and their first win at Easterns, the regular season finale, in over a decade. Nobody has yet troubled UNC at full strength this tournament.4 While they do have a loss on their resume to Massachusetts earlier this season, and those two teams could face off again in the tournament final, UNC always seems to turn up their play just one notch at the College Championships. Should they win this one, it would be the first men's threepeat since UC Santa Barbara accomplished one in 1996, 1997, and 1998.
3 Pittsburgh turnovers in their game against Texas
Pittsburgh started Friday with a slopfest against Washington. They suffered 17 turnovers in that one, including plenty of uncontested drops and only managed to convert a single break opportunity. They cleaned up their act in Saturday's opening round duel against Texas. The entire Pittsburgh team tossed just three turnovers. Aidan Landis and Harry McNamara both misfired downwind flick hucks and Dillon Garrett misplaced a tight window throw to the break side. That's it. Everything else was perfect–or at least good enough to be caught, and Pittsburgh's D-line conversion was 100%. On a day with plenty of wind and against a quarterfinal-level opponent, Pittsburgh was nearly perfect and took home a dominant victory.
---
D-I College Championships 2023: Day Two's 3-2-1 is only available to Ultiworld Subscribers
Already have a subscription? Log in
Whether you visit Ultiworld for our reporting, our podcasts, or our video coverage, you can help us continue to provide high quality content with a subscription. By becoming a subscriber, not only do you receive benefits like exclusive articles and full article RSS feeds, you also help fund all of Ultiworld's coverage in general. We appreciate your support!