It takes careful planning, constant focus, and a solid culture to make sure your team can peak at just the right time.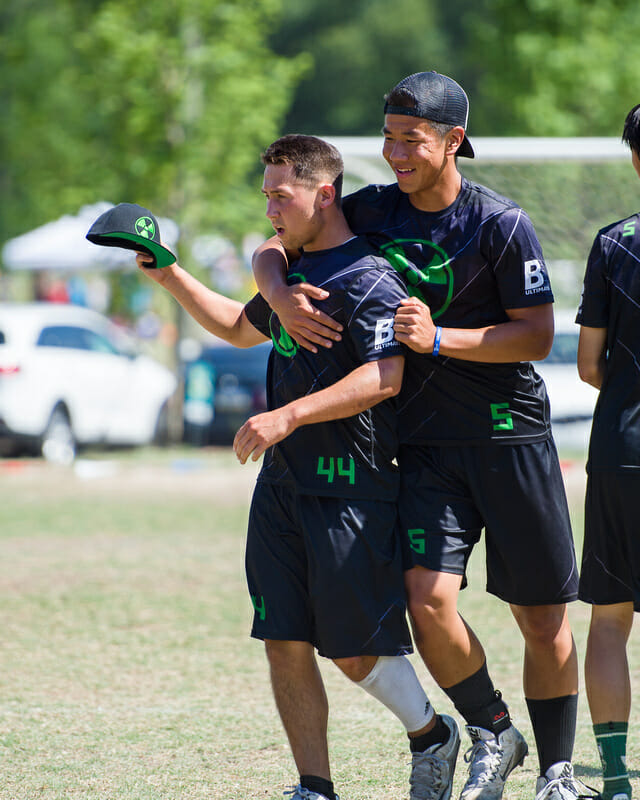 This article is presented by Spin Ultimate; all opinions are those of the author. Please support the brands that make Ultiworld possible and shop at Spin Ultimate!
This article was written by guest author Tim Okita.
As we sat around a table in September of 2015, Peter Raines (our coach), Chris Cogswell, and I contemplated our upcoming season. Cogs and I were both captains and seniors, and had seen pretty disappointing results for the previous three years. But we were hopeful that 2015-16 season would be different.
Four years ago, our team — Cal Poly SLO — ended the season ranked 164th in the country. Three years ago, it was 121st. Two years ago, 64th. We were improving, to be sure, but not at the pace we needed to get where we wanted before our time at school was up. Still, we set a goal last year to play in a game-to-go to Nationals. We had no idea the amount of planning, effort, and time it would take to achieve this goal.
Many teams, like us, are probably in the position called the 'bubble'. They have talented players, maybe lack a little depth, but have aspirations of that trip to compete at Nationals — which few players who don't go to schools like Oregon, Pitt, or Colorado experience. While we may not be experts on leadership, especially in ultimate, we feel like some of the key learning experiences we had last year will be helpful to a lot of teams who wish to make that jump. Attributing our success to simply peaking at the right time would discredit a season full of detailed, specific planning that Raines, Cogs, and I spent long nights preparing.
The following are steps we found most helpful in realizing our goal.
Pre-Season
1. Set goals and steps to achieve those goals.
This step is perhaps the most important to attain success. Not only should goals be set for the season, but also for tournaments, months, weeks, and even individual practices. These intermediate checkpoint goals are especially important during the season when time seems to move faster and no practice should be wasted.
All of the goals should have specific actions associated with achieving them and ways to measure success in a timely fashion. For example, if your team wants to work on its endzone game, set a goal for a specific conversion rate in ten-pull endzone drill at practice and translate that goal to games and tournaments.
2. Create a transparent relationship with a coach.
While a coach may not be 100% necessary for every team to have a successful season, having one was a crtical part of our success. First, a good coach usually has some expertise from playing higher level ultimate and can help guide the team to play a more cohesive, competitive style, like those seen in top men's, women's, and mixed club teams. A good coach can also diagnose the current state of the team and visualize the steps and changes necessary for success.
It is vitally important to build a strong, open relationship with the coach where you can honestly discuss everything from on-field results to the benefits and disadvantages of their coaching style. After all, this is your team and you should not let a coach dictate all parts of team affairs at the expense of player buy-in. In our case, Peter Raines rightfully deserved every recognition he got for his contribution to building our program last year, but there were times in our meetings where we healthy disagreed on in-season goals, tournament strategy, and other topics. However, that respectful disagreement challenged our leadership to be best it could.
3. Develop the overall skill of all players on the team.
Depth is perhaps the most important element of top teams. As a leadership group, the more you can utilize the entire team throughout a tournament weekend, the more competitive your team can be on Sunday in the bracket. Revolver and Brute Squad of course have some of the best players in the world, but it's their depth that other top club teams have a hard time keeping up with. Other college teams like UNC, Colorado, Oregon, and Washington have programs that don't bank on one or two players dominating the system, but rely on getting contributions from up and down the roster to be successful, even in the most difficult games.
How do you develop all players? First, promote versatility. If all your players can be great defenders, solid cutters, and decent handlers, your team's capabilities increase. Second, make players comfortable in all situations. Just because someone is a deep defender doesn't mean they shouldn't be comfortable throwing all kinds of arounds or running a decent dump set. Third, bolster players' individual strengths. If a player is good at handler defense, push them to be the best at it so that they can ultimately settle into a role.
4. Establish a culture built for success.
Tom Crawford gave advice to teams last year and stated, "The best player on your team should also be your hardest worker." This one action has perhaps the strongest effect on the culture of a team. When every player on the team recognizes the dedication and effort required to reach goals, that's when everybody buys into a successful culture.
We have never played Pitt nor have I met anyone who plays for them, but I don't doubt for a second that Trent Dillon was one of the hardest working players on that team and positively generated a work ethic emulated by the rest of the squad.
Part of a successful culture needs to include how the team responds to failure. Three and four years ago, the culture of SLOCORE was poisonous. Teammates would yell at each other, drop heads, and get angry over simple mistakes. This culture did not improve us as a team and led to more division than anything else. For us, a successful culture revolved around picking each other up for mistakes not only from the sidelines but generating offensive and defensive plays. This culture not only positively influenced development but made us better friends off the field.
In-Season
5. Instill a system with an offensive and defensive identity.
This step starts by defining the roles on a team. Unless you have John Stubbs, almost every college team can define specific, finite roles for players that collectively work towards the larger goals. When a player understands their job and their expectations, they must merely execute and stay within their capabilities for the team to be successful. For example, a handler should understand that if they don't have a consistent 70-yard huck, their role isn't to look for tough shots way down field. A great one-on-one defender should know not only what type of matchup she's likely to guard but also whether the team expects her to grind under after a turn or stretch the field deep. The overall strategy of a team should be a direct result of the skills and abilities of all the players on the team.
This same mindset should be applied to the offensive and defensive lines. An athletic D-line could look to take more 60-40 shots down the field while the O-line maintains a patient dump-swing offense. In whatever case, offensive and defensive identities do not need to be the same; however, defining how each line will play offense and defense allows players to focus on execution during games.
6. Work on the details.
If you don't watch game film, start watching film. Breaking down how elite players are successful, how college players dominate, and how some teams play is extremely beneficial for not only personal growth but team chemistry and strategy. Whether you analyze Lien Hoffman's cutting, Dylan Freechild's footwork, or Minnesota's offensive flow, mastering those details will help the team reach its full potential.
Once you've studied, put in the work to perfect these skills. It can be boring and monotonous to practice the same thing over and over and over, recognizing when it's not perfect and adjusting, until it becomes second nature. But any effort put in on the practice field will pay off when you find you don't need to focus on it later to execute it correctly in the big moments.
Putting It All Together
7. Build up to the Series.
Here's the thing: It does not matter if you lose in some regular season tournament. All that matters is how you finish the end of the season.1 Last year, SLOCORE played 54 games, which was more than any other college team. Perhaps surprisingly, our goals did not focus on winning every single one of those games. As mentioned at the beginning, our main season-long goal was not to earn an extra bid for the Southwest, but to put ourselves in the best position to compete in a game-to-go. This influenced every tournament strategy we conceived.
Knowing that our depth of skill still trailed the top teams when we headed to Stanford Invite, our goal for that tournament wasn't about making the championship bracket, our goal was to keep every game close (within 2-3 points). Our weekend resulted in winning two games and losing three others on universe point — as well as a dramatic increase in team confidence. One recipe for playoff success depends upon improving individual player skill coupled with a confidence that your team can stick with any team in the country. Your team should create attainable goals which emphasizes that a loss in the regular season can be just as beneficial as a win.
8. Encourage competition within the team.
Competitiveness was perhaps the most crucial mentality that led to our success. A team that is hungry and thirsty to win doesn't accept or even understand a minimal work ethic. Encouraging competition in and out of practice pushes even the top players to put everything they have into improving and winning. Competition is what drove our players to puke at track workouts and put their bodies on the line every game.
At the end of every practice, we would have some sort of physical competition whether that was pushups, wall sits, or sprints. After one practice, we all participated in a plank challenge. Slowly, after a couple minutes, one by one people couldn't hold it and the numbers dropped. We eventually watched two of our best players hold a plank for what seemed like over 20 minutes. Neither one was willing to give in. Looking back on our season, we achieved our goals because, like those two players, our team was never willing to give in.
***
There is no singular recipe that will lead every team to success. Team cultures will differ, roster composition will call for different strategies, leadership groups will vary in size and responsibility. But by focusing on the steps above, your team will be set up not only to achieve your season goals, but also be on your way to establishing a culture for long-term success for your program.
---
At least, if your goal is to play at Nationals. ↩