Round 1 is in the books and the quarterfinals are underway!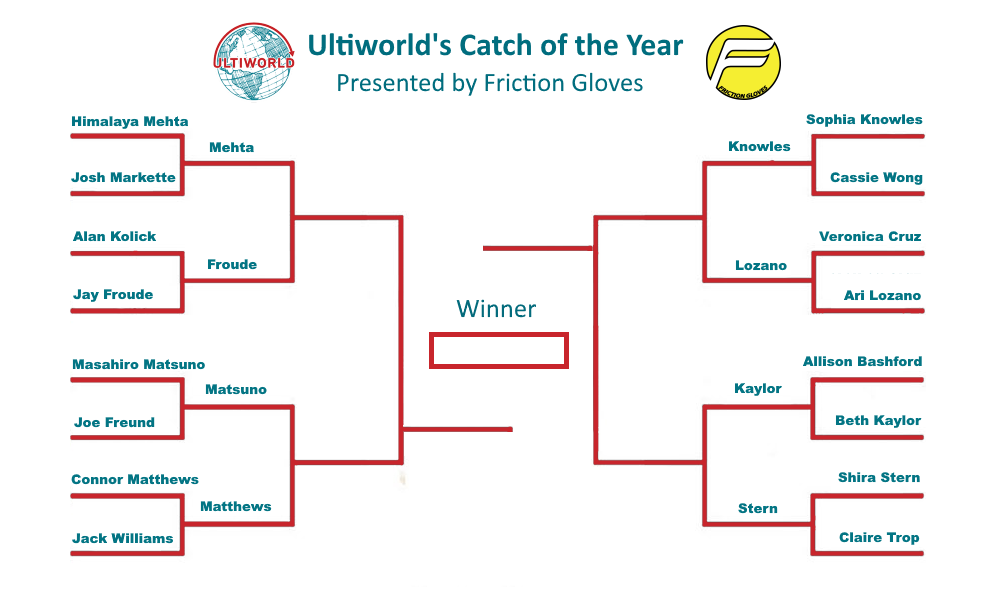 This article is presented by Friction Gloves; all opinions are those of the author. Please support the brands that make Ultiworld possible and shop at Friction!
After a crazy first round of voting,1 we've narrowed our contenders in half. Some pre-contest favorites bow out early while some upstarts notch impressive prequarter victories, perhaps portending future success.
The second round of voting starts now and closes on Wednesday, January 4th, at 5 PM Eastern. The semifinals voting will commence on Thursday.
Round 2
Matchup 1: Mehta vs Froude
Himalaya Mehta – Philadelphia Spinners (MLU)
In one of the more surprising2 first round upsets, Mehta advances past Cricket's club finals miracle grab. Was the closest margin of victory on the men's side evidence of a brutally tough draw for both nominees or should Mehta's circus catch be worried moving forward?
Jay Froude – Kansas City Prairie Fire (USAU Men's Club)
Froude's double-dose of dirty layouts at Regionals cruised past Alan Kolick's own high-flying escapades. Time to see if he can knock of his second straight pro game opponent.
Matchup 2: Matsuno vs Matthews
Masahiro Matsuno – Japan (WUGC Men's)
Age beat out youth in the first round matchup of two World Championship title game grabs, with Matsuno's WUGC sky topping Joe Freund's WJUC-clinching catch en route to the biggest victory of the first round. The Japanese talisman now takes on another young American ace in the quarterfinals.
Connor Matthews – Oregon Ego (USAU Men's D1 College)
Matthews' incredible balance and footwork was enough to get by Jack Williams' shoulder-high layout, but it will be enough for the Ego star to overcome the aerial prowess of Matsuno in the next round?
Matchup 3: Knowles vs Lozano
Sophia Knowles – Columbus Rival (USAU Women's Club)
The narrowest win of the first round saw Knowles' double-game-point winner survive Cassie Wong's absurd athleticism. It's tough to top the moment of a game-winning layout at Club Nationals, but Knowles' next opponent just topped a grab that clinched a college semifinal victory.
Ari Lozano – Whitman Sweets (USAU Women's College)
Just as with Connor Matthews above, Lozano's fancy footwork at College Nationals was enough to advance the Whitman star to the quarterfinals of our bracket. After the Sweets' run to the finals in Raleigh, can Lozano keep alive a repeat performance in our bracket?
Matchup 4: Kaylor vs Stern
Bethany Kaylor – All Stars (All Star Ultimate Tour Showcase)
If it's good enough for Sportscenter, it's good enough for Ultiworld's readers. Beth Kaylor's All-Star Tour flying demonstration landed her at #8 on ESPN's Top 10 list back in July; one more victory here guarantees an even higher finish in our year-end competition.
Shira Stern – Seattle Riot (USAU Women's Club)
In Round 1, Stern saw off her Seattle sister, Claire Trop, in a battle between two massive bids in big games. The Riot star's form in her highlight shares even more striking similarities to the grab made by her quarterfinal opponent, Kaylor.
---
I'm blaming at least some of these results on New Year's Eve bacchanal hangovers. ↩

EXTREME EDITORIAL BIAS ALERT: Well, surprising at least to those of us who have eyes. ↩