How many resolutions will you be able to keep?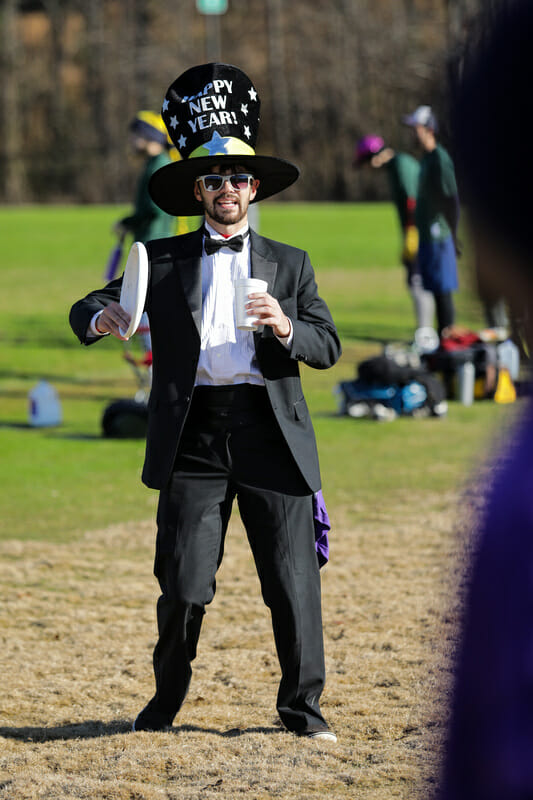 This article is presented by Spin Ultimate; all opinions are those of the author. Please support the brands that make Ultiworld possible and shop at Spin Ultimate!
It's that time of year again. As the world rings in 2017, people everywhere are stopping to look back and look forward, thinking of ways to improve themselves and their lives.
Ultimate players are certainly not exempt from this tradition and, in fact, frequently use the turn of the year as a time to start thinking about what specific ways we can better our fitness and skills with the goal of improving our ultimate game.
Here are 17 suggested New Year's resolutions for ultimate players.
#17: Work on your workouts
The classic New Year's resolution is to get in better shape, and while it can be cliché and make for over-crowded gyms in January, finding ways to be healthier and fitter can absolutely benefit ultimate players as well. Here's something small to do: add one more tough workout a week to your practice or take one of your existing workouts and find a way to make it more specifically beneficial to an area of weakness in your body that you'd like to work on. You'll see gains in no time.
#16: Increase your mental toughness
There are several good routes to increasing mental toughness; try one a month and plan them out ahead of time to keep yourself honest. Remember, you can only benefit from taking on challenges and overcoming them. That goes double for an entire team.
#15: Watch more ultimate
What better time to subscribe to an Ultiworld video package then January of 2017? Start the year off right by dedicating a little time each week to observing the game. Your passion and respect for the sport will increase, as will your ability to learn from viewing film.
#14: Read more
Reading an extra article about the sport per week can be extremely beneficial — especially the awesome Tuesday Tips column! However, other books can be great tools in self-improvement. Malcolm Gladwell, Angela Lee Duckworth, and Carol Dweck all have interesting psychology books that connect well with ultimate training, and there are dozens of inspirational sports biographies or memoirs that can excite you for ultimate. An ultimate novel can also be a great, fun read.
#13: Actively rest
Rest days are super important (and also super nice). You have to give your body time to recover and relax. However, laying on the couch relaxing is one thing, while actively recovering is another. Find a way to improve your rest days; maybe make them days to increase your mental strength by reading or watching more ultimate, or maybe find a good relaxing workout like yoga to better your body even when you are pounding away at the gym or track.
#12: Bond with your teammates off the field
On-field connections will only improve with off-the-field connections. Make a resolution to spend more time with your teammates in a non-ultimate setting. Workout together, play games or sports together, go out and party together. The more the merrier, as they say.
#11: Set SMART Goals
Setting goals that are specific, measurable, attainable, realistic, and timely for focused aspects of your ultimate game can help pinpoint targeted improvement needs. The goal-setting process itself will benefit you by forcing you to actively examine your abilities.
#10: Record your ultimate workouts and play
Keeping track of your fitness and your ultimate practices and games can be the best way to find areas of weakness and strength. Use a journal or a log to mark where you're at by date; keep track of sprint timing, amount of weight lifted, and your observations on how well you played (and what mistakes you made) in games or practices will be extremely beneficial.
#9: Reflect on your game
It's not good enough to have goals and to keep track of your abilities on paper; you also have to spend some active time thinking about them and genuinely looking for ways to be better.
#8: Actively seek out advice
On top of reflecting on your own abilities, actively seeking out advice (and constructive criticism) from others is essential to improvement. Too often, we think about ultimate in the vacuum of our own perspective and don't have the opportunity to (or afraid to) ask others about our game. Find coaches, teammates, or opponents and get their take on your game.
#7: Sleep more
A resolution you'll have no problem wanting to keep and one that studies unsurprisingly prove extremely beneficial to athletes. Time is always the problem; try to schedule your sleep into your calendar just like any other activity. Find time for a nap every so often, or go to bed an hour earlier to feel better.
#6: Drink more water
Something that is harped on by doctors and physiologists because most people do not drink enough water in their daily lives, it is extremely important that athletes hydrate. Benefits include a better immune system, faster muscle recovery, and less hunger. Try to add one more water bottle to your daily intake.
#5:  Eat more fruits and veggies
Just like drinking more water, this is something that everyone can benefit from and is one of the chronic places where most people fall short. Make the resolution, buy double the amount at your grocery run, get the vital nutrients you need.
#4: Cook one more meal per week
Keep the healthy intake patterns going by adding one additional meal to your cooking schedule. Cutting down on the takeout or the restaurant will not only help your wallet, but likely your diet too.
#3: Pay attention to the sport of ultimate
Keep abreast of the news of the sport, and more importantly, participate in shaping where the game is headed in the future. That might be as simple as reading the news tweets from USA Ultimate, voting in the board of director elections, or going to see an AUDL game. On the other hand, it could mean volunteering at a youth ultimate organization, running for a position on a board, or starting your own.
#2: Give up your time for ultimate
Give up a little time to teach other players or young people about the game. Spread your knowledge and try to increase participation. You'll benefit the sport overall by giving up your time to help others, and you'll also benefit yourself — sometimes teaching a skill is the best way to truly master it.
#1: Be kind to others
A good rule of thumb for life inside and outside of ultimate: be nice to people. Compliment your teammates, thank your training partner, and be kind to opponents. They'll be happier, you'll be happier, the world will be a better place.
***
Take a few or all of these resolutions to help make 2017 your best year yet!