Mehta vs. Knowles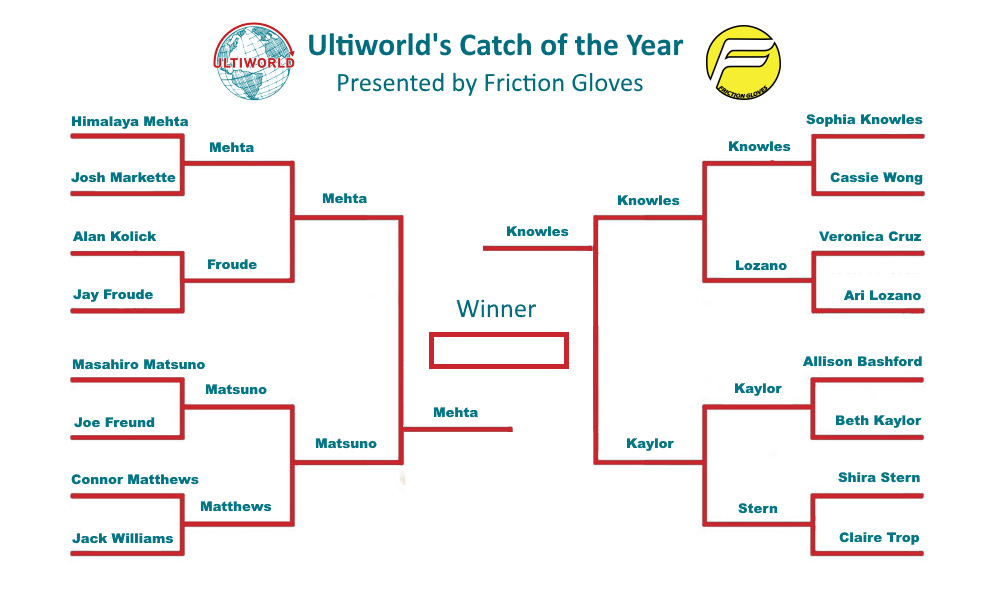 This article is presented by Friction Gloves; all opinions are those of the author. Please support the brands that make Ultiworld possible and shop at Friction!
This is it. One final face-off to determine which is the Friction Catch of the Year.
The final round of voting starts now and closes on Monday, January 9th, at 5PM Eastern. Take the weekend to let the choice marinate as you consider your vote.
Finals
It All Comes Down To This
Himalaya Mehta – Philadelphia Spinners (MLU)
Ok, I give. I have seen the light. An awkward half-bid at the end of a broken play mid-way through a meaningless, early-season MLU game is wildly more impressive than I have been giving it credit for. This is the catch of the year. Vote for it.1 Or, you know, don't.
Sophia Knowles – Columbus Rival (USAU Women's Club)
Biggest tournament of the year. Double-game point. Brutal wind. Tough, over-the-shoulder read. Ridiculous athleticism. Caps a run of three straight goals when everyone knew the pass was going to her. An exclamation point on a breakout Nationals performance. And a big smile. This is the catch of the year. Vote for it. Unless, you know, you think Mehta's grab was more impressive.
---
Reverse psychology is still a thing, right? ↩