A new premium line from the Vancouver-based apparel company.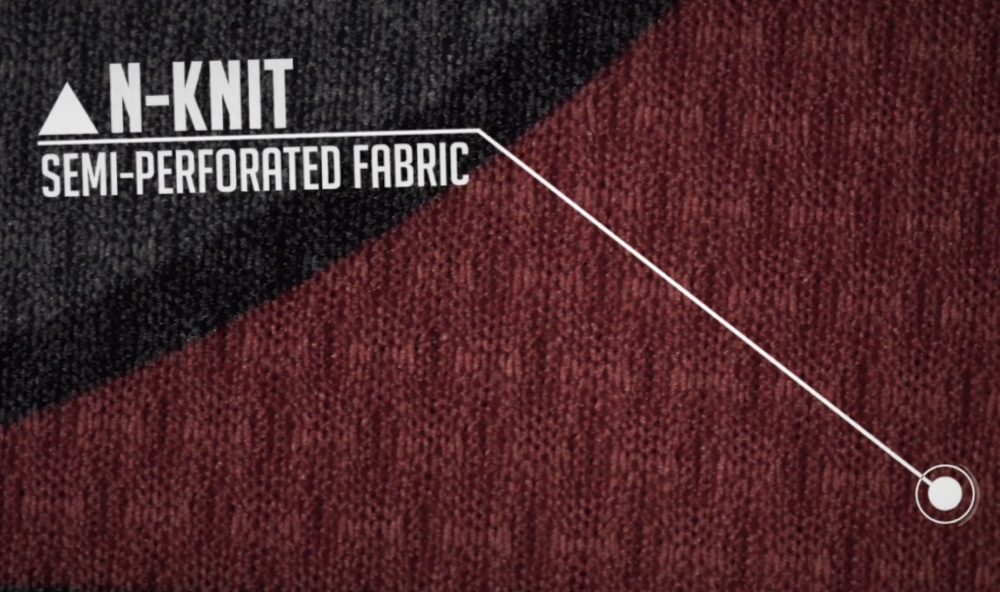 Disclosure: Ultiworld was compensated for writing this product review. All opinions are the reviewers' own and are not subject to approval from BE Ultimate.
Competition in the ultimate apparel market breeds improvements and diversity in product lines. I'm pretty sure Adam Smith said that.
The N-Knit line from BE Ultimate is the latest innovation from the Vancouver, BC-based apparel company. It's a full set of uniform offerings, including short sleeve jerseys, long sleeves, and shorts. It's a performance set of gear that tips its hat towards the competitive ultimate players of the world in terms of fit and feel, leaving the cat designs, hot dogs prints, and galaxy shorts to other companies.
The folks at BE shipped a set of women's and men's uniforms to us last month, and we've each had a few weeks to get familiar with the gear as we slip into winter here in Seattle. We battle tested each item while panting on treadmills, pushing it at the squat rack, sweating through ab routines, and throwing in the cold.
We'll take you through each item — the short- and long-sleeve jerseys, then the shorts — to give you a tour of fit and feel.
And What Is N-Knit, Exactly?
BE Ultimate designed their N-Knit line to be a better jersey for sublimation. Their jerseys are designed to stand up to the taxing process of sublimation while staying lightweight and quick to dry — the magic ingredients in all the best athletic apparel.
Scale
Simon: Katie, when we're not obsessing about ultimate, we're taking in all the television and film we possibly can. So I propose that we replace the normal 1-5 point scale with stars. Let's get our Siskel and Ebert on.
Katie: I've been an armchair critic my whole life. Glad it will finally come in handy.
Simon: Okay, that settles it. Let's agree that the more stars, the better. One star means the item is as bad as the Full House reboot, Fuller House. In gear terms, that means that when the shorts come out of their first wash to dry, you're already grabbing the scissors to chop off loose threads and wondering where those stains came from. The gear seemed like a good idea, but the producers couldn't execute and the cast didn't age well.
Katie: Five stars is when the jersey is so comfortable you find yourself wearing it to every workout and every practice. You start sleeping in it, bringing it out for casual Fridays, and despite countless wash cycles, it's still your best shirt.
The Short Sleeve
We've got short-sleeve jerseys to discuss. We'll start in our wheelhouse sizes: a men's medium and a women's medium.
Simon: I mentioned this in my last gear review, but I'm a broad-shouldered short guy, with enough of a belly that it matters in jersey fit. That means some of the sleeker short-sleeves out there don't really fit me at all, unless I go way beyond my normal medium, and then I'm in jersey-tuck territory. Call me a slob, but I prefer to play untucked.
Katie: I'm 5'5", and I wear a medium in just about everything. I have slightly broader shoulders and more "athletic" hips (read: no butt). My build, combined with my relative apathy about jersey fit, means I'm probably the worst person to do a product review. I've never cared strongly.
But enough years with very picky teammates gave me four major factors to consider: how the sleeves fit, how tight the neckline is, if the jersey rides up when I raise my arms, and how it fits across the chest.
Simon: The N-Knit fabric, on the outside, has an aesthetic similar to the first generation of Spin jerseys. Both shirts featured a semi-perforated knit, instead of the very smooth polyester blend that comes standard in most ultimate jerseys these days. It's like a teeny-tiny waffle pattern. And just eyeballing the fabric, I was skeptical.
Then, I actually put the shirt on. There's not a whole lot of stretch to this blend of material, but it's light, and the underside of the fully sublimated is smooth like other blends. If you're the type of person who enjoys a fabric that moves easily when you're in action, or you just generally like a loose fit, the N-knit short sleeve might hang a little straight. It's definitely a closer fit, but it didn't restrict movement at all. Think of this as a happy medium between the hugging jersey that shows all muscles and curves, and the one that makes you feel like you're swimming in it when you sprint down the pull.
In terms of my build, I didn't find the short-sleeve accentuating my stomach, which is always a plus. I did, however, get a hugging sensation around my upper arm at the cuff of the sleeve. I could choose to take that as a compliment on what's been happening with my biceps and triceps during offseason training this year, but for the purpose of this review, it's worth mentioning that I felt the squeeze of the cuff enough to know that it was there while stretching and hitting the treadmill for some indoor intervals.
Katie: The fabric looks like old school Gaia material, but it's much more breathable. The medium hits me at the hips and falls straight. Because BE jerseys have sturdier stitching to prevent wear and tear, the neckline didn't have a lot of give. But what it sacrificed in stretchiness, I think it'll regain in durability. The jersey felt intentionally stitched and therefore more likely to survive years of wear and tear. I put the jersey through the paces of a high-intensity workout, and the jersey never felt heavy or restricting.
The sleeves were definitively smaller and tighter than other jerseys I've owned. They weren't uncomfortable, but I don't know why apparel companies ever err toward shorter or tighter sleeves on women's jerseys. I've never heard a female teammate complain about sleeves being too roomy.
Simon's score: 3 stars
Katie's score: 3.5 stars
Avg: 3.25 stars
The Long Sleeve
Here, we're talking about a men's large and women's medium.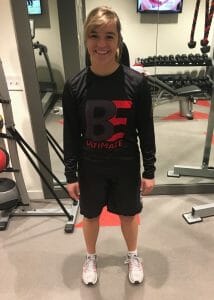 Katie: The long sleeve was my favorite piece of BE Ultimate gear. The shirt fits like a true warmup, but I'd wear this to play in colder tournaments or just around the house.
The jersey fit looser in the torso than its short sleeve counterpart, and I actually liked the tapered fit in the sleeves. I always push up the sleeves of my long-sleeved shirts, but I didn't feel the need to fidget with this long sleeve.
Simon: When did it become popular to wear long-sleeves while playing, but to cuff the arms of the jersey back to three-quarter length? I don't know1 and am satisfied with leaving it to ultimate culture mythology, but I like it.
The N-Knit long-sleeve has tapered arms, which made for an easy rollback — and the sleeves stayed put once I adjust them. While writing, cooking, lifting, and throwing, the cuffs basically stuck high on my forearm, which was an excellent surprise. I won't say they eliminated sleeve adjustment, but it was minimized. This shirt was made for players who like that style, so I'd expect it to be an odd fit for someone who prefers a looser jersey.
While lifting, I did noticed that the seams connecting the torso and arm pieces of fabric rode up towards my neck during movement. I'm being nit-picky, but I wasn't pleased to see the material tent up like that. It was more pronounced with the long-sleeve, but I observed this some with the short-sleeve as well.
Overall the feel was great. I gravitate towards long-sleeves naturally (they're my go-to for practice, warm ups at tournaments, and after game days) and I found myself living in this jersey for a few days.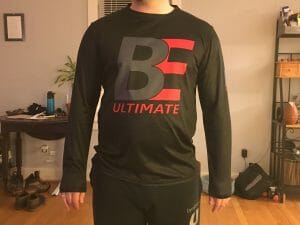 Logging a lot of hours in this particular piece made me appreciate the N-Knit's design for sublimation as well. The long-sleeve I tested has a funky base pattern with a giant BE Ultimate logo on the chest, and nothing about the jersey felt or smelled weird. It felt normal, with the pre-stretched aspect that Katie mentioned earlier.
Simon's Fun Fact: BE made a point of sewing in a little fabric eye hook inside the collar of both jersey types, specifically so you can hang them. I really liked this addition because we need to hang dry so much of our athletic gear these days, and because it showed signs of care in the clothing design.
Simon's score: 4
Katie's score: 4
Avg: 4
The N-Weave Shorts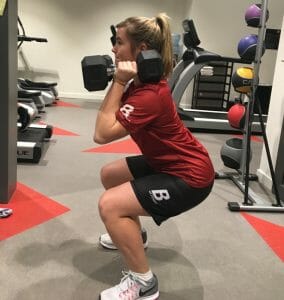 Katie: I was disappointed by the N-Weave shorts. They are shorter than many standard ultimate-brand shorts. The fabric is lightweight, but the inside stitching and lining made me feel a little like I was wearing shorts with built-in underwear.
OK that's a little extreme, but I didn't feel like I was wearing athletic apparel. The shorts are a tighter knit than a lot of other ultimate shorts on the market, which means they don't have a ton of stretch. There's less room in the crotch than other shorts I play in, which have an abundance. The difference wasn't unpleasant, but it was noticeable.
The waistband was pretty comfortable, which is huge. The shorts didn't ride up my compression shorts while I ran and I appreciate this more than words can describe. They also feature a small pocket, which is great for stashing keys, lip balm, iPhone, etc. All that said, these shorts are unlikely break into my regular rotation.
Simon: Oh good, we disagree. I loved the N-Weave shorts!
These are that non-stretchy, swishy style short, which I wore baggier in a large at encouragement from the good folks at BE. I have been wearing them non-stop to my lifting workouts, have hung out in them, and generally feel like they're a much needed improvement after many years of stretchy ultimate shorts. I hardly noticed them while moving around, too — they feel very light.
The N-Weaves feel a lot stiffer than similar short offerings in the ultimate market, but they're also clean, and satisfyingly roomy. They don't take on static, either — at least so far.2 I haven't yet been able to put them through the long-term, intense use in all conditions and dozens of loads of washing that can sometimes be the downfall for this style of fabric, as the material can slowly start to soften and almost thin out. I'll withhold judgment — but hold out hope — for the N-Weaves in this department.
We live in a world where we obsess over our material items, especially our clothing, so I think it's fair to say that we've all purchased a product that looks or feels expensive and, consequently, felt ourselves that we were wearing good quality. I'm sure there's a term we could borrow from psychology here,3 but for now I'll say I just felt fancy wearing these shorts out. Two thumbs up!
Katie's score: 3
Simon's score: 4
Avg: 3.5
Pricing
Despite having a fancy-feeling new fabric design and being a premium product line, the N-Knit and N-Weave products fall right into your average price range for sublimated team uniforms. There's no price breakthrough here, no insane, unheard-of value that you'll regret not taking advantage of right now, but they do offer discounts for high school and college teams, plus teams playing in leagues they sponsor.
Bottom line, they're neither the cheapest nor the most expensive option on the market, but it's important to remember that this is a premium line at BE — and they're made to be sublimated, which is always an additional cost.
Prices listed below.
N-Weave Fully Sublimated Shorts: $34
N-Knit Fully Sublimated Short Sleeve jersey: $65
N-Knit Fully Sublimated Long Sleeve jersey: $70
Conclusion
Katie: The look of the N-Knit fabric may be off-putting for players who are used to the ultra-stretchy or super sleek styles, but these jerseys are surprisingly breathable, comfortable, and fit fairly well without feeling overly tailored. And I suppose I could get used to the shorts.
Simon: I'm psyched to see some product innovation in the apparel market, which is crowded by racks and racks of stretchy, screen-printed inside jokes and cat designs. The N-Knit jerseys offer some pretty outlandish customization options since they're designed to be sublimated, and that's specifically to combat the complaints that many players have about full-sub jerseys. The clothing feels less like it's built for sporty countercultural types who still need to be funny and poke fun at competition, and a lot more like a line designed for people who want to feel athletic.4 You could put whatever you want on these jerseys, but I somehow can't picture Slap State ordering up a bunch of N-Knit longsleeves with a beer pong pyramid on them.
I also saw some care in the jersey design. I really dug the inclusion of the sewn-in hooks for hang drying, and the seams went unnoticed. I noticed no weird, loose threads coming out of the stitching, and each piece of clothing felt good during all kinds of activity. I didn't love some of the tightness in the upper parts of the jerseys as a broad-shouldered guy, but it wasn't bad, so much as a slight hitch in an otherwise well-made shirt.
Sublimation, unfortunately, means higher prices. But BE is competitive with the other offers out there in the ultimate apparel world, so if your team has a sponsorship deal, is good at fundraising, or is just willing to shell out, the N-Knit and N-Weave lines could be an excellent new option.
---