The games will be available to watch live on PPV.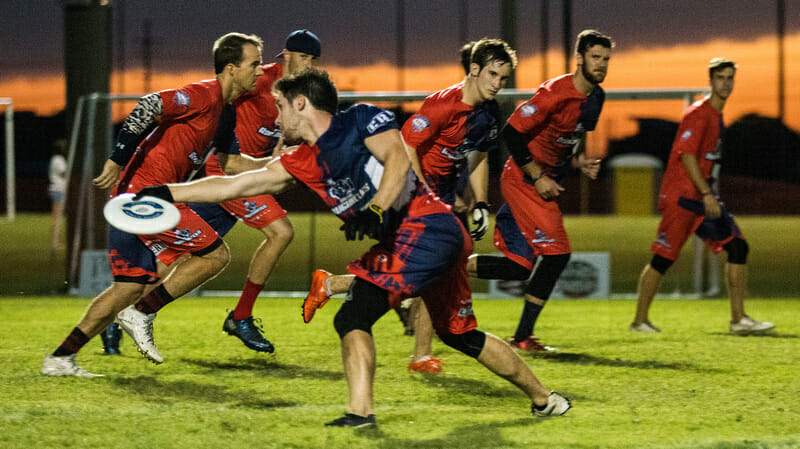 For the first time, the American Ultimate Disc League will schedule interdivisional play during the regular season in 2017, a league official confirmed to Ultiworld.
The AUDL is featuring four cross-divisional games between the league's best teams from 2016 that will comprise a special pay-per-view livestreaming package.
"We're trying to get a little more parity," said AUDL marketing manager and Madison Radicals owner Tim DeByl. "So the one [seeds] will play each other and the two [seeds] will play each other from last year's regular season standings."
The four games and their tentative dates are as follows:
DC Breeze @ Raleigh Flyers (April 22, 2017)
Pittsburgh Thunderbirds @ Seattle Cascades (May 13, 2017)
Dallas Roughnecks @ Madison Radicals (June 3, 2017)
San Francisco Flamethrowers @ Toronto Rush (June 17, 2017)


The four-game set is dubbed the "Cross Coast Challenge," and all the games will count as a regular game in the AUDL season standings for the eight teams. They will not affect any of the tiebreaker rules for playoff seeding. Pitting top teams against one another is reminiscent of the scheduling done by the National Football League, famous for its parity.
The games will be available to watch live online for $5 a game or $10 for the series. The AUDL will still be featuring free live games on a weekly basis; this package is separate from the standard live programming. Fulcrum Media Group, the AUDL's primary video production team led by Luke Johnson, will be producing the four game set.
The league is seeking to cover some of the additional travel costs associated with interdivisional games with the PPV package. The AUDL will be covering costs for traveling teams above the average cost of a typical road game.
"This is a test of it," said DeByl. "One of our questions is: can we bring in enough revenue to cover the additional costs of cross-conference games? And is the excitement around these games as much as it seems like there is?"
DeByl said the AUDL has been looking to expand to interdivisional games for years. The now-defunct Major League Ultimate played two cross-conference games in 2016 and had two more scheduled for the 2017 season before the league's investors pulled the plug in late December.
"We had it on our roadmap from the first day," said DeByl. "We were just waiting for the right opportunity."