Seven top 25 teams descend on Tampa this weekend.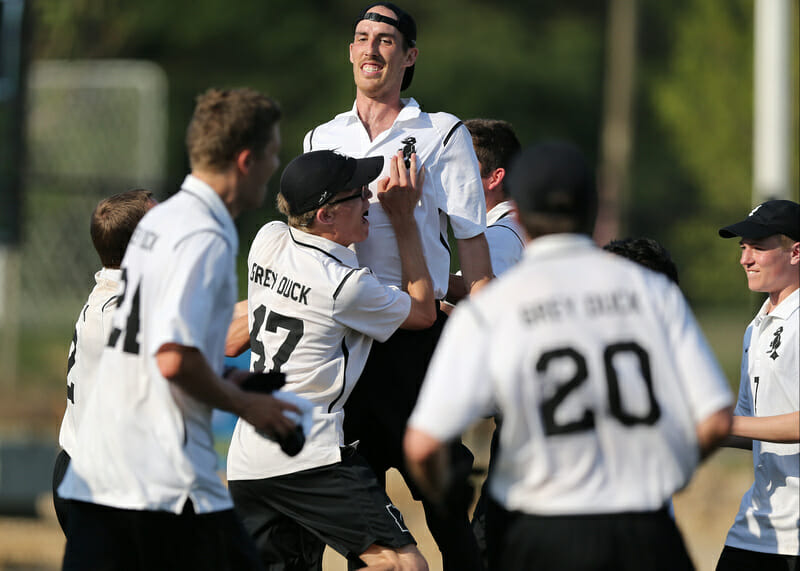 Ultiworld's reporting on Florida Warm Up 2017 is presented by Spin Ultimate; all opinions are those of the author. Please support the brands that make Ultiworld possible and shop at Spin Ultimate!
Three days of ultimate complete with showcase games under the lights, representation from each of the country's ten regions, and about a half dozen legitimate national championship contenders. For a regular season college tournament, it doesn't get much better than South Florida's Warm Up.
Yeah, yeah, it's February — but there are lessons to be learned and results to be taken seriously this weekend. Minnesota put the division on notice with their winning performance in Tampa in 2016 before going on claim the national title, just like previous Warm Up champs Pittsburgh ('12), Carleton ('11), and Florida ('10).1
With teams coming from far and wide to gather in Tampa, the flight itineraries may look primed for jet lag, but make no mistake — the natural irritability and orneriness one develops after being cooped up all winter will shine through. This is the start of the spring for 13 of the 19 squads in attendance and the first opportunity for national title hopefuls to shape the landscape of their season.
Tournament Profile
Date: February 17-19
Location: Tampa, FL
Weather: Temperatures in the upper 70s through the weekend, with a chance of afternoon storms on Saturday
Top 25 teams: 7
A Well-Represented North Central Is Ready To Be Measured
Outdoor ultimate is hard to come by this time of year (or in May at Regionals, for that matter) for a North Central team. A tournament of even passable weather is an important opportunity for the region's flagship programs. So to Tampa head #7 Minnesota Grey Duck, #4 Wisconsin Hodags, and #3 Carleton CUT.
Yikes.
A lot can happen over the next few months, but could you feel good about leaving any of those three teams out of quarterfinals in May?
Defending The Title
The real legwork of Minnesota's title defense starts now. Grey Duck loses some firepower like Ryan Osgar and Soham Shah, but don't expect much to change in their approach on field. They're fast and they don't turn it over much. Steady handlers like Wyatt Mekler, Sam Kaminsky, and Tony Poletto are happy to reset the disc instead of forcing a low-percentage throw. The challenge for their opponents will be to find a way to get that handling core moving side to side before cultural phenomenon Ben Jagt — who broke out as a household name at Warm Up one year ago — cruises past them.
First and foremost, coach Tallis Boyd and Minnesota will enter this tournament aiming to improve in certain areas. Last year, they didn't run a point of zone defense. It wasn't for lack of opportunity, they just needed the work elsewhere and winning the tournament anyway was a happy byproduct. If Duck gets a similar result this time around… look out.
Friday will be no picnic for Minnesota, as they round out four games in a row against Carleton and Central Florida.
Can Wisconsin Establish Early?
"Defense wins championships." An old sports cliche to be sure, but that doesn't make it wrong. It's also a mindset head coach and Hodag alum Hector Valdivia (who won a college title with Wisconsin in 2003) has seen succeed first hand.
Like other northern teams at the tournament, the Hodags will be a little further from their final form. Last year, Warm Up was Wisconsin's first time playing ultimate outside in 2016. And, probably more than any other elite team, it was made apparent in two distinct ways.
First, there were some offensive issues — sometimes caused by a lack of flow, sometimes because their throws had not been calibrated to deal with any type of meteorological interference. Second, the team played some of the best defense at the tournament and generated blocks.
Wisconsin may not be able to cleat up on grass too often this time of year but expect the work in the gym to show. Defense and fitness are always pillars of pride for the Hodags — and even if the offense isn't firing on all cylinders, this team can take the disc back. Expect cutter Ross Barker to pick up a lot of the statistical slack left by the departures of Craig Cox and Aaron Spiess, while handler Avery Johnson holds down the backfield.
If you're old school, mark your calendar for some classic Hodag rivalries on Friday like Pitt at 1:00 PM and Florida in the showcase game at 6:00 PM.
CUTting The Mustard
This is the moment college ultimate fans have been waiting for: a young, yet experienced Carleton team, that is packed with talent. The pieces seem to be there. Can this team break through and make a real run at a national title?
Custom glittery t-shirt jerseys aside, CUT will be an interesting team to watch this weekend. Carleton is notorious for treating the regular season as one long climb to the Series, as evidenced by their win at North Central Regionals last year. That means not getting bogged down going all-out to win tournaments in February. While they aren't going to run a short bench to try and win Warm Up, the roster they have now is good enough to challenge teams who are.
They've got familiar studs like Sol Yanuck, deep man Henry Fisher, and defensive standout Eric Taylor. A critical mass of returning role players — who are a year older and better. A highly touted nine-man rookie class packed with some five-star U20 talent. How does it all fit? Coach Phil Bowen will have some tinkering to do with this embarrassment of riches.
CUT was sharp by the time Nationals rolled around last season. They had some tough luck in pool play (a grouping with both Minnesota and Pittsburgh) and failed to make the bracket, but they were able to constantly vary defensive looks without confusing themselves — not always the easiest thing for a college team to do.
If you're following from the East Coast, take a long lunch and scan twitter in your car on Friday. Carleton and Minnesota square off for the first time in 2017.
P-I-T-T… F-U-N?
#13 Pittsburgh En Sabah Nur released a hype video earlier this week that was… goofy and fun and totally out of character.
Keep in mind, this is a team that was chanting stuff like "WAR!" at college Nationals last season like they were a freshmen theatre major at NYU who's uncle pulled a favor and got them a cold read for a part in a 300 sequel.
What the video really shows is that this is a new and exciting Pitt team.2 Also, maybe you've heard, Pitt lost a few guys — Trent Dillon, Max Thorne, and Pat Earles — that have been synonymous with the program for several years. Those stars are gone, and in another un-Pitt move, four players have been promoted from the B team roster — by far the most in recent memory.
It would be a stretch to say anyone is sleeping on Pitt, but they are now unburdened by the expectations of popular opinion. For many of the veterans on the team, being a little off the radar is likely an altogether new sensation in and of itself.
Most of the same defensive unit from a year ago will remain intact. Sophomore Mike Ing and Pitt's early Callahan nominee Carl Morgenstern will take the marquee matchups, while D-line handlers Saul Graves and Kevin Tang will regulate on a turn.
The faces on the O-line will look a little different but it's the same old Pitt. Jack Slevin will hold down the backfield and start motion to quick cutters after a big clearing play. Be on the lookout for fifth year graduate student Thomas Edmonds from the University of New Hampshire. Edmonds missed the fall with a foot injury but he should fit nicely into an offense that's looking to make up a little firepower.
Historically, coaches Nick Kaczmarek and David Hogan have tackled Warm Up differently. In 2015,  they ran "kill" lines through bracket play and rolled the tournament, whereas last season they opened the bench and gave valuable time to their younger players. It would be a shock if their subbing strategy this year wasn't more of the latter. And why not? It paid dividends last season in a national semifinals run where underclassmen like Ing and Kyle Hartley had their numbers called to play critical points.
While Pitt may not be crowned as world beaters like in Februarys of previous seasons, people are still following along. Adversity at Warm Up will reveal a lot about how truly different this team is.
Life After Dalton Smith For A&M
Was there a player that did more for their team individually than Dalton Smith did for Dozen last year? Probably not.
The real question for #10 Texas A&M this year is whether or not they can make up some of the gaudy assist numbers vacated by Smith's departure (like the 11 he threw against Carleton at this tournament last year). Dozen's handlers will have their work cut out for them, though results from the fall suggest they perhaps are not in rebuilding mode as much as was expected.
A&M has gone to Nationals three years in a row, but in a top-heavy region stacked with Colorado, Texas, and a rising Colorado State, it would behoove Dozen to do their part to earn a strength bid. This weekend could be a critical step in achieving that and this is still a team that's not afraid to run a tight rotation when the occasion presents itself. In close games, expect to see guys like Carter Hollo, Connor Ughetta, and Zach Marbach see a ton of time on both offense and defense.
A weekend of reps against high-level competition will give A&M a pretty good idea of where they need to be by South Central Regionals.
Can TUFF Get Back?
#11 Texas failed to qualify for Nationals in 2016 as they, like Texas A&M, had to find a way to move on without their biggest offensive weapon, Chase Cunningham. A year older and more experienced, TUFF is in a good position to get back to the promised land this spring.
Dillon Larberg and TUFF's 2016 Callahan nominee Joel Clutton can do it all — and will have to if Texas is to have a successful season. The amount of help that will be available to them will be a little more clear after the weekend.
It's not exactly a secret that Calvin Lin-coached teams run vertical stack and are disciplined. Vert stack is an offense that usually travels well. If their offense is humming along in Tampa, TUFF could turn some heads.
While Georgia Is Away, The Rest Of The Southeast Will Play
Warm Up features a host of Southeastern teams that have been jostling at or near the top of the region for years. Central Florida looks like the best team of that group right now, but Florida and Auburn could also be factors on the national landscape once again. Florida State, meanwhile, is in something of a rebuilding state and will likely take a step away from the spotlight this season.
After a down season a year ago, Central Florida is back on the right track in 2017. An impressive showing at Carolina Kickoff catapulted the Dogs of War up to #17 in Ultiworld Top 25 and the team will seek to keep that strong start going this weekend. Michael Fairley has gone Beast Mode so far this season and he's supported by two impressive veterans in Zach Good and Kyle Reedy on offense. The Dogs' D-line has been bolstered by Florida State transfer Cole Friedes, who has complimented veteran defenders Adam Vinson and Harrison Slate well.
Auburn are coming off the back of two straight trips to Nationals and made quarterfinals last season, but Aetos are still yet to fully capture national respect. The loss of the majority of the team's core from the last two seasons is a big part of that, but Eric Sjostrom and Martin Newman are two of the best players in the Southeast. Come the Series, it would be no surprise to see Auburn pushing for a Nationals berth once again.
Auburn traditionally grows as the season goes along. In an ever-crowded region, they've been able to get to Nationals on others' bids, but that is a tough thing to depend on year in and year out. Garnering some early season wins against the likes of BYU, Texas A&M, and Texas could go a long way in determining whether they can match their recent Series successes.
Florida has been Auburn's spiritual opposite of late; Aetos have taken the Southeast's final bid at Florida's expense in each of the last two years. Florida has been absent from Nationals since 2014 and have missed out on the big dance for four of the last five seasons. Program Hall of Famer Bobby Ley is gone, but there's still plenty of talent on the team. Billy O'Bryan, Tanner Repasky, and Hayden Wachob lead the way this go-round as Florida tries to get over the hump and get back to the game's biggest stage.
Last year at Warm Up, we saw Florida lose a double game point final to Minnesota. They played a small rotation of about 11 guys, which one coach on the sideline remarked seemed like an above average bench for the Gainesville team. This year, Florida has a pretty friendly Friday-Saturday schedule on paper. In spite of missing a handful of D-line contributors this weekend, Florida has a shot at a really special performance if it beats the teams it should and manages to knock off Wisconsin or Carleton. Is there any chance Cyle van Auken opens the lines a little more to give reps to guys who might be able to contribute down the stretch?
Having lost the core of their 2015 semifinals team over the last two graduating classes, Florida State is caught in a state of limbo. With programs pillars Peter Van De Burgt and Chris LaRocque still at the coaching helm, the team is struggling to find and hone a new identity among their current on-field leaders. For better or worse, this weekend will be the team's first chance to try to find out who they are, but it seems unlikely that they will be able to push the teams at the top of the region this year.
Florida State's trio of 50-50 games against Northwestern, Arkansas, and BYU will make or break their tournament on Friday. Can a team struggling for identity win two or three of those games and keep their tournament alive?
The Southeast may not be able to match the three Nationals bids they had a year ago, but that only means the fight among the second tier of Southeast teams should be even more intense than in years past. That fight continues for some of these teams and begins for others this weekend in Tampa.
-Daniel Prentice 
Quick Hits
There's usually one team that comes out of nowhere to grab their fair share of attention at this tournament, a la Virginia Tech in 2016, Arizona State in 2015, or Northwestern in 2014. Who could do it this year?
The final of the Emerging Powerhouse division is often just as entertaining as the Elite Division. There aren't a lot of B-team tournaments out there and this one is basically the Super Bowl for those that compete. If you're on the ground at USF this weekend, definitely check out the action and get ready to watch dudes in basketball shorts go HAM.
Wouldn't hate to see Wisconsin and Texas A&M meet each other in the bracket. Just saying.
Filming Schedule
Ultiworld will be filming 14 games at Florida Warm Up! Access will be available to subscribers or those with a Team Pack next week.
Friday
9:00 AM – Arizona State vs. Cornell
11:00 AM – Texas A&M vs. Pittsburgh
1:00 PM – Minnesota vs. Carleton
3:00 PM – Auburn vs. BYU
5:00 PM – Brown vs. Auburn
7:00 PM – Central Florida vs. Texas
Saturday
9:00 AM – South Florida vs. Northwestern
11:00 AM – Florida State vs. Pittsburgh
1:00 PM – Arizona State vs. Villanova
3:00 PM – Texas vs. Brown
6:00 PM – Florida vs. Carleton
Sunday
9:00 AM – Wildcard game TBD
11:00 AM – Semifinal TBD
1:15 PM – Final
---
Editor's note: By our count, Warm Up has produced four national championship winners this decade. All other regular season events since 2010 have combined for five. ↩

Provided they only use Thin Lizzy in their videos from here on. ↩