Some exciting changes in our fifth year!
We are excited to announce our 2017 individual subscription options, which feature numerous new benefits going well beyond the video product we've traditionally offered.
Here's an at-a-glance graphic showcasing our new, three-tier subscription model: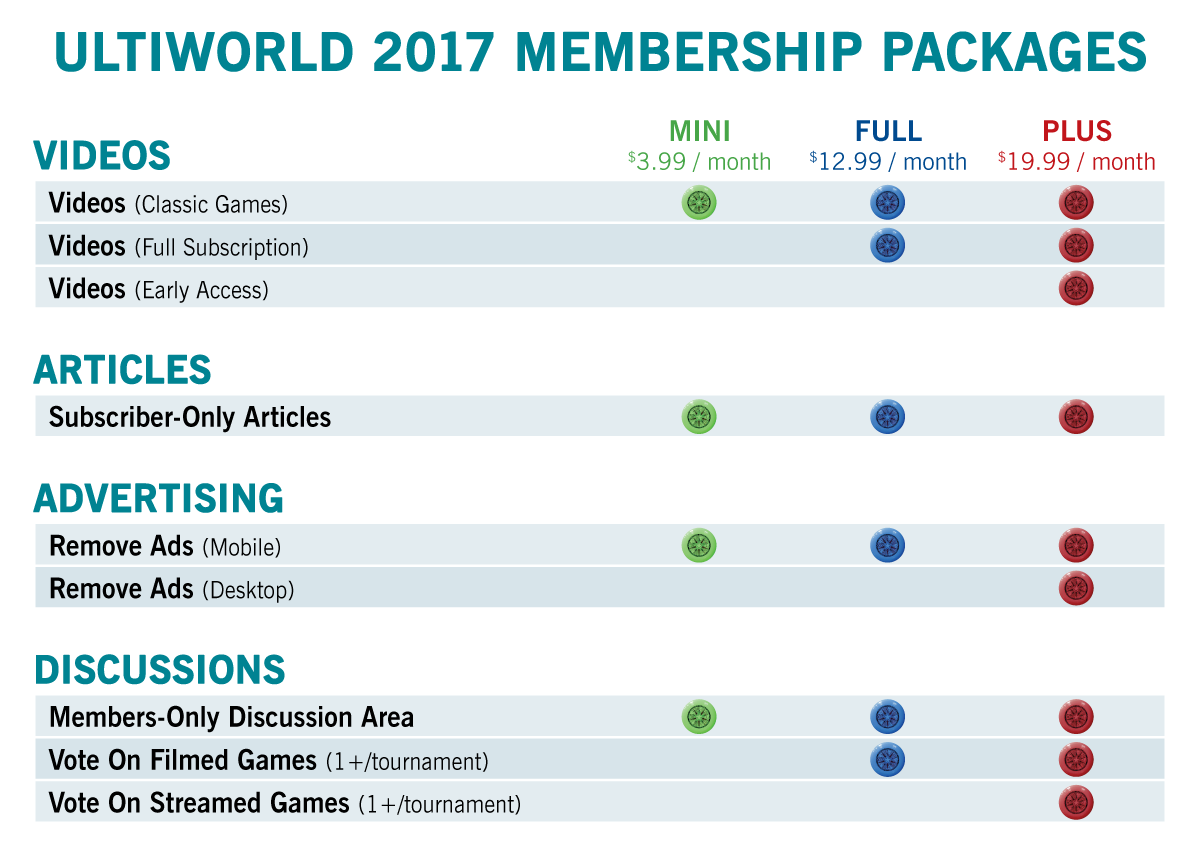 Haven't created an Ultiworld Account yet? Register today, it's free!
What's New?
Here's what you need to know about the new subscriptions.
Lower Prices, More Benefits
Our core product–the Full Subscription–has been redesigned from the ground up. The Full Subscription includes unlimited access to our full video-on-demand library, including the entire 2017 college season (and the upcoming club season). Last year, this subscription included video access and cost $15 a month.
Thanks to your feedback, we've reduced that price while adding a host of new benefits, including access to subscriber-only content (more on that in a bit), the opportunity to influence which games we film, and the option to turn off ads on your mobile devices.
The Mini Plan
Not interested in a full video subscription but still want to support Ultiworld's coverage of the sport? Check out the new Mini Subscription!
Each month, for less than the cost of a latte (at least in New York City…), you can get access to our fantastic subscriber-exclusive content, a selection of great games from past college and club seasons, and more.
Robust Features For Power Users
If you're an ultimate junkie (or you just want to give extra support to Ultiworld's journalism!), check out the Plus Subscription. You get everything in the Full Subscription plus the chance to be on the inside, helping us select the games we will livestream and getting direct access to our editorial team.
As a thanks for your generous support, you can shut off all the ads on the site if you choose, and we'll get you immediate archive access to livestreamed games as soon as they've concluded. No more waiting for streamed games to hit the Video Subscription — you'll be able to catch anything you missed as soon as the game is over!
Exclusive Content For Subscribers
2017 subscribers will now get exclusive access to premium content, including some of our most in-depth features, video analysis, and more. We'll bring you insights you can't get anywhere else into the players, teams, and organizations that make ultimate what it is.
For now, we plan to release one to two pieces of subscriber-only content per month, with plans to increase that over time. On the radar: a brand new, interview-focused podcast just for subscribers!
Why We Are Making These Changes
There are sure to be questions about the new subscriptions, and we'll be happy to answer any that you have here in the comments or by email.
Broadly, we are making these changes for the following reasons:
1. We think that we can provide better value to our most supportive readers.
2. We want to create new opportunities for more ambitious journalism and writing.
3. We need the support of our readers in order to survive as an organization.
It's worth expanding on that last point. Although we have worked and continue to work to support our operations with advertising, it has become clear that Ultiworld will not be able to thrive in the long-term without direct support from readers. Whether you read Ultiworld for our reporting, our extensive video coverage, or our Tuesday Tips, you can help us to continue to provide high quality content with a subscription. We are grateful for your support!
Some Possible Questions
What happened to the individual pack?
You will notice that we have removed the option to purchase an "individual pack": a pay-upfront package for an entire college or club season. We know many have chosen this option in the past, but simplifying and standardizing our subscription helps us to focus on providing a high quality experience for all of our members.
Because we have reduced prices for the monthly Full Subscription, subscribing for an entire college season (or club season — or both!) is less expensive than last year's individual pack!
Can I download games?
One of the features of the individual packs in the past has been the ability to download games. Downloading games directly will no longer be an option except for those teams that opt to get a Team Pack.
However, the VHX apps that power our video library offer 'offline sync,' a feature that allows you to pre-load games to your devices for viewing without an internet connection. For 95% of our users, this feature should solve the biggest reason for wanting to be able to download games: to watch on the go.
If you feel strongly about being able to directly download games, please email us at [email protected].
Is Ultiworld going to be behind a paywall?
Definitely not! The vast majority of our content will still be as it always has been: free and unlimited. Our premium content is designed to be above and beyond our normal writing, podcasts, and other content.
Why are you putting any articles behind a paywall?
We want to change the economics behind some of our most ambitious writing. Being able to support our best writers and analysts in writing longer, more labor-intensive articles is paramount. It will offer us the opportunity to dig deeper into stories and commit time and resources to articles outside the news cycle.
We are sure there will be more questions and comments; check out our updated FAQ page, discuss in the comments below, or email us at [email protected]!