Spin gets in on the ultra-lightweight shorts game.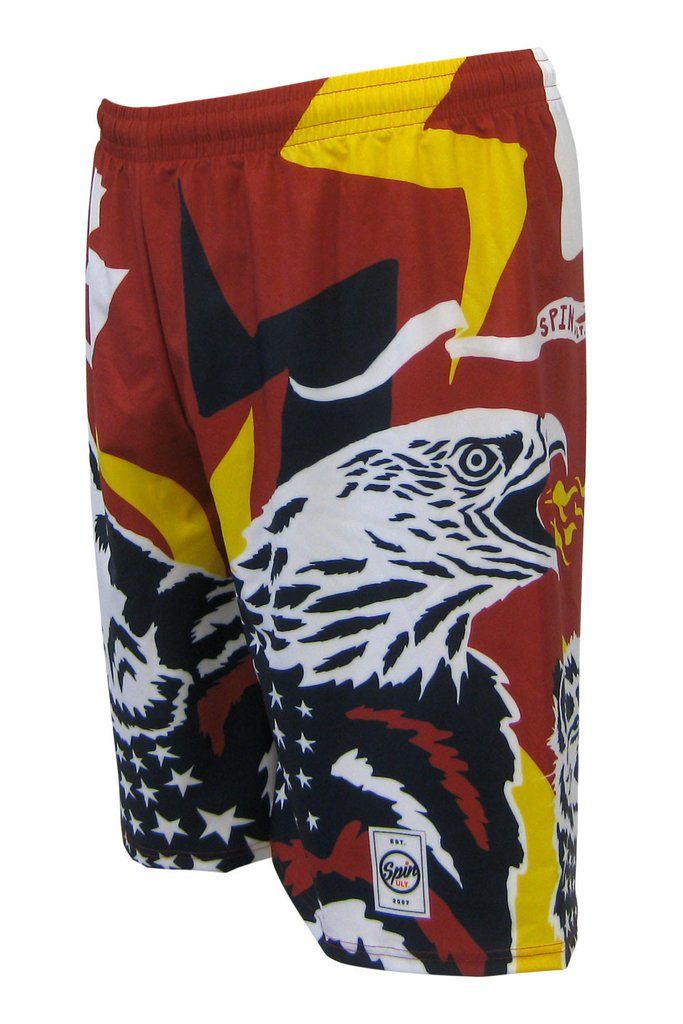 Disclosure: Ultiworld was compensated for writing this product review. All opinions are the reviewers' own and are not subject to approval from the sponsor. Please support the brands that make Ultiworld possible and shop at Spin.
With their new Microfiber line, Atlanta-based Spin Ultimate has entered the market of lightweight, water-repellent shorts that has become more popular and come to dominate elite ultimate in recent years.
Over the last few weeks, I've tested these shorts in the holy triad of ultimate: the gym, the track, and most importantly, the practice field. Here's how they fared.
Material: A-
Spin's new Microfiber shorts are made from an ultra-lightweight, 100% polyester material with a two-way stretch. Their feel finds a middle ground between totally smooth and the slightly thicker material from Spin's standard Momentum shorts. I like the feel of the material quite a bit and especially liked the two-way stretch of the Microfiber. It made it easy to stretch, pivot, cut, and jump with absolutely no impairment of mobility.
After a few in-sink DIY experiments, the water repellency has held up nicely as the material did not absorb water readily. Obviously over the course of a rainy day they'll get wet, but these shorts are sure to let drizzles bead off your legs harmlessly.
In more good news, even after running, lifting, and playing in them for two weeks, they did not start to smell. This is a huge bonus for a college student who does laundry once a term, but is also sure to be a crowd-pleaser on the way home from a tournament with your teammates stuffed tightly into a van or a plane.
Features: A
Call me a purist, but these shorts have a very simple design which is perfect for me. It makes them not only easy to play in, but also makes easy to turn into custom team shorts with a sublimated design.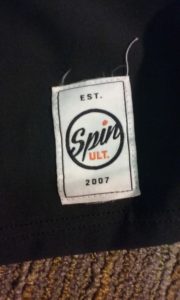 The main feature of note is the long white draw cord which will make playing in shorts that are a little loose easier for a lot of players. These shorts also have no pockets and I love it. Other apparel companies have been introducing pockets in recent years and I am personally not a fan, especially for shorts I will be playing in. No need to hold a phone in your pocket while you're throwing bombs and skying Hodags.1
Another quick note, upon opening the box from Spin, the first thing that caught my eye was the new Spin logo. I don't know exactly when they switched from the spiral design to this sleek new orange and black design, but I am a big fan.
Sizing: C
Reaching into the box and making first acquaintances with these shorts, I was eager to try them on. Spin has updated their shorts sizing guide over the past couple years with the roll out of their Momentum and Microfiber lines; not only have they introduced separate men's and women's sizes, they have also broadened the spectrum of their sizes — from smaller XS's that better accommodate youth teams to larger XLs for bigger players — and expanded the cut around the thighs to provide a more "athletic feel." They sent me both a pair of larges and a pair of mediums for this review, as my measurements2 fall on the borderline between their new sizes.
I had a pair of Spin shorts from 2015 — their old Flexlight line — in a large and tend to be very comfortable in larges across the board, so I started there. It was a bit of a surprise to see my knees and shins vanish from sight as I donned the Microfiber shorts for the first time. The waist felt on the looser side than I am used to and I was quickly forced to replace the larges with mediums due to the length and excess room in the upper leg. I am apparently not as "athletic" as Spin might imagine me to be.
Once I was wearing the mediums, it felt like the large size I am used to. They fell just to above my knees and the waist band has always felt snug against me as I run, cut, or jump. The mediums I wore gave me enough room to have totally free movement but never enough to make it feel like I was swimming in the fabric.
Ordering these shorts as part of a team order does seem a little risky if you don't check the new sizing guide or get samples first. If your teammates aren't careful about the sizing measurements, they could be wearing capris instead of shorts for the rest of the season.
Training Performance: A+
For many ultimate players, the work and time put in on the track and in the gym is just as important as the work and time put in on the field. These were the best shorts I have ever worn while lifting. They were loose, lightweight, and never got in the way of any of my movements. The Microfiber material stretched nicely during warmups, cool downs, and movements that would have caused other lightweight shorts to restrict movement.
Playing in them was a very similar experience. They produced absolutely no restriction of my movements, but with less of the flopping around that I usually associate with ultimate shorts. I was especially impressed with the way the shorts moved seamlessly in such a way that they felt like a part of my movements.
Price: B
These Microfiber shorts are on the slightly pricey side of ultra-lightweight shorts. Mostly in line with other ultimate companies and a little higher than non-ultimate suppliers, you can get team orders of them (including printing) for $29 in Black, White, or Charcoal (available in Spring 2017). The shorts are also available with fully sublimated designs for $39, in either a team order or as a singular purchase of some pre-made designs from Spin's website.3 While sublimation appeals to many teams, $39 seems like a lot, especially for someone who is not that much of a fan of flashy shorts. That being said, this is basically in line with other ultimate-specific vendors.
Durability: INCOMPLETE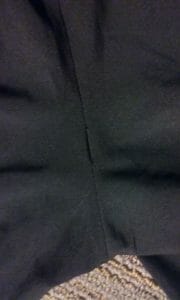 I've never thought it fair to judge the durability of a garment after only using it for two weeks. That said, I have noticed a few places where the stitching is starting to fray or loosen just a little bit. These minor damages might be a sign that these shorts won't last too long or just the result of the high usage I have put them through in the past two weeks. Aside from those few seams, the material feels very durable along with the drawcords. I won't judge them in the long term after only using them for a short amount of time, so a cautious incomplete will have to do.
Conclusion: B+
On the whole, Spin's Microfiber are a solid pair of shorts. They are perfect for lifting as they will never get in the way of your movement in the way I have found other ultra-lightweight shorts do.
My only two concerns are around the sizing and the price. It's worth asking for samples or at very least calling your teammates' attention to Spin's sizing conventions before placing a team order, as I could see them causing hang-ups for folks who end up with the wrong size. Cost-sensitive teammates could also dispute whether the price of the new ultra-lightweight shorts are worth it when the more traditional Momentum line or other alternatives could be much cheaper and may suffice for those who don't care about quality performance gear. For me, I'll happily continue to wear these shorts as long as I can.
Bill Belichick has for years been preaching for his Patriots players to "do their job and do their job well," and that is exactly what these shorts do. Although I'm not going to promise you'll win a series of championships in these shorts, I really enjoyed the feel and flexibility of these shorts and am excited to try them out on real grass in a few months.
---
You know, for example. ↩

For reference, I'm 6'1", 195 lbs. ↩

For example, those featured in the photo at the top of this review. ↩