Coin flips decided some bracket spots!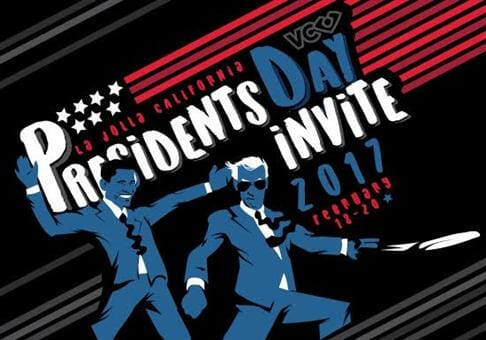 Ultiworld's reporting on Presidents' Day 2017 is presented by VC Ultimate; all opinions are those of the author. Please support the brands that make Ultiworld possible and shop at VC Ultimate!
LA JOLLA, CA — Just enough upsets on the first day of an abbreviated Presidents' Day Invite tossed an unconventional format into madness Saturday evening. On the women's side, UCLA, California, and Carleton played spoilers. On the men's side UC Santa Barbara, looking much stingier and well-adjusted to the smaller turf fields, handed tournament favorite and Ultiworld Power Rankings king Oregon Ego a shocking morning loss.
When heavy rains threatened to shut down the event entirely, tournament directors chose instead to reformat all pools so that teams could still play an acceptable number of games. With 18 teams originally in each division, the nine Southwest teams would only play games against the nine out of region teams on Saturday.
At the end of play Saturday, teams would be re-ranked into nine "Other Region"and nine "Southwest Region" teams in order to be placed into power pools. In the case of  three way ties, rankings would be determined by these factors:
Record

Point Differential

Fewest Points Allowed

Most Points Scored

Coin Flip
With only four fields available for 32 games total, this format gave teams the best chance to play out of region, competitive games today and tomorrow. What resulted, however, was at least an eyedropper-full of madness.
Women's
The women's results were not as dramatically affected by the new format because, under normal circumstances, the Southwest teams are collectively stronger on the women's side. While some results bordered on comical – UW's two games were a 1-13 loss to Stanford and a 13-0 crushing of Brown – there were only three key upsets during pool play: UCLA vs. Texas (8-6), California vs. Oregon (9-8), and Carleton over California (9-8).
As a result, here are the pools for Sunday:


UW Element agreed to drop into the consolation bracket on the women's side, so Oregon and Texas will advance.
Men's
Despite multiple visits to tournament HQ and a heroic attempt to redraw the entire field out to finish pool play and move into bracket play for 16 teams, Oregon Ego fell victim to a coin flip. They'll move into consolation play tomorrow, while Western Washington Dirt moves on to power pools.
The planned format would have placed an even four Other Region teams into power pools alongside four teams from the Southwest, but as the men's rounds concluded, it quickly became clear that holding strictly to that plan would have created a wild imbalance. Six Southwestern teams went 0-2 today, while Other Regions had mixed results.
By day's end Oregon and Western Washington, both at 1-1, were desperate for other options and sitting ranked 6th and 7th respectively in the Other Region category.  The coin flip resulted when staff determined that 1-1 records between the two teams were not comparable across pools.
Two more teams from the Southwest division, including the hosts UC San Diego, willingly dropped into consolation play to make Sunday play more competitive and to make room for six total Other Region teams in power pools.
Here are the resulting pools:


It's worth mentioning that coach Tim Kefalas, of Colorado State Hibida, saw at least some of this coming. Before Colorado State confirmed that they would drop from the tournament, Kefalas wrote in an email to UCSD:
"Can you please explain the justification for four SW teams in the Sunday power pools by default? If current seeding held, that would be three teams that didn't make quarters at the Santa Barbara Invite, two of which didn't make the championship bracket.
"I understand the scheduling challenges you are facing, but this setup likely leads to some uneven games in power pools, as well as dealing with an awkward determination of who the fourth 'out of region' team will be," he wrote.
The challenges here were all due to the loss of fields. The tournament has historically used fourteen grass fields to host competition across three days of play. By Friday, tournament directors had rewritten this year's schedule numerous times, shoehorning as many teams and games as possible onto the four available fields.
It's not ideal, but tomorrow's power pools look incredibly competitive.