A comfortable final performance caps an undefeated weekend for Mamabird.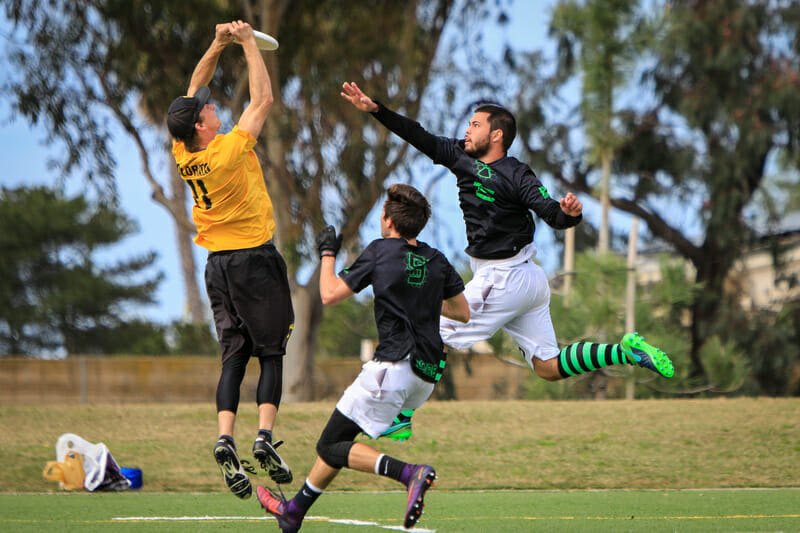 Ultiworld's reporting on Presidents' Day 2017 is presented by VC Ultimate; all opinions are those of the author. Please support the brands that make Ultiworld possible and shop at VC Ultimate!
LA JOLLA, CA — After a weekend defined in most cases by wet weather and a wonky format for play, #5 Colorado Mamabird finished their undefeated trip to San Diego with a dominant final win, 12-7 over #14 Cal Poly-SLO SLOCORE. Other than a brief hiccup Saturday morning to open the tournament, Mamabird was stronger, faster, and smarter than every opponent they took on during their 6-0 run, especially in their title win over SLO.
Colorado opened the game on offense with a side stack pull play that isolated fifth-year cutter Mark Rauls in the deep space. SLO adjusted smartly to bring a help defender off the back of the stack to double Rauls and bungled the early attempt to hold. SLO's Ian Sweeney got into position and cranked a backhand to teammate Cameron Wariner for a break and a big energy boost to start the game.
The Mamabird O-line looked unfazed. They'd been practically happy-go-lucky all weekend, and that wasn't about to change. Banished to playing in a bubble during the Boulder winter, Mamabird was busy enjoying being outdoors together and wasn't about to let an early break rattle them. "It was a lot of fun and people were ready to come out. We really gelled," Rauls said after the game.
Wes Chow came back the next point and rifled a long shot in for the 1-1 hold, tuning his range to account for the shorter-than-normal turf fields. He got open deep two points later to level the score again at 2-2.
SLO, ever-willing to take a shot for the end zone, missed on their next flick huck. Colorado dialed up a cross-field flick shot of their own and nailed their first break of the game for 3-2 to get back on-serve.
From that point on, Colorado's physicality started to bother SLO at almost every turn. SLO managed difficult holds on their next two offensive possessions, but faced strong Colorado defense on every cut. CORE handler Caleb Meriam darted up the line near the end zone with a Mamabird defender in his shorts the whole way, only coming away with the goal after the pass sailed over both their heads and he bounced back towards the middle of the field to follow the loopy throw. That tied the game at 4-4.
"Putting a body on and getting people out of sync on their cuts is a good skill that they bring," said SLO head coach Peter Raines. "Their dump defense is phenomenal. They had huge layouts up the line and really stay with their guy at all times."
Colorado got their next break after a pressure turnover. Stuck close to the end zone after the pull, a SLO thrower let the disc fly out of bounds, but not quite far enough to avoid giving Colorado field position. Rauls stepped to the disc, looked off a few options, and took a timeout with the stall count at seven. When play restarted, he broke the mark with a textbook around flick back to the center of the field, and zoomed off for open space in the end zone. Another crossfield flick found him two throws later, and it was 6-4.
As SLO continues to refine their system and move beyond the limits of their innate athleticism, they still find success in playing a little hero ball. Nate Pettyjohn climbed the ladder to clean up a powerful huck on the next possession, putting his team on the goal line and setting up a hold for 6-5.
Pettyjohn and Wariner are both blessed with inherent ability. Their jumping alone makes a SLOCORE game worth the price of admission, but their play inspires the rest of the roster into springy moments when someone comes down with a disc in a pile, or comes flying out of nowhere to bail out a throw gone too far.
Unfortunately for SLO, players all over the Colorado roster continued to cause problems downfield. Even when their offense did turn the disc — like on the next point when Rauls pulled up short chasing after an overzealous backhand from his teammate — Mamabird jammed SLOCORE D-line cutters and worked their way back into possession. They earned a short field turnover and flipped it in for a 7-5 lead at the half.
The pressure continued in the second half. SLO dropped a would-be goal after another handler took off up the line and into the end zone, but bobbled the catch. Colorado came back down the field in two throws and put their first second-half break in, opening the lead to three goals at 9-6. Two Mambird blocks later, it was 10-6. Three turnovers after that, 11-6.
SLO was getting outplayed at almost every turn, but at the same time, Colorado may have been lighting the way for the young Southwest competitors, who finish the regular season with trips to to the Stanford Invite and Easterns.
"Love it. Absolutely love it," said Raines about getting outgunned by Mamabird. "That's the [kind of] team that we're going to have to go through to make a run at Nationals. To meet that early is going to be much better for us. We can prepare for it, we can be ready next time we see it."
Time wound down as two of the ensuing points descended into errant hucks and turnovers for both teams. A set of injuries for Mamabird (two players hurt their shoulders, while another came up lame on a swing after getting bit by a turf monster, all on the same point) really slowed the pace. SLO managed one more hold before the hard cap horn sounded.
Colorado Mamabird walked away in the midday sun the casual victors of a tournament that suddenly seemed beneath them. No mistake took them away from their game, each line earned their points and turns as they needed them, and players wore smiles regardless of the moment. It was an excellent display from a team that spent no time worrying about the format and stayed focused on the task at hand. Most of all, the team was happy to be outside playing together.
"Oh yeah, [we're] starting to bond a lot," said Rauls, smiling after the win.