Our thoughts on day one of Stanford.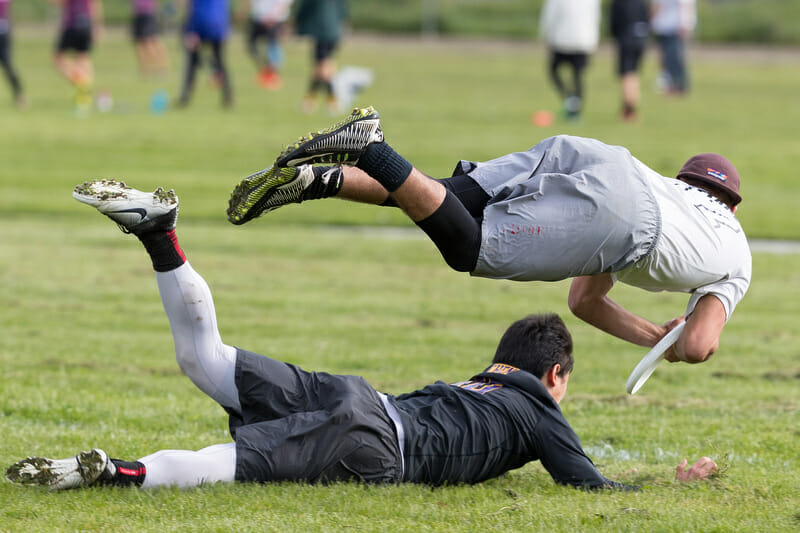 We watched a lot of high-level ultimate today at the Stanford Invite. Here's a look at our stock picks after Saturday.
BUY
Parker Bray's Dalton Smith Impression
According to estimates from Georgia team leadership, Parker Bray participated in roughly 70 of the 93 total points his team played today. Down to 16 bodies, they needed it.
But Bray was more than just a healthy, available handler. He was a revelation. His hands were on the disc for every other throw during offensive possessions – and not in sense of that writing convention. We mean it literally.
There's one other person who's accounted for the same kind of points played and points scored in recent history of men's D-I play: Dalton Smith.
The signs are there: Nathan Haskell plays the role of big time downfield receiver for Bray's throwing display; Smith had Ben Lewis. Both throwers can find their receivers in any space they choose.
Keep your eye on Bray.
Gegg v. Verzuh Tomorrow?
Stanford's Courtney Gegg and Dartmouth's Jaclyn Verzuh are among the college elite. Each stands 6'0" tall. Both would be exceptionally tough matchups for any team because of their physical presence alone, but they're also each lethal throwers in their own right. The potential matchup's legendary potential only deepens because of their origin stories: Gegg basically picked up a disc yesterday, while Verzuh is the shining star of the Seattle youth ultimate scene.
It's unbelievable that they haven't played each other yet, at either the Club or College level. That could change tomorrow, as Stanford and Dartmouth are on a collision course for a semis matchup. Think of the field-length throws, the full extension layouts, the skies. The highlight plays that these two will produce against each other are fodder for Callahan videos…and it all starts tomorrow.
HOLD
Wisconsin's Offense
Was the first point for Wisconsin's offense against Oregon a mess? Yup.
But the Hodags settled into a rhythm after that. Facing loose marks and defenders backing cutters down field, Avery Johnson and David Yu led a charge that popped high release backhands onto the break side and toughed out intense points with Ego.
Wisconsin took some lumps today, mostly in the form of a surprise 13-11 loss to Auburn, but it's going to take more than a practice field scheduling snafu to slow them down this season.
UCLA's Depth
UCLA is currently ranked the #2 team in the country, but they're far from invincible and the cracks are starting to show. UCLA was down 7-5 at half to Ohio State before they rattled off three straight to take the lead. Han Chen played in all three of those points. In their next game, Chen assisted twice to turn their 10-10 tie vs California into a 12-10 lead. UCLA is good, but can they be successful for two to three games tomorrow if Chen has to carry both O and D points?
Players two through eight on BLU's roster would be a Top 25 offense, but they're not at #2 without Han Chen. At some point this season, UCLA will hit that ceiling, and that moment could come tomorrow.
SELL
The Women's Evil Empire
We're writing the eulogies now. We're mid-season, and so far no Northwest team has proven that they're semis-worthy. The Northwest region went 6-10 today, and half of those wins came from UBC.
But British Columbia looked outclassed by Dartmouth. Texas dominated Oregon in the second half today. And the other three Northwest teams are in the 13th place bracket. Two bids may be the new reality for the Northwest, even after they host their hometown tournament. Is the Empire crumbling?
The Season Ceiling For UW And SLO
Washington and Cal Poly-SLO have, to this point, put together steadily building seasons.
We've seen enough to indicate that Washington might overcome the crunchtime demons – that El-Salaam returning to a lineup supercharged by a healthy DY Chen might put the Sundodgers over the top and keep them in the nation's top ten for the regular season.
We've seen enough to suggest that two losses to Colorado at Presidents' Day would stoke the fire burning in the hearts of SLO and that they'd ramp up into a big win.
Dismal Saturdays dampened these hopes.
Washington and Cal Poly-SLO both went 1-3 today and the wins came in today's first round of consolation play.1 Washington had the game in hand late against Georgia this morning, but — just like their last two semifinals appearances — couldn't seal the win. Plus, Khalif El-Salaam unfortunately came up lame early in that round with a non-contact injury.
Washington has the players to win big games, and we've covered them at length. For whatever reason, big moments seem to rattle the Sundodgers. What's more, players have struggled with overall health in the last two seasons.
SLO fared better in pool play, building a lead over Texas in their first outing today before conceding it late. UBC leapt out to a hot start, stacking enough breaks early to keep SLOCORE at arms length for the game's duration.
The season isn't over yet, but it might be time to back off bets on either of these two contenders pushing to a new level in 2017.
– Ben Feng contributed reporting. 
---
UW pounded Auburn 13-4. SLO needed a brave comeback to take out Oregon State 12-11. ↩