Gonna win the $1,000,000 prize with these brackets.
So remember how I said I was going to be super consistent with my brand new Monday Mailbag…yeah…
In my defense, I was on vacation two weeks ago and then I was completely exhausted after flying the redeye back from Stanford Invite last week. I'm sure you survived. Let's get right into this week's Mailbag.
Submit Mailbag questions by email (charlie@ultiworld.com) or Twitter.
***
Q: So USA Ultimate left Sarasota as the host city for the Club Championships after 2012, bouncing around between more "major" metro areas like Frisco and Rockford in the name of legitimacy. And yet, to the great joy of everyone, they've realized the error of their ways and sent the tournament back to Sarasota this year and then San Diego the next two years. What the heck happened? Why does it suddenly feel like we're partying like its 1999 again?
– Dan T.
Dan, this is a really, really good question. There's a lot to unpack here. Let's take a trip down memory lane and remember when, in August 2013, USAU first publicly announced that they were planning on moving Club Nationals into the summer. At the time, USAU CEO Tom Crawford said this, referencing the fact that sports networks have no interest in ultimate in the fall with NFL football, NCAA football, and MLB playoffs swallowing up attention: "For those reasons, we're definitely considering making a move in a shift or direction [of summer]. I think we'd be unbelievably excited about having our Championships in a major city instead of being stuck in the South."
Stuck in the South! Hoo boy did that make a lot of people upset!
And after escaping the South for just one year to head to the lovely pastures of Rockford, back we go to the beach.
But it's not just Sarasota, of course. USAU also made major changes to the season: returning Nationals to its home in mid-October, killing the July 4th US Open, and bringing back a Labor Day regular season sendoff. If you were cryogenically frozen after Club Nationals in 2012 and got revived today, you might think nothing had really changed at all except the names of tournaments!
As excited as club players seem to be about this return to Club roots, you have to wonder what is going on.
Here is my theory. I can't back this up and I haven't asked anyone about it.
I think USA Ultimate is slowly walking away from the dream of a big TV contract with a late summer Club Nationals. There just aren't enough fans. A couple thousand people watching a livestream isn't exactly getting the brass at ESPN fired up. Why fight elite club players on an issue that you can't even win? Surely it felt good for USAU staff to bathe in the lovefest that they got when Sarasota/San Diego was announced.
Repositioning the US Open into August also offers up the chance to make that tournament the media-friendly one: international teams! The USA's best! Stadium games! Kinda puts the whole hullabaloo about the Buzz Bullets AUDL game into context when you imagine how rage-inducing it would be for USAU to watch the AUDL get a big crowd just before their showcase event.
No matter the reason, Club looks like it has the potential to really be fun again. That's a big win for existing players and fans of ultimate. Are you growing the fanbase? Hard to see that. But it's not clear that players care about that anyway. See you at the Daiquiri Deck!
Q: What are some current hot trends in strategy, style, etc. in ultimate?
– Lauren H.
Let's play Hot or Not, which is apparently still a website that exists. Shout out to middle school.
HOT: Vertical stack
NOT: Horizontal stack
HOT: Big OI throws that fade to the break side
NOT: Tight-window IO flicks into the endzone
HOT: Flood plays
NOT: First cut from the back of the stack
HOT: Holding the disc with both hands, near the bottom, to be in ready position for offhand backhands
NOT: Huge hammer fakes
HOT: Ashlin Joye's shimmy fake
NOT: Wacky sublimation
HOT: No-pivot backhands
NOT: Turnovers from no-pivot backhands
Q: Are you doing ultimate team picks in the March Madness bracket again?
– Liz F.
Oh, you better believe it. Here are my Men's and Women's NCAA March Madness brackets, with matchups selected based on hypothetical ultimate team matchups.
Men's Division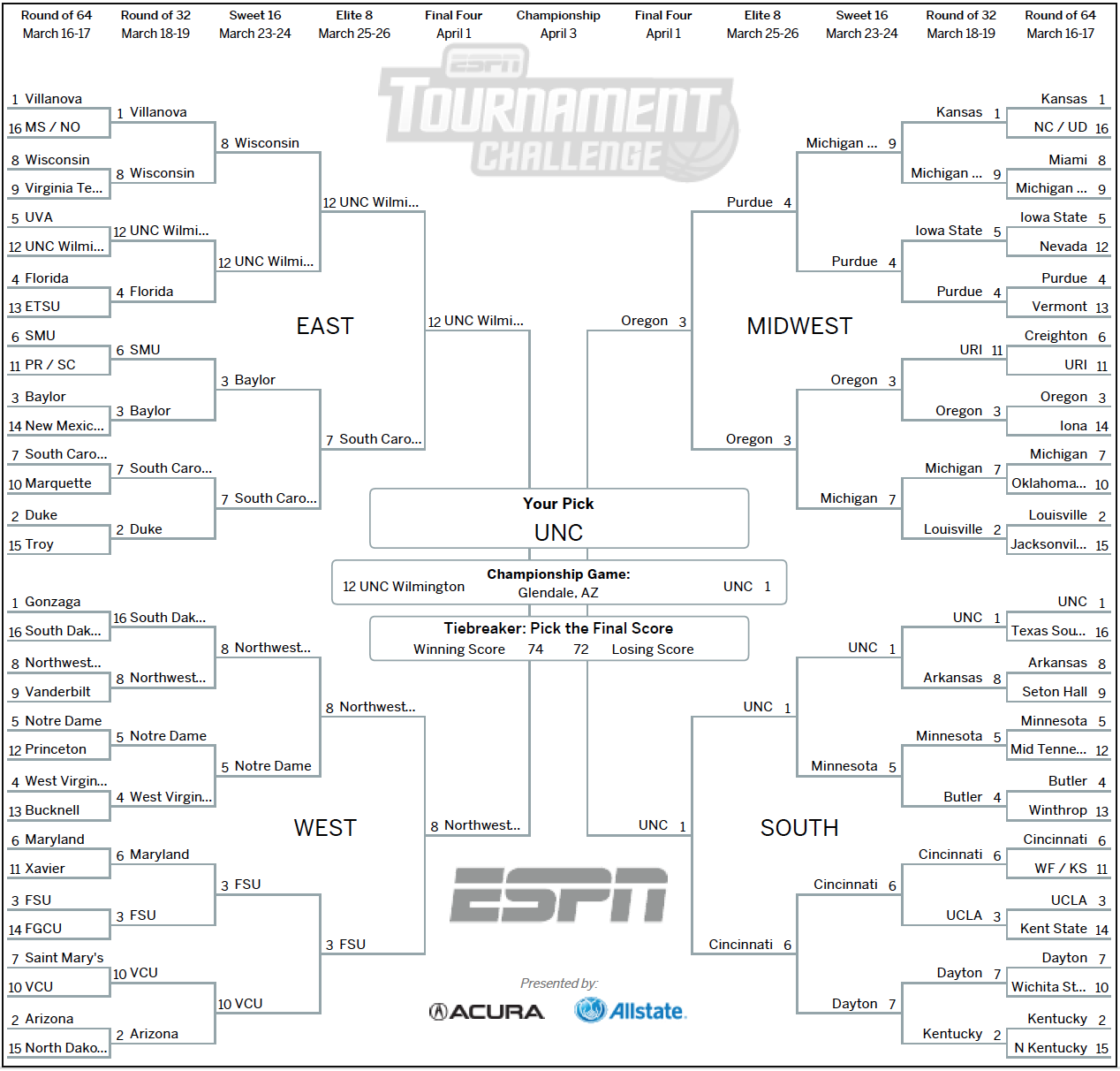 Lots of chalk in the first couple of rounds, but things heat up in the Sweet Sixteen: Wisco v. UNCW! UNC v. Minnesota! Oregon v. Michigan!
Northwestern makes an epic run to the Final Four out of the West, but can't get past UNCW
Purdue's Cinderella story comes to an end vs. Oregon in the Elite Eight
UNC v. UNC Wilmington for the championship! It's an epic battle but UNC takes home the hardware on a buzzer beater. Matt Gouchoe-Hanas finishes with an insane 12 assists.
Women's Division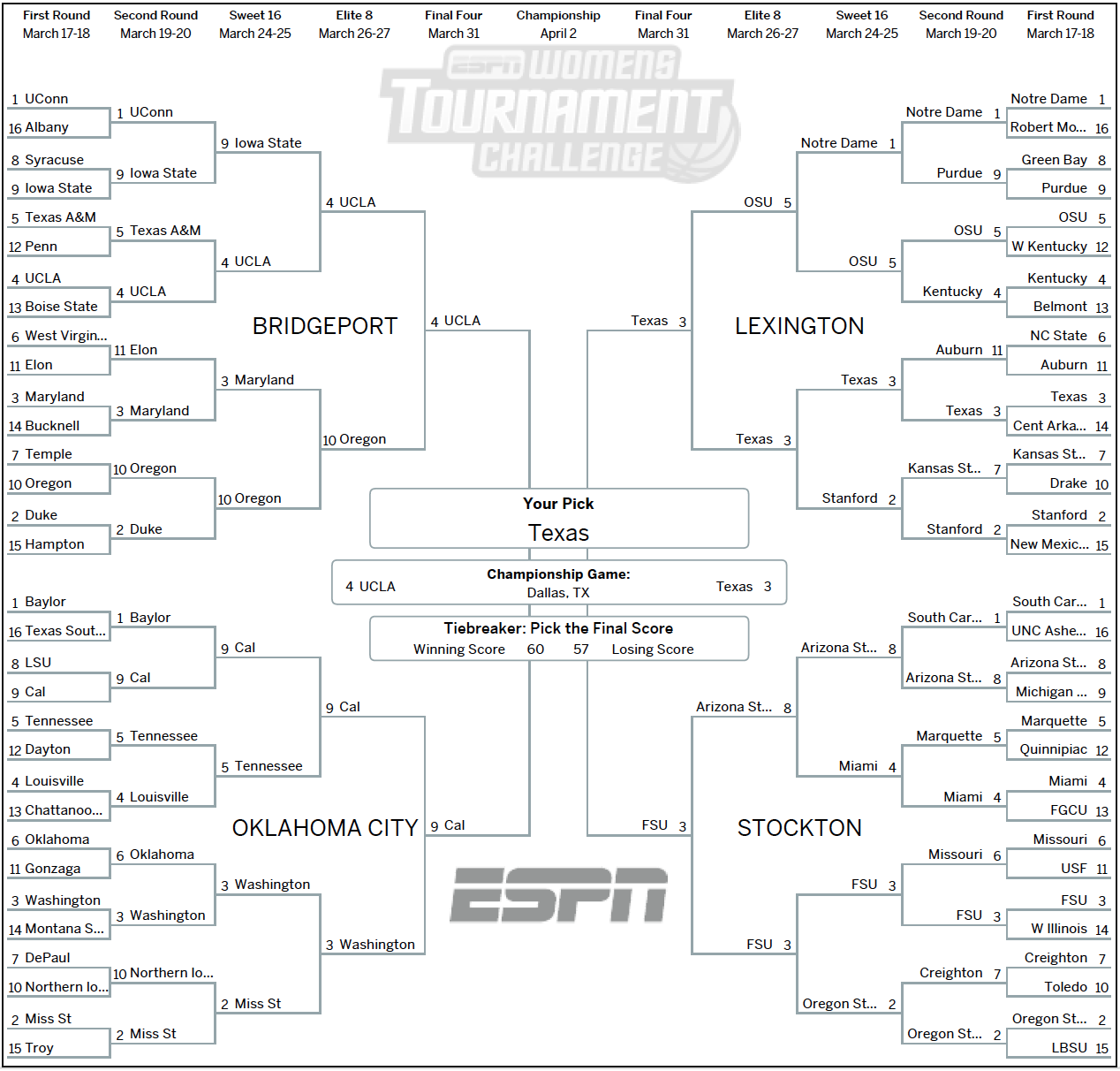 Crazy run from Florida State to the Final Four out of Stockton, as they get past a scrappy ASU team in the Elite Eight
What a brutal path for Texas to the Final Four, as they have to go through Stanford and then Ohio State. But their confidence from beating Stanford earlier this year propels them forward.
It's San Francisco v. Los Angeles in the UCLA/Cal Final Four matchup, but Han Chen is just way too hot from three point land to stop the Bruins.
Texas, thanks to an easy win in the Final Four, has a lot more energy for their rematch against UCLA and they come out on top to win the Championship. Julia Schmaltz also dunks on some poor defender and ends up at #1 on SportsCenter.