A new first in the AUDL.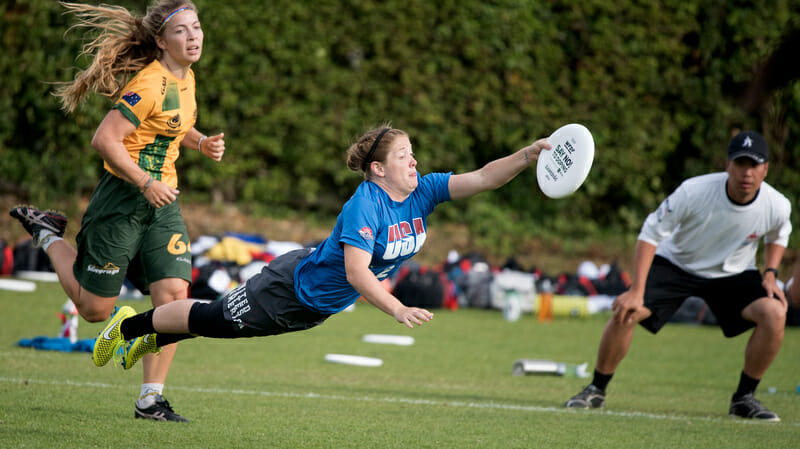 Former University of Oregon Fugue star and 2016 Ultiworld College Women's Player of the Year Jesse Shofner has been selected to the 28-person roster for the Nashville Nightwatch in the 2017 season, making her the first female player to make a full season AUDL roster.
"I'm excited to play for my hometown," Shofner told Ultiworld. "I grew up in Nashville."
Shofner made the team after multiple tryouts, said Nightwatch head coach Ryan Balch. "The body of work over the course of three months that she showed left every single one of the coaches with full confidence in her to make the right decision on the field with the disc in her hands," he said. "That made it an obvious decision."
Balch said her "wealth of experience at the National level" was clearly reflected in her play and that she has both strong skills and a great ability "to be in the right spot on the field."
Shofner is on the 20-player roster for the Nightwatch's opening game against the Jacksonville Cannons and is expected to play in the game. She will become the second female player to play in an official AUDL game after Jessi Jones suited up for the Raleigh Flyers in a game against the Nightwatch on a one-day contract in 2015.
There have been rumblings for weeks that Shofner would make the roster, but she wasn't always so sure.
"If you asked me before the endeavor, I would say yes," she said. "If you asked me at the beginning of the endeavor, I would say yes. If you asked me right after the first practice where I got full field reps, I would say I have no idea. Those first field reps were really hard. It was a confidence blow playing on the big field. But I'm pretty self-aware about what I contribute in this environment and also where I have weaknesses. So I could see it having gone either way, but I wouldn't say I'm surprised I made the roster."
Neither Shofner nor Balch said that her on-field role was determined at this point. Balch said he leans towards having her on offense, given that she is most effective when she can dictate the pace. "I think that there's going to be a lot of adjustments after our first couple of games," he said.
Although Shofner said that it "hasn't really sunk in yet" that she is the first legitimately rostered female player in the league, she did acknowledge that she is fully aware of it — and the pressure that it brings.
"Where I feel it most is the way that the analysis of a player can be broken down into small, tangible successes and lack of success," she said, adding, "I trust the ultimate community not to let how I play in the AUDL determine how to value female athletes."
She's also been here before. "Playing on the All-Star Tour also felt like playing and carrying the weight of representing all female ultimate players," she said. "So it's a familiar feeling."
Balch said that having Shofner on the team, though, was not about having the first female player; it was about picking the best players, plain and simple.
"I think it's exciting that you come and watch the game and you just see ultimate players on the field," he said. "And I think her skill level and her abilities just make it feel like they are all just ultimate players."
Although fans won't get to see Jesse match up with her brother, Markham, during the regular season1, they can start to imagine some potential matchups, like with former Oregon classmate Dylan Freechild, who plays for the Dallas Roughnecks.
"He told me he's gonna guard me," said Shofner. "And he's not going to go easy."
---
Markham Shofner plays for the DC Breeze in the Eastern Division; Nashville is in the South Division ↩