Also: Stanley Peterson is a beast.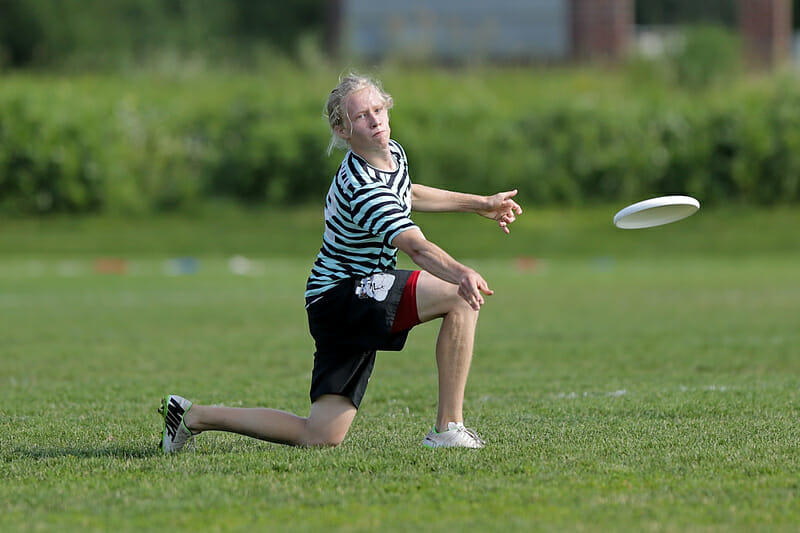 Throughout this AUDL season, Ultiworld will be publishing a weekly Throwaround, a chance for you to catch up on the amazing, funny, and interesting moments that you might have missed from the weekend's games.
A Back Alley Mugging
When the Breeze beat the Rush last June in DC, it was monumental. As the first AUDL East game that Toronto had ever lost to an American team, it felt like a haymaker that had finally landed after years of wild swings. All of the pieces that DC had assembled for their 2016 super-team came together to knock down the seemingly invincible Rush.
Of course, that haymaker wasn't a knockout blow, and the Rush would finish the fight back in Toronto in the AUDL East championship game. The Rush ultimately eliminated the Breeze in the final round of an epic series between the two teams that spanned four games over the course of the season, three of which went into overtime.
While 2016's bouts between Toronto and DC felt like a clash of heavyweights, Sunday's game was closer to a back alley mugging. The Breeze demolished the Rush in every phase of the game, to the extent that it didn't feel like a real contest for much of the second half. While the aura of the four time AUDL East champions propelled them past New York on Saturday, that sense of invincibility was nowhere to be found in Washington. A younger, hungrier, and more focused Breeze team destroyed Toronto's marks and carved up the deep space to such a degree that it seemed they were exposing the Rush's mortality along with their defense.
Importantly, this isn't the "superteam" Breeze was saw last season that threatened the Rush with sheer star power. With a comparatively anonymous roster, DC's smart isolation-based offense and gritty defense revealed Toronto to be bereft of ideas and totally unable to conjure up any sort of magic that could get them back in the game. While an incredibly talented Empire team crumbled against Toronto on Saturday under the weight of their own history of failure, DC looked Toronto in the eye and the Rush blinked.
Now, of course, there is a lot of season left and a lot of rationalizations that can be made for the Rush's performance. Toronto was playing a road game on the second half of a tough back-to-back with a smaller squad and without their talismanic superstar Mark Lloyd (although apparently the Rush will need to get used to missing Lloyd, as his participation will be limited this season). The real test of the Rush's mortality will come in the playoffs, where still no one from the AUDL East has ever beaten them.
But, after Sunday, we know that DC is not afraid of Toronto. And unless the Rush start to remind teams with their play on the field why their trophy case is so full, the rest of the division won't be either.
-Pat Stegemoeller
Come For The Greatest, Stay For The Low-Key Kick Spike
https://twitter.com/theAUDL/status/851483078052663296
A New Look for New York
The New York Empire have long been a gritty and competitive team that doesn't play the most highlight friendly offense. Judging from the early returns in 2017, that has changed.
In the New York home opener against the Toronto Rush, AUDL rookie Harper Garvey made his presence known starting in the second quarter. With the Empire up 7-6 with five minutes left in the half, Garvey picked up the disc with the full field to go, found an open under throw before getting the disc back, and then ripped a beautiful backhand for his first assist in the AUDL. 8-6 New York.
https://streamable.com/s/ii15k/pwmhld
After a Toronto score to bring the game within one Garvey picked up the disc, and threw a hammer in a very tight window that the Toronto defense couldn't have anticipated for his second career assist. 9-7 New York.
//streamable.com/s/mc6uf/gzipwc
Two assists in a row! Not bad for a guy that played his college ultimate at Knox in a league where many handlers have an adjustment period dealing with the silent seven second stall count, 53 yard wide field, and referees. Toronto held after that, and followed it up with a break. At 9-9 New York was facing an upwind point, looking to go into the half with some momentum. What's that sound? It's Harper Garvey music!
In the third quarter, Garvey continued to work, hitting frequent target Conor Kline with a big flick for an assist, and completed a big upwind flick huck to John Wodatch who finished the point off with the assist. But Garvey's biggest highlight was yet to come.
At the beginning of the fourth quarter he saw Matt Auletta alone streaking deep. Auletta was wide open, and calling for the disc. Garvey saw him, but Auletta wasn't close to the end zone yet. So Harper waited. And when most mortals would try to throw a backhand that Auletta would catch up to, Garvey threw a leading hammer that found Auletta perfectly.
A pessimist may point to Garvey's six throwaways and call him inefficient. But Garvey's 88% completion rate was higher than average for New York players on Saturday. A detractor may say that his defense doesn't rival his throwing prowess. But how could it?
Full highlights:
Harper Garvey is not going to win MVP. He's not the best player on the New York Empire. But he's bringing the Empire to places they haven't been before. From 2014-2016, the New York offense was good. Noah Saul, Billy Katz, and Sean Keegan all performed important roles leading that unit to the playoffs. Those offenses were solid. Sound. They got the job done — and done well. But they were not remarkable. They were not glamorous. They just weren't this much fun.
On Saturday, watching New York was fun. The Empire didn't get the win this time, but they played an entertaining game for three and a half quarters, and looked like a team that could get a different result when they play the Rush next time in Toronto. And even if they don't, it promises to be entertaining.
-Nathan Jesson
Big Sequence For San Jose Sparks A Run — And The Shock Upset!
WHOA!! @sjspiders tie it up at 18 with this miraculous buzzer beater before going on to beat their rivals the @sfflamethrowers 24-22!#AUDL pic.twitter.com/ILPJ7jWida

— AUDL (@theAUDL) April 9, 2017
Stanley Peterson Makes An Impression
While the AUDL East stole the show for high profile games this weekend, the AUDL South saw an interesting shakeup Saturday night as the Raleigh Flyers landed a significant Texas road win in Austin, and were then crushed Sunday by Dallas in winds consistently blowing up to 30 mph. Sunday's game was a true upwind-downwind contest in which Dallas absolutely dominated the board. The Flyers never looked truly comfortable on their downwind shots and failed to make much headway into the gale. Dallas, on the other hand, played a very confident and aggressive game, despite losing Matt Jackson to a broken arm in the second quarter on this attempted footblock from Tim McAllister:
While the Roughnecks have certainly thinned with Jackson adding to Kurt Gibson and Dillon Larberg injuries, Dallas was in no way fazed by their loss and continued to pound the Flyers in the second half. It was the day of the downwind scoober and crisp low release backhand. It was the day for Not Top 10s. It was also the day for Stanley Peterson.
I wouldn't quite equate Peterson to the Oklahoma Thunder's Russell Westbrook (he's not angry enough) but it's fair to say that when Stanley Peterson gets hot it's like watching Westbrook annihilate a defense. Peterson was absolutely electric for the Roughnecks with five goals including a nasty layout catch. Peterson has most notably put his stamp on the league with his athletic defensive plays, but it was on offense where Peterson thrived against Raleigh. Five goals in a blowout game isn't always something to write home about, but if Stanley continues to rise up and perform with that level of confidence he could very well turn into a stand out superstar on the already star studded Roughnecks. While the question still remains whether Peterson can consistently throw a forehand, three assists cap off an impressive stat line from a player who remains an incredibly difficult player to stop in the right circumstances. His complete performance on Sunday certainly puts him on the radar as one of the best players in the AUDL South in this young season.
-Hugo Sowder
A Calla…hold?
When Indianapolis played Detroit on Saturday night, the Alley Cats easily took care of business. A quick start gave them an 11-6 lead, a margin they held for most of the game. The biggest moment was Travis Carpenter joining the '100 Club,' becoming only the second player in league history to register 100 blocks, 100 goals, and 100 assists.
But here's an even more important situation.
With time winding down in the first half, Detroit was looking to hold on offense after just being broken. Their huck went long, and the Alley Cats had another break opportunity. But on the goal line, a laying out Jake Steslicki snagged the first throw Callahan.
Here's my question: what do we call this? Calling it a Callahan when it results in an offensive hold just seems…wrong. I would love to hear some suggestions.
-Preston Thompson