Who will be the first teams in the postseason to secure their spot at Nationals?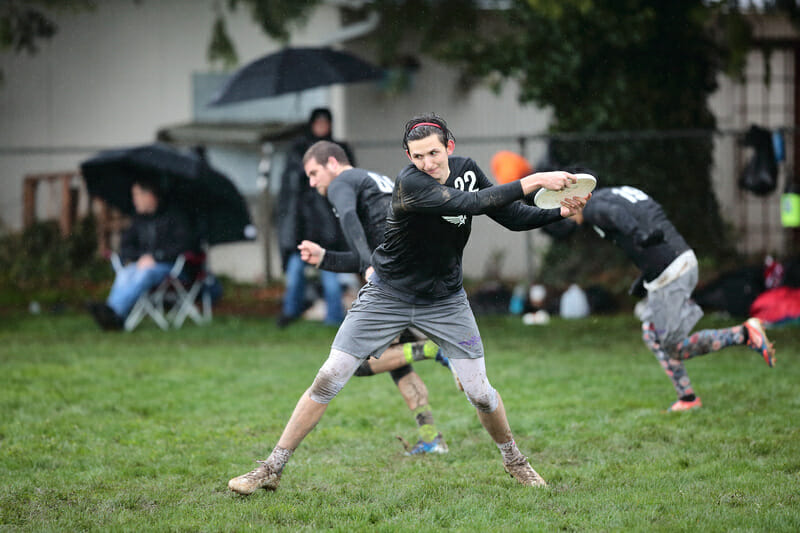 While the D-III division is still growing, some regions lack the size or participation numbers to host multiple qualification rounds prior to Nationals. In those cases, teams fight it out at D-III Conference tournaments to decide who advances to Nationals. That's right, some teams are going to lock up their spots this weekend!
Here's a preview of the two Men's D-III  Conference tournaments to keep an eye on this weekend.
Southwest: Three Teams Enter, One Team Leaves
In the smallest Regionals event in the country1, three teams will converge on San Luis Obispo this weekend to decide who takes the Southwest's one bid to the 2017 Men's D-III College Championships. Claremont, Occidental, and Caltech will all each play one another in a unique one-day, three-round affair.
Coming in as the third seed, Caltech can win game during the first two rounds and qualify for Nationals, leaving the other two schools to play a meaningless consolation game. The three teams could split all the games and finish tied with a 1-1 record, leaving a bid to Nationals to be determined by point differential, quite possibly the most anticlimactic ending possible for what's supposed to be a dramatic event. Neither of these scenarios appears especially likely, as Caltech looks to be thoroughly outclassed, having lost to Occidental 12-2 three weeks ago at Trouble In Vegas.
The most likely outcome this weekend, is a high-stakes game between Occidental Detox and Claremont Braineaters to determine who earns a trip to Lexington in May. Despite both teams being in a rebuilding year,2 a long history of Regionals clashes with a Nationals bid on the line points towards a competitive battle between the Braineaters and Detox on Saturday afternoon.
The Braineaters have been the lone Southwest qualifier to D-III Nationals every year since the division's inception; will this be the year that streak comes to an end?
Northwest: Familiar Foes Clash In Puyallup
World-renowned artist and photographer Tierney Gearon once said, "even in the familiar, there can be surprise and wonder." In a region where every team competing has faced multiple teams in attendance previously this season, at the Northwest D-III Conference championships, these words ring true. No team has gone undefeated against their regional opposition so far this season and the close calls should continue this weekend in Puyallup.
Portland Uprise enters the tournament as the top seed off the strength of a 15-4 regular season, finishing #16 in D-III. A strong showing in the second tier of Northwest Challenge gives Uprise some momentum heading into the weekend, but they'll need to overcome Lewis & Clark Bacchus, the No. 2 seed and the only D-III team to beat Portland this season. Bacchus has been a perennial contender at D-III Nationals, finishing tied for third in Winston-Salem last year. However, the loss of Northwest POTY Ben Whitenack and six other seniors from a year ago has left this year's Lewis & Clark in a bit of a rebuild. They've certainly flashed the ability to win the region again, as evidenced by their 12-9 victory over Portland at PLU BBQ earlier this year. But they've also shown a tendency to play down to their competition, with close wins over Pacific Lutheran and Whitworth, along with a 12-6 loss to that same Whitworth team. Bacchus will need to string together a near-flawless weekend if they want to make the trip to Lexington this year.
The rest of the region will be hoping to catch fire and upset one of the top two seeds in an effort to make the game-to-go. Whitworth Bangarang has shown an ability to compete with the top teams in the region, like their aforementioned victory over Lewis & Clark. However, they also suffered a 11-3 loss to Puget Sound earlier this year, indicating that Bangarang is just as likely to miss the bracket as they are to make the game-to-go.
Puget Sound and Pacific Lutheran both have middling results this year; while Puget Sound's win over Whitworth hints at an ability to break seed, it would be a surprise to see them string together multiple results of that nature. Finally, the Whitman Sweets have chosen to take the D-I path this year and have secured the lone bid to Northwest D-I Regionals from this event, so they'll be treating the weekend as an opportunity to tune up for that competition.
---
Southeast and Southwest Women's only have two teams, but they'll both be competing in a larger D-I Conference Championship event. ↩

Occidental finished 43rd and Claremont finished 68th in the final D-III USAU rankings ↩