Three Regional Championships. Seven bids to Nationals. Ten teams in the top 25. And two days of competition until we know all of the teams headed to D-III Women's College Championships.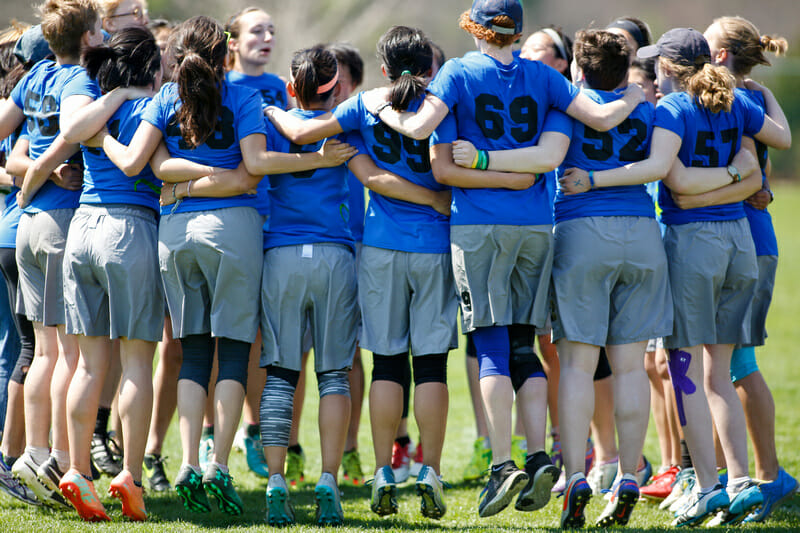 This weekend marks the final weekend of the D-III Women's regional season. After three weekends of competition, the field for Nationals will be set sometime on Sunday. Three regions take the field to fill out seven slots at Nationals, and 10 ranked teams face the potential end of their season.
Metro East
Tournament Profile
Location: Oneonta, NY
Bids Available: 1
Top 25 Teams: 3
Eight Metro East teams will take to the fields this weekend in Oneonta, New York, playing for the region's single bid to Nationals. From the Eastern Metro East Conference come serious contenders in the form of top seeded #13 Wesleyan Vicious Circles and #19 Skidmore Wombats, ready for a rematch after Wesleyan handedly beat Skidmore to take the conference title.
Wesleyan is intent on returning to Nationals after last year's appearance, but their path through the region will first need to showcase their rock solid fundamentals in what looks to be a wet and windy weekend. With the potential for a long, muddy time at Regionals, no one should discount Skidmore based on their 12-4 loss from Conferences; they arrive in Oneonta with a season-long record of tight losses to strong programs and big wins over in-region rivals like College of New Jersey and Rensselaer Polytech. Look for Megan Macomber's confident throws, Karabo Mosola's defensive heat, and the team's designated conference championships MVP Gina Pryciak's dependable handling to put Skidmore in contention for the region's bid.
Wesleyan and Skidmore won't be going head-to-head alone of course; they will also face formidable opponents in the top finishing teams from the Western NY conference, #25 SUNY Geneseo Escargot and Hamilton Hot Saucers. The squad from SUNY Geneseo is led in part by Liz Kuzman-McRae and Maddy Schwenker-Punnett, versatile and complementary talents on offense and defense respectively. SUNY Geneseo has been mentally and physically preparing for grinding through the weekend to make it all the way to Nationals, ready to call up younger players when the high pressure situations hit, supported by the voices of "hypeline" leaders like Erika Vertigan and Liza Amirault.
While there's a strong possibility of seeing SUNY Geneseo in the bid-determining game on Sunday, there's also a chance of seeing Hamilton there instead. A program that previously attended Nationals in 2014 and 2015, Hamilton suffered two hefty losses to SUNY Geneseo last weekend at Conference Championships that cast doubts on their ability to go all the way. Having Kateri Boucher–All-Region and Donovan Award nominee known for her ability to cover difficult defensive matchups and athleticism–on the field paired with any corrections made at practice in the week could bring Hamilton back to the region's final game.
Rounding out the rest of the region looking to claim the singular bid are College of New Jersey Anarchy, SUNY Oneonta Love$eat, Rensselaer Polytech Strut, and Vassar Boxing Nuns. Be on the lookout as College of New Jersey plays around dominant cutting by Cara Silvestri and shut-down defense by Liz O'Grady, both All-Region candidates that could take their team past the quarters round. SUNY Oneonta may also be a surprise if they can bring the same kind of intensity and play that led to their 13-12 win at Conference Championships over SUNY Geneseo. Also watch for SUNY Oneonta's Donovan Award nominee Candace Haskell and her top-level throws. SUNY Oneonta has the potential to go deeper into bracket play than their No. 6 seed suggests, though unlikely to return to Nationals since their first and only visit in 2013. While neither Rensselaer Polytech nor Vassar are poised to make a splash at Regionals, two weeks to prepare since Conference Championships could make for more intrigue than usual in a talented Metro East Region.
New England
Tournament Profile
Location: Williamstown, MA
Bids Available: 4
Top 25 Teams: 5
The D-III Regionals event of the season is here! With four bids — again — the New England Region will provide a quarter of the competition at the D-III College Championships in Lexington. These teams that advanced through this tournament will be battle-tested, with more experience against Nationals-level competition.
More than any other region in D-III Women's, New England has the most competitive Conference Championships. Already #20 Wellesley has been knocked out after losing to Brandeis on double game point at the Metro Boston Conference Championships. The top eight headed to Regionals are #2 Williams, #3 Bowdoin, #5 Amherst, #6 Bates, #12 Mount Holyoke, Stonehill, Brandeis, and Wooster Polytech. For the top teams like Williams and Bowdoin, this weekend will be to build up endurance for Nationals. For the mid-tier teams, such as Amherst, Bates, and Mount Holyoke, Regionals is do-or-die.
As a program, Williams La WUFA has a rich history of attending every D-III College Championship except in 2012. Williams has had a phenomenal 2017 season with a pristine 23-2 record. That record does not include a four-team round robin they hosted in February. As far as increasing endurance for Nationals, this team already has a lot more experience playing together than their counterparts. Since teams basically have to hit the reset every fall in D-III, with so much turnover and welcoming so many inexperienced rookies, this extra playing time really puts Williams a notch above the rest.
Williams has also been able to capitalize on the strengths of their captain trifecta of Christine Reed, Lane Davis, and Haley Lecinsky. Davis is relied on for her consistent shutdown person defense. She uses her long limbs to her advantage on both the mark and for the around break. Reed is invaluable for her smooth, calculated throws as a handler. She is a teammate who inspires confidence in her cutters. Haley Lecinsky has been a standout all season, and continues to dominate: skying opponents, taking command as a zone handler, winning the undercuts. These three are joined by a sophomore class really coming into their own. Abby Miller has stepped up big as a cutter and the team is thrilled to have a fully healthy Rachel Retica back. And from the next generation, Casey Phalen's receiving abilities are a huge asset.
Bowdoin Chaos Theory may be the one team that can take on the powerhouse that is LaWUFA. Bowdoin was actually knocked out of Regionals last year by their Maine rival Bates (pun intended). But this year, with an 11-2 record, they have already beaten Bates twice. Bowdoin consistently emphasizes their deep roster. Unlike most other D-III programs Bowdoin boasts a program of 50+ women and they then select 18 players to compete together on the A-team. This allows for plenty of players to scrimmage at practice but higher individual playing time at tournaments, as their traveling squad is smaller than average. Part of the credit for the high average ultimate IQ on this team is due to senior captain Kate Powers. who leads both on and off the field in her role as a cutter and her mentorship to rookie and veteran players alike.
Being one of the northernmost D-III teams in the country, Bowdoin only just got outside for practice last week, and hopes that won't detract from all the hard work they have put in. They have an early season loss to Amherst at Bring the Huckus but came back to beat them in April at New England Open. This team should be set to head to Lexington but nothing is for sure in the world of D-III Womens. Chaos Theory shared that, as it is at every tournament, their main goal as a team "is to out-fun and out-play our opponents."
Mount Holyoke Daisy Chain and Amherst Sparkle Motion are the favorites to take the next two bids. Both teams have had similar spring experiences and are pretty evenly matched. Amherst Sparkle Motion took the double game point win over Mount Holyoke Daisy Chain at the New England Open four-team round robin. But at Conference Championships two weeks ago, Daisy Chain was victorious in a 11-5 win. Mount Holyoke looks to Molly Morgan to lead the handlers and to Sophey Dong to take charge downfield as a cutter. Amherst has a lot of top talent but Margo Cody and Julie "Cricket" Xia prove to be the toughest match-ups for opponents.
Hoping to knock one of these four teams out is Bates Cold Front. The weather has not been kind to Bates this season, another one of the most northernmost D-III programs. Bates attended three short one-day tournaments this spring: an unsanctioned one-day round robin at Williams, New England Open, and Conference Championships. However, in the team's first full tournament experience they excelled, winning Long Beach Classic, beating out D-I UConn for first with a final score of 9-5. Bates will rely on the varying but extensive experience of senior captain Kaye Cuthbert and sophomore captain Josie Gillette, and hope to repeat some of last year's Series' magic.
Joining these five are Wooster Polytech, Brandeis, and Stonehill. Brandeis and Stonehill are not to be trifled with as they both beat out Wellesley at their Conference Championships. Stonehill has a solid organized zone and loves their deep throws. Brandeis will have to step it up a notch to keep up with these nationally ranked teams.  No matter what, keep your eyes on New England, as these are some of the best D-III programs in the country.
Ohio Valley
Tournament Profile
Location: Columbus, OH
Bids Available: 2
Top 25 Teams: 2
The Ohio Valley Region will send a pair of teams to Nationals this year, thanks to the bids earned by #15 Haverford and Bryn Mawr Sneetches and Wooster Betty Gone Wild. The question to be played out in Columbus, Ohio over the course of the weekend is whether or not both teams can hold onto their Nationals berths. It's certainly not out of the realm of possibility, as neither team enters the tournament as seeded in the top two–those honors go to #16 Oberlin Preying Mantis and Allegheny Hellbenderitas who took home the top spots at their respective Conference Championships.
Oberlin is a team that knows what it means to perform at Regionals, having attended Nationals in 2011, 2013 and 2016. They're also very familiar with the windy nature of playing in Ohio in late spring, so watch for defensive matchups and handler sets built to strategize for the conditions. Offensively, Emma March, Helen Samuel, and Abegael Cheng will be a force for other teams to contain alongside the strong cuts and defensive marking of Shay Jennings and Rosie Rudavsky respectively. While unlikely to repeat the perfect 6-0 weekend they had at Conference Championships, Oberlin is a program that history suggests will head home with a bid on Sunday.
On the other end of the spectrum is Alleghany, a first year program that could use this tournament to make inroads towards establishing themselves as a competitive Ohio Valley program. Their unflinching deep game and intense defense were noted by the rest of their conference, who will be preparing to shut down their handlers to manage Alleghany's deep game. Their only loss at Conference Championships came at the hands of Lehigh in a tight 10-8 game, which should make any potential rematches this weekend within bracket play worth following. Regardless of their finish at Regionals, not too bad for a program that joined Twitter just last month.
For Haverford, strategic line calling and deployment of starters will factor into their Regionals game plan, something that proved difficult for the team to execute with the round-robin style at Conference Championships. Athleticism and speed will be on display in players like Kendra Griesman and Opal Bednarik, as well as fierce cutting by captain and Donovan Award nominee Zoe Lewis. As another well established Ohio Valley team that made appearances at Nationals in 2011, 2012 and 2014, Haverford has the skill and preparation needed to nab one of the bids to Lexington.
For bid-earning team Wooster, the key will be finding a way to overcome Oberlin, who won both of their Conference Championship matches, 13-5 and 9-5. Look to Wooster utilizing handler Thea Kwan to get the job done as they look to make Nationals for the first time since their only trip in 2014.
At the bottom half of the seeding are previous Nationals attendees Lehigh Gravity and Swarthmore Warmothers, joined by Messiah Falcons and Ohio Wesleyan Yetis. For Swarthmore and Lehigh, both have been playing through a rebuilding year after crucial senior losses and gaining large rookie classes. While unlikely to add to their Nationals appearances–2012 and 2015 for Lehigh, 2010 and 2013 for Swarthmore–the up and coming talent on these teams are nothing to ignore. From Swarthmore, cutter Marie Tillerson excels on offense and defense, and Emily Cai shines as a utility player. Lehigh's solid handling by Lindsay Levin, Dana Waxenberg, and Juliet Chung will be crucial as they progress through the tournament.
Elsewhere, Ohio Wesleyan's Mallory Griffith, Brenda Gonzalez-Santillano and Anna Haley should make a splash with their intensity, athleticism and, from Haley, top-notch hucks. From the Messiah squad, look for Nikki Singer and Olivia Mingora to bring the cuts and disc movement, as Ashley Hah finds success on both sides of the disc. Overall the tournament looks to be an exciting weekend of young teams looking for a taste of victory and established programs to earn a bid to Nationals amid the depth of a strong Ohio Valley.