Washington, Oregon, British Columbia, and Oregon State advanced from a tough tournament with plenty of results that deviated from seeding.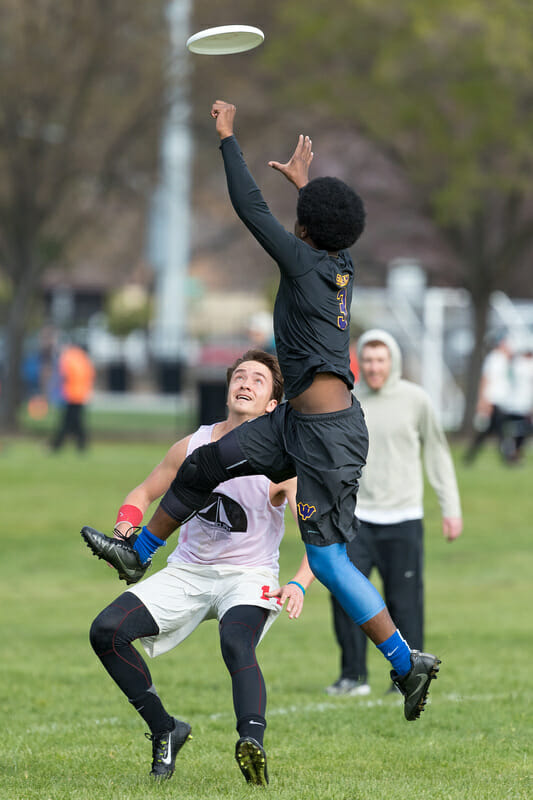 Walla Walla, WA — With more than a third of the roster sitting out at least a game (if not more) to ease injuries and facing a stiff wind, the Washington Sundodgers defied the odds that have been stacked against their health for two seasons and won the Northwest men's division on double game point this past Sunday, 15-14 over favorites Oregon Ego. Both teams secured bids to Nationals a day earlier, while British Columbia and Oregon State qualified for the third and fourth spots during competition Sunday afternoon.
Washington's Regional Title Coincides With Khalif El-Salaam's Return To Form
The "Did Not Play"s were stacked high for the eventual champions this past weekend. Stellar field general Dongyang Chen, blazing fast cutter Tomás Delgado, and veterans Manny Eckert and Max Landa sat all weekend for #16 Washington. Virtuoso handler Steven Benaloh played to help the qualify on Saturday, but sat out Sunday. Four more players either came out during the final, or were sidelined all of Sunday.
With the bench short, the wind gusting, and the playing time in overabundance, Khalif El-Salaam came alive for one goal and nine assists to lead his team to a regional title Sunday morning. Freshman standout Lucas Chen added a staggering seven goals.
#9 Oregon's lines were sent out to win as well. Though both teams had already qualified for a trip to Cincinnati, winning the Northwest title meant taking the rest of the day off, too.
Both teams let it rip on offense going downwind, searching for open receivers and testing D-line offenses to work the unders. Washington put in the first upwind break and then tallied a downwind break to match, opening a lead that they'd sustain for the rest of the game. "[Oregon] actually got the next three upwind breaks, but we held upwind after all three, and broke back downwind after the first two," said Washington head coach Alex Wells.
Headed into the wind, both offenses did they best they could to find a good position for a backhand huck or hammer and kept sending up prayers. "Throughout the whole game it seemed like they came down with almost every 50-50 ball," said Oregon captain Tim McGinn.
Another swilly huck winds up in their hands and they get the upwind hold 8-10

— Oregon Ultimate (@egotime) April 30, 2017
Washington held their two-goal advantage headed into half, 8-6, but it didn't last long. Oregon's athletic defense —which has gelled more and more with each appearance this year— put the screws into Washington's offense, nearly knotting the game at 12-12, before completing the late-game run to tie at 13-13. With the hard cap on, the Sundodgers held twice and put the game away.
Winning the Northwest stands in stark contrast to Washington's last regional outing in 2016, when the team took a pair of gutshot losses during pool play to UBC and Victoria, before taking what Wells referred to as "the dirt road" to the second bid, through the backdoor bracket on Sunday.
"Last year's feeling was one of immense relief, but that's partially because the story of last year was intertwined with that of the year before. Making it after missing out in heartbreaking fashion just relieved so much pressure," said Wells. "This year, qualifying on Saturday meant we were already successful, so it was easier to feel the pure joy of achieving winning the region and beating Oregon to do it."
Washington made their second straight trip to Nationals a reality with a thumping 13-7 win over UBC on Saturday. During pool play, no team came within six points of the cruising Sundodgers.
Losses Before Nationals Strengthen The Team Fabric For Oregon Ego
Falling to Washington in the wind on double game point put the loss total for 2017 Oregon Ego at six for the season. A year ago, the team had only dropped one game prior to Nationals.
The team regrouped quickly this past weekend. They said their "good games" to the Sundodgers, shifted sidelines, and confidently put away a talented #16 British Columbia team 15-11 to secure the second of the Northwest's four bids.1 As strong as the veteran O-line, as impressive as the rookie class is, what stands out most about Oregon so far this season is their growth and humility.
"I think actually facing adversity, losing some games and really seeing improvement will help us a lot going into Nationals," said captain Tim McGinn.
Aside from the loss to Washington, the wind was Oregon's most notable adversary in Walla Walla. None of the other teams came within four goals of Ego, but the conditions did their part to build frustration across the O and D-lines.
"It's hard watching the offense get broken and defense looking powerless at times against the strong wind. We knew we just had to be resilient and remember that it is a long game and that we'll get our opportunities," said McGinn. "A game never comes down to one moment, but a couple endzone drops, or missed 50-50 balls, or slightly better throws could have made the game swing the other way."
Saturday, in contrast, was a breeze.
The veteran's O-line's drops and ambitious hucks to space that became turnovers earlier in this season have been worked out and reduced. According to McGinn, the offense conceded just a single break in their four pool play games. Handler Braedon Petrus didn't flinch and dialed in the lightning fast handler movement necessary to work the disc side to side in the red zone to score patiently.2 Duncan Fitzgerald and Noah Coolman, both rookies, continued their defensive growth by generating increased pressure and getting involved in the offense after the turn.
And quietly, as is his nature, Adam Rees led the bid-earning effort for Oregon. "He's got that Kawhi Leonard game," said McGinn, comparing Rees to the NBA's San Antonio Spurs gifted small forward. "He can literally do anything you would ask from a frisbee player on both sides of the disc and he does it better than everyone else too."
Rees has been a standout for Ego before, but this season his consistency has kept the team steady while other players needed more time to gel.3
After an earlier exit than they would have liked from Nationals in 2016, Oregon Ego is learning how make mistakes, recover, and learn from them.
Oregon State Earns Their First Trip To Nationals In Team History
Not every team had Khalif El-Salaam or Colton Clark to rip upwind hucks during bracket play on Sunday. #23 Oregon State's David Rong made program history when he broke the mark with an around flick into the wind on the goal line, for the goal, the game, and the Northwest's final bid. The Beavers put away 2016 Nationals cinderella story Utah Zion Curtain 15-12.
"[Rong has] been trending upwards all year, but this tournament he might have been our most vital player. His upline cuts and monstrous throws earned many a break this weekend," said Oregon State captain Eric Callahan.
Together with Callahan, key O-line handler Jake Ramsey, and other veteran players, the Beavers capped their seventh tournament this season with the type of balanced, grinding approach they've honed since January. The win against Utah marked the end of their 45th sanctioned game together in 2017.
With all that field time, Oregon State built their measured attack and depth. The team has a methodical look on offense: cutters set themselves up on time for continuation looks and unders and throwers know how to reset well. On defense, the Beavers have enough variation to slow the pace against most top level competitors for a few points, forcing extra throws with different zone looks.
In spite of their hard work, the weekend started with a stinging double game point loss to Victoria, whose offense was on fire while Oregon State struggled to find a rhythm. "We made a lot of mechanical mistakes in that first game, dropping easy clap-catches, throwing to guys who just turned away, and other early morning errors," said Callahan. "Those [mistakes] gave UVic an opening, and you can't give any team in this region an opening, especially when they have a deadly offense like UVic."
The Beavers recovered over the next two games, putting away Montana State and Whitman easily, and then taking a loss to No. 1 seed Oregon. Thanks to a three-way tie, Oregon State snagged the second spot in Pool A and set themselves up for their first shot at a bid against UBC Sunday morning.
Then, Sunday's wind laid waste to best-laid plans. UBC ran away with that first game 15-7, landing Oregon State the final game-to-go against Utah Zion Curtain. "We started the game [against Utah] with an upwind break off of a bobbled first throw. Our team was super amped, but quickly learned that this game wasn't going to be given to us," said Callahan.
Zion Curtain, who stuck to their style and looked for their big athletes to make plays with discs floated high by the wind, took 7-4 lead. Oregon State put together their own first half run, shouldering their way into an 8-7 lead at half. They pushed the lead out to 13-9 in the second half, and held on for their trip to Cincinnati.
"I'm proud of the Beavers for building their program up," said Oregon Ego captain and frequent opponent Tim McGinn. "I don't think this team was even able to consider Nationals the last few years, so for them to make the jump is awesome."
Playing in Cincinnati will be a whole new challenge for Oregon State. The pace will be faster, the emotional weight can be shocking, and the four week wait can leave newcomers a little bit baffled with how to spend their time. For now though, the Beavers can celebrate and get back to their 2017 grind.
To Say Nothing Of Parity
Both pools finished with a clear frontrunner on Saturday (Oregon and Washington were 4-0) and a clear bottom seed (Montana State and Utah State were 0-4). The other six teams were deadlocked at 2-2. In Pool A, Victoria traded places with Oregon State and missed a shot at the game to go. "When it came down to point differential we ended up on top, and the three way tie saved us from our first round mistakes," said Oregon State's Eric Callahan. In Pool B, similarly, Utah missed their first look at the bracket even though they'd started the day with an 11-10 win over UBC.
Western Washington missed the cut, even though they'd stomped Utah 13-5 at the end of the day Saturday to put themselves at 2-2. Whitman, who had chosen to go to the D-I route, edged out Victoria 11-10 early on Saturday and also beat Montana State. 
The variety of styles and competencies in the Northwest lent an exciting edge to the competition. Almost all teams had reason to expect a win in each game, many of them with long-established youth talent pipelines based in Seattle and Vancouver. The Northwest hasn't produced a National Champion recently (although Oregon's came close in 2015), but the talent floor is high.
What Could Have Been
In spite of the Northwest's high floor for competition, there was an absence in Walla Walla this year that was felt, stronger than in past years. #11 BYU CHI, who earned a bid for the region by finishing #10 in the USAU rankings, was back in Provo. 2017 was the team's highest regular season finish in program history and there was little doubt across the division that they'd earned it.
While Washington celebrated their first win over Oregon and their first regional title since the redraw (if not before), star Khalif El-Salaam was aware of the missing competition.
Really wishing @BYUCHIUltimate was here to take their earned bid. You guys are great, nonetheless; NATIONALS BABY

— Khalif El-Salaam (@khalifygreens) April 30, 2017
BYU had already handled Washington once this season, under the lights at the Northwest Challenge. They confidently took down Oregon State that same weekend. They'd lost a close game to UBC at Santa Barbara Invite, but the team had been bleeding breaks all weekend and had yet to make their impressive emotional turnaround.4 CHI didn't see Ego this season, but with their athleticism and size, it would've made for an entertaining game.
There's no indication that the institutional rules clash between BYU and USA Ultimate will change for the 2018 season. But if CHI keeps heading out to tournaments and snagging statement wins, expect more teams to start speaking up on their behalf.
Editor's Note: This recap was compiled remotely. If you or someone you know is interested in future coverage of the college men's division, please contact me: [email protected]
---