Five top 25 teams playing for three spots meant some great games on Sunday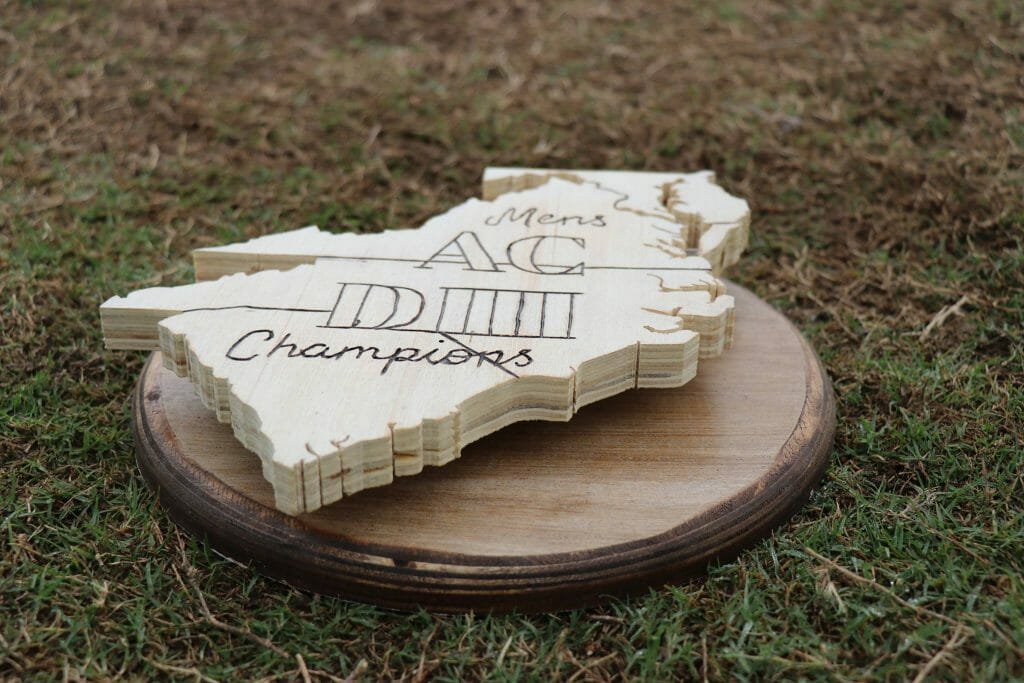 ELON, NC – With three bids on the line and five potential contenders for a Nationals appearance, the Atlantic Coast was slated to be a nail biter. While the three bid earners — Richmond, Davidson, and UNC Asheville — ultimately prevailed, the weekend was not without drama. After Saturday went largely to seed, with only High Point breaking a low seventh seed and coming in third in their pool, it was in the bracket where seasons were on the line that the tension mounted.
The Prelude: Quarters And Semifinals
The crossover matchups in the quarterfinals of the championship bracket on Saturday afternoon would set the tone for a dramatic Sunday. #14 UNC Asheville Bulldogs broke away from #13 High Point Bagheera to win 14-11 and #20 Mary Washington Mother of George edged out an 11-10 win over Elon, following up on a similar 11-10 victory over Davidson in the last round of pool play.
Sunday morning demonstrated just how dominant #8 Davidson DUFF and #10 Richmond Spidermonkeys were, clinching dominant semifinals victories. Richmond pummeled Mary Washington in a 15-6 victory, and after trading points for a short time in the first half, Davidson overwhelmed UNC Asheville 15-8, sending the Bulldogs into the third place bracket.
Game Of The Weekend: Mary Washington vs. UNC Asheville
The final Sunday game was a showdown between the craftiness of Mary Washington's primary handler-cutter duo of Zachary Norrbom and Joe Richards and the tenacity of Asheville's D-line. Asheville had struggled all weekend in the wind against elite defenses, whereas the lefty Norrbom had been executing with elite confidence.
Asheville chose to force almost exclusively backhand, forcing Norrbom to throw flicks into the wind, and kept several veteran defenders downfield to pressure Mary Washington's unders. While Asheville's scheme was effective in regulating Norrbom's backhand huck, it also created great opportunities for Joe Richards to unleash his own righty backhands out of an initial under cut on a pull play, something Mary Washington used to score several easy goals.  However, Asheville's pressure in the wind helped grind down Mary Washington in the first half, and they took an 8-5 lead into the half.
Mother of George continued to battle, and every upwind score by Mary Washington put Asheville's offense in the awkward position of having to work upwind on the subsequent point. Both teams showed signs of fatigue throughout the game, and execution errors by Mary Washington prevented them from being able to mount a significant comeback. At 11-9, Asheville's offense demonstrated tremendous poise, scoring in 30 throws.
Soft cap came on at 12-9, making it a game to 14. Lengthy holds for both squads put Asheville ahead 13-10 with two minutes to hard cap. Mary Washington was unable to score quickly enough to get within striking distance of tying the game before hard cap came on. Asheville, on the other hand, was also emotionally gassed and celebrated with muffled exhilaration on the sidelines as the final — and now irrelevant — pull went up from Norrbom. Despite getting two chances to score, poor Asheville execution on two shots to the endzone gave Mary Washington the chance for the upwind score, and the game ended with a Mary Washington break to make the game 13-12. It was an anticlimactic ending to a grueling game of attrition between the two programs.
The Standouts Of The Weekend
In terms of individual performances, Norrbom and Richards were the stalwarts of their program this weekend, with Norrbom playing almost every single point in the game-to-go.
Richmond's Henry Babcock showed a cool and collected demeanor throughout the tournament as he helped quarterback his team's offense to another regional title.
While UNC Asheville's fifth years had a solid tournament, it was junior Hunter Scaggs who by far put on one of the most impressive individual performances on defense and on a turn for the Bulldogs.
High Point may have fallen early to Mary Washington in the semifinals of the backdoor bracket, but their veteran trio of Michael Ball, Cam Bellando, and Luis Royo were a treat to watch this weekend, particularly in their Saturday games against Mary Washington and UNC Asheville.
Onward To Nationals
For the University of Richmond, now back-to-back regional champions, there was much to be pleased about this weekend. Their backfield was very efficient with the disc, and their horizontal offense consistently overwhelmed their opponents. The Spidermonkeys rolled all of their opponents, with their closest game being a 13-8 pool play win over Asheville. In the regional final, they dismantled Davidson, to the tune of 15-6. Richmond look to be peaking at the right time and will hope to continue this momentum into Nationals.
Davidson has certainly asserted itself as the second best team in the Atlantic Coast and left behind any doubt of their capabilities to reach Nationals with a solid offensive performance Sunday morning. This was a very different Davidson squad from the one we saw in February at Queen City Tune Up; that Davidson team was sloppy, lacking the refinement to match their energy on defense. DUFF is now composed and efficient with the disc, balancing a quick give-and-go based offense with the ability to stretch a defense when defenders begin to pinch in.
While UNC Asheville was certainly proud of its resilient performance this weekend, particularly in their games against Elon and Mary Washington, the post tournament discussions were centered largely on how much more their squad will need to grow if they want to make a Sunday appearance at Nationals.
All three of these teams have a fine balance of veterans who have been there before, young players experiencing the big stage for the first time, and coaches who will prepare them to succeed in Lexington. They showed this past weekend in Elon that they deserve to represent the Atlantic Coast at Nationals, and all three teams have the ingredients necessary to make the region proud.