#1 Franciscan demonstrated why they are a title favorite by winning the Ohio Valley -- but not without being tested.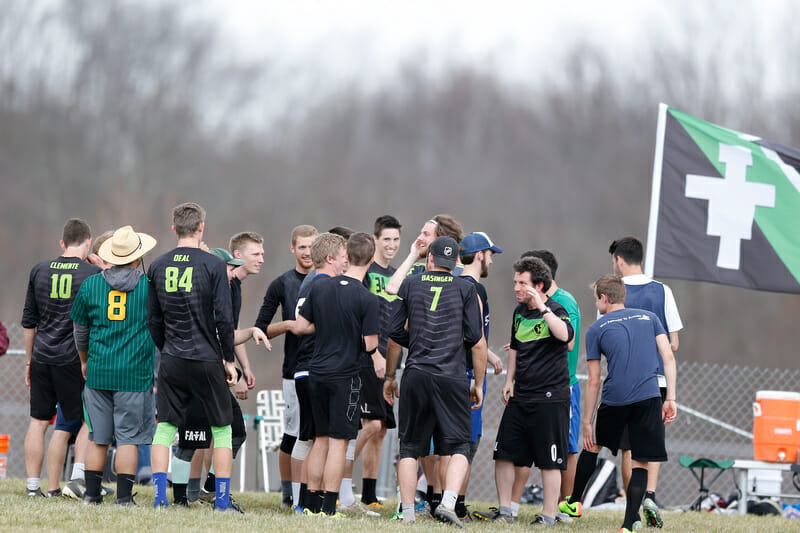 This recap is written by guest author Jonathan Hoffman, coach of Shippensburg men's.
ALLENTOWN, PA – Teams traveled to Allentown, PA over the weekend for the Ohio Valley D-III College Regionals tournament, once again fighting for a sole bid to D-III Nationals.
With the conferences in the region increasing in size from 2016, this spring's regional event included 12 teams, up from 10 last year. This growth led to an interesting format, with each team having five pool play games to 11 on Saturday and the top eight advancing to bracket play Sunday for the championship.
But the change in format did nothing to change the result: #1 Franciscan Fatal showed why they are the top ranked team in the country, taking the final over Haverford 15-9 and earning their third straight regional title.
Pool Play
In Pool A, No. 1 seed Franciscan cruised on Saturday, giving up no more than six points in any pool play game. The lone upset in the pool occurred when No. 12 seed Muhlenberg beat out No. 10 seed Philadelphia 10-8. In fact, only two games in the pool were decided by three or fewer goals, making for lots of chalk results.
In the other pool, #12 Shippensburg Scapegoats came into the day missing two O-line handlers for Saturday. No. 4 seed Haverford took advantage early with a junk defense that gave them a 4-0 lead. While the Scapegoats were able to tie it up at 6-6, Haverford then held and didn't look back, stepping it up again defensively to take the game 11-7 and win the pool. Haverford's star players Calvin Trisolini and Lucas Richie played huge roles in the upset, along with sophomore Jordan Acker. While Haverford dropped a pool play game to Swarthmore in the final round, they had already clinched Pool B.
The Bracket
Franciscan once again showed why they are the top ranked D-III team in the country, easily advancing to the semifinals with at 15-6 win over Xavier. Shippensburg and Haverford pulled away from Cedarville and Oberlin, respectively, while No. 3 seed Messiah was upset by a hungry No. 6 seed Wooster on double game point.
Two of the bracket games — Messiah vs. Wooster in quarters and Haverford vs. Wooster in semis — were marred by incorrect applications of the cap rules. In the quarterfinal game, the soft cap went on when the score was 12-11, resulting in what should have been a game to 14. The game was instead played as if it was win by two until the hard cap, so the end result was a game to 15. In the semifinal, the hard cap went off when the game was tied at 9-9. Haverford scored to make it 10-9. After an extended discussion, another point was played and Haverford scored again, winning 11-9. While neither mistake ended up impacting the end result, it is unfortunate that at a Regionals Championship event the caps were not correctly enforced.
The other semifinal featured the top two ranked teams in the region, Franciscan and Shippensburg, in what proved to be Fatal's toughest test of the tournament. Shippensburg had their full squad on Sunday and came out fired up, getting two breaks for a 3-1 lead. Franciscan bounced back to take half 8-6 and then broke Shipensburg again out of half to take a 9-6 lead.
Momentum favored Franciscan; however, both teams battled extremely hard defensively, and Shippensburg refused to let up, securing several late breaks to tie it and then eventually take the lead, 11-10. Franciscan showed their championship mettle and, a few points later, got the break back they needed to take the lead 14-13. With the game tied at 14-14, Shippensburg twice came within a few yards of the goal line, but stout defense from Fatal, including a stellar layout catch block from Jay Ratajczak, kept them from taking the lead.
This game was a showcase for several top players in the region, as both teams ran tight lines and got big plays from their pivotal playmakers. Shippensburg was lead by handler Bryan Walters, cutter Eric Scanlan, and fellow cutter Brayden Tiner, while Franciscan relied on the aforementioned Ratajczak, Stephen Babcock, and John Paul Bort. Both teams were led by their Donovan Award nominees. Zac Sands for Shippensburg scored nine goals, often with multiple defenders draped around him. Fellow nominee Dom Schuster also lit up the scoreboard with a slew of goals and assists. Franciscan fittingly prevailed on a fast break huck from Schuster to Ratajczak to advance to the final with a 16-14 victory.
While the championship game couldn't match the drama from either of the semifinals, Haverford hung with Franciscan in the first half, and trailed 8-7 at halftime. However, Franciscan went on a big run out of half, and closed the game 15-9, to win the regional title. Haverford finished second in the region for the first time, while Franciscan captured their third consecutive Ohio Valley Regional Championship.