After being upset last spring, Pittsburgh regained their regional crown and secured their thirteenth consecutive trip to the College Championships.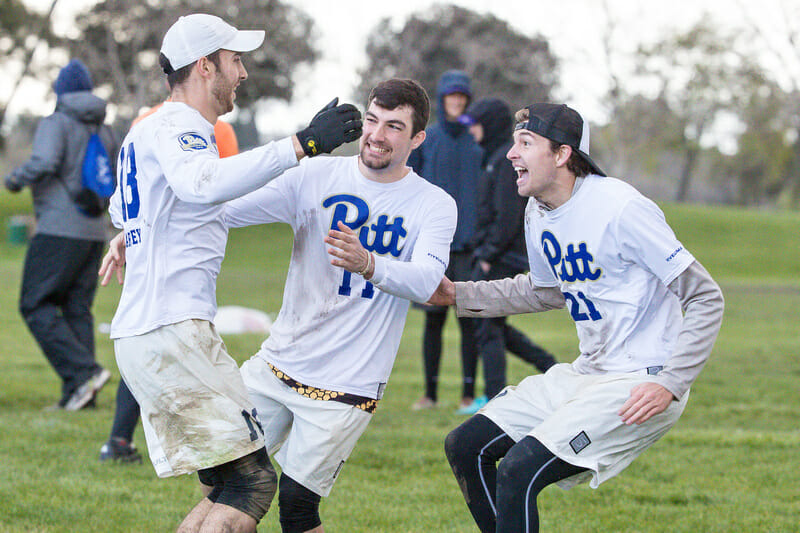 This post was written by guest author Devin Foster, captain of West Chester. 
ALLENTOWN, PA — Unlike the drama that unfolded at last year's Ohio Valley Regionals, Pittsburgh En Sabah Nur cruised to a 15-4 victory over Lehigh in the tournament final and grabbed the region's lone bid to Nationals. But while the weekend may have reached a predictable conclusion at the top, that doesn't mean there wasn't more to say about results further down the bracket.
Here's a rundown of what we saw, compared to expectations headed into the weekend.
As Predicted
#2 Pittsburgh once again punched their ticket to Nationals. How many years in a row is that? Thirteen. They went through the weekend in Allentown relatively untested by any team, never losing and or even giving up double digits. The closest any opponent got was a six-point margin, managed by both Penn State and Case Western. Carl Morgenstern and company looked very much like the second ranked team in the nation, getting strong performances from their Callahan nominee along with Mike Ing, Saul Graves, and Jonah Wisch.
A year after losing back-to-back games-to-go and finishing third, Penn State put in another strong performance at Regionals. After not playing during the regular season due to a university ban, Spank — led by 2016 First Team All Region player Codi Wood and Marc Sands — showed little signs of rust. The tournament's fourth seed finished tied for third again, after battling against Pitt in the semifinals.
Disappointing Results
Second seed Case Western Reserve was thought to be the one team in the region capable of truly challenging Pittsburgh. Perhaps they did, putting up a tournament high of nine points against the regional champs. Unfortunately for them, they got that tough draw in quarters, thanks to going 2-1 in pool play and finishing second in the pool to Akron. After the loss to Pittsburgh, they also lost a close consolation game to Cincinnati, finishing tied for seventh on the weekend.
Villanova, led by Patrol stud Ethan Fortin and coach of the year hopeful Dan Wickens, were having a breakout year heading into Regionals. Putting together strong performances at tournaments like Florida Warm Up and winning their section for the first time, Main Line were hoping to make some noise in Allentown. Villanova ended up playing pretty solidly, getting big weekends from Chris Dixon and Casey Vaughn, but they suffered two consecutive tough double game point losses to end their Saturday. The first loss Penn State cost them their chance to win the pool, and then West Chester ended their competitive season in a crossover prequarter matchup. Adding insult to injury — or maybe more precisely injury to insult — their star, Fortin, came down wrong and suffered an unfortunate non-contact injury in the last game of the weekend. Here's hoping for a speedy recovery.
Surprising Finishes
Perhaps a surprise to some, but not to anyone who plays in or follows Ohio Valley ultimate closely, Lehigh finished second on the weekend. Coming in as a dangerous eighth seed, Lehigh relied on great depth and phenomenal team play to fuel their run. It was apparent to anyone watching that this is a really well drilled team, despite not having a coach and being completely player run. While no player really stood out from their solid all-around squad, Adam "Zero" Kafka is a big part of their core and has really improved from when he started; he has perhaps the dirtiest low release, inside-out flick break in the region. Unfortunately, they could not repeat their upset over Pittsburgh like last year, losing twice to En Sabah Nur, in pool play and then the final.
Akron, the over No. 11 seed, won their pool, shocking Case Western in a 14-13 victory and then beating Ohio 14-12. They played Lehigh very close in quarters, but fell short and ended up tied for seventh.
Perhaps the biggest surprise in Allentown was West Chester. After going 1-2 in pool playing, losing convincingly to both Pitt and Lehigh, they had a satisfying double game point win over conference rival Villanova to end Saturday. After a 14-10 win over Ohio State in quarters — who looked good behind the leadership of Eric "Pockets" Schumacher — West Chester ended up finishing tied for third after coming in as the No. 12 seed. With a strong core of young players — Jon Anthony, Dom Bussianich, Devin Foster, Danny Monts — as well as Coach Ken Wells returning for another year, West Chester will be looking to build off this success heading into next season.
Other Observations
The TD was handing out cow bells like crazy on Sunday, adding an interesting, fun atmosphere to the games.
There were no observers for any game the entire weekend, not even the final. Thankfully there was little contention, in part because the game was not particularly close.
A lot of teams only had two games on Sunday, leaving many positions finished tied rather than finishing out all consolation brackets. Speculation suggests this was to encourage teams to watch the final, which turned out to be not that compelling of a game.