A title favorite headlines Pool C, though three very dangerous squads file in after that.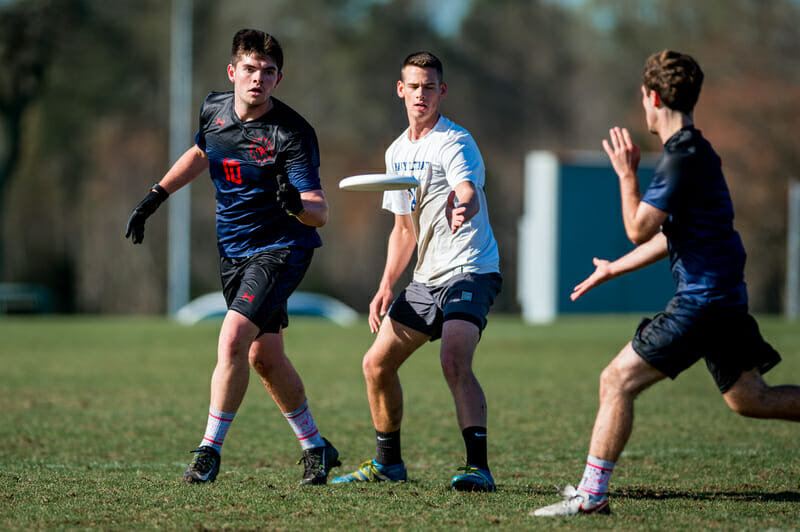 Ultiworld's reporting on the Men's division of the 2017 D-III College Championships is presented by Spin Ultimate; all opinions are those of the author. Please support the brands that make Ultiworld possible and shop at Spin Ultimate!
Pool C takes a look at one of the favorites to win it all, an all-business team that is back at Nationals after a five-year absence, a streaky No. 3 seed that could go boom or bust, and a bottom seed that has been building for this moment for years.
This is a hard pool to predict as it could easily go chalk or quickly result in madness if teams get hot at the right time. Let's take a look at who's who in this pool.
Richmond Spidermonkeys
Seeding: C1, Overall #3
Power Ranking: #10
Overall Record: 20-9
Against the Nationals Field: 2-3
Richmond was the toast of D-III early this season when they sent a resounding statement through the ultimate world with a victory over Harvard, the runner-up at the D-I College Championships in 2016. They also continued their strong play at QCTU with close games against NC State and Virginia Tech. At that point in the season, it seemed the question was not "Will Richmond win D-III Nationals?" Rather, the question was whether they could put together as dominant a showing as Franciscan's 2015 run, where they triumphed throughout the tournament with a confident swagger.
In hindsight, we can see that Harvard was not quite the team we expected and Richmond took some losses at Oak Creek Invite and DIII EastURns that proved they were, after all, mortal. Most notably was a 15-11 loss to Davidson in the final of the latter tournament. Richmond seemed to have peaked early and was being caught up to by the rest of the division.
Fast forward a month and Richmond has once more firmly asserted themselves as an alpha program not to be taken lightly. They absolutely eviscerated the competition in their postseason play, with their closest game at Regionals coming to UNC Asheville, 15-8. They handily beat Davidson 15-6 in the regional final to avenge their earlier loss. This is a team that has saved its best ultimate for last — so watch out, Pool C.
Any talk of Richmond's top players begins with Henry Babcock, one of the favorites to win the inaugural Donovan Award (he is a finalist). We all know how smooth his throws and offense are, but it should scare you that Richmond describes him as their main D-line handler.
Alongside him are Justin Keller and Chris Selwood, two handlers with quick changes of direction that can take advantage of any poor positioning from marks.
Downfield their favorite target will be Pat Murray, who brings a little flare to the field by consistently getting open deep. He will be the first to make a big layout grab for Richmond.
This team is, as the kids would say, totally lit. Yes, they've got some puzzling results in the middle of the season. But at the end of the day, this team has one of, if not the, best handler group at the tournament. They dismantled the Conferences and Regionals competition in a strong Atlantic Coast region. Expect this team to play deep into the championship bracket.
Amherst Army Of Darkness
Seeding: C2, Overall #6
Power Ranking: #11
Overall Record: 21-7
Against the Nationals field: 0-3
Amherst's results this season speak of a business-like team. After an early tournament where they went 3-4, their only losses came to some division heavyweights in Bryant and Dartmouth. In between those losses, they took down all comers with the consistency that you would expect of a Nationals qualifier. With comfortable wins over the likes of would-be Regionals challengers Brandeis and Bentley, and a competitive win over Middlebury, they've clearly earned their seed.
However, their losses to the teams above them seem to be cause for worry in terms of taking them too far in this tournament. Bryant blew them out every time they played, although it should be noted that Bryant blew everyone out. Dartmouth also nabbed a solid four-point win over them. So while Army of Darkness seem capable of taking care of business, they have not demonstrated much to indicate they will take down any of the favorites.
Zack Stern, their junior captain, will most likely be Amherst's top performer in Lexington. Like many of Amherst's best players, look for him to go both ways. His hucks will stretch defenses and his layout Ds provide the energy for that side of the disc. Look for his favorite offensive target to be Jason Darell, largely considered the team's best cutter.
Also keep an eye out for Jonathan Che, a stalwart presence on the field who can provide stability on both sides of the disc. The X-factor player for Amherst may be Fawzi Itani. His timely defensive play was one of the catalysts as Amherst carved through their Regionals pool and made it into the game-to-go. Che and Itani's ability to provide some offensive firepower after the turn is also crucial for converting blocks into breaks.
This team has the pedigree of a championship bracket team. They've got a consistent resume with the results being almost exactly what you would expect. Being mentally consistent is a necessary part of any deep Nationals run. Making sure they beat John Brown and set up a meeting with the three seed from Pool B would give them a great shot at making quarterfinals.
One intriguing storyline to monitor for Amherst is that this is commencement weekend. Many, if not all, of their seniors will leave midway through pre-quarters to head back for that. If you consider that they are unlikely to upset Richmond, Amherst would benefit from an early lead to allow Stern to carry them to that victory. A shorthanded Amherst team making quarterfinals would be a very successful weekend.
John Brown Ironfist
Seeding: C3, Overall #10
Power Ranking: #2
Overall Record: 24-7
Against the Nationals field: 1-3
John Brown, like Richmond, has been much discussed this regular season. They started the season off going deep in local tournaments, as expected, although their uncompetitive losses against Texas Tech showed cracks in the armor looking back on it.
Still, this team put together one of the best tournaments of any D-III team at Centex when they climbed out of the Silver bracket and made a run into the Championship bracket on the back of very efficient offensive play. Once there, they beat a Texas team that, while heavily limited by injuries, was still dangerous. Perhaps even more notable was a close game against Colorado State, who has proven to be a legitimate top-15 team in D-I ultimate.
The postseason, though, saw them take a significant step backwards. Their offense has been plagued by ineffective handling, an absent deep game, and an overall lack of patience. This culminated in a lopsided loss to Colorado College that knocked them into the backdoor bracket of Regionals. After going up early, they barely eked out a win in the game-to-go against Rice.
Ethan Penner and Grant Bruner are the engines of this John Brown team running the handler set together. When they are playing their best, the disc moves quickly and has strained even National-caliber defenses like Colorado College.
Downfield, Spencer Patterson and Ethan Bolthouse provide valuable release valves, as they have a tendency to use their combination of speed and jumping ability to bring down even the toughest of catches.
One of the most unheralded players on John Brown is Drew Taylor. Taylor took a year off, but was a 1st-team All-Region player in 2015 and initiated cuts on offense. He's back and leading the charge on defense this time around, taking all the big matchups on opposing teams.
If you wanted to gamble some money on a team, there's not many more high-risk, high-reward teams at the tournament than this one. Their Centex results speak to what this team can look like. They can be disciplined, athletic, and lethal. However, they just seem too streaky of a squad to really be favored over the teams above them.
John Brown also has never made the championship bracket in four previous appearances at Nationals. While this Ironfist team may have the most potential of any iteration so far, they also can be extremely unsound in how they play the game. The postseason saw handlers clogging space, cutters without continuation looks, and costly turnovers. If John Brown cannot bring the same level of focus they did at Centex, they'll find the trip to consolation bracket a familiar walk.
Army West Point
Seeding: C4, Overall #15
Power Ranking: unranked
Overall Record: 20-7
Against the Nationals field: 0-0
Army is basking in the glow that is their first trip to Nationals. After an up and down season, this team finally put it together for a 14-game win streak to send them to Nationals. Unfortunately, they don't have a lot of connectivity with anyone in the Nationals pool, so trying to do any kind of comparative analysis is a bit hard.
One thing we can predict for sure: there's nothing scarier than an athletic fourth seed who knows they're playing with house money. This Army team has been on the rise in the past few seasons and their hard work finally earned them a trip to the Big Show. They won't be waiting until next year to make an impact when they can start spoiling people's weekends this year.
Hunter Hill is the primary handler for the Army offense. Hill is steady and will provide valuable resets and smooth break throws. Downfield, Ian Betzel is his favorite target. This speedy cutter dominates the middle of the field and will be looking to put up continuation hucks to Montana Bilger — an imposing target who is Army's go-to deep threat.
Most of those players will likely find themselves playing defense at some point this weekend, but the real workhorse for the Army defense is Mitch Smith. If anyone will make a big defensive play, it is him. After the turn, he's also a capable D-line handler. His ability to marshall the defense and score breaks will be the key to take pressure off of Army's key offensive players as the games unfold.
This is a team that will make life difficult for people. The lack of big-game experience is reason for concern, though, as every other team in this pool has seen multiple Nationals contenders during the season. They could have a hard time bringing home wins against the more experienced teams in this pool. Also, keep an eye out to see how coming off a week of intense training and exams will affect Army's legs in their final game against John Brown, which will likely determine who moves to prequarters and who goes to consolation bracket.
Predicted Finish
Richmond
Amherst
John Brown
Army