Round three should be a blast in Pool A.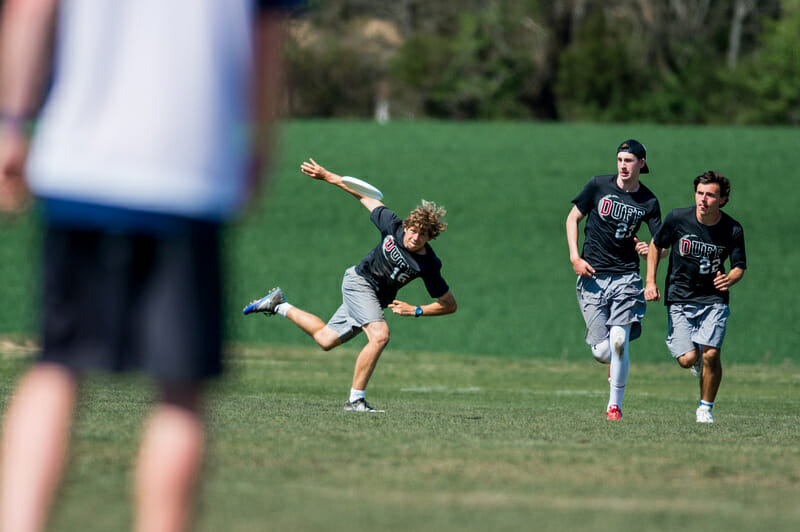 Ultiworld's reporting on the Men's division of the 2017 D-III College Championships is presented by Spin Ultimate; all opinions are those of the author. Please support the brands that make Ultiworld possible and shop at Spin Ultimate!
Of all the pools at Nationals, Pool A appears to favor its one seed the most. The format of the pool, with a last round bye, means that there will be very little time between games for teams to make adjustments. Arguably, the most critical games for each team will be played in the third round, as Bryant squares off with Davidson and Portland plays St. John's. Those two games will go a long way toward determining how Pool A shakes out.
Every team in the pool come in with something of a chip on its shoulder. Bryant Craze has perennially attended Nationals, but have never won a national title. Davidson DUFF heads to Lexington after a notable absence from Nationals in 2016, failing to secure a third bid for the Atlantic Coast. Newcomer Portland Uprise comes in as a relatively unknown entity on the national level, having not yet faced any of the East Coast or South Central legacy programs. St. John's, like Davidson, fell short of Nationals last season and comes in as a fourteen seed with something to prove this season.
It's a classic sports story: a pool with a team looking to finally clinch a title and three upstarts who've been absent from Nationals for at least one season.
Bryant Craze
Seeding: A1, Overall #1
Power Ranking: #4
Overall Record: 18-0
Against the Nationals field: 4-0
On paper, Bryant Craze is the favorite to take the pool and it would be reasonable to expect to see them deep in the bracket on Sunday. They have plenty of momentum, coming into Nationals undefeated so far this season.
In what is becoming typical Bryant fashion, they claimed a bid at Regionals by putting on an untouchable performance from start to finish — despite not playing enough games during the regular season to earn a bid for New England. Their tightest game was a 13-7 win over Colby. That's an incredibly solid run for a team coming out of one of the deepest regions in the country.
At the core of Bryant's identity is the belief that they are the most athletic team in the division and they can overpower any opponent — their Nationals bio claims that they "lift with chains." The top seed has found a winning formula by running athletic zone looks and striking hard for the end zone on a turn. But they better be fit, for a team of 18 players isn't a large roster to compete with on the national level. Craze combine the athleticism of their players with a tremendous amount of experience at their top end; seven of their eighteen are seniors and another one is a graduate student. Donovan nominee Jacob Garfinkel has helped set the tone for Bryant's athletic identity, having helped lead the program to four straight Nationals appearances.
The chip on Bryant's shoulder doesn't just stem from not yet achieving a finals berth. They are a team that perennially "steals" a bid out of New England and have yet to deliver on their appearance at Nationals with a title. They have not faced any programs outside of New England this season, so it's hard to judge how they'll measure up later in the tournament. They also have a target on their back as the one seed at the tournament. Pool A will be a key first step on the road to Sunday. If Bryant hopes to sustain their momentum into Sunday, they will have ample opportunity to ramp up their weekend over the course of pool play as they face Davidson last on Saturday. Bryant is the favorite to earn a bye into quarters, and they will have to follow through on their belief in their program to capture the magic of a national title.
Davidson DUFF
Seeding: A2, Overall #8
Power Ranking: #8
Overall Record: 21-13
Against the Nationals field: 4-1
If there's a team in Pool A capable of sending Bryant into prequarters, it's Davidson DUFF. Davidson's roller coaster of a season has brought them back to Nationals for the second time in program history, this time with Ken Porter and Eric Hillis (Austin Sol) at the coaching helm.
If there's one word to describe Davidson so far in the postseason, it's balance. Davidson is a deep team that isn't too top heavy. Their developmental approach to the fall and spring concealed their true capability as a Nationals-caliber team. "We feel that we have one of the deepest teams in the nation and one of the strongest coaching teams in D-III," commented team captain Chris Johnson.
Trust plays a big part in how Davidson's systems run. Their horizontal offensive sets require the right timing for initiating and continuation cuts. Davidson has transitioned into a team centered on person defense over the past few seasons and have not been afraid to apply pressure directly on the mark.
What may prove to be Davidson's true X factor against Bryant is energy. Davidson feeds off of a rowdy and loud sideline, comparable to UNC's towel/noodle squad and Auburn's Hank Womble effect. Wielding a variety of props and feline oriented cheers has become the cornerstone of Davidson's positive energy, and it has served them well this season.
Regardless of how their final game against Bryant goes, Davidson sits as a convincing No. 8 seed with the potential to reach quarters. Their return to Nationals this season was never a convincing certainty — their poor opening performance at Queen City Tune Up in 2017 gave no hint of the success they ultimately had later in the season — but since March, Davidson has more than proved they belong, convincingly showing they were the second best team in the Atlantic Coast. Commenting on what factors set DUFF on the path to Nationals, Chris Johnson cheekily commented in a typically Davidson reply, "Revenge for the Warriors losing in the NBA Finals last year."
Portland Uprise
Seeding: A3, Overall #12
Power Ranking: Unranked
Overall Record: 18-5
Against the Nationals field: 0-0
At the beginning of 2017, if you asked us who would make Nationals out of the Northwest, the answer would have probably been Lewis & Clark. No one could have guessed that Portland Uprise would come roaring into the picture and take the auto bid to Nationals.
While Portland has not been on the radar much until this season, Nationals has always been the goal for the small school. Coached by Chris Hancock and OSU/Rhino force of personality Timmy Perston, Portland has had a long, eight-year journey to a Nationals berth. At Regionals they played a solid weekend with their only loss coming to Lewis & Clark in the round robin pool play format on Saturday.
Uprise are a team surrounded by question marks; Portland has not played any East Coast programs and comes into Nationals with the goal of making as big a splash as possible. The opportunity to do so will likely come during their games against Davidson and particularly St. John's. The final round of pool play could very well turn into a must win game for Portland if they hope to make a prequarters appearance Saturday afternoon.
"We haven't played another team in this tournament this year and are hoping to use that to our advantage," stated Duncan McNally.
St. John's BAM
Seeding: A4, Overall #13
Power Ranking: #16
Overall Record: 21-4
Against the Nationals field: 1-1
St. John's may come into Pool A as the thirteenth overall seed, but from all appearances, they may very well be the most dangerous bottom seed in any of the pools. This is a program with a history; they qualified for Nationals for three straight seasons from 2010-2012, with their most recent appearance coming in 2014.
St. John's record from this season includes a solid performance at D-III Midwestern Invite, where they eventually lost to Colorado College 15-11 in quarterfinals with a short roster. Like Bryant, St. Johns comes into Nationals with an undefeated record in the Series so far. They notched two wins over Carleton GoP in the finals of both Conferences and Regionals to return to Nationals after a two-year hiatus.
Lefty Charlie Schuweiler has been the fuel firing St. John's' offense along with cutter Tyler Myer. Complementing their horizontal offense, St. John's has found success running zone looks, and despite at times lacking the polish of the top dogs in the pool, they are more than capable of putting runs on teams.
St. John's certainly takes on the look of a wolf in sheep's clothing. It would be a mistake to write off the possibility of knocking off Portland, and in the right circumstances, putting a run on Davidson and Bryant. With a first round matchup against Davidson Saturday morning, St. John's will have fresh legs to throw at DUFF. Schuweiler and his squad have the perfect opportunity to set the tone with an upset and create the opening they'll need to get into the bracket.
Predicted Finish
Davidson
Bryant
St. John's
Portland