We rank all 16 women's teams in terms of how likely we think they are to win this year's national championship.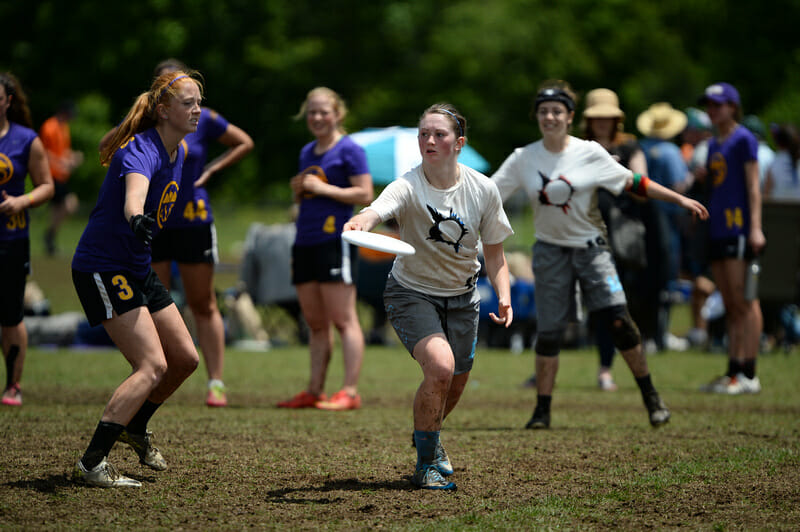 Ultiworld's reporting on the Women's 2017 D-III College Championships is presented by VC Ultimate as part of their season-long support of our women's coverage. All opinions are those of the author. Please support the brands that make Ultiworld possible and shop at VC Ultimate!
The Division III College Championships began in 2010, making them twenty-six years younger than the Division I College Championships. This age gap helps to explain some of the kinks that the D-III Championships are still working out as the division grows and changes.
One such kink is the USAU ranking algorithm. Jesse Moskowitz reported in 2015 that the D-III bid allocation was misrepresentative of the relative strength of teams and we feel similarly today. There is so little connectivity in D-III that it is difficult to trust in the algorithm's ratings. Teams get rewarded for playing at less competitive local tournaments, but penalized when they play tougher mid-level D-I teams.
Thus, this Nationals preview will go slightly off script. Instead of following the USAU seedings and giving previews of the four pools, we instead predict the final results, based off of regular season performance, teams' feedback from who they played, and our knowledge and familiarity with the division as former players.
In D-III, playing time is everything. Several teams roster athletic rookies who have never touched a disc before and have a lot to learn. The more competitive experience a team can get these rookies before Nationals, the better chance that team has to succeed. Thus, we weighed how many games each team played and who their opponents were more heavily than the results of those games alone.
Tournament Profile
Date: May 20-21
Location: Lexington, KY
Weather: Hot and humid, mostly high 70s, showers on Saturday and thunderstorms expected Sunday
1. Williams LaWUFA
Seeding: A1, Overall #1
Power Ranking: #2
Overall Record: 26-1
Against the Nationals Field: 9-0
Williams comes in to D-III Nationals with a target on their back. The No. 1 seed has played a whopping 27 sanctioned games, the second most of any team coming into the tournament, and has lost just one of those games. And this experience is not just against local New England competition. During the regular season, Williams drove all around the eastern half of the country, competing against top teams in New Jersey, Georgia, Virginia, and of course Massachusetts. Williams is fired up from beating Carleton and Bowdoin twice each this spring. A team with high endurance, their ability to come out strong and keep pushing for the entire game is one of their greatest strengths.
Williams LaWuFa will be bringing a full and healthy roster of 23 players. They will be missing standout sophomore cutter Caroline Weinberg on Saturday, but thanks to their first place seed and the capricious USAU seedings, Williams is expected to sweep their pool. They will play Haverford, Georgia College, and Wesleyan — all of whom are in the bottom six of this list.
This team is deep, an impressive achievement that allows them to leverage their large roster. While they may spread playing time around on Saturday, Williams will be sure to get several reps in for senior handlers Amy Rosten, Christine Reed, and Lane Davis. Haley Lescinsky continues to dominate both on unders and deep cuts. Lecinsky's playing style is complimented by cutter Emily Hoyt and freshman Casey Phalen. Handler Mia Wang will be looking to send these cutters deep as she fires out beautiful huck after beautiful huck. Without a coach, Williams plans to guide themselves to their first ever national championship.
2. Truman State TSUnami
Seeding: B2, Overall #7
Power Ranking: #9
Overall Record: 16-6
Against the Nationals Field: 0-2
If there's one word to describe Truman State TSUnami's regular season, it might be "exposure." Thanks to the amount of playing time the team shared around throughout the spring, younger players will head to Lexington prepared for the mental and physical demands of the championship tournament. By giving early opportunities to their underclassmen to step up and produce for the team in games against the likes of Kansas and intra-division rivals Valparaiso, Truman State has nurtured and grown their talent and athleticism, which can help explain their solid but not outstanding 16-6 record.
With 22 ladies expected to take the line for Truman State this weekend, teams like Valparaiso and St. Olaf –who both managed to knock off TSUnami earier this season — should adjust their expectations from the regular season and not underestimate TSUnami's ability to play their way into the heart of Sunday's bracket.
In addition to the developing skills of younger players, older, club-experienced players like tenacious Donovan finalist Emilie Willingham, strategic Callie Warren, and athletic Haley Johnson will make Pool B the pool to watch on Saturday. The first test for the team will be in how they handle their opening match against Catholic; watch for them to focus on playing efficiently near the end zone and to break out an intense zone if the situation calls for it.
While Truman State will have a tough time making it out on top of the pool thanks to the presence of both Bowdoin and Puget Sound, the ability of the team to capitalize on the collective confidence of their youngest players and utilize the depth of their bench could make or break their run at the title on Sunday.
3. Bowdoin Chaos Theory
Seeding: B1, Overall #2
Power Ranking: #3
Overall Record: 15-3
Against the Nationals Field: 8-2
Bowdoin has come back with full vigor since Bates blew them away at Conference Championships last year. Ranked first in the country for D-III at one point during the 2016 regular season, in the end they did not even make it to New England Regionals. This year, they enter the College Championships as a title favorite and overall No. 2 seed.
The challenging weather of Maine has kept Bowdoin from playing in as many games this spring as they would have liked. But the games they did play all resulted in strong wins: they rolled the competition at the one-day round robin that was New England Open. While Bowdoin's only losses are to Williams and an early season loss against Amherst, a lack of varied competition could handicap this team. They have made a name for themselves among the New England crowd but they'll experience some new challenges against Puget Sound's well-practiced zone and the crazy upwind break throws that have become mainstays of Carleton's offense this year. Since they weren't at Nationals last year, they haven't been able to familiarize themselves with these varied styles of play.
Despite the intimidating threats from across the country, the captain quartet that guides Bowdoin Chaos Theory is a threat of their own. The presence of these four players and mentors bolsters the team and earns them a high spot on the list. Hannah Broos' calm and collected leadership style has emphasized developing each individual on the team. This push for depth enables Chaos Theory to have the endurance to persevere through every game. Kate Powers makes an impact on both sides of the disc: her deep defense dominates and her throw-and-go with the handlers consistently sets up a fast break. Sophomore Emma Landes has stepped up for Chaos Theory in the handling position and senior Casey Krause is key to the defensive systems Bowdoin runs.
This team is scrappy and disciplined, looking to go far in Lexington after the disappointing end to their 2016 season. To overcome their uphill climb in Pool B and sustain wins over Puget Sound and Truman State, Bowdoin will absolutely have to rely on the depth they have been talking about all season.
4. Puget Sound Clearcut
Seeding: B3, Overall #11
Power Ranking: #10
Overall Record: 11-7
Against the Nationals Field: 2-2
Puget Sound has a lot of games under their belt, attending one fewer tournament than Williams, in part because they are in one of only three D-III women's regions that go through the full college Series of having both Conference Championships and Regional Championships. Clearcut has had a pretty inconsistent spring, which probably explains the No. 11 seed.
However, in D-III, it is the progress over the season that matters. Puget Sound has pushed themselves by playing a wide variety of teams — including D-I powerhouse, Oregon Fugue. The only team they played more than once this spring is their regional rivals at Portland. At the very beginning of the season, in January, Portland beat Puget Sound 11-9. At Northwest Regionals, Portland beat Puget Sound 12-9 in pool play, but the final went the other way, 11-8. This last game was a strong factor in Clearcut's higher ranking. In this game, UPS showed off both their depth and the hard work they had been putting in all season. In addition to the late win over Portland, Puget Sound's resume has an 11-9 win over Carleton from February during a stormy Stanford Open.
UPS Clearcut will need to keep up this momentum in order to succeed at Nationals. They are unfortunately in the "Pool of Death" that is Pool B with Truman State and Bowdoin, although all three teams could and may still proceed as far as the semifinals.
In the past, Puget Sound has struggled with consistency but captains Ellie Engel and Ellen "Cady" Kalenscher should be able to step up and lead the team through their tough pool play games. A coach of another Northwest team remarked that, "Ellen Kalenscher is a beast and is a huge standout, she is difficult to stop." Alongside that duo, look for Sarah Davidson on defense, a player who plays with incredible spirit and passion and puts her body on the line every point. On offense, if Jane Marie Gunn can continue to school and sky defenders, then Clearcut should succeed against Bowdoin's dominant captains and disciplined squad.
5. Carleton Eclipse
Seeding: C1, Overall #3
Power Ranking: #4
Overall Record: 17-6
Against the Nationals Field: 1-3
Carleton Eclipse is one of the teams that has been integral to building D-III Women's, having made appearances at every championship from 2011 onward. This year they return to make a run at matching their incredible national championship victory over Rice in 2016, after arriving at the tournament as the No. 8 seed.1 This year, the odds are a bit more in their favor, but that has never stopped Eclipse from focusing on improving their strategy and mental game.
This postseason, they've taken advantage of learning and winning in the moments where it truly counts. After losing to Grinell 11-10 during the first day of North Central Regionals, Carleton played the game their way in the Regional final rematch, capturing a 12-7 victory.
Carleton Eclipse captains Leah Roche and Haley Olson are two very talented players whose skills have inspired many a college captain's practice plans for defensive strategy. Additionally, with the speed and disc skills of players like Jill Banner and Abigail Polk, watch for Carleton to create continuous movement on offense. Freshman Nora "Tall Nora" Mertz, a soccer convert, has been a cutting machine for Eclipse, getting open with remarkable frequency. On defense, Abigail Herscovici leads with intensity and a refusal to give up.
Coming out on top of Pool C should be well within Carleton's reach by utilizing the depth of their 19-strong squad. The real test will come if they have the chance to face Bowdoin, Puget Sound, or Williams in bracket play; between the two of them, UPS and Williams have handed Carleton half of their losses this season. It will take all of the mental tenacity and cool handling Carleton can bring to the table this weekend to take down Clearcut, LaWUFA, or both on the way to returning home with the title.
6. St. Olaf Vortex
Seeding: D1, Overall #4
Power Ranking: #1
Overall Record: 13-8
Against the Nationals Field: 1-1
How many teams can grind through eight games in a weekend and still find success? This year, the distinction belongs to the women from St. Olaf, who finished second in the North Central to Carleton. This small but intense squad is proud to make the return to the Nationals stage. Even with the graduation of nearly half of last year's team, Vortex has put the region and the division on notice with their significant regular season win against Truman State at Midwest Throwdown, though they did suffer an 11-9 loss to Carleton at Regionals.
St. Olaf has spent the last month before Nationals preparing to bring a variety of defensive pressure to Lexington this weekend, anchored by captain Emily Verticchio's leadership. On offense, watch for the break throws and hucks from Sami Peterson to make plays and gain ground on their opponents. One of the biggest question marks for St. Olaf coming into the weekend is whether their legs will be able to keep up with the mental abilities, with only 14 players expected to make the trip.
Also critical to their chances in taking down Portland and Bates to remain on top of Pool D — and another question mark — is the ability of Donovan Award finalist and all-around phenom junior captain Tulsa Douglas to play; as of writing, her timeline for returning to the field following a knee injury is uncertain. Missing the player who threw the second-most assists at Nationals last year could very well spell doom for St. Olaf's chances at making it beyond quarters on Sunday.
7. Portland UPRoar
Seeding: D2, Overall #5
Power Ranking: #7
Overall Record: 17-4
Against the Nationals Field: 2-1
Portland is one of the newest teams to the Nationals stage. In stride with the rise of college graduates headed to the city, the women's ultimate scene has grown rapidly. Multiple players on Portland UPRoar have club experience and their prime location also means three coaches have dedicated themselves to the team's growth this season.
As a first timer to Nationals, Portland has only competed within their Northwest region, beating local teams at Flat Tail and PLU BBQ. They averaged a tournament a month, getting consistent growth for their rookies and developing team chemistry and systems. We chose to bring Portland down two spots from their seeding, despite their strong record, because many of their wins are against the same teams. This team are certainly capable of making waves at Nationals; they are expected to finish second in Pool D with St. Olaf and Bates. But depending on how the weather, new time zone, and the Nationals hype affects each team, Portland could come out on top or fall.
UPRoar is a smaller program and 16 of the 19-member roster are traveling to Kentucky. In addition, Portland is unique in that they had graduation early — the first weekend in May — which means Nationals will be the first time the full team will have played together since April. No matter, Portland will look to their captain trio to rally the troops. Demri Horton, Makena Strand, and Maddy Otto have consistently led the charge on both sides of the disc for UPRoar. As an opposing coach said of Horton earlier in the season: "Demri Horton is a real difference maker, she must be accounted for at all times when we play against Portland. She is a shutdown defender, a great heads-up player, and facilitates their offense through a central handler role."
8. Bates Cold Front
Seeding: D3, Overall #9
Power Ranking: #6
Overall Record: 12-6
Against the Nationals Field: 1-3
Hailing from the ever-deep New England region, Bates Coldfront has benefited from the proximity and connectivity of top teams to post a solid regular season record, playing nearly twenty games since February. They've demonstrated the ability to make changes to their game and utilize rookies like Madison Liistro and Grace Warder to help get wins, evidenced most recently when they avenged a pool play loss to Amherst at Regionals with a satisfying Sunday win to take the fourth and final bid to Nationals.
Injuries and missing players will most likely hamper Bates from venturing very far into the championship bracket, but the 15 ladies and their coaches arriving in Kentucky this weekend are more than ready to show off their hard work on the field. They'll need all of their energy and tenacity because Pool D will bring stiff competition from a tested St. Olaf and Portland ready to prove themselves, showing off the kind of ultimate played out in the North Central and Northwest regions respectively.
With two years on the team under her belt, sophomore captain Josie Gillett is primed to improve upon her tournament leading 39 assists as a freshman. Although it's unlikely to see Bates finish first or even second in pool play, as long as they don't fall to last place, the determination of this team could very well see them through to quarters in bracket play.
9. Haverford Sneetches
Seeding: A4, Overall #13
Power Ranking: #15
Overall Record: 12-10
Against the Nationals Field: 2-3
Haverford will be looking to continue their hot streak from Ohio Valley Regionals, a tournament in which they won all five of their games thanks to rock-solid team chemistry, offensive flow, and energy. In their first appearance at Nationals since 2014, this will be a brand-new experience for a large portion of the attending 18 players and a reintroduction to teams outside of the East Coast and Midwest portions of the country.
If Haverford can utilize the speedy cuts of Charlotte Edelstein and Opal Bednarik, and make smart choices in looking to and capitalizing on deep threat Kendra Griesman (the lone freshman on their roster this weekend), the team will have a chance to make it to bracket play over Wesleyan and Georgia College. It is unlikely Haverford will take Pool A against top dog Williams; Haverford came out with losses against high-level teams like Bowdoin and LaWUFA early in the regular season. All-around stand-out player and Donovan Award finalist Zoe Lewis can lead the team to rewrite the script against the top of the division.
10. Mount Holyoke Daisy Chain
Seeding: C3, Overall #10
Power Ranking: #12
Overall Record: 13-9
Against the Nationals Field: 0-6
Mount Holyoke Daisy Chain brings a winning season record with them to Nationals, along with the strategy to bring take home more wins by the end of Sunday. While not playing at the caliber of regional rivals Williams or Bowdoin — teams that have demolished Mount Holyoke by ten points or more four times this season — the ladies from South Hadley, Massachusetts come with a deep bench, a coach, and most importantly, offensive patience.
On offense Molly Morgan and Sophey Dong have lead the team with throws and cuts that are timed and calculated for the best chance of completion and continuation. This is a trait not always seen in a division where anxious handlers often like to let the hucks fly. Pairing with this steady offense is the defensive strength and grit brought by the likes of Hannah Finn-Erb and Abby Cough. These two demonstrate the Daisy Chain values of playing smart but hard defense.
With nearly 20 players expected to play in Lexington this weekend despite conflicting with graduation, Mount Holyoke is ready to put on a show of what teamwork and a clear system can bring. Expect to see them play their way out of Pool C, trailing behind Carleton and most likely above Valparaiso, by demonstrating their core values of disc possession and effective throws. However, the true measure of their growth this season will be if Daisy Chain makes it deep enough in bracket play to face off against their formidable intra-region opponents in either Williams or Bowdoin, potentially as early as prequarters.
11. Catholic Nun Betta
Seeding: B4, Overall #14
Power Ranking: Unranked
Overall Record: 15-10
Against the Nationals Field: 0-0
Catholic is the most deserving of the title of darkhorse for the D-III Championships. Despite a busy regular season, they completely flew under our radar. Catholic put up a solid fight against D-I teams like University of Maryland, James Madison, and Princeton during the regular season and then rolled the competition at the Atlantic Coast Conference Championships before playing a very tight 10-9 game against UNC-Asheville on Sunday. Catholic is used to being the underdog: at Commonwealth Cup they were the No. 26 seed out of a field of 32 teams and finished 15th.
Unfortunately for Catholic Nun Betta, they are welcomed to their first College Championship weekend by being seeded in our Pool of Death, Pool B. It is unlikely they will be able to displace Truman State, Bowdoin, or Puget Sound to be able to continue on to the championship bracket; however, mental toughness is everything in D-III so we won't count Nun Betta out yet.
Those following the Donovan Awards they will have seen the speedy cuts of Catholic's captain Grace Castro, who specializes in breaking ankles with her quick change of direction. Catholic uses a vertical stack to give handlers room to throw and go. This also creates space for Laurel Van Scoy to shoot her backhand hucks. On defense, Bridget Finnell shuts down opposing handlers while Christine Tomasic generates blocks downfield.
This team has worked hard all season bringing consistent, positive energy. From the sound of it, Catholic is more surprised than anyone at their bid to Nationals. Hopefully, there will be more surprises to come and the team can break seed hard on Saturday.
12. Wesleyan Vicious Circles
Seeding: A2, Overall #8
Power Ranking: #13
Overall Record: 12-0
Against the Nationals Field: 0-0
Wesleyan comes into the tournament undefeated, but having played by far the fewest number of sanctioned games. Wesleyan's only regular season tournament was High Tide, an unsanctioned four-day tournament during spring break. But through Conferences and Regionals, the team beat out all the other Metro East competition to get to Nationals, including an exciting double game point win over SUNY-Geneseo in the final. While Wesleyan has seen far less competition than its counterparts, the team comes from a solid program with both an A and a B team and practices three to four times a week.
Eighteen players will be attending Nationals for the Vicious Circles. Freshman Syd Taylor-Klaus, a product of high school powerhouse Paideia, has been a huge asset for Wesleyan, thanks to her wealth of knowledge and downfield playmaking ability. Chi Chi Wakabayahi's upline cuts and break throws have been terrorizing marks all season. Senior Tessa Hill had the second most goals at Nationals last year and will be a threat to get into the endzone every time she's on the field.
As a team, Wesleyan emphasizes its depth and developing strong cohesion both on and off the field. They will have to draw a lot of strength from this cohesion in order to beat Haverford for the second spot in Pool A on Saturday.
13. Valparaiso Chicks Hucking Discs
Seeding: C2, Overall #6
Power Ranking: #8
Overall Record: 15-3
Against the Nationals Field: 1-0
While Valparaiso started their competitive season a bit later than other teams — their first tournament was the last weekend of March — they were worth the wait. The team has a solid 15-3 record, including a win over Truman State, that helped get them the No. 6 seed at Nationals. However, seven of Valparaiso's wins come from their Great Lakes Conference Championships, where their closest score was 13-6. In addition, Valparaiso's win over Truman State was against a team missing half their roster and most of their starting line.
The main reason we have placed Valparaiso so much lower in our predictions, though, is because only seven players from their 22-player roster attended Nationals last year — the vast majority of this squad are rookies. On top of that, Valparaiso drew the short straw for graduation dates and will be missing some top seniors. That includes captain Mackenzie Allen and Jordan Bauer. Allen and Bauer have an incredible on-field chemistry and their give-and-go flow has been a potent weapon this season. The absence of Jordan Eissner and her handblocks will also hurt Valparaiso's defense.
Freshman Megan Barth's athleticism and field awareness has made her a key cutter. Serena Badgley busts her butt in every point she plays. This team is certainly expected to make the Great Lakes proud and out-perform on Saturday in pool play –especially since they have the gift of being in Pool C alongside Mt. Holyoke and Lehigh — but Barth, Badgley, and their fellow underclassmen will have a big shoes to fill on Sunday.
14. Lehigh Gravity
Seeding: C4, Overall #15
Power Ranking: Unranked
Overall Record: 15-15
Against the Nationals Field: 0-4
Lehigh is another team that will bring with it more rookies than returners to take to the fields in Lexington. In the team's return to Nationals after missing out in 2016, Lehigh will call on all of their players to contribute on the field. This tactic held Lehigh in good stead to overcome the favorite, Oberlin, en-route to finishing second in the Ohio Valley. However, if their performance at Regionals is anything to go off of, Lehigh was thoroughly outclassed by Haverford 15-4, demonstrating that this young team isn't quite ready to ascend to the top of the division.
Of their 19-strong roster this weekend, it will be worth keeping an eye on standout handlers and pair of captains Lindsay Levin and Juliet Chung. Also with the chance to make a name for themselves and their team are up-and-coming rookies Alexa Herzog and Lexi Meisse; look for them to be on the field wherever needed. Veteran players Madison Cannon and Kelly Skewis will also continue supporting the team with rock-solid play alongside the other experienced players.
These older players will hope to keep Lehigh's chances alive as they lose Donovan Award finalist Levin for Sunday when she leaves for graduation. Beyond individual athleticism and talent this year, Lehigh's tournament experience will depend on how well the team of fresh and seasoned players have developed their chemistry and timing with one another in the handful of weeks since Regionals. If they're able to find their groove, Lehigh could end up giving Valparaiso or Mt. Holyoke a challenge for the final spot into bracket play out of Pool C. At an incredible 30 sanctioned games to Valparaiso's 19, this team could knock them out of the pool.
15. Claremont Greenshirts
Seeding: D4, Overall #16
Power Ranking: Unkranked
Overall Record: 5-10
Against the Nationals Field: 0-0
Claremont enters Nationals representing the Southwest, the smallest D-III region. This means that Claremont gets great exposure from playing primarily against top D-I teams like UCLA and UC San Diego. But it also means there are fewer tournaments available for the team to compete at. Claremont has struggled this season with some tough losses to teams that their Nationals counterparts have been able to beat handily, such as Lewis & Clark.
Captains Rose Soiffer-Kosins, Sharon Huynh, and Brynn Arborico all cut for the team and are the top receivers for Claremont. This spring, sophomore Rebecca Wainess has stepped up in a big way, taking command in the handler position and sending players deep with her hucks. Unfortunately, as in years past, the Greenshirts have sustained several knee injuries that are hampering players like Nancy Karreman and freshman standout Emma Duchin. This year, Claremont welcomed in a large rookie class; Nationals will be a brand new playing experience for many of these young players to build on beyond 2017 for themselves and their program.
16. Georgia College Lynx Rufus
Seeding: A3, Overall #12
Power Ranking: #21
Overall Record: 9-6
Against the Nationals Field: 0-0
Another team that exists in a smaller D-III ecosystem and spends much of their season getting experience against in-region D-I teams when possible, Georgia College is best known within the division for an intensity of spirit in their play and competition. Katherine Yost, Morgan DeMell, and Lindsey Moon will look to efficiently and cleanly play their offensive sets paired with sure-bet throws. With only two lines worth of players expected this weekend in Lexington, the question is how long Georgia College will be able to run their team's effective zone defense before their legs give out. They match up with Haverford and Wesleyan in the back end of their schedule, and their endurance will be tested.
Beyond winning Rip Tide and getting wins against teams such as North Georgia at their D-I Conference Championship, Georgia College has a long way to go before they'll provide much of a challenge to dominant division teams like Williams or Carleton.
This weekend, if the team can avoid additional injuries, in particular the concussions that have plagued the squad over the season, and keep up the mental toughness and spirit all weekend, the Lynx Rufus squad shouldn't be discounted from bringing some surprise excitement to their pool.
---
Editors Note: Another example of why this guide is helpful. ↩