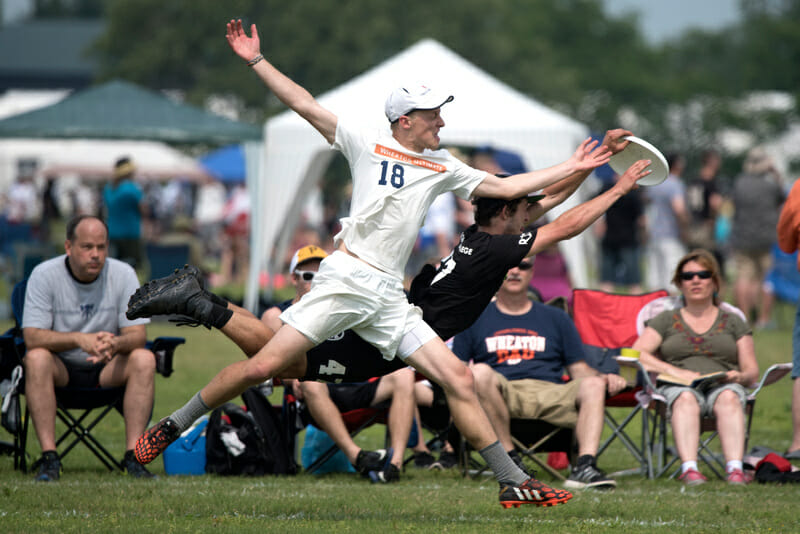 Ultiworld's reporting on the Men's division of the 2017 D-III College Championships is presented by Spin Ultimate; all opinions are those of the author. Please support the brands that make Ultiworld possible and shop at Spin Ultimate!
Coming into Nationals, the forecast for the weekend was ominous. Saturday's forecast showed storms coming in late in the day, and the Sunday forecast called for a high chance of thunderstorms throughout the day. Due to the impending weather, USA Ultimate announced Saturday morning at the captain's meeting that they would very likely eliminate prequarters and instead have the top two teams in each pool advance directly into the quarterfinal round, to be played on Saturday afternoon.
USAU made the decision to officially eliminate prequarters at 12:30 PM. In order to make quarterfinal matchups fair and avoid unmatched byes, pool play round times also needed to be rearranged. Originally, Pools B and C were scheduled to have third round byes, and Pools A and D were set for fourth round byes. Because the matchups in quarterfinals were between Pools A/B and C/D, USA Ultimate switched the byes for Pools B and D so that quarterfinals opponents were on the same schedule. While this forced teams to scramble and adjust their preparation a bit, it should be noted that USA Ultimate was transparent and communicative with teams through this entire process.
The alterations to pool play gave more games an elimination feel. Here's a breakdown of what happened in pool play on Saturday at the Division III College Championships.
Pool A: Davidson (3-0), Bryant (2-1), St. John's (1-2), Portland (0-3)
Pool A was the tale of two tiers of teams. It became very apparent after the very first round of pool play that Bryant Craze and Davidson DUFF were on an entirely different level from the rest of the field. The change of the format eliminating pre-quarters essentially sealed the fate of Portland and St. John's in the first round, with both team dropping big losses to Bryant and Davidson, respectively. Davidson's offensive consistency, powered by freshman Andrew Roy, was impossible for Portland or St. John's to disrupt.
The true test for Davidson came in the third round of pool play against Bryant, who were also coming off a very successful morning against the lower seeds. There couldn't have been two teams with a greater contrast in styles; the chain-lifting goon squad fielded by Bryant against the system-oriented, balanced, and light-hearted Davidson.
The first point between the two teams set the tone for the game. Bryant started on defense and immediately set their trademark zone. Roy and Davidson's offense worked patiently against Bryant's zone for a collective seven minutes during the first point for a hold. Bryant quickly encountered another problem; they could not execute their offensive game.
Bryant had thrived during pool play by isolating one-on-one matchups in the deep space and relying on captains Jacob Garfinkel and Carson Jack to snipe hucks to open matchups. Garfinkel struggled to find his rhythm in the first half; Davidson, on the other hand, found its offensive form and simply didn't allow itself to be intimidated by Bryant's army of athletes.
At 3-1, Davidson once again marched the disc through Bryant's zone, convincing Craze to play person defense for the first time in pool play. DUFF was in control of the game from start to finish and won the game 11-6 to set themselves up for a quarterfinals matchup against Wheaton. Bryant, on the other hand, would have to face the winner of Pool B, No. 1 seeded Franciscan Fatal.
Preparation was the key to Davidson's success this weekend. Assistant Coach Eric Hillis (Austin Sol) took time to drill Davidson's offense into playing against Bryant's zone and was very satisfied with Davidson's offensive performance throughout the day. "We have a very deep team and a very smart team," he said after the game. "Bryant played really well. You have to play very good defense to make an offense play seven minutes."
In hindsight, it was not surprising to see Pool A largely match expectations. St. John's and Portland couldn't quite shake things up. While St. John's Charlie Schuweiler certainly had some impressive highlights against Davidson and Bryant, St. John's supporting cast of players simply couldn't deliver the level of performance the team needed to challenge the top seeds in the pool. St. John's would take the third round game against Portland 13-6, finishing third and positioning themselves for a higher finish in consolation play.
Pool B: Franciscan (3-0), Wheaton (2-1), UNC Asheville (1-2), Colorado College (0-3)
On a day where many teams had their season ended earlier than expected due to the format change, Pool B proved to be more excruciating than most, with two underdogs being pit against each other to keep their seasons alive despite already registering major upsets.
The one team in the pool who left no doubt about their standing going into bracket play was the top seed in the pool Franciscan Fatal. Led by the dynamic duo of Dominic Schuster and Stephen Babcock, Fatal rolled through all three of their games en route to a perfect 3-0 record. A tough first half against Wheaton in the first round gave way to a dominant second half from Fatal, who went on to win 15-9.
"We had some jitters in the first half and some bad throwaways," said Franciscan's head coach Alex Renn. "We felt in control the whole game though and dialed it in for the second half."
Franciscan kept their momentum going in their second game as they easily handled the UNC Asheville Bulldogs 15-8. Due to results elsewhere in the pool, Fatal clinched first with this win. Through the first two games, the duo of Schuster and Babcock combined for seven goals and 23 assists and looked like the most potent duo in the tournament. Despite the game having no meaning, Franciscan finished off pool play with a 15-9 win over Colorado College.
Speaking of Colorado College, the most disappointing performance of the day has to be attributed to Wasabi. Entering the tournament as the seven seed and having spent most of the season in the top five of our power rankings, Wasabi was expected to contend for the championship this weekend in Lexington. Instead, their season was over after the first two rounds.
Still, the first round game between Wasabi and UNCA would turn out to be one of the games of the tournament. The two teams went back-and-forth with runs in the first half, with UNCA having the last run to make it 8-5 at half. A filthy inside lefty backhand at the goal line from Bulldogs freshman Dean Merritt saw UNCA take a 9-5 lead, but Wasabi would answer with a 5-1 run of their own to tie the game at 10-10. On double game point, the Bulldogs reeling O-line composed themselves, holding for the win that sent the pool into chaos. When asked what he told his O-line before the last point, UNCA coach Kyle Silva said he told them to "just get back to Bulldog basics. When we did that, we were successful."
Having played their top guys quite a bit during their comeback in the first round, Wasabi had to find their legs to face the rested Wheaton Mastodons. The Mastodons are a big, athletic team who like to huck the disc, and they found success when teams tried to match their style of play. A tired Wasabi tried to play Wheaton's game, and their hucks lacked the crispness of the Mastodons'. Just like that, Wheaton won 12-9, and Wasabi's season was over.
While Wasabi's opponents certainly earned their wins, it should be noted that Colorado College were missing all but one of their seniors due to conflicts with graduation. "We pride ourselves on our depth, and we expected our depth to step up," said Perry Fitz, the lone Wasabi senior playing this weekend. "But we made some mistakes that we just don't usually make."
This set up a high stakes game between UNCA and Wheaton for second in the pool. The first half was a fast-paced affair, with Wheaton taking an 8-6 lead after breaking twice early. For the first time all day from any team in the pool, UNCA came out on defense in the second half playing zone. Wheaton scored, but not before a few turnovers; it was clear that Wheaton's deep game wouldn't work anymore. Two more holds would make the game 10-7 Wheaton. After another hold from the Bulldogs, the zone finally paid off, as UNCA broke to make it a 10-9 game.
Wheaton now had to march upwind to keep their lead. The Mastodons worked it all the way to about five yards from the end zone. What looked like an open goal was broken up by a huge layout bid from Asheville's Charlie Bridger, who quickly got up and ran the full length of the field to catch a huck before throwing the break to tie the game at 10-10.
Wheaton scored quickly going downwind, then immediately broke to make it 12-10 in a game to 13. UNCA marched an upwind hold, then in an incredibly bizarre moment, Wheaton's Skyler Aspegren got stalled out after catching the centering pass; UNCA punched in the break two throws later to make it 12-12 and force double game point. Both teams stacked their lines in preparation for an epic conclusion to a fantastic game.
Unfortunately for the neutrals watching the game, that epic conclusion never came. A miscommunication running down on the pull from UNCA left a Wheaton handler open for an uncontested huck. Two throws later, the game was over. When asked about what happened on that final play, Silva was just as perplexed as those who were watching. "We had to ride our big guys the last few points," Silva said. "Maybe they got tired, maybe it was a miscommunication. It's hard to say."
Wheaton finished second in the pool and were very impressive in the two wins that got them there. While Wheaton received contributions from their entire roster, the brothers of Skyler and Laramie Aspegren stood out as being particularly impressive. Skyler, one of the team's captains, was instrumental in the backfield, while Laramie provided the team with big skies and monster bids on defense. The Mastodons didn't always play the prettiest ultimate, but they earned and are deserving of their second place finish and place in the quarterfinals.
Pool C: Richmond (2-1), John Brown (2-1), Army (1-2), Amherst (1-2)
The Richmond Spidermonkeys came into Pool C as the number one seed, and their status at the top of the pool was never really in doubt.  However, it was chaos below them, as the other three teams in the pool all finished differently from where they were seeded.  
Richmond began their day with what would prove to be their toughest game, against John Brown Ironfist.  The third seed in the pool and the ten seed overall, Ironfist spent most of the regular season ranked in the top five, and they showed why by playing Richmond tough.  Ironfist registered the first break of the game, but the Spidermonkeys stabilized the ship to take an 8-6 lead at half.  From there, Richmond was able to coast to a 12-9 victory.
Richmond's second opponent was Army, the bottom seed in the pool and fifteen seed overall.  Fresh off an upset win over Amherst Army of Darkness, Army was fired up and ready to show they could keep their momentum going with a win over Richmond.  While Army's deep game kept it interesting, the Spidermonkeys clogged the throwing lanes, forcing Army out of their comfort zone and making them work the disc up the field.  In the end, Richmond was too polished, and they closed out an easy 15-10 win.  
Amherst Army of Darkness, the second seed in the pool, had a very different day from Richmond.  Due to conflicts with graduation, Amherst was left shorthanded this weekend, and it showed in their opening round loss to Army.  A back-and-forth first half saw Army pull ahead 8-6, up one break.  Army poured it on in the second half, going up 14-10 before closing out a 15-12 victory.  Amherst just couldn't recover; they went down 8-4 at half to John Brown in their second game before losing 15-10.  As soon as the decision to eliminate prequarters was announced, Amherst was eliminated from championship play.
With both teams sporting a 1-1 record, the matchup between John Brown and Army would determine who advanced to the quarterfinals.  The wind picked up a bit for this game, making it a slugfest with lots of turns. The grinding nature of the game meant that soft cap went off during halftime with John Brown up 8-4.  It was all holds from there, with John Brown's captain and Donovan nominee Ethan Penner bidding to catch the goal that sent Ironfist to quarters for the first time in program history.
Having clinched the pool, Richmond played open lines against Amherst, choosing to rest their legs for the quarterfinals. Amherst came out on top, 13-11, but still finished fourth in the pool.
Army should be proud of the fight they showed to finish third.  With only three seniors, this is a young team who should be looking to return to Nationals prepared to make an even bigger splash in 2018.
Pool D: Alabama-Huntsville (2-1), Dartmouth (2-1), Air Force (2-1), Occidental (0-3)
In easily the day's wildest pool, we saw three teams all end in a 3-way tie for first with the fourth tie breaker ultimately required to decide the final order.
Throughout pool play, Alabama-Huntsville, Dartmouth, and Air Force beat up on one another, all finishing 2-1 in the pool. Occidental, missing all of their seniors to graduation, failed to pick up a win but played close against both Dartmouth and Air Force, thanks in large part to Max Marion and Adam Grammer. Those close games proved to be the difference in the pool.
Alabama-Huntsville started off the day hot, picking up a first-round win against the pool's top seed, Air Force. Danny Yates led the way for the team, putting up five assists and one goal throughout the game along with countless big plays and break throws that kept the offense moving. Outside of Yates, Huntsville was a grinding team, working the disc through a variety of players, with none truly standing out above the rest. Air Force struggled to get intensity up throughout most of the game. The team struggled to move the disc, as Alan Villanueva had a slow start with six turnovers. Matthew Moshea picked up the slack near the end of the game, finishing with five goals. The slow start made it nearly impossible for Air Force to come back, and they fell 14-11.
Dartmouth, having picked up a win over Occidental in the opening round, took on Alabama-Huntsville in the second round matchup. Dartmouth came out firing early, working through captain Nicky Golini and Evan Rheingold. Golini put up big plays early, working hard to take away chunks of yardage underneath and making big plays downfield, while Rheingold put up big numbers with four assists and three blocks.
Thanks in large part to the use of a zone and gusting winds, the Dartmouth defense was able to hold the Huntsville offense in check, preventing many big plays. With the Dartmouth defense focusing so much on the throwing prowess of Danny Yates, Alabama-Huntsville's Wesleyan Seat took advantage, throwing four assists. Seat's effort was not enough, though, as UAH fell 11-8.
With the day coming to an end, Air Force entered the final round of Pool play at 1-1, and Dartmouth at 2-0. "We understood that we needed to win, and that the point differential had to be more than three to guarantee [quarterfinals]," senior captain Ben Protzman said. Throughout the game, we saw some of the day's most exciting one-on-one matchups. Air Force's Noa Chun-Moy, an athletic sophomore handler, matched up defensively against Dartmouth captain Nicky Golini. The two put on a show, with layouts and athletic plays all over the field.
Air Force handler Alan Villanueva also put on a show, with five assists and three blocks, including a handful of spectacular layouts. After a run fueled by big plays from Villanueva late in the game, Air Force held a three point lead and had a chance to break for the four point win they needed to clinch the pool. Dartmouth connected on a tipped huck to prevent that, before Air Force held to finish off the game, 14-11.
"The schedule change really threw us off, and we let that affect us too much," Dartmouth coach Colby Clarkson said. "Our last couple points of the Air Force game were sloppy."
In the 2-1 mashup at the top of the pool between Alabama-Huntsville, Air Force, and Dartmouth, the three teams not only had the same record but also the same point differential in their games against each other. The next tiebreaker was point differential across the entire pool, which in this case meant the teams' point differential against Occidental. With Alabama-Huntsville's 15-9 roll of Occidental, they locked up first place in the pool. Dartmouth, having defeated Occidental 12-10, took second. Air Force struggled to close out their Occidental game. After leading 8-5 at half, the team let off the gas and won by one, 11-10.
"We let up right out of half. I don't know if we got too relaxed or what, but they got a handful of breaks straight out of half," Protzman said. "We had to grind out that win in the end. We made simple mental errors, turning over resets near the endzone, and [Occidental] capitalized on them."
Ultimately, the lapse cost the team a trip to the quarterfinals, as they lost the tiebreaker on total point differential.
Additional reporting from Jacob Moore.