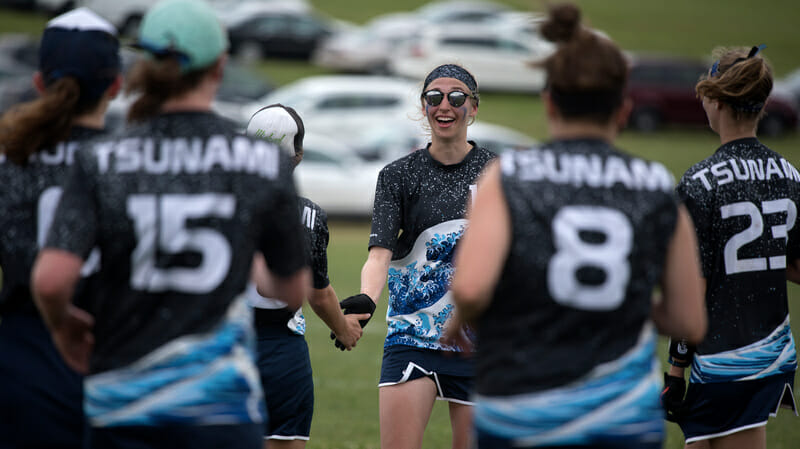 Ultiworld's reporting on the Women's 2017 D-III College Championships is presented by VC Ultimate as part of their season-long support of our women's coverage. All opinions are those of the author. Please support the brands that make Ultiworld possible and shop at VC Ultimate!
Coming into Nationals, the forecast for the weekend was ominous. Saturday's forecast showed storms coming in late in the day, and the Sunday forecast called for a high chance of thunderstorms throughout the day. Due to the impending weather, USA Ultimate announced Saturday morning at the captain's meeting that they would very likely eliminate prequarters and instead have the top two teams in each pool advance directly into the quarterfinal round, to be played on Saturday afternoon.
That change gave more pool play games an elimination feel. Here's a breakdown of what happened in pool play on Saturday at the Division III College Championships
Pool A: Wesleyan (3-0), Williams (2-1), Georgia College (1-2), Haverford (0-3)
The same depth that delivered a quarterfinals win over Truman State for Wesleyan served them well in pool play as they overcame a bumpy start against Haverford in their opening game before dispatching a tiring Georgia College and then surprising Williams in what was effectively a quarters placement game.
Lucia Salwen and Tessa Hill played great for Wesleyan, but you could say that about any number of players on the team: they got contributions from nearly everyone on the roster. Despite struggling in the red zone at times against Williams, they were never discouraged by mistakes.
Truman State's Emilie Willingham had some high praise for the Wesleyan team that knocked them out of the bracket. "They have this ability to connect and dig deep," she said. "And I think that shows the type of team that they are. They're aggressive and tenacious but not in a harmful kind of way. They have this ability to restart every point with, 'Hell yea. We're getting it.'"
Williams may have come into the tournament as the number one seed, but they were challenged in each of their games. Georgia College, led by the 5'1″ flamethrower Katherine Yost, broke early and hung around with Williams until early in the second half. Haverford played them within three. And then Wesleyan came back to upset Williams on double game point. Mia Wang was a standout handler for Williams.
Yost helped carry Georgia College to a win over Haverford, 12-6, in the final game of the day (after both teams had been eliminated from quarterfinal contention). Using precise mechanics to unleash sixty yard forehand hucks, she shone as one of the Women's Divisions most impressive players on day one. It wasn't just throws; she flashed excellent speed as she simply ran by her defenders up the line to get into power position for another big huck.
Haverford may have gone 0-3, but they were competitive in their games. Natasha Daviduke was impressive, and the team was very much in winnable games against both Wesleyan and Williams. But a tough pool didn't break their way and they rounded out the bottom of Pool A.
Pool B: Puget Sound (3-0), Truman State (2-1), Bowdoin (1-2), Catholic (0-3)
Pool B was the pool to watch this weekend as the pre-tournament selection as the 'pool of death.' With top teams Bowdoin, Truman State, and Puget Sound all forced to compete against each other for just two spots, every game was hard-fought. In addition, underdog Catholic was not going to let them get away with anything easy. The decision to get rid of prequarters was the most hurtful to the teams from this pool that had worked hard to make themselves stand out from the D-III competition this year.
Puget Sound came out full throttle against the second seed Bowdoin, full of energy and enthusiasm that almost looked dangerous for the first game of a long day. But Puget Sound's depth kept them refreshed. The handlers' patient easy movement, making use of all the open space with cross-field swings, was where Puget Sound was able to start pulling away from Bowdoin.
Sophomore Jian Kettunen came out particularly strong for Puget Sound, despite the three hour time difference. Kettunen's endurance was relentless. She would play shutdown D on the mark, book it deep after one of Ellen Kalenscher's many flick hucks, and then get the deep D in the following point.
On the other side of the pool, Truman State took half 8-3 over Catholic and then lost their lead in the second half. Final score would be 11-8 Truman State, with Catholic finding their legs just a bit too late after a slow start. Catholic would then have to take on New England powerhouse Bowdoin. They struggled against the fast legs of Bowdoin's tight person defense. But Rachel Youngberg's tireless deep cuts kept them in the game. Both Sara Abel and Grace Castro made consistently smart decisions with the disc. Despite the 10-5 loss, Catholic's spirit and positivity remained steadfast.
Truman State against Puget Sound was a hotly contested match. Both teams had strong upwind throws and the handler match-ups were exciting to watch.
Emilie Willingham seemed to play every point for Truman State, throwing up some riskier flicks that her cutters consistently managed to bring down. Senior Christy Crouse had some fantastic fakes that opened up the downfield. But the defensive tenacity of Puget Sound's Sarah Davidson, who is always willing to layout for the block, refused to let Truman State take the game. Neeyati Johnson's D-line handling consistently found Hannah Gould in the endzone. UPS took the win 11-8.
Truman State had to play Bowdoin for who would proceed to the championship round. The teams traded points back and forth. Bowdoin captain Kate Powers rocked it all day but really came into her element in this last pool play game. Powers was incredible in balling it out on the field, then calling lines as she jogged down for the next point, and then finding teammates for meaningful one-on-one's the few points she did take off — all this with a cheery, enthusiastic smile.
Powers dominated the sky, playing tenacious deep defense and coming down with most of junior Rachel Musante's hucks. Sophomore Emma Landes was also a mainstay for Bowdoin on both offense and defense, her explosiveness coming in clutch on both the endzone D and as she busted upline from the handler position. Several times, Powers also pulled out some well-placed hammers to score. But in the end Emilie Willingham and Truman State would reign victorious, proceeding to quarters.
Pool C: Carleton (3-0), Valaparaiso (2-1), Mt. Holyoke (1-2), Lehigh (0-3)
Pool C went to seed, but five of the six games in the pool were decided by three points or fewer and two were decided on double game point.
Carleton Eclipse won the pool after topping Valparaiso in one of those DGP finishes, setting up an easy quarterfinal against an injury-ravaged St. Olaf. Carleton was led by strong play from senior captains Haley Olson and Leah Roche. The team struggled a bit in their first game against Mount Holyoke — another DGP win — finding the conditions difficult to adjust to.
"I got heat stroke the first game, but then we sat in our air conditioned bus for our bye, which was a total god-send," said Olson. "And then we came out and we've been handling it a lot better. Playing that first game, we thought we were prepared, and it turned out we just were not."
Carleton was much sharper later in the day and had the chance to get their bench some minutes against Valparaiso since they had already qualified for quarters.
Valpo also had a tough first round game, falling behind to Lehigh before rebounding with a big rally in the second half to take the 11-9 win. "We are a team that usually starts off pretty slow," said Valparaiso's Jordan Eissner. "So we're used to this."
They were much sharper in their later games, where they blew by Mount Holyoke 15-5 and then had plenty of chances to win against Carleton.
Jordan Bauer and Mackenzie Allen were real standouts, zipping around the field and often finding each other for the score/assist combo. Their fantastic chemistry is clearly aided by their status as roommates at college.
Mount Holyoke came so close to a much better day. They had a great chance to beat Carleton, a win that would have likely sent them to the quarterfinals. They did top Lehigh at the end of the pool play 11-9 to finish third in the pool.
Senior captain Molly Morgan was a workhorse, coming up with blocks deep in the zone and serving as the lynchpin on offense.
Lehigh ended up winless on the day (they also lost to Catholic 9-8 in consolation play), but they had some excellent individual contributions from Lindsay Levin and the dangerous lefty Juliet Chung. They just didn't have the depth down the roster to hang with the tough teams in their pool.
With the two quarters qualifiers from the pool advancing to semis, you wonder how Mount Holyoke might have fared in a prequarter matchup.
Pool D: Portland (3-0), St. Olaf (2-1), Bates (1-2), Claremont (0-3)
Bates Cold Front took on St. Olaf Vortex in an exciting and evenly-matched first game. There were a few jitters to work out as both teams sent hucks up that overthrew their receivers. St. Olaf's junior captain Tulsa Douglas was cleating up for the first time in two weeks, with a knee injury hampering her mobility. Douglas had a tentative start, even limping slightly as she got her bearings. This allowed Bates to go on 4-0 run to start. But St. Olaf responded with their own 3-0 run as they switched to a zone that stopped Bates in their tracks.
As the game proceeded with very long, tiring points, the two teams took turns scoring. Eventually it evolved into a showdown between division standouts Josie Gillett of Bates and Douglas. Gillett loved the big OI flick, and with Douglas standing deep in St. Olaf's junk zone, Gillett's hucks were often brought down by Douglas. Upfield, Kaitlyn Mulhern was working hard on the mark for St. Olaf. But the St. Olaf cup still allowed Gillett to choose between her high-release flick in the light wind and a blady OI flick to the wide open wing.
Eventually both teams had to adjust to less hucking as Douglas took away Bates' deep options and Bates' tight person defense stopped the deep cuts. Both Olivia Gomez and Grace Wardner were tireless cutting all over for Bates. But as Emily Verticcio found her rhythm and stepped up big on defense, St. Olaf was able to keep going one for one. Eventually Verticcio would get the last D, and St. Olaf would win 11-10.
At the same time, University of Portland was enjoying their first nationals appearance with a 13-4 win over Claremont. Portland then went on to play Bates, trading points before taking half 8-5 and then winning 12-6. Portland's handlers just outran their opponents utilizing the throw-and-go to create fast breaks. Everyone on Portland was confident with the disc, hardly dropping a pass, and using their height to swipe the disc out of the air. After just two games with the pre-quarters cancelled Bates was knocked out of the championship bracket.
Portland would go on to use their fast legs and tight person D to take down St. Olaf 14-6, Douglas playing far fewer points than she had earlier. Demri Horton in particular would stand out for Portland with her run-through under D's, and fierce upline cuts.