The semifinals are set!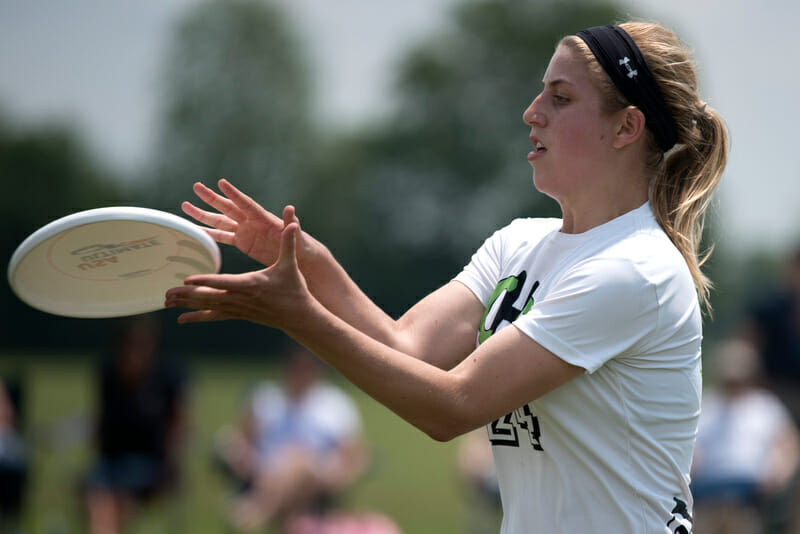 Ultiworld's reporting on the Women's 2017 D-III College Championships is presented by VC Ultimate as part of their season-long support of our women's coverage. All opinions are those of the author. Please support the brands that make Ultiworld possible and shop at VC Ultimate!
LEXINGTON — After schedule changes designed to minimize the impact of a stormy Sunday were put in place on Saturday afternoon, the quarterfinals closed out the first day of competition at the Division III College Championships. We break down all four games from the Women's Division below.
Wesleyan Grinds Out A Spot In Semis
In the final game of a hot day in Lexington, Wesleyan outlasted Truman State in an 11-10 double game point thriller in the quarterfinals.
With another signature balanced performance, Wesleyan overcame a two-point halftime deficit with a 5-2 run in the second half. Captain Lucia Salwen led the way with 3 assists and a goal, and she was crucial in the game's waning moments.
Yet it was Wesleyan's ability to cycle through their roster without heavily relying on any one player that delivered them a victory against Truman State.
"We don't let up," said Salwen. "We have a really deep rotation, so at the end of the game, we still have legs."
Truman State was led by a brilliant performance from Donovan Award finalist Emilie Willingham, who finished with eight assists and a goal (on 10 TSU points). Firing booming hucks and slicing through zones, Willingham was the offense for Truman State. Senior Christy Crouse chipped in two goals and two assists as well.
But fatigue started to catch up to Truman State late. Longer points sapped the energy of the short rotation. Wesleyan, unfazed by trailing by two with the cap looming, kept grinding out in-cuts.
"I think we get fired up when we're behind," said Salwen. "It doesn't demoralize us. It just fuels the fire."
Tessa Hill scored to get Wesleyan back within one at 9-8. Then she fired an assist to Salwen to tie the game. Salwen scored a second straight break to put the Vicious Circles ahead for the first time since 5-4.
Willingham scored on a throw from Callie Warren to force double game point, but, despite having possession on the game's final point, could not convert. Salwen found Eileen Conner and sent Wesleyan to the semifinal on Sunday morning.
"We're feeling the limits of how deep we can dig," said Salwen. "We don't know we can go there until we get pushed to that point."
Truman State may have come up short in this game, but the future is bright. The team is comprised of more than 50% underclassmen.
"I think we should what a young team can do," said Willingham. "TSUnami's a program that will be strong continuously."
Wesleyan heads into their semifinal against Valparaiso with confidence and an inward focus.
"We just want to play intense games," said Salwen. "We haven't been thinking about the brackets or how we're doing. Going into the tournament, we said, 'we could either lose all our games or win all our games. We haven't played these teams before. We don't know how good we are.' We just want to focus on us and make sure we're playing the best ultimate we can."
No. 11 Seed Tops The No. 1 Seed
Entering the tournament with a 26-1 record, top-seeded Williams looked, on paper, like the favorite to advance when they matched up against eleventh seed Puget Sound in the quarterfinals. However, Puget Sound, undeterred by their deceptively low seed, came away with a comfortable 12-7 victory to knock Williams out of the championship bracket.
Both teams were deep and ran each other hard, not falling prey to the easy temptation in D-III Women's of relying on a few standouts. But after some early trading, Puget Sound Clearcut pulled away from the New England titan.
The Puget Sound ladies put their heads down and kept grinding throughout a long, hot, humid day. They have the depth that most teams long for; scrappy Sarah Davidson had a sick layout catch at the back of the endzone off a huck, and cutter Hannah Gould had incredible endzone skies and some huge Ds. Captain Ellie Engel demonstrated consistent field awareness with her around backhands. Junior handler Mickela Heilicher bombed a beautiful same-third huck to Engel, Ellen Kalenscher's flick hucks were almost always perfectly timed and weighted, and Neeyati Johnson's low-release backhand was unstoppable all day.
Despite not traveling with many parent supporters, Puget Sound had one of the loudest sidelines of the weekend. Both on and off the field, Clearcut's passion and energy were constant. "Our sideline pushes us to win games, we rely on them," said junior cutter JM Gunn. Often, talking about the sideline's key role can be a clichéd excuse that captains use to make up for uneven playing time. But from Gunn and Puget Sound, the comment was genuine: their sideline pushed them to victory.
Williams also showed off good depth; several cutters displayed great throwing skills alongside their speed. Captain Haley Lecinsky frequently cut under for the disc to put up flick hucks.
Freshman Casey Phalen cut tirelessly for Williams and kept going when others could not. While Williams was certainly not outclassed, they did look gassed. Typically Williams plays a tight person defense that makes their opponents work the unders and run and run. But Williams had a hard time when Puget Sound was able to run right with them.
Lecinsky was right when she said of Puget Sound that "you could tell they were playing at a whole other level. A fun and enthusiastic team to play, they made us play well." Puget Sound did not have an easy road to the semis and they play Carleton first thing tomorrow, but if they can keep up the energy, it should be a tough game for the North Central powerhouse.
Injury Bug Bites St. Olaf Hard
Just two weeks ago, Carleton and St. Olaf were scrimmaging to help each other prepare for Nationals. Little did they know that they were foreshadowing their quarterfinal match-up in Lexington. Unfortunately, two of St. Olaf's key handlers were hampered by knee injuries and the remaining twelve players were too tuckered out from a tight first game against Bates. Carleton took the lead early and poured it on—they scored ten points before St. Olaf ever got on the board and Carleton closed out their easiest win of the day, 14-6.
Probably the best handler in the division, St. Olaf's Tulsa Douglas came into Nationals with a knee injury sustained during the aforementioned scrimmage with Carleton. This meant St. Olaf had to play without her massive step out backhand breaks and her unconditionally sticky fingers. In addition to Douglas, handler Sami Peterson was also out when she went down with a leg injury in their first round when a cluster of people gathered to block a floaty huck. St. Olaf had little hope of hanging tough with Carleton with those two players out of the game.
Carleton Eclipse used the opportunity to open up their lines; players like junior handler Kaya Stitzhal and sophomore cutter Nora Brown had a chance to really come into their own. Stitzhal had a handblock and some strong deep hucks. Brown scored several goals and ran everything down, despite it being the fourth game of a long day.
Both St. Olaf's Emily Verticcio and Erin McIntosh pushed hard on defense, playing tight handler D and each getting their fair share of skies. But in the end, Carleton took the easy win and got an opportunity to rest their starters for tomorrow's semifinal against Puget Sound.
Valparaiso Runs Past Tired Portland
A 4-0 run through halftime put Valparaiso ahead for good as they easily defeated Portland 15-9 in the quarterfinals.
Portland kept things tight early, putting up three opening holds, but started to melt in the afternoon heat. They gave up a break, then another, then another and quickly it was halftime with Valparaiso up 8-4.
Valparaiso's Jordan Bauer (6G, 3A) and Mackenzie Allen (2G, 6A) were huge contributors. Unfortunately for Valpo, neither player will compete tomorrow as both players return to their university for graduation.
Sophomore Maddy Otto (2G, 3A) was impressive for Portland in the loss and senior Demri Horton added four assists.
The energy difference in the game seemed stark at halftime, where Valparaiso rested beneath shade tents and Portland baked in the sun. A clearly fatigued Portland started to have drops and other miscues that let the game slip away.
Valparaiso will face a substantial challenge without Bauer and Allen tomorrow against Wesleyan in the semifinals, but they, like Wesleyan, are a team that can grind out points deep into games.