Who would you take on your team if you could select anyone competing at Nationals?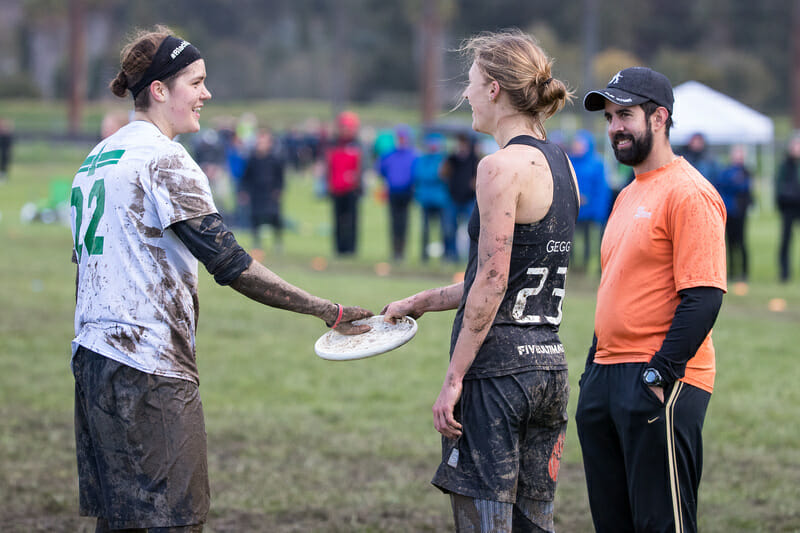 After months of texting each other "what-if" sports scenarios, arguing about who's the greatest, and some semi-public ridicule on the company Slack, Daniel Prentice and I are excited to present the results of our College Championships Fantasy Draft.
Our job: pick O and D-lines for both divisions comprised of the best players headed to Cincinnati this weekend. Fanboy about how sweet it'd be to watch our teams go at it. Brag about whose team would win. Eventually discover that the reporter who practiced and did more research clearly picked a better team. Have lots of fun nerding out about the college division.
You know, the usual.
Your job: scour our rosters. Scrutinize our choices. Hold your own fantasy draft with your friends and send us the results!1 Slam Prentice on Twitter (in a nice way).
And now, the rules. Which we abided by. We promise.
Rules
Players selected must be on active rosters headed to D-I College Championships. We used a snake draft format, and gave each other two minutes per round to pick our players. Trash talking was encouraged, as was complimenting picks.
To determine who'd pick in each division first, we challenged each other to take the No. 1 pick in the division we spend less time covering.2 After picking first overall, the other reporter began the first round for the opposite line. Which translates to: Simon picked first overall in the women's division and chose to start with D-line. Prentice picked first overall in men's, and also chose to start with D-line. After that, we followed a snake draft format.
When we're all done, you can vote on who's team would win. Scope the poll at the bottom of the post.
Okay nerds: grab your rosters, load up the fancy new dedicated USAU website, and get ready to argue.
It's the Ultiworld Fantasy Draft: D-I College Championships Edition. First up, the women's division.
---
Seriously. Please do this. ↩

Prentice: Men's. Simon: Women's. ↩
The Ultiworld Fantasy Draft: D-I College Championships Edition (Women's) is only available to Ultiworld Subscribers
Already have a subscription? Log in
Whether you visit Ultiworld for our reporting, our podcasts, or our video coverage, you can help us continue to provide high quality content with a subscription. By becoming a subscriber, not only do you receive benefits like exclusive articles and full article RSS feeds, you also help fund all of Ultiworld's coverage in general. We appreciate your support!