Notre Dame is red hot, but Dartmouth might just be too potent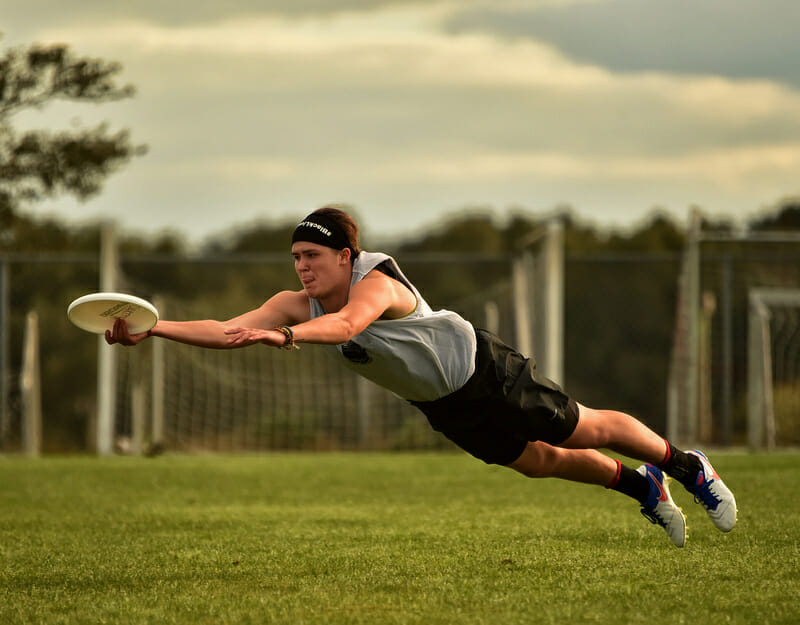 Ultiworld's reporting on the Women's 2017 D-I College Championships is presented by VC Ultimate as part of their season-long support of our women's coverage. All opinions are those of the author. Please support the brands that make Ultiworld possible and shop at VC Ultimate!
While all the teams playing at Nationals this weekend are talented, there are some teams that just know how to make good TV. Regardless of the final score, Dartmouth Princess Layout and Notre Dame Womb are guaranteed to pad some highlight reels during their livestreamed matchup.
The match promises fans more than enough jaw-dropping plays, yet the outcome is also pretty reliable: despite Notre Dame's penchant for upsets, Dartmouth can control games better than any team in Cincinnati. They won't give Notre Dame a lot of chances for a foothold.
When the 2017 spring college season began, few would have predicted one of the marquee matchups of Nationals would be a women's division contest between no. 2 seed Dartmouth Princess Layout and no. 7 seed Notre Dame Womb. Dartmouth was anointed a contender, slathered in elite club talent, big names, and hype after an impressive run in 2016. Notre Dame failed to make Nationals last year, and hadn't been relevant on the national scene in the modern ultimate era. Yet here we are, eagerly awaiting a clash that could decide Pool B, headlined by some of the best players in the division.
Game: #2 Dartmouth v. #7 Notre Dame
Line: Dartmouth -4
Time: 5/26, 12:30 PM Eastern
Video: Ultiworld Live
Dartmouth is the tournament's overall no. 2 seed with good reason: this team's starting seven feature some of the best women's players competing today – period ­– and nobody this season has truly challenged their game when they're giving it their all. Angela Zhu and Julianna Werffeli have their way with the disc in the backfield – they seem to make their marks just disappear. They can and do execute just as strongly on defense with a matching pair of fearsome marks.
And then there's Jaclyn Verzuh. The sophomore phenom surpasses every expectation when she cuts, and her leadership on the team elevates the full roster's play. As long as she's healthy, Dartmouth has a trump card that nobody in the division can match. The Big Three play beautiful, dominating ultimate together with such joy that fans and opponents can't help but cheer them on.
You might not know the Notre Dame women, but you'll learn very quickly. Julia Butterfield bulldozed her way into the Player of the Year conversation with the force of a battering ram, showering opponents with massive hucks, consistent open under cuts, and, when necessary, the splashy athletic plays that made her a Breakout Player of the Year runner-up in 2015. Her running mate, Sarah Lipscomb, is a downfield terror, with good speed and even better quickness, a blur of snappy footwork that equates to space and time downfield. Along with MK Andersen's frantic backfield activity, Notre Dame's offense is best when humming through their top three, who play with a sense of urgency that sends defenders into a tizzy.
Notre Dame brings a different energy into their games altogether. They're just as positive, but they use their notorious sidelines as an echo chamber to execute oh-my-god plays on every point. The inevitable Julia Butterfield vs. Jaclyn Verzuh matchup has to happen for the good of the sport, and Notre Dame's preference for person defense makes the matchup a near guarantee.
Notre Dame is a deep game team, but they could be forced into patient small ball if Verzuh is guarding the endzone. Womb proved capable of working the disc at Northwest Challenge, but doing so for two full halves is a tall order, especially with capable cutters like Sarah Lipscomb and MK Andersen itching to streak deep. It's also worth noting that, with more organized coaching, Notre Dame has added structure and fundamentals that they were lacking last time they attended Nationals. Dartmouth's experienced throwers are going to really test Womb's marks, and much of the game could be decided at the point of attack, where Princess Layout holds a firm edge.
Yet Notre Dame teaches us the same lesson again and again every year: don't underestimate this Indiana team. They may not leave this game with the W, but they could still give Dartmouth the toughest game of Pool B on Friday.
Watch the livestream of this game on the Ultiworld Live page Friday afternoon at 12:30 PM Eastern/9:30 AM Pacific.