The comprehensive victory over Texas completes a dominant weekend performance by Dartmouth in Cincinnati.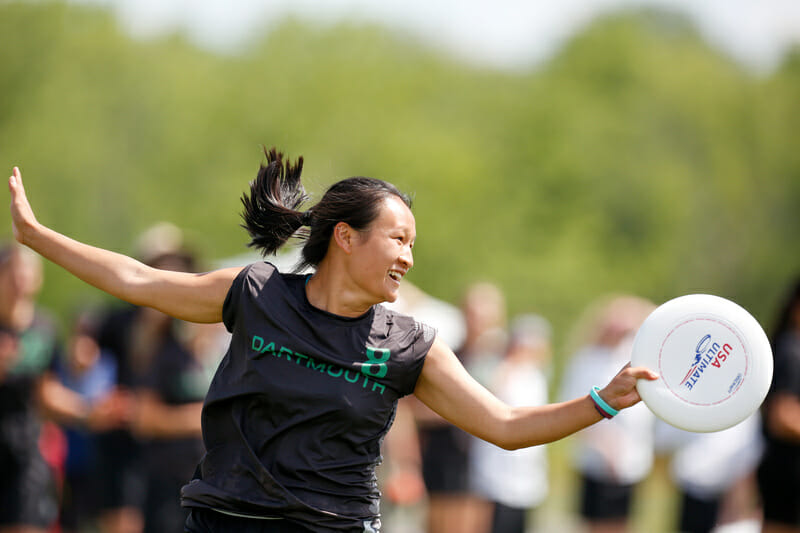 Ultiworld's reporting on the Women's 2017 D-I College Championships is presented by VC Ultimate as part of their season-long support of our women's coverage. All opinions are those of the author. Please support the brands that make Ultiworld possible and shop at VC Ultimate!
Dartmouth won their first ever national championship by running past Texas 15-9 in a lopsided final. Dartmouth saved their best for last, putting together perhaps their most comprehensive performance of the tournament in the season finale. Angela Zhu was efficient, Jaclyn Verzuh was special, and Dartmouth simply made more plays than Texas were capable of countering.
The game's early points were fairly even, as the teams traded downwind holds to 5-5. But it didn't feel like those holds were created equal. After a pair of easy goals against Dartmouth's person defense, Texas had to fight all the way downfield against a more resilient Princess Layout zone. Dre Esparza, Laura Gerencser, and Shiru Liu were grinding in the backfield as their cutters struggled to consistently find open space downfield. After a semifinal win in which they looked to score quickly on O points, Texas was forced to slowly inch the disc down the field. They averaged nearly 25 throws per O point and Texas' handlers had 135 of their 166 touches for the game.
The high number of throws it took Texas to score caught up with them at the end of the half. As the game became a bit windier, Melee's completion percentage dropped, giving Dartmouth more frequent break opportunities. 
"We threw the first few points in person and weren't getting breaks, and we were wanting to mix it up," said Dartmouth defensive stalwart Julianna Werffeli. "They are known to have quick handler motion, but it wasn't really effective against the zone. In this wind… it was a weird crosswind, so the throws popped up, and we had aggressive wings that were able to generate the turns."
An interception from Jaclyn Verzuh led to the first break of the game on the game's 11th point: a nice layout grab by Caitlyn Lee. Now with a chance to break downwind, Dartmouth seized the opportunity to take a more decisive lead at 7-5. After a first throw turn from Liu, Dartmouth broke thanks to an unbelievable layout grab from Verzuh.
From there, Dartmouth broke again to take half and then scored the first two points out of half as well, giving them a commanding 10-5 lead.
After the three break run into half, Texas looked checked out. The team's top line played a huge number of points (22 for Schmaltz, and 20 for the rest of the starting line), but it didn't seem like fatigue was the issue.
"At this point in the tournament, for everybody, it's a mental game," said Schmaltz. "Everyone's tired, everyone has to push through. We knew we were gonna play a lot of points, we had mentally prepared for it. I think we did go into a little bit of a mental dip. I don't think it was fatigue or physical, no more than any other player on the field."
Schmaltz couldn't pinpoint exactly what caused that mental dip, but did suggest that allowing the consecutive upwind and downwind breaks was pretty deflating. That series had the exact inverse effect on Dartmouth.
Said Werffeli, "When we got the first upwind break, it was pretty huge. Before that it was all holds. Once you can get a first upwind break, then you can get a downwind break, and that really blew it open a little bit, and we have a little bit of wiggle room rather than just taking turns. That was probably a turn where I went,'yeah we got this.'"
Texas' little lapse in mental toughness is what allowed Dartmouth to pull away and mount their big lead, but the biggest difference in the game was Dartmouth's ability to come up with big plays, and Texas' inability to replicate them.
Lee's and Verzuh's layouts were plays that Texas simply was not quite able to make themselves and that was the difference between the two teams.
Texas did come up with one special play, when Schmaltz hit full speed to run down a big, floaty, backhand huck for Texas' first and only break of the game. That break brought the crowd into the game, loudly supporting Texas, hoping for an exciting finish. And Schmaltz nearly made an incredible layout grab for another break on the next point that could have put real pressure on Dartmouth, but instead she came up just inches short of reeling in Marissa Land's cross field forehand.
"We didn't make plays that we could have," said Texas head coach Edith Teng. "I think there were some missed opportunities there. Honestly, Dartmouth had some great plays that saved some opportunities for them so, in the end I think that's what it came down to."
Dartmouth wound up scoring the next two points to end the game 15-9, clinching the title. Angela Zhu played her best game of the tournament and Verzuh was an unstoppable force. Those two alone could have probably won the game for Dartmouth with the way they played. Zhu finished with six assists and three goals; Verzuh had five assists, three goals, and four blocks. Lee, Werffeli, and Piper Curtis — receiver of the game winning goal — all played well too, but the game was definitely dictated by The Dynamic Zhuh-o.
Texas game-planned as best as they could to prevent those two from beating them, but there's only so much anyone can do to slow them down. "We knew we wanted to limit Angela and Jaclyn as much as possible, but to be honest they were the ones that beat us today. They played outstanding games today," said Teng.
"We definitely wanted to keep the disc out of Angela's hands as much as possible. I don't think we were able to execute that as well as we wanted. The biggest thing we wanted to take away was her power positions and she still got a few off on us. With Jaclyn, we know that Angela was gonna look for her in any stall nine situations and so we were really focusing on being close to her even if it was late in the count, but again she was able to find the space well and she was still able to beat us that way too."
When those two are playing as well as they did in the final, there's truly no team capable of stopping them. They were both firing on all cylinders, and with their better performing role players, Dartmouth won the first championship in the program's history.
"[It's] really hard to believe this," said Werfeli. "We've put in so much work, so much heart, and we left it all out on the field this whole weekend. We've gone through adversity and we pushed through, it was all the intangibles that got us through. We kept saying 19-7,1 the whole tournament, and I think it's really how we did it. It's so surreal, I can't believe it."
Head coach Eugene Yum seemed stunned by the moment as well. "It feels great. [I] never expected it, especially when I first started coaching. Making Nationals was the goal, the dream; making it three times in a row in what I think is a really tough region –we don't get many bids and there are a lot of great teams in the area — it feels so great."
The championship win punctuates a stellar season for this Dartmouth team. They suffered a mere four losses all season long, despite playing the best teams in the country at every tournament they attended. Verzuh and Zhu were an unfair top two all year long and that was never more evident than it was in the final. Dartmouth formed a truly elite team, led by an exceptional top two and a spectacular top five.
With the way they went on to win the College Championships — each of their four victories in the bracket was decided by six or more points — they may be in the conversation for one of the best college ultimate teams of all time. With this title victory, there is at the very least no denying the were the best team in the country in 2017.
---
A reference to using all 19 players in attendance on each point, rather than simply the 7 on the field. ↩