A game that will live long in the annals of two already storied programs.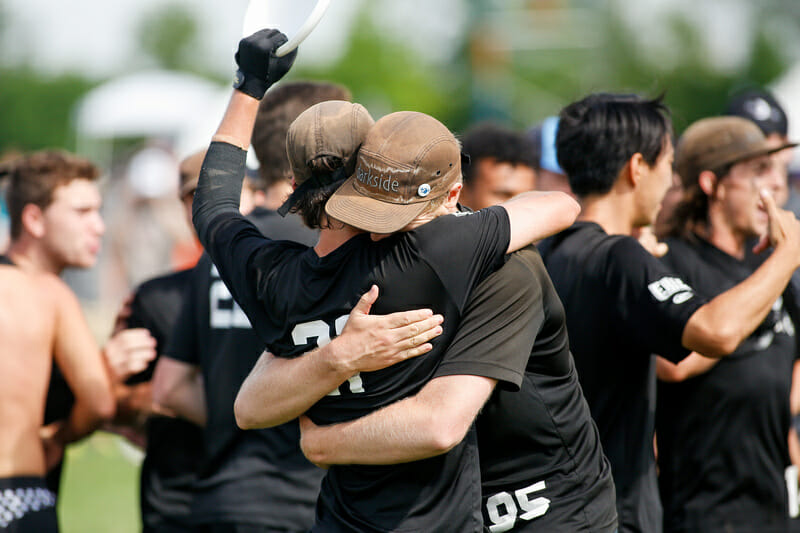 Ultiworld's reporting on the Men's division of the 2017 D-I College Championships is presented by Spin Ultimate; all opinions are those of the author. Please support the brands that make Ultiworld possible and shop at Spin Ultimate!
5-0. 8-3. 13-10.
During their quarterfinal showdown with Wisconsin, North Carolina Darkside found themselves on the wrong side of all those splits. In fact, there was only one scoreline that looked favorable to Darkside: the final score. North Carolina's 15-14 victory was so much more than an exciting double game point win. It was more than a win in an elimination game at Nationals. It was a game that defied expectations, defined legacies, and will be remembered by these programs for a long time.
Entering the game, the big concern for Wisconsin was about the health of their star cutter Nicholas Vogt, who was on crutches after seriously injuring his knee in their prequarter matchup on Saturday evening. However, Vogt's absence wasn't tremendously detrimental to Wisconsin in the first half because their offense barely took the field. After holding on the first point, the Hodags ripped of four straight breaks to take a shocking 5-0 lead. "We started out incredibly well" said Wisconsin assistant coach Andrew Brown. "We were riding a big high."
Wisconsin's defense wasn't overly complicated, they were simply winning every individual matchup all over the field. North Carolina's cutters couldn't get any separation underneath and Wisconsin's handler defenders weren't allowing any throws from power position. This led to a lot of stagnant hucks that Wisconsin's big defenders were able to gobble up.
As he did all weekend, Nick Ladas led the way for Wisconsin's D-Line. He was imperious in the deep space, coming off the back side to run down and envelope UNC cutters that managed to squirm free in. He put an exclamation point on Wisconsin's run of breaks with an emphatic bookends, chasing down a huck and then tearing deep to haul in a score that gave Wisconsin their five point lead.
Despite the troubles his O-line was having, UNC coach Mike DeNardis continued to roll out his starters without moving significant D-line pieces over or dipping into his bench. "I told them that this was something Nettercutt's year did all the time," said DeNardis, referring to the John Nethercutt led Darkside teams that reached two finals and won a championship in 2015. "It's just something they were going to have to dig out of."
North Carolina finally managed to score on the sixth point of the game, a downwind crawl that ended with Nick MacLeod flipping to Matt Gouchoe-Hanas at the front cone. Fresh from five points off, Wisconsin's O-line roared down the field and scored within a few throws to shut down any momentum that Carolina's score may have generated. Wisconsin's offense was barely on the field in the first half, not just because of how well the defense was playing but because they were scoring in a matter of seconds.
UNC finally got a chance to break on the last point of the first half after Wisconsin overthrew a downwind huck. Looking to make up the four point deficit all in one throw, Marc Rovner launched a towering flick huck into the wind that couldn't quite get all the way to its target. The turnover gave Wisconsin the disc back and the Hodags closed out the half with an 8-3 lead.
Overcoming a giant halftime deficit requires a lot from a team. They need some lucky breaks to go their way, they need the ability to make big plays, and they need the belief that coming back is even possible. Right from the beginning of the second half, it was clear that at the very least North Carolina had that last quality.
"These are the fun ones," remarked assistant coach Nethercutt on the sideline right before the second half kicked off. With a large cheering section and a loud sideline, you wouldn't know that Carolina were the ones facing a five-goal deficit. Their energy helped them march down the field for an easy hold, but Wisconsin matched them on the next point, swatting aside a flat zone look like a fly. With the score 9-4, Darkside coach DeNardis knew he would have to make some changes to stop Wisconsin's hot offense.
"The change was to simplify," said DeNardis. "Sometimes when you throw out a bunch of different schemes, your guys start thinking too much and get in their heads. I didn't want them thinking."
Carolina started going with more straight-up person defense and pressuring Wisconsin's resets with a manic energy that they didn't exhibit in the first half. Nathan Kwon and Elijah Long were flying around the backfield, moving and switching in unison, and making life difficult for the Wisconsin handling core. Downfield, North Carolina started forcing Wisconsin's big cutters out and relying on the handler defenders to stop hucks at the point of attack.
The "simplify" plan started working and Carolina started crawling back into the game. After Wisconsin threw multiple hucks out the back of the endzone on a downwind point, North Carolina were able to scratch out an upwind break and then cashed in the downwinder on a looping around backhand break from Long to Anders Juengst to make it 9-7. They almost got a third straight break after Nick MacLeod swatted away an inside flick attempt from Thomas Gallagher, but Chirs Wilen got the disc back for Wisconsin with a point-saving layout block in the upwind endzone. The Hodags made good on their second chance to take a 10-7 lead.
That hold would prove to be little more than a speed bump for Carolina's comeback however, as Darkside held on then completed another upwind/downwind break combo to tie the score at 10-10. With the North Carolina fans and sidelines in full-throated euphoria, Wisconsin's offense staggered back to the line looking truly rattled. "It was at 10-10 that we realized we had a real game on out hands," said Brown after the game. "Our energy turned to nervous energy and we started thinking 'is this happening? Is this really happening?'"
The Hodags were able to refocus and nail in a nervy hold. This got their D-line back on the field, who were ready to take a few swings of their own after watching helplessly from the sideline while the offense bled away their lead. The Hodag D-line marched the disc up the field after a missed UNC huck, but stalled out near the force side cone. Walker Matthews whacked away an upline throw, but after taking a few ricochets the disc landed in the hands of the original thrower Eric von Kampen, who dove across the goal line for an unlikely upwind break.
Wisconsin then cashed in the downwind break to build their lead back to 13-10, but Carolina were noticeably undeterred. "I was telling the guys, hey, we just came back from six down, three points is nothing," said DeNardis.
After holding downwind, Carolina broke back when MacLeod picked off a high release flick that Graeme Kernick tried to sneak over to the breakside. Elijah Long navigated a minefield of bidding Hodags and found Kwon in the endzone for a huge upwind break that cut Wisconsin's lead to one.
Kwon wasn't done causing trouble for Wisconsin, as on the next point he elevated every inch of his 5' 2" over Ross Barker to come down with a huck that gave UNC the disc on the doorstep. Long would dish his third assist of the game to Matt Gouchoe-Hanas and once again the score was tied.
As the other quarterfinals finished and a crowd of fans gathered the field became a cauldron of noise for the game's final chapter. With cap on and the score tied, it was now zero-zero, first to two wins.  
Both offenses calmly held downwind, as the defenses were clearly gassed and unable to keep up the constant pressure that had defined the game. That meant double game point, with North Carolina needing to break upwind to complete their comeback.
Wisconsin fielded the big blading pull and Ross Barker swept across the field to receive the disc in power position. Ladas took off deep as soon as Barker made his cut and by the time Barker released a big edgy flick huck Ladas had nothing but open field in front of him. The huck came in fast and from a tough angle, rocketing OI towards the back of the endzone. Ladas hurled himself at the rapidly descending hunk of plastic, but just missed getting his big hand on the edge. Carolina's sideline roared as Darkside faced seventy yards of Wisconsin defense between them and a win.
After some handler swings between Gouchoe-Hanas and Long, Darkside rookie Kai Marcus got open on the force side for a 15-yard gain. He turned and fired a flick downfield but this time Ladas wasn't a step slow, and smacked the hanging disc into the turf. Wisconsin were in a position to win, but the pendulum of momentum was swinging wildly and a few throws later Kwon made the block of the year for Darkside, coming from out of position and launching himself completely horizontal several feet off the ground to snag an upline throw.
The crowd erupted and the noise never abated as Carolina worked the disc to the force sideline and into the hands of Nick MacLeod. MacLeod stuffed the stat sheet on Sunday morning with four goals, three assists, two blocks, and four turnovers. That third assist eclipsed all of what had come before it, as his upline flick found Matt Gouchoe-Hanas in the back of the endzone to complete a historic comeback and send Darkside into the semifinals.
While Wisconsin licked their wounds after the game and tried to come to terms with the reality of their epic collapse, Carolina players milled about in a state of giddy disbelief, too much in shock to really absorb what had happened.
So many times in sports, the cliché is purely a balm. Athletes make themselves believe things purely to get through the moment, not because they really expect "giving it your all" or "leaving everything on the field" will actually lead to results. But in rare sublime moments, cliché becomes reality. It not only makes effort spent in the moment of improbable success seem worthwhile, it validates all of the moments in the past when one has fruitlessly persisted against impossible odds. Rapturous moments like this are why we watch the sport, and why athletes give their blood, sweat, and tears to play.