While both teams have been hot this weekend in Cincinnati, that may be one of the few things they have in common.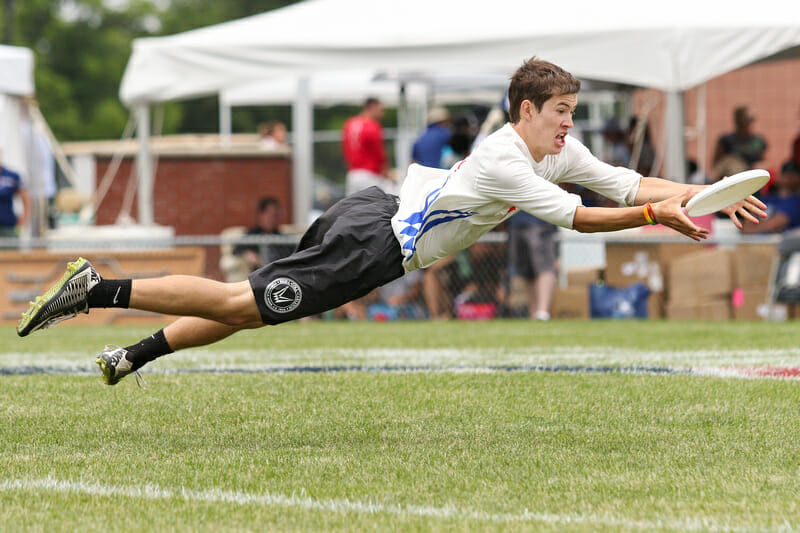 Ultiworld's reporting on the Men's division of the 2017 D-I College Championships is presented by Spin Ultimate; all opinions are those of the author. Please support the brands that make Ultiworld possible and shop at Spin Ultimate!
The 2017 College Championships final will feature two teams coming off of double-game point wins in their respective semifinals, Carleton College CUT and the UNC Wilmington Seamen.1 CUT, the no. 6 overall seed, enters the game after a shootout with no. 1 overall seed UMass while Wilmington comes into the final on the back of an incredible comeback win over their rival (and tournament no. 3 seed) North Carolina Darkside.
Wilmington has been the hottest team at the tournament this weekend, tallying a 15-13 win over no. 2 seed Pittsburgh, arguably their biggest rival. After taking their pool, they easily topped Washington 15-10 in their quarterfinal match. Finally, in the last semifinal of the day, Wilmington rallied from a 12-8 deficit to beat Darkside 14-13. The man of the match (and really the tournament) for UNCW was their star Jack Williams. Though previously deployed as a cutter, Williams has filled in the at the handler role for Wilmington this season out of necessity, and has done so with aplomb. He finished the semifinal with a stat line of 1G/9A(!)/3D. He played virtually every point of the second half and willed his team back into the game.
The Seamen's opponent, CUT, has long been considered a team with perhaps the highest ceiling in the men's division. With their annual influx of junior national team players, Carleton has the most ultimate talent in the division. Their Achilles' heel has continued to be consistency, with the team seemingly prone to vastly underperforming in at least one game a tournament. They may have gotten that game out of their system at Nationals with a tough 15-10 loss to UNC in pool play that coach Phil Bowen described as their worst game of the season. But from there on, CUT has been in the zone, winning their prequarter comfortably over Michigan 15-10, coming back from down 8-5 against No. 4 seed (and defending champion) Minnesota to win 12-10, and finally outlasting UMass for a 15-14 victory.
Both teams have placed a strong emphasis on program growth throughout the year, even at the expense of regular season results. While this has long been a hallmark of the famous Carleton "process," the change in focus from regular season success to development has been a recent adjustment for UNCW. In the past two seasons, Wilmington has entered Nationals as a top-4 seed only to flame out and miss the final eight. This year, Coach Brian Casey took a marked approach to sacrificing regular season showings for postseason wins.
The last time the two programs met was at College Easterns last year, with UNCW taking a 15-13 win in pool play. Much of Carleton team from that game remains, with the added benefit of an additional year of development. Key handlers Sol Yanuck, Alex Olson, and Natan Lee-Engel all remain in addition to talented cutters Jake Ritmire and Henry Fisher. That strong group is bolstered by an outstanding class of freshmen, highlighted by WJUC freshmen Stanley Birdsong and Dillon Lanier, as well as under the radar recruit Joe White, an Ohio youth player who has earned significant playing time for CUT — including a spot on their double game point line vs. UMass. On the other side, UNCW sustained major losses in handler Charlie Lian and Xavier Maxstadt but retain All-American (and U24 national team player) Jack Williams. But, again, UNCW has changed their emphasis to regular season development and new freshmen like standout Matt Ellis have clearly benefited from it, as evidenced by his big contributions this weekend.
Tactically, the matchups between the two teams appear to be a bit of a question mark. CUT's offense is skilled but has a penchant for risky decision-making (which they were able to mostly avoid against UMass). They are difficult to stop when they stay committed to fundamental offense, but it's unclear if they'll be able to do that for a second straight game. Wilmington will try to counter with their athletic and scrappy defense, which overpowered Washington. They'll also likely throw their favorite second-look defense (force middle) as well as a 2-3-2 junk. UMass threw FM and a zone look at CUT in the semis and Carleton was able to handle it, again on the back of uncharacteristically staunch discipline.
Wilmington's offense isn't always the cleanest thing, but they play great defense on the turn. They run through Williams, who is nigh impossible to guard in the small space of a reset cut and has been devastatingly accurate in his deep hucking game of late. On top of that, Wilmington rides their athleticism to win 50-50 balls down field and to out-hustle opponents to pick up trash. CUT will hope that their man defense is sufficient to generate turns, because their change of pace diamond zone is similar to the clam set that UNC tried (and more or less failed) to slow UNCW with.
This match is wide open for the taking for both teams. Since the teams are unfamiliar with each other, it will be won by a combination of efficient in-game adjustments and mental toughness. Carleton will try to maintain their zen, inward-focused state that has driven them to success while UCNW will surely attempt to create the environment that they're opponents will hate and that they thrive in — chaos.
---
The two smallest schools at men's Nationals. ↩