Wilmington and North Carolina put on an epic show under the lights last night.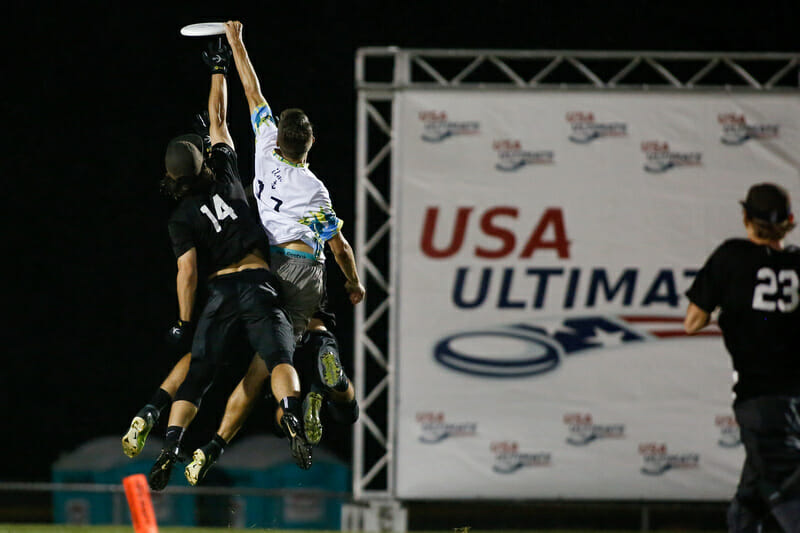 Ultiworld's reporting on the Men's division of the 2017 D-I College Championships is presented by Spin Ultimate; all opinions are those of the author. Please support the brands that make Ultiworld possible and shop at Spin Ultimate!
It's a testament to the entropy of sports that even in a contest we've seen so many times before, something new can still surprise us. This may be the millionth iteration of North Carolina Darkside v. UNC Wilmington Seamen, but subtle tweaks to the formula produced a game the likes of which we've never quite seen from this rivalry.
Wilmington rallied back from a 12-8 deficit to triumph 14-13 over their closest — literally — rivals. It was a game that featured a superhuman performance from Jack Williams, a conflicted JD Hastings forced to eliminate his former team, and North Carolina running the full emotional gamut.
Darkside entered the game after staging a miraculous comeback in the quarterfinals against Wisconsin that saw them overcome an 8-3 hole. The effort took a tremendous toll on Darkside's top players, as guys like Matt Gouchoe-Hanas, Nick MacLeod, and Walker Matthews played virtually every point of that affair.
On the other side of the equation, Wilmington were fresh off drubbing Washington in their quarterfinal and looking to prove that their run to semis was no fluke. At their best, Wilmington play like they have nothing to lose and everything to gain. This mentality propelled them over Pittsburgh in pool play and kept them focused in the semifinal even when things weren't going their way.
The game didn't start out in Wilmington's favor, as UNC hit the ground running. While it took North Carolina five tries to get their first hold of the game in the quarterfinal against Wisconsin, they checked that box on their first possession against Wilmington.
Coming out in a ho-stack, Carolina sent Matt Gouchoe-Hanas and Nick MacLeod flying out into the deep space to stretch the defense, and worked a series of quick 15-yard gains through the soft middle of Wilmington's defense. Patient endzone offense and one flip from Andrew Cohen to MacLeod later, North Carolina was on the board. It was textbook offense and an efficiency that Carolina would dearly miss later in the game.
Darkside broke on the next point, trapping Connor Russell on the sideline and forcing a tough high-stall upline throw that missed everything but the ground. North Carolina moved through Wilmington's marks with ease, and when Willie Stewart forced Elijah Long upline to stop the easy break swings, Long took the upline cut and never stopped running. Darkside freshman Kai Marcus saw the blown coverage and launched a flick to Long, who received the disc just outside the endzone before running a give-go with Nathan Kwon to complete the break.
It was a good start for North Carolina, but as they would all game, Wilmington took their lumps and swung back.
Wilmington's Callahan nominee Jack Williams dominated the next point, getting open at will out of the backfield. Carolina was so afraid of Williams's ability to go deep out of the handler set that he could get anything he wanted around the disc. "We knew going in that we had no matchup for Jack," said North Carolina coach Mike DeNardis.
Williams engineered the disc to the high side of the field just outside of the endzone and hit a stupefied Matt Gouchoe-Hanas with a devastating shoulder shimmy into a no-pivot around backhand that gave Williams the first of what would be nine assists on the night.
On the next point, it was time for Wilmington's other big name to shine. JD Hastings, former UNC Darkside captain, said after the game that he felt deeply conflicted playing against his old teammates. It didn't appear to effect his play however, as he was integral to Wilmington's success. A block by Seamen rookie Matt Ellis gave Wilmington the disc, and Hastings marshalled the D-line into the endzone for the break. Hastings's indefatigable motor made him a nightmare for North Carolina, as he was constantly changing the angle of attack with his resets and break throws.
The rest of the first half followed this pattern, with Carolina pulling ahead and Wilmington recovering to stay within touching distance. Darkside broke after Williams turfed a swing and Gouchoe-Hanas launched a swaggering step-back flick huck to Kai Marcus, but a few points later Wilmington got one back after Kevin Mateer bated a deep block and marched seventy yards for the score.
Carolina entered halftime leading 8-6 after working through a tough sideline trapping zone on the point before half. As the second half of the game began, there was a pretty clear picture of how things would turn out. Every indication was that the two teams would continue their back-and-forth tug of war, with UNC slowly pulling away and UNCW valiantly keeping it respectful. A game that ends up something like 15-11. To say the least, that's not what happened.
Initial indications were that UNCW wouldn't even be keeping it that close. With the rain in full force to start the half, Wilmington's offense seemed hampered by the conditions. A hammer slipped away from Hastings and right to Kai Marcus letting UNC break to open the half. On the next point, a huck from Mateer came out a little wonky and Marcus elevated to come down with another block. He then reared back and fired a flick nearly the full length of the field to Gouchoe-Hanas who ran a quick give-go with Long for the score.
It was 10-6 and with the conditions starting to intensify, it seemed like Wilmington might just pack it in. But that was not who this Wilmington team had been all year, and not who they were on Sunday night. "We're a momentum team, everybody knows that," said Wilmington coach Brian Casey after the game. "A lot of the time we try to minimize the ups and downs of the wave, but I told the guys today that if there's a wave, we need to stay high and keep rolling."
The Seaman buckled down and knocked in a few holds to steady the ship and then got to the business of chipping into that Darkside lead. UNC's offense had managed to work their way through both Wilmington's zone looks and person defense with ease in the second half, only needing a few more holds to book their place in the final.
With the score 12-9, Jack Williams knew that time was running out for the Seaman to make their move. On the line before the pull he implored his teammates to give a little bit more, to do a little bit extra with every step. And then he went out and showed them what he meant.
"I told [coach Brian Casey] in the start if the second half that I would rather die than come out of this game," said Williams. That passion and belief from Williams showed up in his stat line (1G/9A/3D) and on the scoreboard as he dragged Wilmington back into the game.
"After he lost the Callahan before the game, I knew that he was going to play like he had something to prove," said DeNardis after the game. "And he did."
"He's the best player I've ever played with –and that's saying something," said Hastings. "He went Kobe out there tonight, he was little Mamba."
After a careless huck from Gouchoe-Hanas was batted down, Williams tore deep and dragged seemingly the entire North Carolina defense with him. Undeterred by the numerical disadvantage, Kevin Mateer sent a flick in Williams's general direction and Wilmington's Callahan nominee reminded everyone why he is considered one of the most fearsome deep threats in the world.
Williams landed with the disc in his hand and a break on the board. But while Williams came down to earth after his spectacular snag, Wilmington were just beginning to soar. After forcing a bad huck on the previous possession, UNCW doubled down on forcing Darkside out, making UNC beat them with hucks in wet conditions. North Carolina turned two deep throws and Wilmington broke again to pull within one.
At this point, North Carolina were starting to look tight, but expressed their nervous energy by playing overly loose. Wilmington wanted nothing more than to turn the second half into a sloppy shootout, and Darkside obliged. It wasn't just wayward hucks causing problems for UNC's offense, but rather the general carelessness and disregard for doing the little things right as fatigue and a rising panic about blowing a big lead set in. "You just can't get away with little sloppy things against a team that's dialed in like that," said DeNardis after the game. "We talk all year about certain throws we want to avoid, but tonight we threw some stuff that just wasn't smart."
UNC has demonstrated an ability to be more clinical than Wilmington this year, but in the second half of Sunday night's final they ended up getting into a run-and-gun, playground scrap which played right into Wilmington's hands.
As North Carolina started to slip, Wilmington kept gaining speed. UNC turnovers were fuel for Wilmington's defense. Like a hot three point shooter who just needs to see the ball go through the hoop a few times to start making everything, once the Wilmington defense registered a few blocks, the layout Ds started coming fast and furious. Two breaks turned into three, which turned into four and all of a sudden Wilmington had a 13-12 lead, their first of the game.
"We've been winning this way for five years," said Williams with a chuckle. "Apparently it's the only way we know how to win — winning ugly. Ever since I've been a part of the Seaman, we've always been about heart and never giving up."
Wilmington had gone on a 5-0 run, and with the wet conditions and generally chaotic atmosphere of the game producing long points, the cap meant that the teams were playing a game to 14.
North Carolina finally ended Wilmington's run with a hold that forced double game point on a cheeky high release flick break from Marcus to MacLeod. It was the only assist of the night for the freshman Marcus, but that shouldn't diminish the impact he had on the game. Showing experience, or perhaps confidence, beyond his years, Marcus was one of the few North Carolina players that seemed totally unaffected by the magnitude of the moment. He was on the final line that Darkside coach Mike DeNardis sent out to along with six other players who will all return to Chapel Hill next season.
While that might auger a bright future for North Carolina, Sunday night at least belonged to Wilmington. On "double season point," Wilmington came out in a vert stack with Williams, Hastings, and Willie Stewart back around the disc. A floaty swing was two high even for Williams, but the fear of Williams's ability in the air caused two UNC defenders to go up way early and Williams snagged the disc on a second effort.
A moment of madness or miscommunication resulted in both defenders, Kwon and Gouchoe-Hanas, scrambling away from Williams to go cover Hastings. This gave Williams a wide open throwing lane down the break backhand side. Frederick Hennighausen saw this and broke deep into the break space. With time and a window to size up the throw, Williams uncorked an absolutely perfect shot into the endzone that hit Henninghausen in stride. Nick MacLeod and Kai Marcus were in hot pursuit, but they had no chance of getting a hand on Williams's winning dime.
North Carolina players collapsed to the turf in agony and disbelief while Wilmington stormed the field to envelope Hennighausen and the disc that had just sent them to the finals.
The incredulous joy that Wilmington was exhibiting had been felt by Darkside just a few hours earlier after their miraculous comeback against Wisconsin. North Carolina traveled the full spectrum of human emotion over the course of Sunday's games, and it was clear that they were completely spent both physically and emotionally. "We were just on the other end of it this morning," said DeNardis. "But it sucks to be on this end now."
In the middle of the ecstasy and despair that was playing out on the field was JD Hastings, the former Darkside captain was now agent of North Carolina's destruction. The first thing he did after William's final throw guillotined Darkside's season was run to an overcome Matt Gouchoe-Hanas and wrap him up in a genuinely touching embrace. Hastings had just ended the season and careers of some of his best friends in order to reach his goal, and he was understandably conflicted.
"It's very bittersweet. It's a hurt a bit to have ended their season," said Hastings after the game while fighting back tears. Listing off all the players and coaches on Darkside that had touched his life, he managed to collect himself to say, "North Carolina, they're… one and only. They're THE program in my opinion."
It was the truest kind of rivalry game, with each team possessing immense respect for the other and that respect fueling their need to win. Winning can't exist in a vacuum, there has to be loser for a win to mean anything. But that doesn't mean that competition is a zero sum game. In games like this, between teams like this, the experience of the win and the loss adds another brick to the rivalry. Both winning and losing builds a platform that allows sublime moments like what we saw Sunday night to exist.