One of the most diverse high school tournaments ever.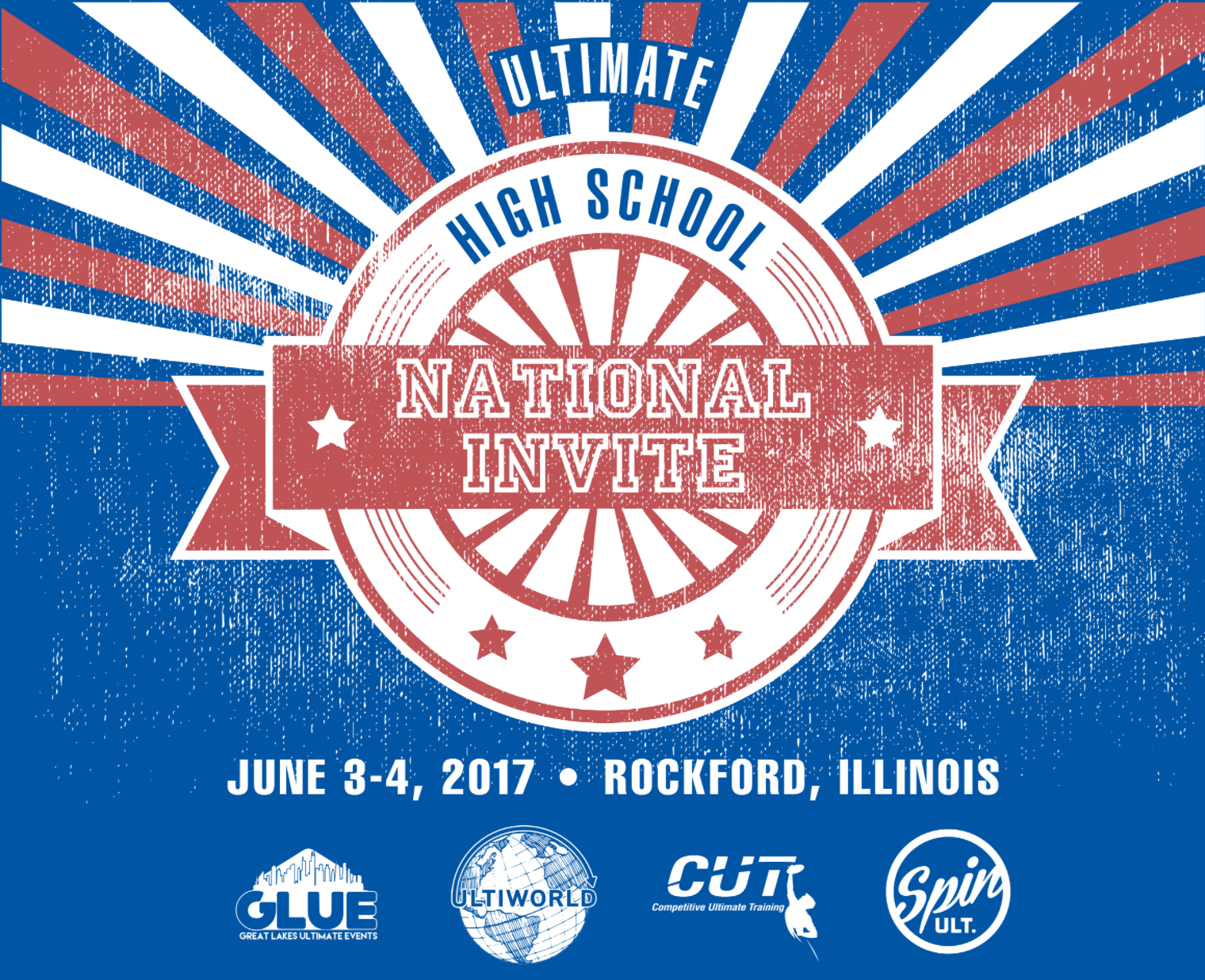 The inaugural edition of the High School National Invite is presented by Spin Ultimate.
The 2017 High School National Invite brings together 24 of the best high school teams in the country for the most important youth tournament this side of the Youth Club Championships.
With teams representing 14 states from Washington to Louisiana to New Jersey, the HSNI is the most diverse high school tournament held since the dissolution of the HS National Championships.
The field is also extremely strong, with nearly every team represented in the Ultiworld Top 25. Every game will be a challenge for every team, as they face elite players and divergent styles.
Here's what you need to know.
Tournament Profile
Location: Rockford, IL

Dates: June 3-4, 2017

Weather: Highs in mid 80s, chance of showers on Saturday, light wind

Top 25 Teams: 20
Filming Schedule
Ultiworld will be filming two games per round on Saturday, to be released after the tournament. On Sunday, coverage will shift to the stadium showcase field for a recorded Boys Quarterfinal before live coverage begins at 11 AM for the Girls' Final. Live coverage continues at 1 PM for the Boys' Final.
You can watch the each of the finals on Ultiworld's live page or on our YouTube channel.
Here is our full filming schedule. All times Central.
Boys' Division
Saturday
9:00 AM: Garfield v. Watchung Hills
11:00 AM: Lakeside v. Iowa City
3:00 PM: South Eugene v. Catholic
5:15 PM: Prequarter (TBD)
Sunday
9 AM: Quarterfinal (TBD)
1 PM: Final (TBD) – streamed live
Girls' Division
Saturday
9:00 AM: Holy Family Catholic v. Roosevelt
11:00 AM: HB Woodlawn v. Berkeley
3:00 PM: Northwest v. HB Woodlawn
5:15 PM: Quarterfinal (TBD)
Sunday
11:00 AM: Final (TBD) – streamed live
Girls' Division Preview
Despite a small eight team field, the HSNI's Girls' Division is packed with talent, featuring some of the very best teams in the country including #4 ranked Holy Family Catholic (OH) and #7 ranked HB Woodlawn (VA).
The Invite will offer a look at how teams from different parts of the country that rarely compete with one another stack up. Will the lauded Seattle youth scene prove to host the country's best high school teams? How do East Coast powerhouses like HB Woodlawn stack up against the best from the West (and Midwest)?
No. 1 seeded Holy Family Catholic has long been an elite girls' program and comes into the Invite as the top-ranked team. However, No. 2 HB Woodlawn and No. 3 Northwest (WA) both have a case for being ranked higher.
HB Woodlawn won the Virginia state championships and went 5-1 at the Amherst Invite, falling only to #2 ranked Paideia. With only tangential connectivity to Holy Family Catholic, Woodlawn has to feel they've got a great shot at winning the Invite.
On the other coast, Northwest was up big in the Washington state final last week but blew a big lead in the second half, falling to Franklin 13-12. Certainly Northwest will feel they should have won after leading 8-3 at halftime. They'll get a great chance for at least some redemption with a win this weekend. They will face off with Woodlawn in an anticipated pool play game that will be filmed by Ultiworld.
Don't think that the teams seeded lower aren't in the hunt. Berkeley (CA) has few results that could allow a comparison to other teams, but they have been a talented team for years. Madison West (WI) has played some great games and is playing their best ultimate of the season right now after winning the Wisconsin state tournament for the third straight year.
Yorktown and Washington Lee split up to play at states, where Yorktown lost to Woodlawn in semis and Washington Lee lost in the final. Combined, they are a formidable threat — back at the YULA Invite, they went 5-2 with losses only to Woodlawn and #6 ranked Carolina Friends.
Neuqua Valley has a familiar foe in HFC (against whom they are 0-5 this season) but won't have to face them in pool play. They had a good start to the season against other Midwest teams but struggled at the Amherst Invite, where they went 1-5.
Last but not least, No. 6 seed Roosevelt had a strong season, losing to eventual WA champion Franklin in the state semifinals after winning the Seattle Public League over Franklin earlier in the playoffs. The parity we saw in Washington suggests that Roosevelt has as good a chance as any team at the Invite to surge to a title.
Time to cleat up and prove it all on the field!
Boys' Division Preview
16 teams descend on Rockford, Illinois, to compete in the Boys' Division at the High School National Invite. With 13 teams in the Top 25 and the remaining three just outside looking in, it's a deep and talented field.
Every pool holds four teams, each from a different state. At least three regions are represented in each pool. With little familiarity between teams, expect some thrilling back-and-forth with contrasts in play style and emphasis.
Pool A: #1 Center Grove, #8 Garfield, #12 Mason, #13 Watchung Hills
Pool A often feels like it will be a breeze for the #1 seed — in this case, the nation's top-ranked team, Center Grove (IN). At the HSNI, not so.
The No. 3 seed in the pool, Mason (OH), took Center Grove to double game point in the prequarter round at the Neuqua Knockout and crushed the competition at Ohio States, No. 2 seed Garfield proved to be one of Washington's best in the fall, and No. 4 seed Watchung Hills finished as the #2 team in New Jersey and one of the best on the East Coast.
Projecting this pool, then, is quite a challenge! If the Seattle teams can shake off the rust after playing their competitive season back in the fall, Garfield will be a handful. An athletic Mason team has slowly ramped up this year, but they look to be peaking at the right time. When they've played at full strength, they've been excellent. And Watchung Hills has been somewhat overshadowed by the success of Westfield in New Jersey, but they have held up nicely against out-of-state competition.
Still, Center Grove will be the favorite to emerge as the top team in the pool. They have yet to lose a game this year and easily won the Indiana State tournament. They've held tough against possession-based teams; athletic, huck-heavy teams; and the defensive stalwarts. The knock? They haven't faced many teams from outside of their region. Could their undefeated record prove to be a mirage?
Center Grove has to open their tournament at 9 AM with a rematch against a Mason team that almost knocked them out of Neuqua. Gotta love it.
Pool B: #2 Lakeside, #7 Chapel Hill, #11 Iowa City, #14 Holy Family Catholic
The chance to watch players from Washington state champion Lakeside go up against North Carolina state runner-up Chapel Hill is one of a lot of reasons to get excited about the National Invite. Seattle and the Triangle have shown to be two of the best areas in the country for youth development, sending a steady stream of superb talent into the College Division in recent years.
Now we get a measuring stick game with a chance to establish some bragging rights.
Don't sleep on the other two teams in the pool. The athletic and physical Iowa City has had a bumpy season, first playing without a full strength roster and later getting disqualified from the championship bracket at the Neuqua Knockout. However, with their full roster, they've done a lot of winning against top teams.
Holy Family Catholic's young roster has had some growing pains at times, but expect them to have learned a lot from their loss to Mason at Ohio States and to be more prepared to play against the athletic teams they'll see in the pool.
Pool C: #3 Grady, #6 Cleveland, #10 Fishers, #15 Yorktown
Look out, world: Georgia state champion Grady is coming into the Invite scorching hot after crushing the competition at Southerns. After a solid if not spectacular start to the season, Grady has showed in the last month that they have the tools to contend for a title this weekend.
They'll have to get through a strong Cleveland team that finished in second place in Washington state last fall. It's another cross-coast litmus test.
Fishers has clearly been a step behind Center Grove in Indiana this year, but they have a potent deep game that could get their defense back on the field in a hurry.
Yorktown (VA) is unfortunately sporting a smaller roster this weekend after some players couldn't make the trip, but sometimes a tighter rotation can help teams find that chemistry quickly.
Pool D: #4 South Eugene, #5 Catholic, #9 Neuqua Valley, #16 De Smet
Pool D doesn't have the classic feel of a pool of death, but perhaps that's just because so many of the teams feel like wild cards.
South Eugene (OR) has looked like one of the best teams on the West Coast, but hasn't played a lot of games against other top competition. They did have a strong performance at the Seattle Invite back in the fall, topping both Cleveland and Garfield (which ultimately earned them the No. 4 overall seed), but have few other games by which to measure them.
Catholic (LA) has been one of the best teams in the South, earning a bid to the Invite after an excellent Terminus performance. They didn't do quite as well at Southerns last month, but it's hard to decipher just how hard they may have played, given that they've been prepping to peak at the Invite.
Neuqua Valley (IL) hasn't been quite the team they were a year ago, but they are a team that takes care of the disc and won't give away games: you have to take it from them. Really athletic teams have been able to do that; other possession-based teams have struggled more against them.
De Smet (MO) hasn't played as many games against top competition as they have in years' past, but they remain easily the best team in Missouri and, like many of the teams in the pool, are a bit of an unknown. Despite not being ranked in the Top 25, De Smet has proven to be a strong program year after year. Don't be surprised if they notch some upsets from the tournament's bottom seed.
For more information about the High School National Invite, see our FAQ page.