And the award goes to...
Ultiworld's 2017 Women's College Awards are presented by the National Ultimate Training Camp and VC Ultimate, as part of their season-long support of our women's coverage. All opinions are those of the authors. Thanks for supporting the brands that make Ultiworld possible!
Ultiworld is pleased to announced our fourth annual College Awards. The criteria for each award can be found here — we consider both regular season and postseason performance in our selection of awards. Though the input of Ultiworld reporters is weighed heavily, final decisions for awards are made by the editors.
2017 Women's D-III College Player Of The Year
Leah Roche (Carleton Eclipse)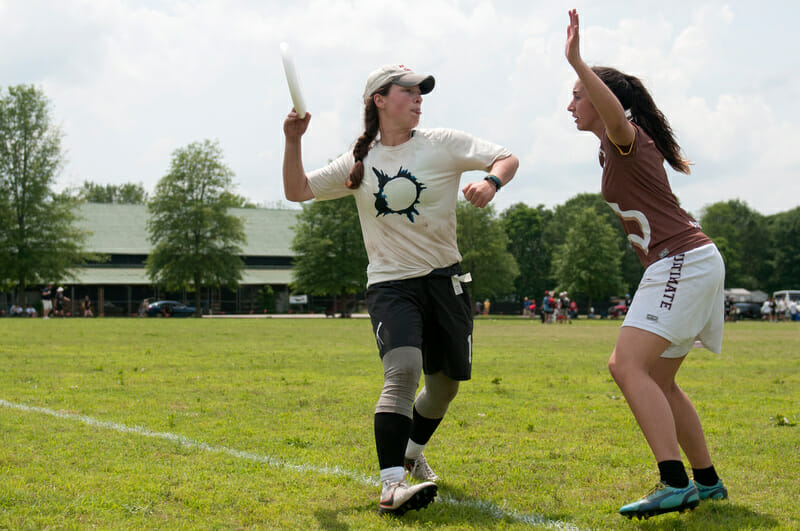 Leah Roche is a player whose skills and vision are an absolutely perfect fit for her team. Carleton Eclipse won the D-III College Championships because they have a system in which every player knows their role and executes to results. This year, with the loss of some star players from their 2016 championship-winning squad, Leah Roche had to take on a much bigger responsibility within that system — and did so with aplomb.
For Eclipse to reach their potential this season, Roche had to perform at the highest level. At Nationals, she more than delivered. Her hucks are completed at a rate more than anyone else in the division, and her tireless cannon of an arm are the reason why. A whopping 47 assists at the D-III College Championships — 14 more than any other player — highlight how vital she was to her team's success. By no means does she work alone — teammates like Haley Olson and Meg Crenshaw know exactly where to move to in order to highlight her handling skills — but Roche put on a brilliant performance that ensured the national title once again returns to Northfield.
Roche is not simply a player with a strong arm. Her field awareness and perseverance on defense elevates her beyond just being a great player on a great team to the division's best. As the deep deep in Carleton's zone, "Leah doesn't make mistakes," as USAU's reporter Tyler Karnes put it while watching her rack up her 18 blocks at Nationals. After she makes the turn on defense, snagging the disc out of the air, Roche takes the helm on offense, throwing around backhand breaks and massive flicks. In Carleton's semifinal against Puget Sound, Roche continued to rip forehand hucks for goals, whether attacking upwind or downwind. Her opponents' coach Spencer Sheridan remarked, "8 [Olson] and 14 [Roche] were incredible. We tried going straight up and backhand, putting the hucks on the sideline, but they still got caught."
Eclipse's captain is also a shining example of the Spirit of the Game. She brings a focused, competitive energy to every point that makes her a strong leader for her team and a worthy adversary for any opponent. Roche is a player who shows sincere respect to her match-ups; she calmly and succinctly talks things out, holding her competitor to a high standard and trusting their perspective.
Finding ultimate as a freshman playing at Carleton, Leah Roche is still relatively new to the game but has already reached the pinnacle, both with her team and individually. Between her spirited attitude and on-field skills, she's our 2017 Women's D-III College Player of the Year.
Runners-up: Emilie Willingham (Truman State), Ellen Kalenscher (Puget Sound)